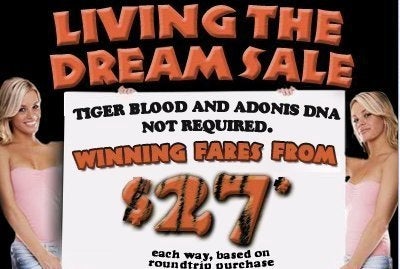 In the latest in tasteless advertisements from Spirit Airlines, Charlie Sheen and his "winning" lifestyle is made fun of by the airline in their latest "Living the Dream" sale.
The sale, in which tiger blood and adonis DNA are not required, boosts $27 one-way tickets.
The ad makes inspiring use of Adobe Photoshop's bevel tool, and also shows a masterful grasp of the pattern overlay function. No high schools have yet to come forward as having been contracted out by Spirit to create the ad, so the credit must go to Spirit PR.
This isn't the first time Spirit has launched inappropriate (or maybe just ill-timed advertising): The airline took on Tiger Woods mere weeks after his affairs became public, and asked fliers to "check out the oil on our beaches!" during the Gulf Oil Spill (the ad was later pulled). In January 2009, the airlines' flight attendants waged a complaint over sexually-suggestive ads.