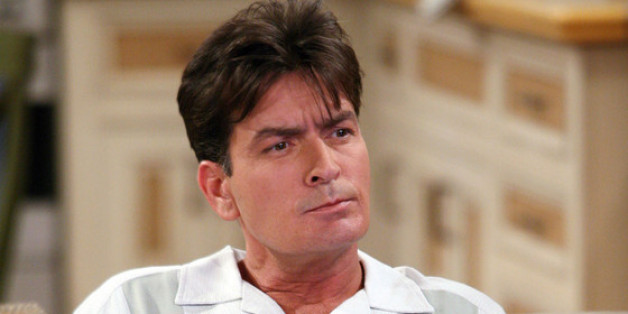 The return of Charlie Sheen to "Two and a Half Men" has been speculated about for months. And the show's series finale, "Of Course He's Dead," included tons of Sheen references. Everything seemed like it was building up to a comeback. Then, it didn't happen.
Sheen did, in fact, tease an "anticipated" cameo on Twitter, but it turns out that was for his upcoming appearance on "The Goldbergs."
So what happened? Following the end of the series finale and its absence of a certain rock star from Mars, a vanity card from executive producer Chuck Lorre ran on-air explaining the situation:
I know a lot of you might be disappointed that you didn' t get to see Charlie Sheen in tonight' s finale. For the record, he was offered a role. Our idea was to have him walk up to the front door in the last scene, ring the doorbell, then turn, look directly into the camera and go off on a maniacal rant about the dangers of drug abuse. He would then explain that these dangers only applied to average people. That he was far from average. He was a ninja warrior from Mars. He was invincible.

And then we would drop a piano on him.

We thought it was funny.

He didn't.

Instead, he wanted us to write a heart warming scene that would set up his return to primetime TV in a new sitcom called The Harpers starring him and Jon Cryer.

We thought that was funny too.
Despite the lack of warlocks, the finale pretty much had everyone else you can think of: John Stamos, Arnold Schwarzenegger and even Angus T. Jones. And though there was no Sheen, that didn't stop his former character, Charlie Harper, from coming back in animated form:
The 6 Steps on #CharlieHarper's Journey to Sweet Revenge: http://t.co/XmMbsBRfrT #TwoAndAHalfMenFinale pic.twitter.com/oENz1z0BiG

— Two and a Half Men (@TwoAndAHalfMen) February 20, 2015
Lorre and Sheen, of course, had a historic fallout that gave us memorable phrases like "winning" and "tiger blood" and even led to Sheen's character being killed off from the show (or so we thought). But as the vanity card shows, it appears the two sides just couldn't agree on how a comeback would be handled.
As a final ode to the show and the Sheen saga, the last moments of the series showed a Sheen body double getting a piano dropped on top of him, supposedly killing the character for good. Soon after, Lorre appeared and said, "Winning," right before a piano dropped on him, too.
Calling all HuffPost superfans!
Sign up for membership to become a founding member and help shape HuffPost's next chapter
BEFORE YOU GO
PHOTO GALLERY
"Two And A Half Men" Then And Now