Donations are pouring in to make sure that a dog who spent the last decade outside in a New York City park will never want for anything, ever again.
Charlie -- who is also known as Ricky -- had been seen around Highbridge Park in upper Manhattan for about 10 years before a group of residents banded together to save him this month.
Neighbors like Yuliya Avezbakiyeva and her mother, who'd been bringing Charlie food for years, thought the dog seemed more vulnerable after the pack he used to spend time with disappeared over the last half-decade. Dog walker Denise Lauffer told The Huffington Post that recently, she'd felt Charlie seemed to be having trouble with his hips, too.
They and and others grew even more concerned this winter after noticing their favorite wild canine wasn't eating the food that folks in the area left out for him.
"I knew he wasn't doing well," Lauffer said. "He was clearly injured."
But getting Charlie inside would require gaining his trust. Lauffer thought the best way to do that was to give him a place where he could sleep warm and safe near her. She spent hours outside in a makeshift hut over the course of several of this year's coldest nights.
"He needs to associate me... [with] food and companionship and heat and warmth," she told DNA Info, the first of many news outlets to report on the community's rescue efforts. "I was able to line the bottom of his bed with hand warmers ... He loved it."
Finally, on Feb. 15, Charlie let Avezbakiyeva slip a leash around his neck. She and about a half-dozen of Charlie's other fans got the dog into a car and to the emergency vet.
It was an emotional event for those involved. They felt conflicted removing Charlie from the park that had been his home. But they also believed that doing so was necessary to save his life.
"I cried," said Avezbakiyeva. "We all cried."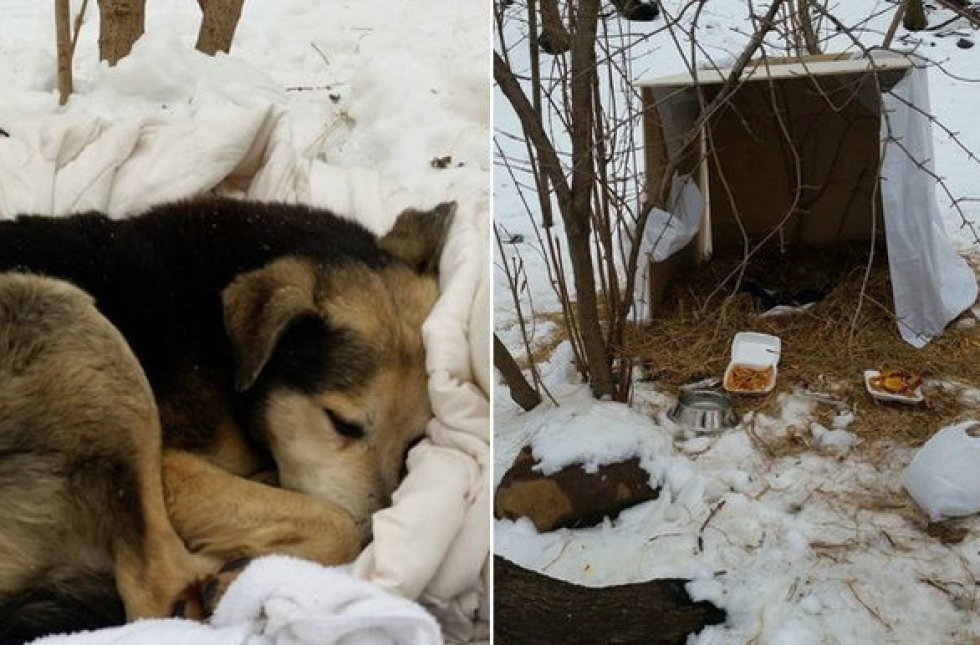 Photo credit: Denise Lauffer
Charlie was quickly sent home from the first vet, but he still seemed unwell to those who'd been keeping tabs on him for so long. Avezbakiyeva and another neighbor, Tiina Imlet, drove Charlie to another Manhattan veterinary clinic where he was given a battery of tests.
Charlie was found to have worms, and doctors discovered a tumor on one of his testicles.
"The rest of his tests -- MRI, ultrasound, X-ray -- were all unremarkable, meaning they didn't find any outstanding medical issues," BluePearl Veterinary Partners spokesperson Carrie O'Brion told The Huffington Post.
BluePearl said in a media statement when Charlie was released a few days after his capture that this old dog was on the path to health -- but might be having a hard time emotionally.
"Medically, Charlie is doing okay," said veterinary neurologist Boaz Levitin. "Mentally, he still feels as though he was abducted by space aliens."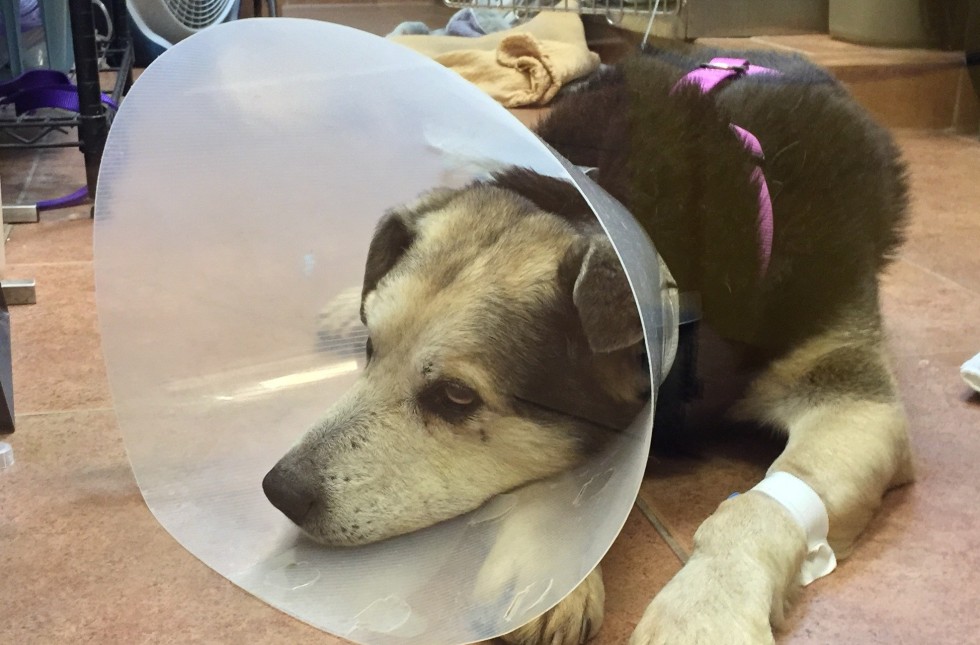 Photo courtesy of BluePearl Veterinary Partners
Make that space aliens who sure do love him. Charlie is now living with Ilmet, who, among other things, has the advantage of an elevator in her apartment building -- helpful for a dog whose bones and joints may be aching.
"We agreed that Tiina will be the one [to keep Charlie], with the condition that the rest of us will be involved," explained Avezbakiyeva, who has continued to bring Charlie food at his new home.
Avezbakiyeva has "mixed feelings" seeing Charlie indoors; she knows it's for the best, but also knows that this is a tough adjustment for him.
"We want him to be happy, but he is not yet happy," she says. "He's a special dog."
She's far from alone in holding this opinion. As of Thursday morning, more than 450 people have donated over $16,000 to help pay for Charlie's medical costs. The campaign is fully funded, but as an older dog, it's likely Charlie will face additional medical expenses down the road. (BluePearl verified to HuffPost that the medical bills shown on the fundraising site are legitimate; Lauffer, who is running the fundraising campaign, said all donations will go to Imlet for Charlie's care.)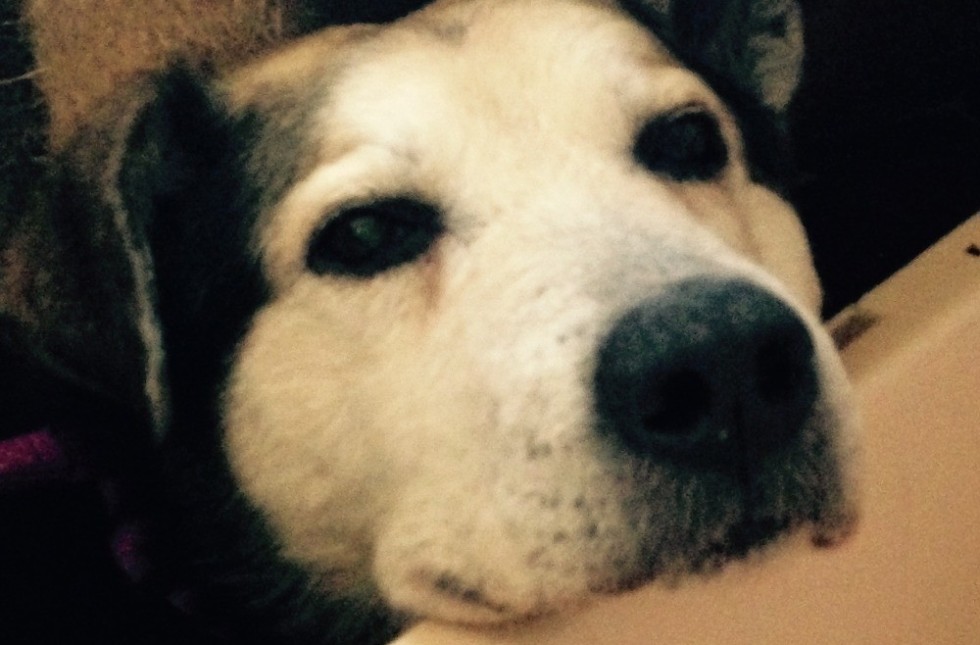 Photo credit: Denise Lauffer
Lauffer, too, has been going to Imlet's apartment a few times a day to walk Charlie. She says he is getting comfortable using the elevator. Charlie also enjoys napping peacefully in the warmth of the apartment.
"Anything's better than where he was," she says. "He wasn't going to make it."
"We always knew he was a good boy," says Avezbakiyeva, who posts updates on a Facebook page for Charlie. "It just worked out. Everything was meant for him to be rescued that day."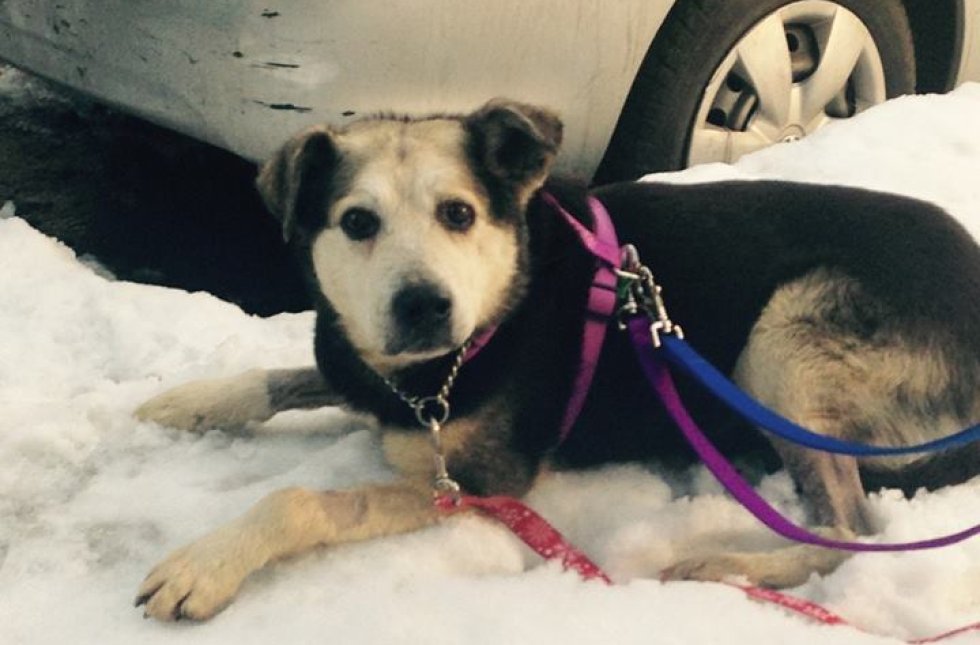 Photo credit: Denise Lauffer
Get in touch at arin.greenwood@huffingtonpost.com if you have an animal story to share!
Related
Before You Go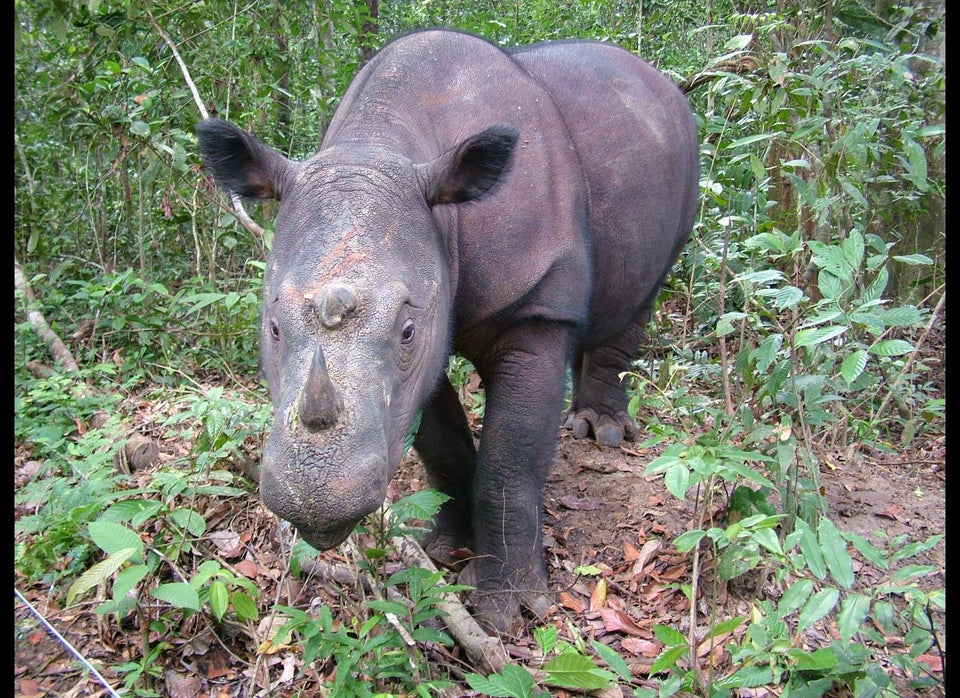 The World's Most Threatened Species