Famed Chicago chef Charlie Trotter has died. He was 54.
"My baby's gone," Trotter's wife, Rochelle said, according to Nahabedian.
Elliott, a one-time Trotter protégée, tweeted Tuesday:
"I love what I do," Trotter said in 2012 when he was awarded with an honorary street sign in Chicago the day before his restaurant's last service. "I pinch myself every day that I get to do this for a living, but on the other hand, one must change their way."
Despite his sterling reputation as a generous humanitarian, Trotter's good works were often overshadowed by his famously volatile temper.
Nonetheless, the chef's philanthropic efforts earned him various humanitarian awards for his Charlie Trotter's Culinary Education Foundation in which he hosted underprivileged students at his restaurant and raised hundreds of thousands of dollars benefitting various charities.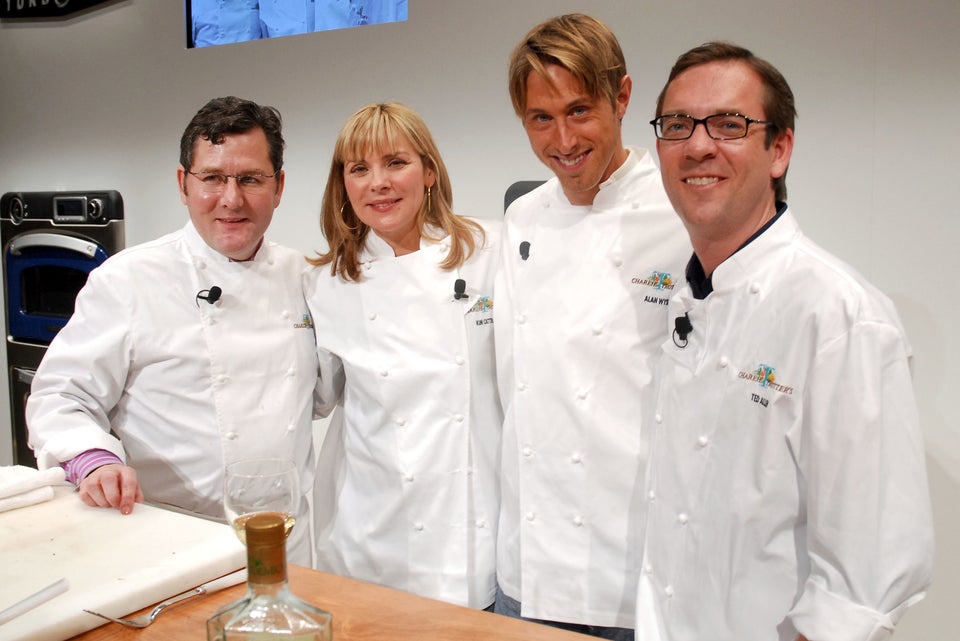 Charlie Trotter Through The Years
More from the Associated Press:

CHICAGO (AP) -- With a culinary style he likened to improvisational jazz, Charlie Trotter changed the way Americans view fine dining, pushing himself, his staff, his food and even his diners to limits rarely seen in an American restaurant. Yet it was his reluctance to move beyond those limits that may have defined the last years of his life.
Trotter, 54, died Tuesday, a year after closing his namesake Chicago restaurant that was credited with putting his city at the vanguard of the food world and training dozens of the nation's top chefs, including Grant Achatz and Graham Elliot.
Paramedics were called around 10 a.m. to Trotter's Lincoln Park home, where they found him unresponsive. An ambulance crew transported Trotter to Northwestern Memorial Hospital, where he died after unsuccessful attempts to revive him, Chicago Fire Department spokesman Larry Langford said. An autopsy was planned for Wednesday.
For decades, Trotter's name was synonymous with cutting-edge cuisine. He earned 10 James Beard Awards, wrote 10 cookbooks and in 1999 hosted his own public television series, "The Kitchen Sessions with Charlie Trotter."
"It was the beginning of the notion that America could have a real haute cuisine on par with Europe," said Anthony Bourdain. "That was what Charlie did."
Yet Trotter never went to culinary school. He grew up in the northern Chicago suburb of Wilmette and majored in political science at the University of Wisconsin, Madison. But an inspiring meal several years earlier had planted the desire to cook.
After graduation, he created a de facto apprenticeship, landing his first job at a restaurant in Chicago's North Shore area called Sinclair's, where he worked under now well-known chefs such as Norman Van Aken and Carrie Nahabedian.
From there he moved restaurants in Florida, San Francisco and France, all the while eating widely and reading cookbooks voraciously. When he returned to the U.S. - and with financial backing from his family - he purchased a Victorian house in Chicago and opened Charlie Trotters in it in 1987.
"His restaurant shaped the world of food," said Dana Cowin, editor-in-chief of Food & Wine magazine. "He was so innovative and focused and intense and really brilliant. When he opened Charlie Trotter he was so original."
Trotter's food was grounded in classical French technique, but blended seamlessly with Asian influences. He believed fervently in the power of simplicity and clean cooking, turning to simple vegetable purees and stocks - rather than heavy sauces - to deliver standup flavor in menus that changed daily.
He also was an early advocate of using seasonal and organic ingredients, as well as sustainably raised or caught meat and seafood.
"Charlie was a visionary, an unbelievable chef that brought American cuisine to new heights," Emeril Lagasse, a close friend of Trotter's, said in an email. "We have lost a tremendous human being and an incredible chef and restaurateur."
Trotter was gruff, exacting, demanding and a culinary genius. And for years, the restaurant was considered one of the best in the nation, earning two Michelin stars the first year the guide rated Chicago restaurants.
But in time, the food world caught up with him. And food culture changed, with celebrity often trumping skill. It was a world to which he adapted poorly.
"The last few times I saw him were at a food and wine festivals where people didn't recognize him. People did not acknowledge him for his incredibly important place in history," said Bourdain. "Back in Charlie's day, it was really the merit system. Being a great chef was enough. You didn't have to be lovable."
Meanwhile, chefs such as Achatz - of award-winning Chicago restaurants Alinea and Next - became so avant-garde, Trotter's menus seem almost dated. And the very organic and seasonal philosophies he'd spearheaded had become commonplace.
In 2012 - and in keeping with his reputation for bold, unexpected moves - Trotter closed his iconic 120-seat restaurant. His plan? Return to college to study philosophy.
"The one thing it will do for me is let me wipe a certain slate clean. And while I'm studying and reading and applying myself to something else . if I decide to come back to the restaurant world, I think I'm going to bring a different perspective," he told The Associated Press in an interview last year.
"My hope is to really learn how to think very differently on the whole thing," he said.
In a behind-the-scenes look for the AP three days before closing night, the Charlie Trotter's staff held a typically detail-laden pre-dinner meeting, discussing specifics down to the exact dates when diners last ate at the restaurant and reminders about when to use certain wine glasses.
Dishes from the final week of menus included poached white asparagus with charred broccolini, manchego cheese and red pepper essence and root beer leaf ice cream with vanilla cremeaux and birch syrup-infused meringue.
Some might have thought the move from the restaurant world was too risky. Not Trotter.
"What's the worst that could happen? Life's too short. You may be on this planet for 80 years at best or who knows, but you can't just pedal around and do the same thing forever," he told the AP in 2012.
Trotter's widow Rochelle sent a written statement on her husband's death to The Huffington Post on behalf of the Trotter family on Tuesday evening:
"We are incredibly shocked and deeply saddened by the unexpected loss of Charlie at our home in Lincoln Park. He was much loved and words can not describe how much he will be missed. Charlie was a trailblazer and introduced people to a new way of dining when he opened Charlie Trotter's. His impact upon American cuisine and the culinary world at large will always be remembered. We thank you so much for your kind words, love and support. We appreciate the respect for our privacy as we work through this difficult time. Details for the memorial service will be forthcoming."
Charlie and Rochelle Trotter, a publicist, married in 2010. The chef is also survived by 21-year-old son Dylan, from a previous marriage.
Related
Before You Go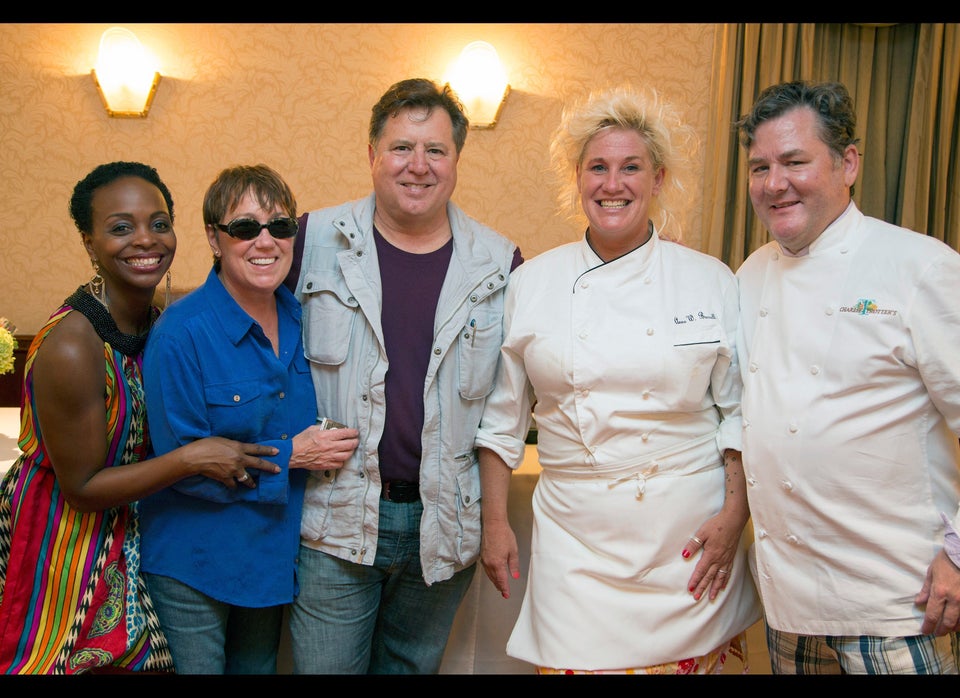 Charlie Trotter Final Feast
Popular in the Community