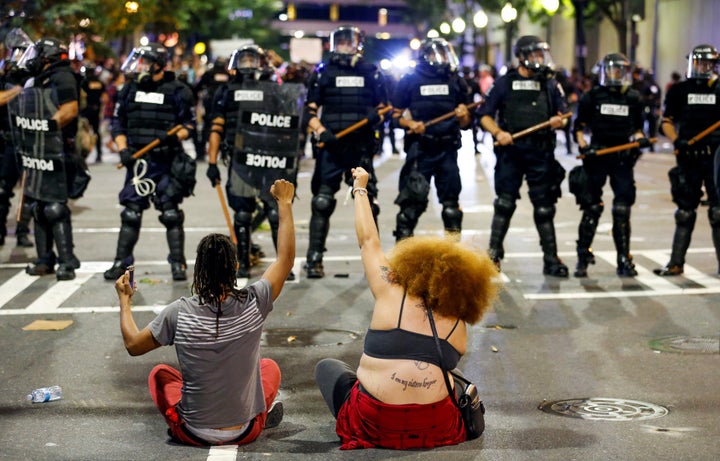 CHARLOTTE, N.C. ― Sixteen North Carolina-based activist organizations dedicated to ending police violence released a list of demands to increase transparency in the death of 43-year-old Keith Scott on Friday.
Charlotte Uprising, the designation for the recently founded collective, revealed its demands after Scott was shot and killed by Charlotte-Mecklenburg police officers on Tuesday.
"[We expect] for our demands to be met. For Chief [Kerr] Putney and CMPD to be more transparent and forthcoming around the policies and practices regarding the murders of black and brown people in Charlotte," Zakiya Scott, a spokeswoman for Charlotte Uprising, told The Huffington Post in an email.
The demands include defunding and demilitarizing police forces, immediately releasing those arrested during protests, and prosecuting officers involved in the shooting. The collective also called on the city to release the names of all officers involved in Scott's death, to lift the midnight, citywide curfew and to dismiss the National Guard.
On Saturday, the city's police department did release two partial videos of the Scott shooting. Graphic police body camera footage of the encounter shows an officer attempting to enter Scott's vehicle. The shooting is not visible in this footage.
A separate police dash camera video shows an officer firing at Scott, who appears to be backing up at the time of the shooting.
A cell phone video by Scott's wife, which was obtained by NBC News, provides a different view of the shooting. In the video, Rakeyia Scott can be heard yelling "don't shoot him," "he doesn't have a gun" and "he just took his medicine." The police appear to disregard her, while yelling "drop the gun" at Scott.
Warning: The video below contains graphic content.
Tensions between protesters and police have escalated since Scott was killed on Tuesday.
Protesters were outside of the Bank of America Stadium ― home of the Carolina Panthers ― on Sunday. They linked arms and formed a circle around fellow protesters. Many took a knee and shouted "Black Lives Matter!" during the national anthem. One protester named Mimi (who refused to give her last name) became upset when explaining how her bag was searched by CMPD officers.
"Our bodies are used as daily target practice by police, our rage is mischaracterized, and our city officials and policymakers fail to act with integrity," members of Charlotte Uprising said in a statement. "Meanwhile local law enforcement, who receive millions of dollars in funding each year and are equipped with military weaponry, ­­treat our streets like war zones."
The organizations within the collective include Ignite NC, Beloved Community Center, QPOC Greensboro, Safe Coalition NC and the Southeast Asian Coalition ― all of which have been informally working together for years.
The Charlotte-Mecklenburg Police Department did not respond to HuffPost's request for comment.
Julia Craven reported from Charlotte and Adam Hamze reported from Washington.
Before You Go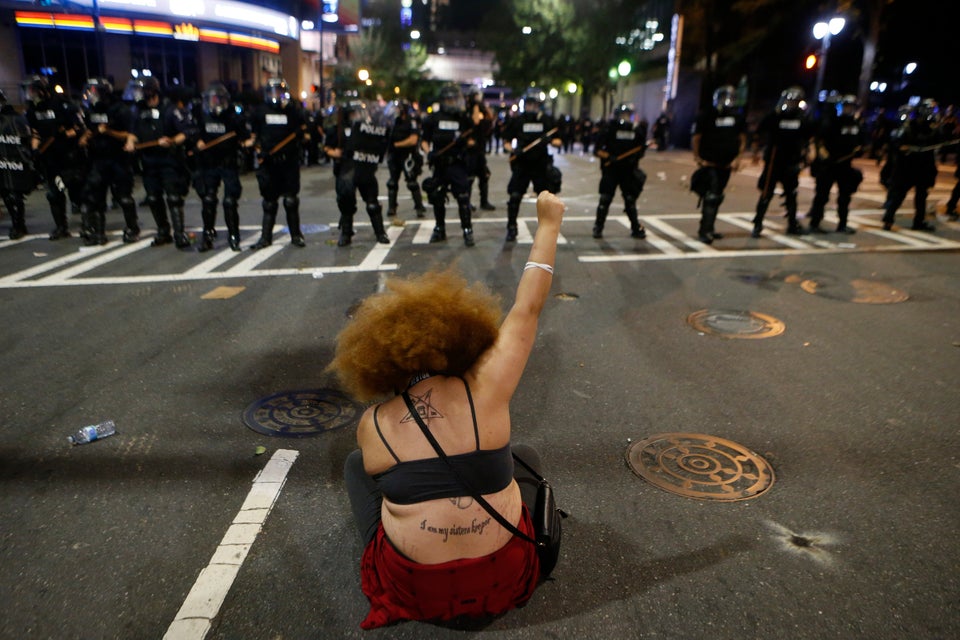 Protests Break Out In Charlotte After Police Shooting
Popular in the Community