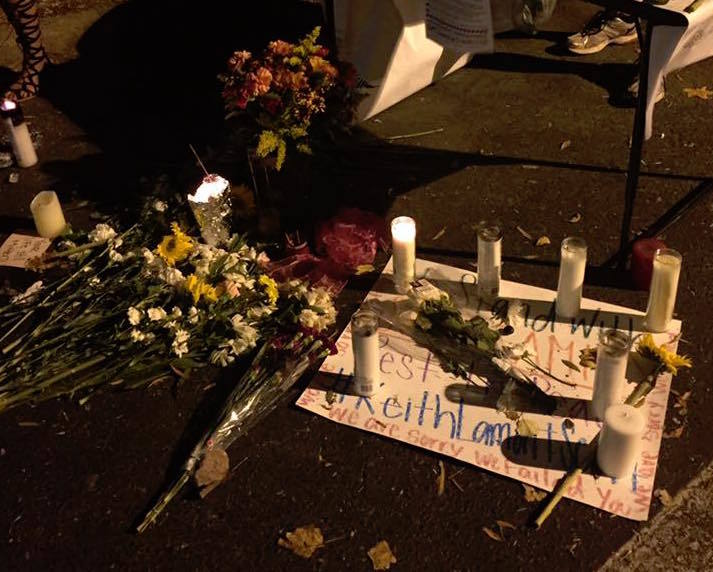 In April 2016, the North Carolina state legislature passed House Bill 972 blocking the release of police body camera footage, which was signed by North Carolina Governor and former Charlotte Mayor Pat McCrory. McCrory, who is a Republican, said the law "will promote uniformity, clarity and transparency" while detractors including the state's attorney general Roy Cooper, a Democrat, said the bill could have the opposite effect of minimizing police accountability. North Carolina is also an "open carry" state meaning licensed gun owners are permitted to carry weapons in the open.
Following the shooting and protests, a group of concerned African-American leaders in Charlotte released the following statement (SOURCE: Facebook):
CHARLOTTE, September 24, 2016 — We, the undersigned, express our sincerest prayers and condolences to the family of Keith Scott. The taking of any human life is tragic. Whether the taking of a black life is the result of neighborhood crime or law enforcement actions, sadly, in America today, the value of a black life continues to be diminished in the eyes of far too many. This must end! As a group of African-American men who are longtime Charlotte residents, we stand in steadfast unity with a renewed commitment to undertake measures designed to reverse this appalling trend. We acknowledge that far too many black lives are lost at the hands of our own and we will continue our collective efforts to deter the next act of absurd violence. However, only through the restoration of lost trust and confidence in policing and the criminal justice system will our community begin to heal and work in a more meaningful and collaborative manner with law enforcement to end the cycle of senseless and avoidable killings of black Americans.
To that end we are calling upon political and governmental leadership to take the following actions:
1. Immediately release all body-worn and dashboard camera recordings made by the CMPD related to the death of Keith Scott.
2. Immediately repeal, in its entirety, N.C. House Bill 972 which provides recordings made by law enforcement agencies are not public records and thereby not subject to public disclosure without a court order.
3. Enact legislation that provides that all body-worn, custodial and dashboard camera recordings made by law enforcement agencies related to law enforcement use of deadly force are public records and shall be disclosed publicly within three business days from the date of the use of deadly force.
4. Enact legislation mandating that instances of police use of force resulting in death, officerinvolved shootings resulting in injury or death, or in-custody inmate death investigations, shall be conducted by external law enforcement agencies.
5. Enact legislation mandating the use of an external, independent prosecutor in cases of police use of force resulting in injury or death, officer-involved shootings resulting in injury or death and in-custody deaths.
6. Enact legislation mandating all N.C. law enforcement agencies collect, maintain and annually report data, including demographic data of all parties involved, to the public and the Federal Government on all officer-involved discharging of firearms, whether fatal or nonfatal.
7. Enact legislation mandating all N.C. law enforcement agencies collect, maintain and analyze demographic data on all detentions including stops, frisks, searches, criminal summons and arrests.
8. Enact legislation mandating all N.C. law enforcement officers, prior to a search of a person or property, explain to the person that he/she has the right to refuse consent when there is no warrant or probable cause and require the officer desiring to search, to obtain written acknowledgement of the consent to search prior to the search of the person and/or his/her property.
9. Enact legislation mandating all N.C. law enforcement agencies develop and implement officer job performance evaluation measures that takes into consideration officer efforts to engage members of the community and strengthen community partnerships.
10. Enact legislation mandating all N.C. law enforcement agencies enact mandatory annual in service Crisis Intervention Training (CIT), de-escalation training, and implicit bias and cultural responsiveness training. Further we call upon local political and governmental leadership to immediately take the following actions:
11. The Charlotte-Mecklenburg Police Department to implement all measures as set forth above not currently prohibited by state law.
12. In an effort to create more responsiveness and accountability to the electorate, the Charlotte City Council to place a referendum on the November 2017 ballot for voter consideration to modify the City of Charlotte Charter from a Council—Manager form of municipal government, to a Mayor-Council form of government, thereby combining mayoral and chief executive officer powers into one office.
We also call upon the N.C. Chamber of Commerce, the Charlotte Chamber of Commerce and other business leaders in Charlotte and throughout the state to:
13. Publicly call upon political and governmental leadership to implement measures designed to: deter discriminatory policing practices; promote law enforcement accountability; foster transparency in law enforcement; and restore and strengthen public confidence in the criminal justice system for the benefit of the community and law enforcement.
14. Publicly call upon local and state political and governmental leadership to prioritize legislative focus on increasing economic empowerment and opportunity in underserved communities.
Finally, we acknowledge that many more complex factors exist that contribute to generational disparities in education, economic opportunity and healthcare, which require much more comprehensive measures than outlined here. However, with the implementation of systemic criminal justice reform, Charlotte and North Carolina can turn a tragedy into a national model for restoration of public confidence in criminal justice and improved economic mobility that will enhance public safety for all.
Attorney Harold Cogdell, Jr.Mr. Harry JonesSenator Joel FordRev. Dr. Sheldon ShipmanDr. Patrick GrahamMr. Charles WalkerMr. Herb GrayRev. Dr. Dwayne Anthony WalkerMr. Damian JohnsonMr. Eric WatsonRev. Dr. Peter M. Wherr
Scott's killing is one of a string of police killings of unarmed black men and women happening in the United States. Charlotte is the site of the police killing of former FAMU football player Jonathan Ferrell. In 2013, Ferrell was gunned down by Charlotte-Mecklenburg County police following a car accident in which he was reportedly seeking help. Ferrell, who was 24-years-old, died at the scene.
This post was written by Nsenga K. Burton, Ph.D., founder & editor-in-chief of The Burton Wire. Follow her on Twitter @Ntellectual or @TheBurtonWire.
Popular in the Community