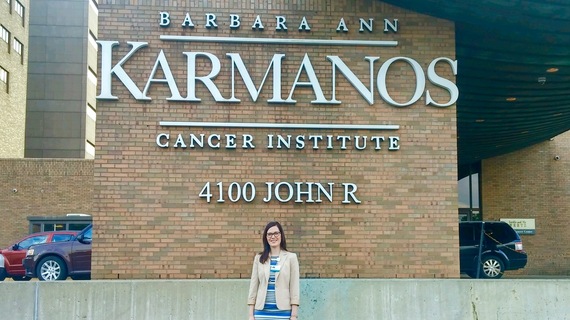 Just a few years ago, Charlotte was a student at Saint Mary's College in Notre Dame, Indiana. She was studying biology, chemistry, and mathematics, and considering a career in research. Charlotte graduated in 2013, and today she is employed by a top cancer center and involved in cancer research--specifically clinical research--within a particular area of oncology known as Bone Marrow Transplant.
Her employer, the Barbara Ann Karmanos Cancer Institute, is designated by the National Cancer Institute as one of only 46 comprehensive cancer centers in the United States. The Karmanos Cancer Institute is headquartered in Detroit, with cancer treatment locations throughout the state of Michigan. Karmanos' robust clinical trials program offers new cancer therapies to patients that are often not available at other hospitals.
Before a new cancer treatment is made available, it must go through the Food and Drug Administration (FDA's) lengthy and rigorous development and approval process. (This process applies to all drugs, regardless of their intended therapeutic use.)
The initial phase of drug development includes many years of testing. Drugs are first tested in the laboratory setting. If these efforts show promising results, the potential drug is made available to eligible cancer patients in a clinical trial, approved by the FDA. The purpose of clinical trials is to establish drug efficacy and safety. This is where Charlotte's role as a clinical research coordinator (CRC) comes into play.
Prior to discovering a career in human health, Charlotte was employed within the animal health division of a pharmaceutical firm. She worked in research and development, supporting scientists in developing new therapeutics for animals. While she had childhood dreams of being a physician, she decided upon a career in research. But she quickly realized that while she enjoyed the work, company, and co-workers, she desired greater interpersonal interaction.
A friend from college involved in clinical research suggested that Charlotte look into clinical research coordinator positions. Charlotte took her friend's advice and started applying--ultimately netting her position at Karmanos.
Now she's happily engaged in a role that combines research with patient care. And what perks! In her position, Charlotte has the opportunity to regularly interact with amazing individuals and learn on a daily basis, all while making an impact by aiding in the development of new cancer treatments.
I asked Charlotte what it takes to excel as a CRC and she replied:
"A successful Clinical Research Coordinator, or CRC, is very organized. We are often working on multiple, complex clinical trials at the same time. We are the "protocol experts," which means we have to know what sort of patients are eligible, (and able,) to participate in a trial, and when all of the information needs to be gathered. This can include blood tests and pathological tests (tests that can confirm a cancer diagnosis or remission) when study participants can get the new drug; and what to look for so that the pharmaceutical company can report its results to the FDA, who will decide if a drug can be approved or not for use by everyone! There are a lot of rules to follow to protect patients' health and safety in the medical field, and then there are even more in the field of clinical research. We have to know all of them and make sure they are being followed."
I also asked Charlotte if she had any advice for girls and young women thinking about STEM career possibilities, and this was her reply:
"Follow your passion. You will be working for most of your adult life, so love what you do! I love what I do because it is always changing! We are learning and changing the face of cancer treatments. And when some of these new chemotherapy drugs come out, I know I helped with that approval.
I also strongly urge young women to consider an all-women's college. I didn't realize how much I would learn about myself and the great pride I would have in having graduated from Saint Mary's. Plus the place where I spent so much time as a student, Science Hall, is unveiling new modern space this fall. Thanks to alumna Jen Mathile Prikkel '95 and her family, $10 million has been invested. I can't wait to see it.
Take every opportunity you can to learn more about science, and make sure to build each other up. I have found that it is not in competition with my peers and coworkers that I have learned the most or that the best work has been done, but when we all work together; it's a cliché for a reason. So empower each other! And that goes for girls, boys, women, and men. We can do the most good working together! So, go, change the world!"
Insightful advice from a young woman on-track for a rewarding and dynamic career in clinical research.
When contemplating the college-choice decision, keep in mind that women's colleges are one of the best-kept secrets in higher education today. For so many college-bound high-school girls, the final decision of which college to attend is not made exclusively on the basis of academics. While an institution's academics are extremely important, finding a college that can empower while it educates is of equal value.
The good news is that women's colleges provide both. Women's colleges effectively educate as well as empower. As Charlotte discovered: women's colleges are a welcome alternative for girls wanting to change the world.
Follow Diane on Twitter @HerSTEMCareer, where she celebrates and champions STEM women from around the world. To learn more about women's colleges, visit Diane's blog, Advantages of a Women's College, where a complete listing of all women's colleges in the United States is provided.
Photo Caption: Charlotte Brown, Clinical Research Coordinator
Calling all HuffPost superfans!
Sign up for membership to become a founding member and help shape HuffPost's next chapter