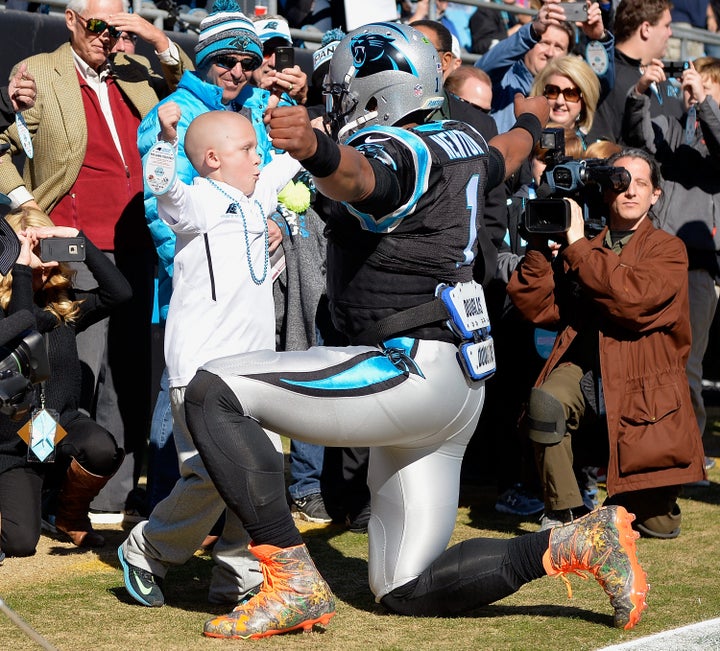 It's hard to remember now, with the Panthers just days away from facing off against the Denver Broncos in Super Bowl 50, but Cam Newton and the city of Charlotte got off to a bit of a rocky start.
The No. 1 pick in the 2011 NFL Draft might have arrived from Auburn with a Heisman Trophy in his hand and a National Championship victory in his pocket, but not everyone in the city was sold on their new quarterback.
"When Cam was initially drafted by the Panthers, I think Panthers fans had mixed feelings about him," Michael Yon, a 24-year-old senior SEO associate who was born and raised in Charlotte, told The Huffington Post in an email.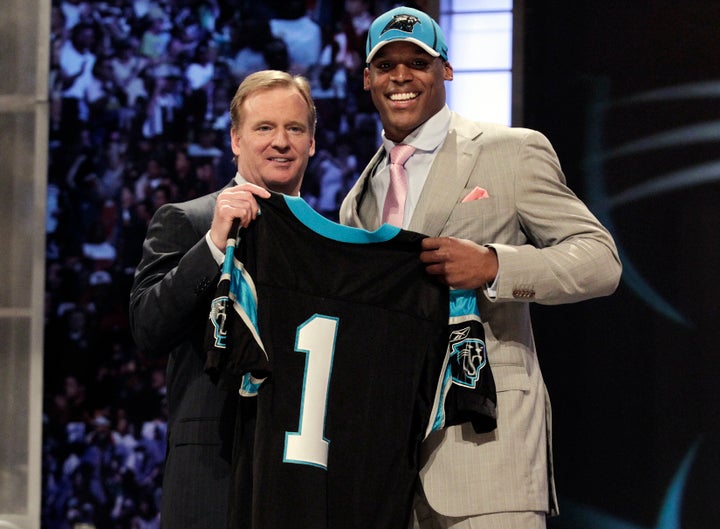 Even after his rookie year, in which he won the 2011 Associated Press NFL Offensive Rookie of the Year award, set an NFL record for rushing TDs and took the Panthers from 2-14 to 6-10, Newton still wasn't a fan or team favorite.
"I watched D.A. and Jimmy (Clausen), they don't play in 20-something games last year," Smith said to the Charlotte Observer. "And they get up and they observe and learn and get those mental reps," Smith said. "I told him [Newton], 'You can get some mental reps or you can sit on that bench and sulk.'"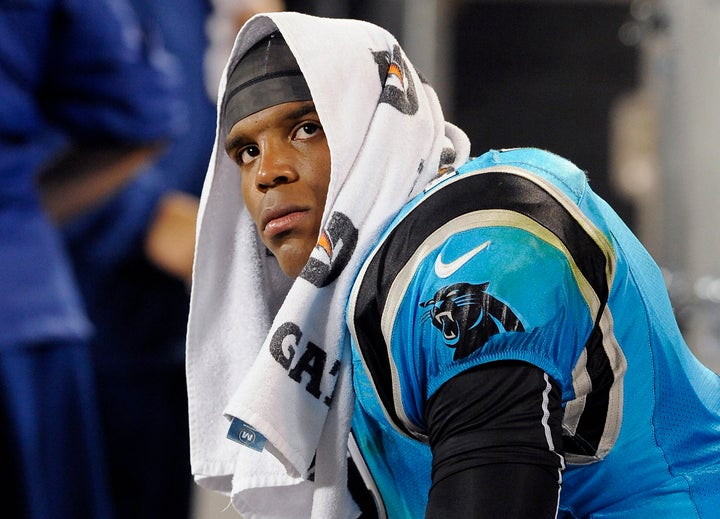 But then something happened. The young man started to mature before Charlotte's eyes, and the city started to truly love and embrace their quarterback.
Sure, the Panthers were now winning more and losing less. But more than that, he proved himself to be a star worth cheering for. Every year, he spent less time sulking on the bench and more time caring about the people who made up the city he lived in. 
"He's really become the face of Carolina sports and Charlotte over the last few years," Chris Lee, a 28-year-old marketing director in Charlotte told HuffPost over email. "Given that Michael Jordan is still very visible in his ownership role with the Hornets, that's saying something." 
"I think Cam has really put his heart and his money where his dab is," said Park Denning, a former Charlotte resident who recently moved to Boston. "I recently sat right next to a kid who received a touchdown ball from Cam and this kid couldn't have been more excited."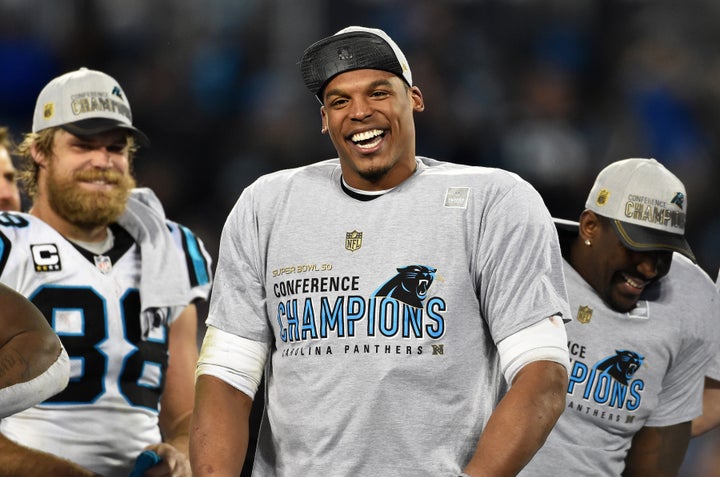 Newton doesn't just throw money at random charities, either. When Newton does give back, he makes sure to be closely involved. That's not lost on Panthers fans. Sue Augustine, who's worked with Big Brothers Big Sisters of Greater Charlotte for five years, has seen Newton get involved firsthand at the company's holiday party for the kids in the program.
"About three or four years ago, Cam sponsored the party. He paid for a lot of the expenses for it and he was the emcee of the party," Augustine said over the phone. According to Augustine, Newton worked with event coordinators to make sure he did as much as he could during the party. 
"He was just great. He's the real deal -- what you see is what you get," she said. "He was like a big kid. Dancing with the kids, handing out presents, getting on their level -- they all loved him."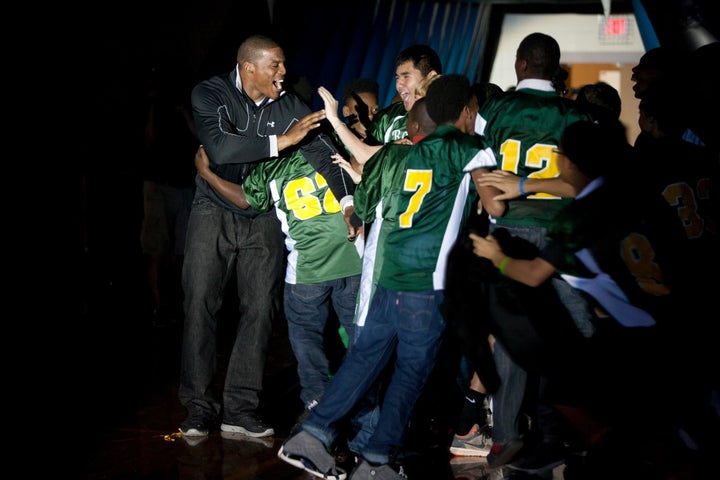 Ironically, the same year Newton cemented his reputation as a pillar in the community, he's become a lightning rod in the national media. A Tennessee mother wrote a letter to The Charlotte Observer complaining about Newton's touchdown celebrations, accidentally setting off a national debate about race and sports centered around Newton and "the dab." But in Charlotte, the vast majority of fans have come to understand that it's just Cam being Cam.
"I think Cam is one of the most genuinely happy people ever," Asheton Brown, a 26-year-old freelance trainer in the Charlotte area, wrote over email. "He's someone I can relate to. Always smiling and celebrating. He loves life. It's that simple."
Augustine, the woman who works at Big Brothers Big Sisters, isn't so sure if she would be a fan of Newton if she wasn't already a Panthers fan. But after seeing how the quarterback interacted with kids, she loves Newton for who he really is. 
"I mean, he's just a big kid at heart. He loves to play, he loves to have fun, he loves to celebrate. I don't think when he does his celebrations, it's to taunt the other team or be disrespectful, even if people may look at it like that," Augustine said. "I think it's more about -- hey, we're having fun and we're celebrating because we're having success, and what's wrong with that?" 
I moved to Charlotte in the summer of 2013, just two years after Newton was drafted. The 2013 season marked Newton's first winning record at the helm, as the Panthers finished 12-4 and first in their division. At the time, the city was just coming around to the idea that Newton might be their man. But in retrospect, Newton knew he would be the moment he was drafted. 
PHOTO GALLERY
Amazing Photos From The 2015 NFL Season

Calling all HuffPost superfans!
Sign up for membership to become a founding member and help shape HuffPost's next chapter