CHARLOTTE, N.C. -- Doug Lutz had to pack up and leave his motel here last week, just as delegates and revelers were preparing to pour into town for the Democratic National Convention. Lutz spent his first nights on a park bench and a loading dock downtown, his bag of belongings beside him. Someone swiped his phone while he slept.
Lutz, 44, had spent 46 weeks living in an extended-stay motel on a gritty highway strip near the airport, he said. But while the DNC may have coincided with Lutz' expulsion from his motel, he was careful to note that it didn't necessarily cause it. Lutz, who makes ends meet by doing freelance computer repair, had fallen behind on his rent for the room. If his manager had hoped to find a paying guest during the convention, he had every right to do so, Lutz insisted.
"I don't blame him one bit," said Lutz, who on Sunday afternoon was waiting for a ride to a church to find a hot meal and a bed for the night. "I couldn't pay the whole week. I'd pay part of what I could and catch it up when I could. He talked to me, he was polite and honest with me. ... He said, 'I'm sorry, you're behind.'"
Despite the booming financial industry here, the influx of tens of thousands of visitors has drawn attention to the city's lesser-known homeless problem. That includes those who, like Lutz, live week to week in motels and can find themselves on the street on short notice. The U.S. Conference of Mayors reported a 36 percent increase in family homelessness in Charlotte in 2010, and another 21 percent jump last year.
Worried about what the DNC's hotel demand may mean for residents living precariously on extended stay, homelesss advocates in Charlotte planned ahead for the disruption, soliciting local churches to help house the homeless while Democrats approved their platform and re-nominated Obama. Lutz got his bed through the interfaith group Urban Ministry Center, which has been busing the needy to area churches and synagogues.
CNN reported this week that one Charlotte hotel, the Sunset Inn, had jacked its rates to take advantage of the demand during the convention, putting out long-term renters of lesser means. "Everybody's raising the price, so why [wouldn't] we?" the manager asked the network.
Sheron Young, 39, a homeless mother with four children, told HuffPost that her daily rate shot up from $30 a night to $300 a night at the motel. Unable to pay, Young took her kids to a Salvation Army shelter in Charlotte for the week. "It's one of the least expensive that's fairly clean," Young said of the Sunset Inn, where the five of them had slept in the same room since early August. Despite having to leave, Young, like Lutz, said she has no ill will toward management. "I can't blame him," she said.
Not every motel, however, chose to pounce on the short-term windfall. Monica Wojtkowski, general manager at an Extended Stay America near the airport, said the hotel didn't raise rates or ask current guests to leave. "This is just the philosophy we had. We want to maintain good public relations," she said.
But all the attention paid to extended-stay hotels during the DNC misses the point, said Darren Ash, executive director of Charlotte Family Housing, an advocacy group for the area's homeless. The problem isn't that some motels may be temporarily hike prices, he said. The problem is that many people in Charlotte, including families with children, have to live in motels to begin with. Or, worse, their cars.
"We've had a massive issue for years," Ash said. "It's the longer-term problem, when the DNC leaves. Why did this happen in the first place to this host city? How could it have such a problem with family homelessness, and what are [we] doing about it?"
Some of the homeless themselves would agree. The concerted planning and media focus on homelessness in the area will only last "while the convention's going on," said Chris McClure, 39, who's been homeless for four months. "Once it's over, guess what? We go right back."
Two men who were looking for a bed on Sunday night told HuffPost that they'd recently had to leave an extended-stay motel near the airport called the Homestead Lodge. They, too, noted upfront that they'd fallen behind on their payments. "I had a large balance, I had trouble finding work," said one man, who, like his friend, declined to give his name. "They're being fair. I didn't have enough money and I couldn't get help."
The fact that motel tenants have lost their rooms this week irrespective of the convention underscores the city's longer-term problem. Iris Rivera, an assistant manager at the Homestead, told HuffPost that the motel didn't give anyone the boot because of the DNC. Management tries to work closely with extended-stay tenants on getting their back rent settled up, and they only tell renters they have to leave when the bills become insurmountable. Several Homestead Lodge tenants told HuffPost that managers there are more than fair.
"We give them plenty of time to pay -- 10 days notice -- and if they don't then they have to go," Rivera said. "The only thing we tell them is we have people who need rooms and are willing to pay."
The Homestead offers rooms starting at $176.60 a week, according to a sign out front, allowing those with a meager paycheck or enough public assistance the opportunity to board on a temporary or longer basis. Some guests have placed knickknacks on their window ledges or hung pictures on the wall. One family with a toddler told HuffPost that they'd been staying at the motel for three months, though they declined to talk about how they ended up there.
Martha Dempsey, 47, said she and her boyfriend of 13 years, Julius Lymmon, 45, have been living at the motel for three years. Dempsey had moved there with Lymmon after a long bout of abject homelessness, much of it spent at Charlotte churches and a women's shelter, she said. Lymmon is currently looking for work as a truck driver, and Dempsey, who has arthritis in her hands, has applied for disability. She gets by primarily on food stamps.
The two live in a small room with one bed, a cramped kitchen and a bathroom. Dempsey has set up a small, makeshift bed for when her granddaughter visits.
"It's pretty reasonable, and the manager is very understanding," Dempsey said of the Homestead. "We're behind in rent right now." She said that most people there are on extended stay, and those who recently had to leave had been "way, way behind."
Dempsey called the Homestead one of the better motels in the area if you don't have your own place, certainly much better than life in a shelter. But she looked forward to the day she can move on to an actual apartment, leaving behind the uncertainty of week-to-week living.
Someday soon, she plans on settling her $270 in back-due rent and moving on.
"I'm going, I'm leaving," she said. "I'm trying to get my disability check, and when I do, I'll pay off [the manager] and I'm gone."
Jason Cherkis contributed reporting.
Before You Go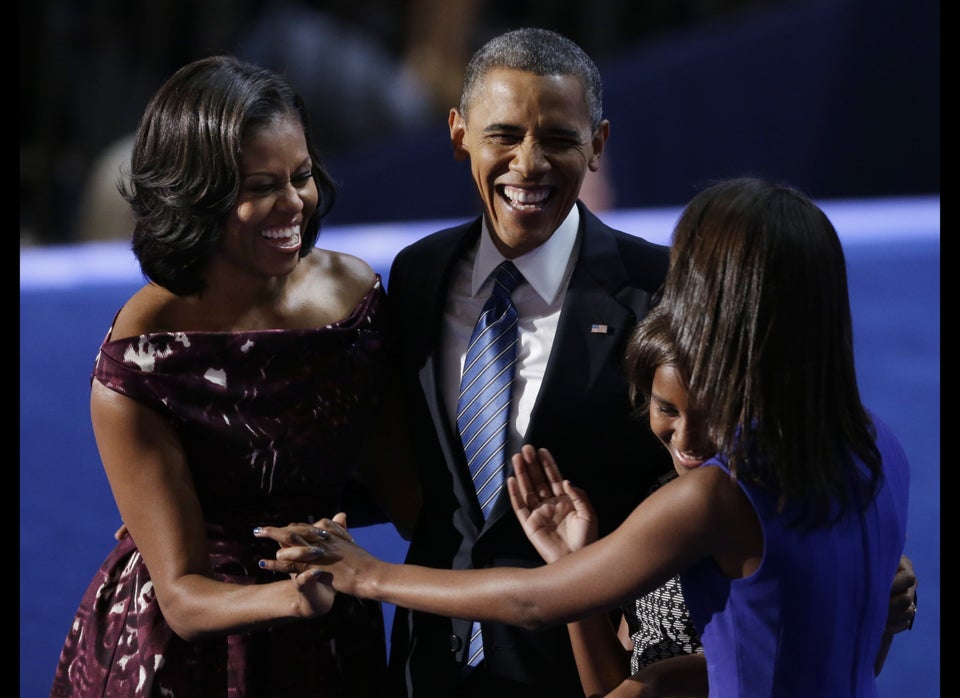 Obama Rocks Democratic Convention
Popular in the Community