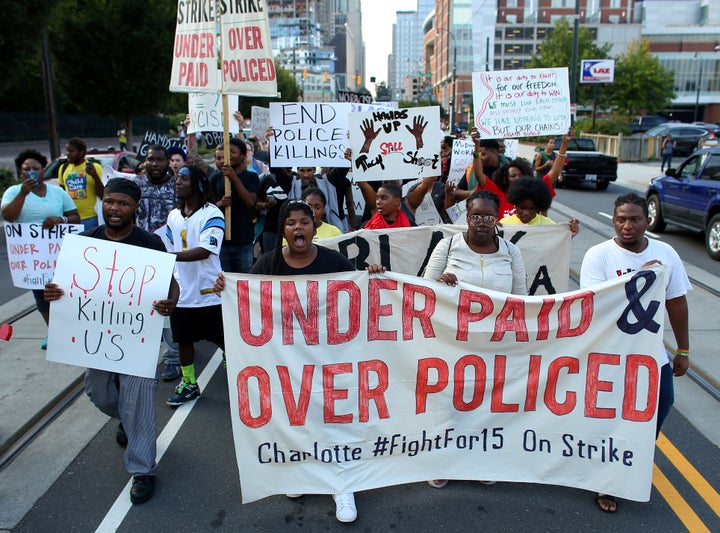 CHARLOTTE, N.C. ―The banking capital of the South is a bustling metropolitan area, with a solid economy and a #27aa7541d1a0"}}">thriving black middle class.
Fostoria Pierson, who has lived in the city for eight years, describes Charlotte as "one of the lands of opportunity in the south" and a great place to raise children, with an abundance of charter schools. It's one of the few southern cities that has professional basketball and football teams, along with NASCAR. 
"Charlotte is a beautiful place,"  she told The Huffington Post. "Right now we're just at a civil unrest. But, you know what, our mayor and our governor ― they will get it back to where it used to be."
But the protests have highlighted a wide gap between perceptions of the Queen City that many in Charlotte have and the reality facing many of its residents. Despite the city's anti-racism programs, Charlotte, often referred to as "The New South," isn't as progressive as some of its residents like to think. It has many of the same issues facing other American cities.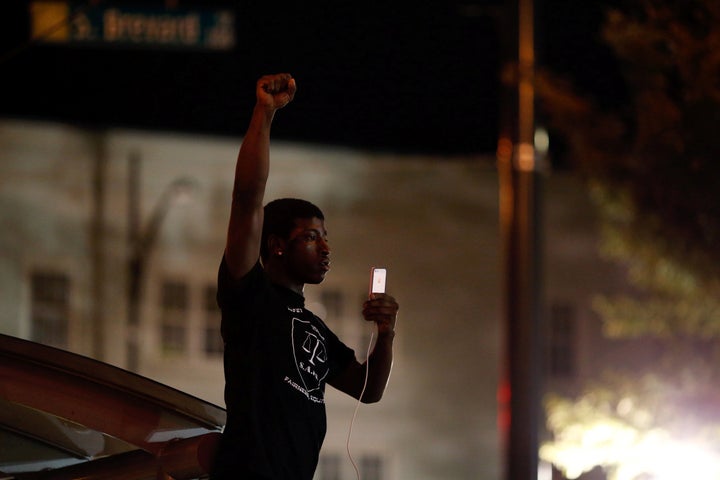 A trip down Beatties Ford Road in the city's Westside will take you through a vastly different world than that of Uptown, the city's business district. Glitzy hotels and a variety of  eateries are replaced by Chinese carry outs, check cashing places and mini marts. Instead of AT&T stores, you're more likely to see Metro PCS and Boost Mobile stores. Fried chicken and rib shacks speckle the landscape along with abandoned buildings and murals.
West Charlotte, where the neighborhoods range from being 80 to 96 percent black, is home to some of the city's most impoverished areas along with the north side. South Charlotte, which is between 80 and 95 percent white, is home to most of the city's wealth.
Residents who live in these areas also have to deal with the byproducts of poverty ― higher crime rates, poor housing options, underfunded schools, inadequate transportation and harsher policing.
Black people are 35 percent of Charlotte's population, yet account for 60 percent of traffic stops, according to a study of 1.3 million stops that the Charlotte-Mecklenburg Police Department made over a 12-year period. The study from the University of North Carolina at Chapel Hill also found that officers are twice as likely to use force against African-American drivers, while black men aged 16 to 30 are three times more likely to be searched during a stop.
But the predominantly white force still doesn't have the greatest relationship with the community.  
"I'll be honest. We try to have a relationship but the police will not allow it," said Dino Davis, a 19-year-old from the city's westside. "So they not gon' allow it? We don't give two fucks."
Most people who are not from Charlotte may not have a firm grasp of CMPD's expansiveness, Bass said.
The department has about 1,840 officers. CMPD regularly compares itself to cities with a similar population, size and mix of urban and rural areas ― like Columbus, Ohio, San Francisco, San Jose, Calif., Indianapolis, Jacksonville, Fla. and Austin, Texas.  
CMPD has 2.27 officers per 1,000 residents and, of the cities it compares itself to, only Columbus, Ohio, has more officers per capita (2.34 per 1,000 residents), according to an analysis The Charlotte Observer conducted. And San Francisco, California, which has a larger population, only has less with 1.89 officers per 1,000 residents.
"Charlotte, being one of the largest cities, being a banking city, has always had a prominent police force," Bass said. "Throughout the years, relationships between the community and the police have been tense at times."

"Folks look at their cities ― like Charlotte did before this incident and probably will over the next couple years ― and say 'We are Charlotte, we are different than these other cities,'" Bass said. "In reality, you are very much so the same."
Calling all HuffPost superfans!
Sign up for membership to become a founding member and help shape HuffPost's next chapter
BEFORE YOU GO
PHOTO GALLERY
Protests Break Out In Charlotte After Police Shooting