CHARLOTTE, N.C. ― Protesters rallied outside a Carolina Panthers game in Charlotte, North Carolina, on Sunday, marking the sixth straight day of demonstrations after police fatally shot a black man in the city.
The rally ― which took place the day after Charlotte police released partial videos showing an officer shooting 43-year-old Keith Lamont Scott ― was not without tension.
Security was tight outside the Bank of America Stadium as the teams and fans arrived for the game against the Minnesota Vikings, and included officers in riot gear.
Some football fans expressed solidarity with protesters, while others jeered and seemed to intentionally bump into them on their way to the stadium.
Lance Tzlaff, a Vikings fan from Minnesota, said he had no issues with protests as long as they didn't involve destructive activity.
"They can do whatever they want as long as you don't interfere with others," he said.
Bryan Chacka, another Vikings fan from Minnesota, agreed and said protests lose their power if they turn violent.
"They go fuck shit up and they lose their case. You lose the power behind the movement," he said.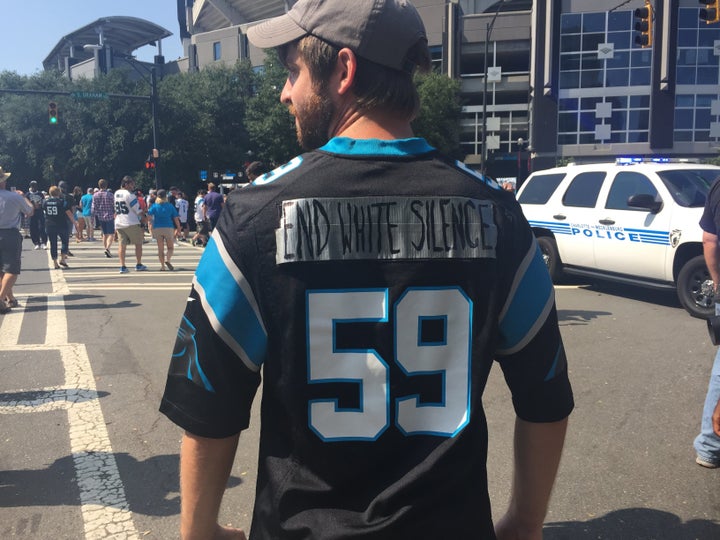 Todd Zimmer, who helped orchestrate Sunday's rally as part of a national group that organizes white allies called Showing Up For Radical Justice, had hoped the Carolina Panthers would acknowledge the events of the past week. But the organization has not recognized the rally or the Scott shooting.
"Every night of the Charlotte Uprising, protesters have been rocking Panthers gear. We want justice and transparency in Charlotte more than we want a Super Bowl ring," Zimmer said. "We love the Panthers. We just want the Panthers to love us back ― especially while so many of us are grieving."
Protesters outside the stadium kneeled as the game kicked off, and many raised fists as the national anthem played.
Because football games are considered "extraordinary events," police have the authority to search items belonging to civilians. At least one man was arrested just after 1 p.m. with a gun found in his bookbag, Charlotte-Mecklenburg Police confirmed.
The most intense and violent activity took place on Tuesday, the day Scott was killed, and Wednesday: At least one person died in a related shooting, and several officers and residents were injured. Several stores in downtown Charlotte were vandalized, prompting Gov. Pat McCrory (R) to declare a state of emergency and the mayor to declare a curfew on Friday.
Despite the clashes, Charlotte police resisted calls to release bodycam and dashcam footage of the fatal shooting.
The Scott family urged police to release the video after viewing it for themselves. The CPMD released portions of the footage Saturday night.
Police claim Scott was holding a gun when he was shot, but it's not clear from the video whether he was. The department has released an image of a handgun they say they recovered from Scott, but family members and some witnesses dispute that he was armed.
Protesters have noted that possessing a gun is not necessarily a crime or suspicious in a state like North Carolina, which has open-carry laws, and say Scott did not pose a threat to police.
A man named Terry, a Vikings fan who lives about 75 miles northwest of Charlotte, said he would have protested if he lived closer to the city.
"That's the only way anything is gonna get done about it ― if anything gets done about it."
Before You Go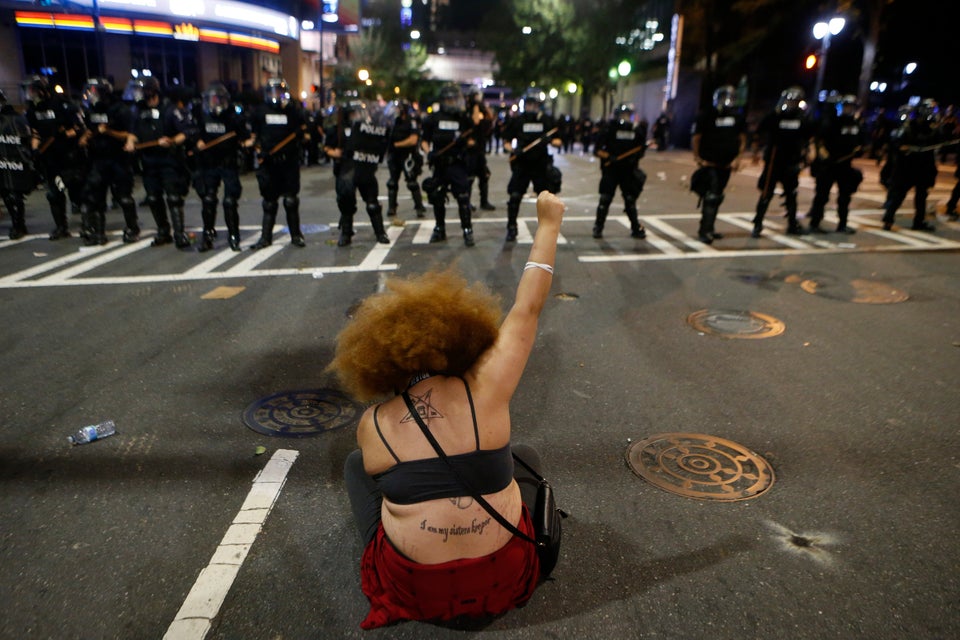 Protests Break Out In Charlotte After Police Shooting
Popular in the Community