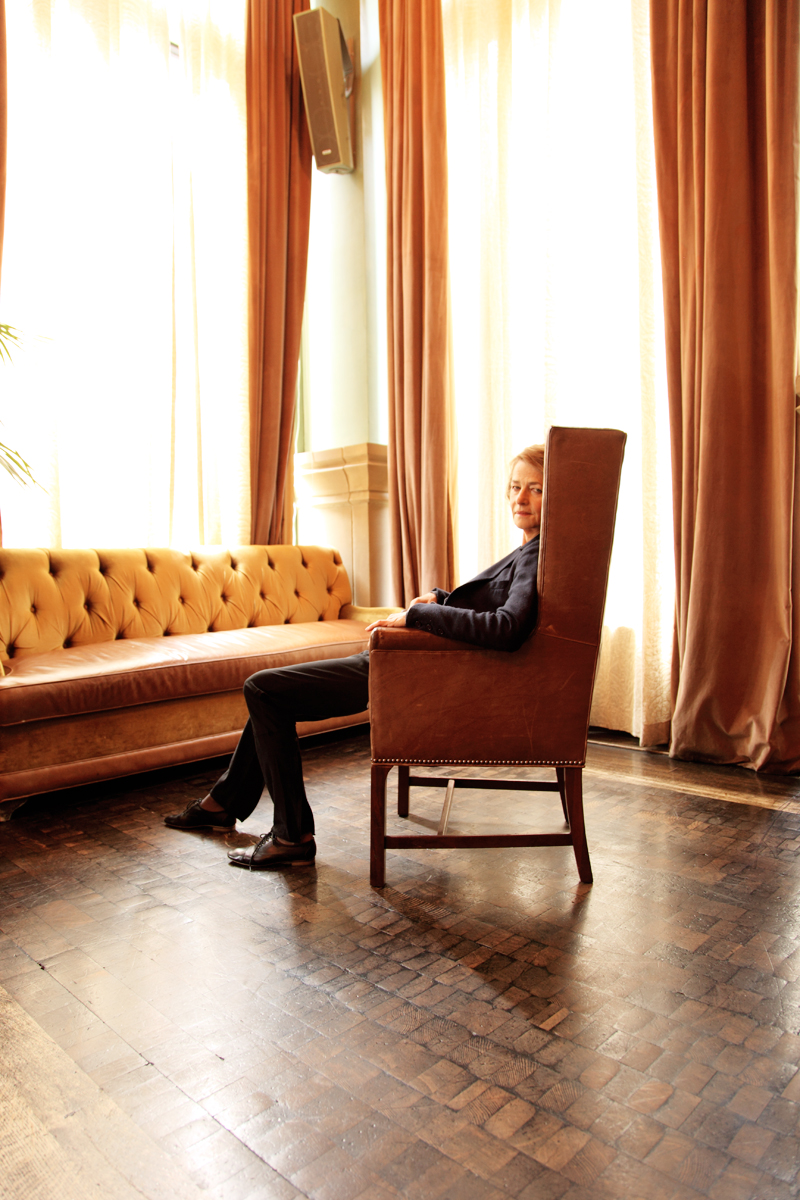 Charlotte Rampling: photograph for SPREAD by Kareem Black, 2011
"Being ready at 9am in any country," sighed Charlotte Rampling, smartly turned out in a black suit after a late night of revelry in the West Village. The Look had just premiered the night before in New York and Gabriel Byrne had popped out to greet her after the show. Byrne recalled how he'd sweated over how to impress her while on a first stroll through Central Park together, and seeing a night guardsman walk past, had quipped, "Ah, Night Porter!" Rampling had ignored his remark and had kept walking.
Later Byrne had asked, "But wasn't that funny?
"You don't know how many fucking times people have said that to me," Rampling had replied.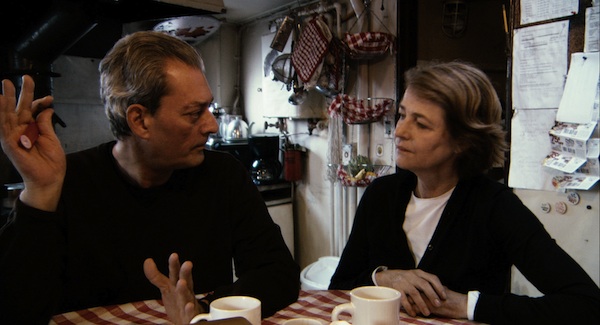 Paul Auster and Charlotte Rampling in a scene from Angelina Maccarone's documentary CHARLOTTE RAMPLING: THE LOOK. Credit: Kino Lorber/Les films d'ici

Charlotte Rampling's films do not flash across neon-lit marquees in middle America, but her carefully culled oeuvre ("Sort of my artistic choice...a way of living, of evolving for me," she tells me) has garnered a cult of swooning devotees who admire her courage in picking unconventional roles spanning four decades of cinema.
More prolific than ever, she has recently starred in Lemming, Swimming Pool, Heading South, playing conflicted, reclusive roles or evil, camp cameos, like in the sci-fi flick Babylon A.D. She has also appeared in a Marc Jacobs fashion shoot, as well as an extended love-fest with photographer Juergen Teller, who played nude antics over a piano and gleefully peed into a flowerpot while Rampling, curled in bed, indulgently looked on. All the excavation and over-blown analysis into her enigma seems redundant when she is, more evidently, an artist committed to questing in life. While "The Look" is a bio-pic, featuring conversations with friends, it is tamer and less confrontational than past roles that explore darker aspects of her nature--revealing, instead, a more contented side.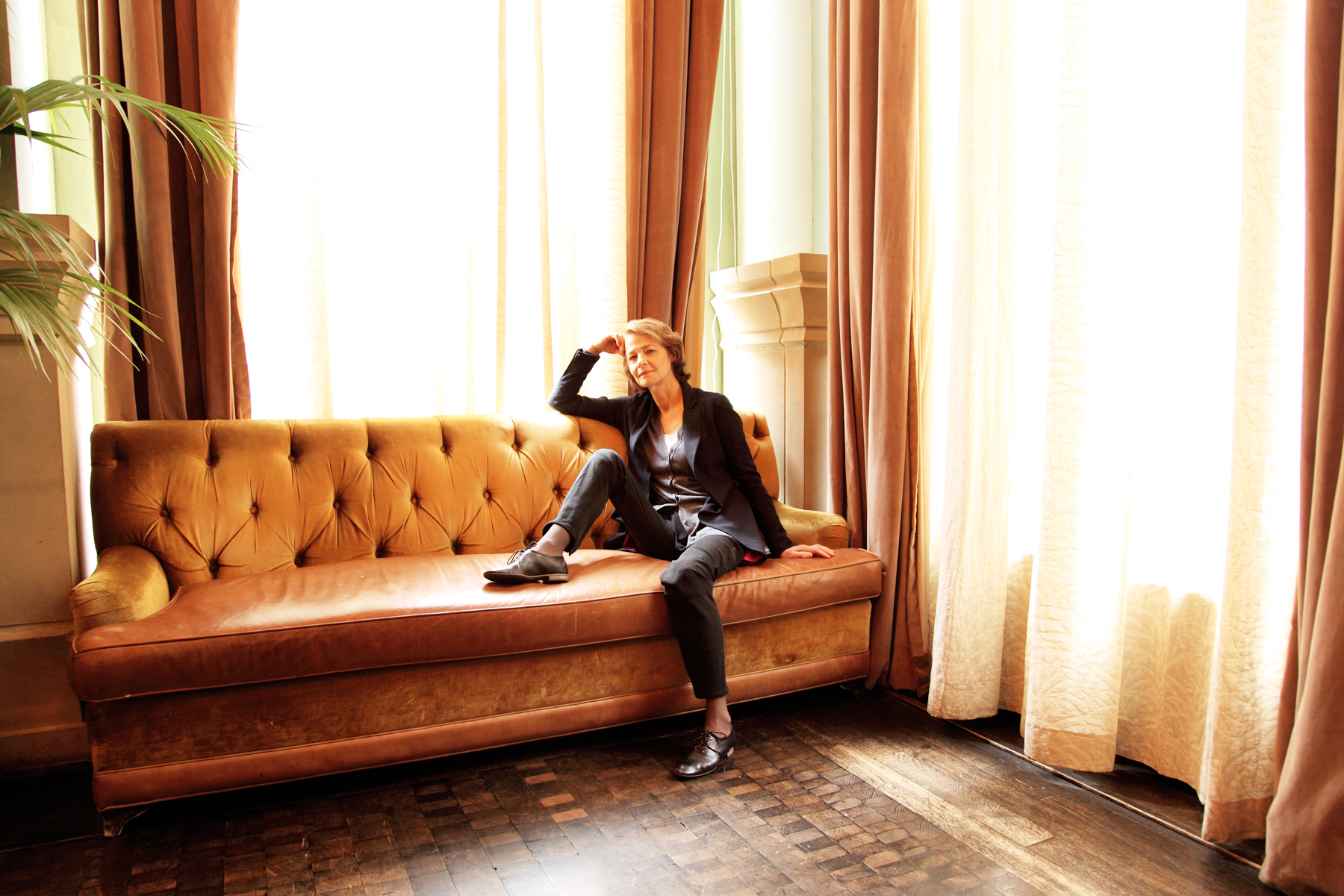 Charlotte Rampling photographed by Kareem Black, 2011 © Kareem Black
We share a couch near a lovely blazing fireplace at a lounge in Soho. I tell her that I wished she'd included a conversation with a younger woman, beautiful and successful as she had been when young, to create a tenser dynamic. Rampling fixes me with her hooded leopard gaze, "Hmm. I didn't think of it...but it could have been good." It was a bit early to talk about love, aging and mortality at breakfast, but I struggled to get past the platitudes.
KL: What about a crossover artist like Tilda Swinton?
CR: I don't know her, though I've met her once. She's certainly someone I would identify with; we are on the same sort of path. I feel in some ways she's stronger than me, able to take on certain things I can't take on.
KL: When you're born beautiful you aren't expected to do much more in life...
CR: It's already enormous. What beauty brings is huge. It brings great privilege, great power and potential to do many things. If you are beautiful, doors open for you; people smile at you; you are accepted in places where others aren't. So the relationship that people have with beauty, in a sense, is almost deforming.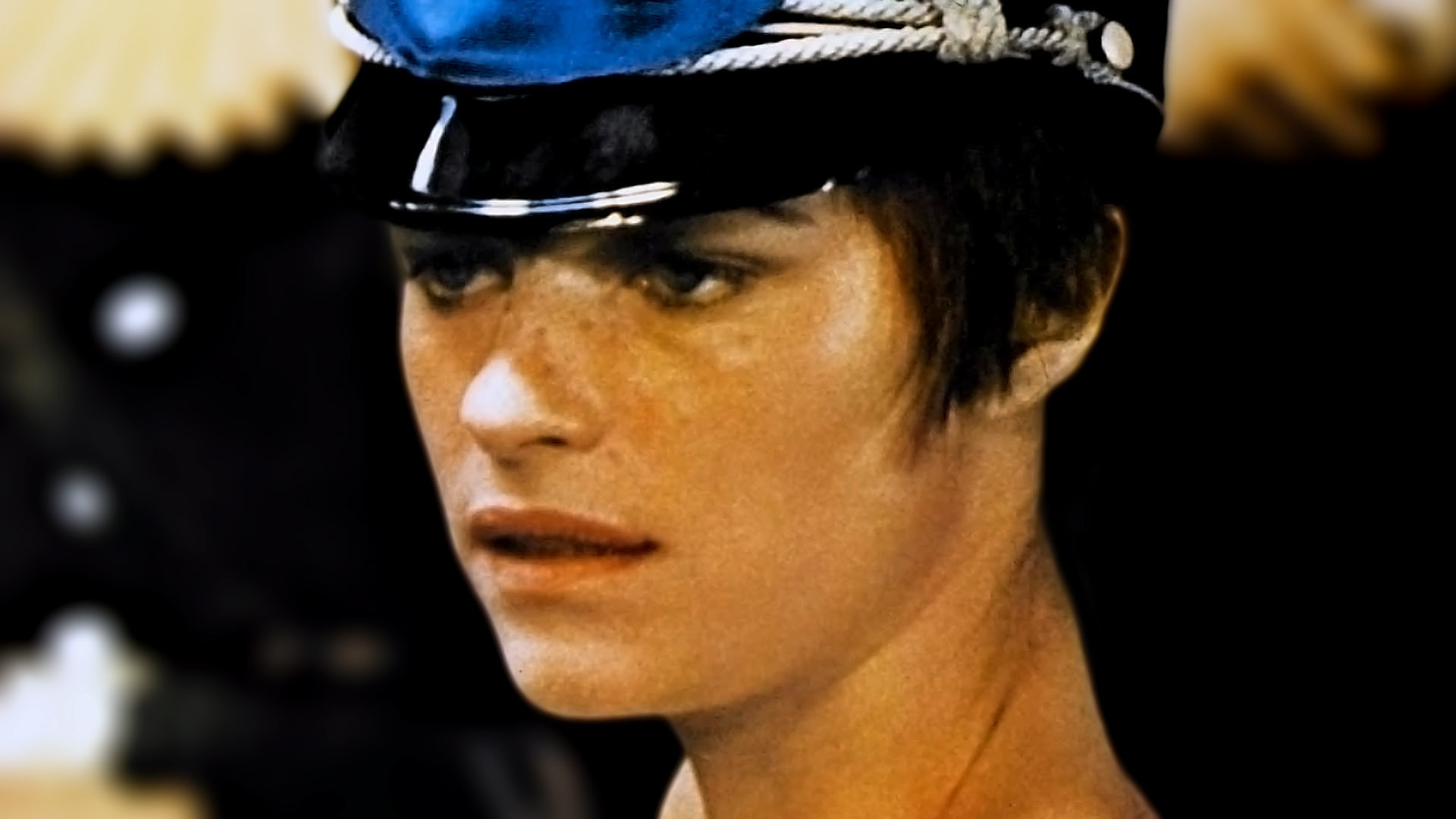 Charlotte Rampling in 1974 film by Italian director Liliana Cavani, Night Porter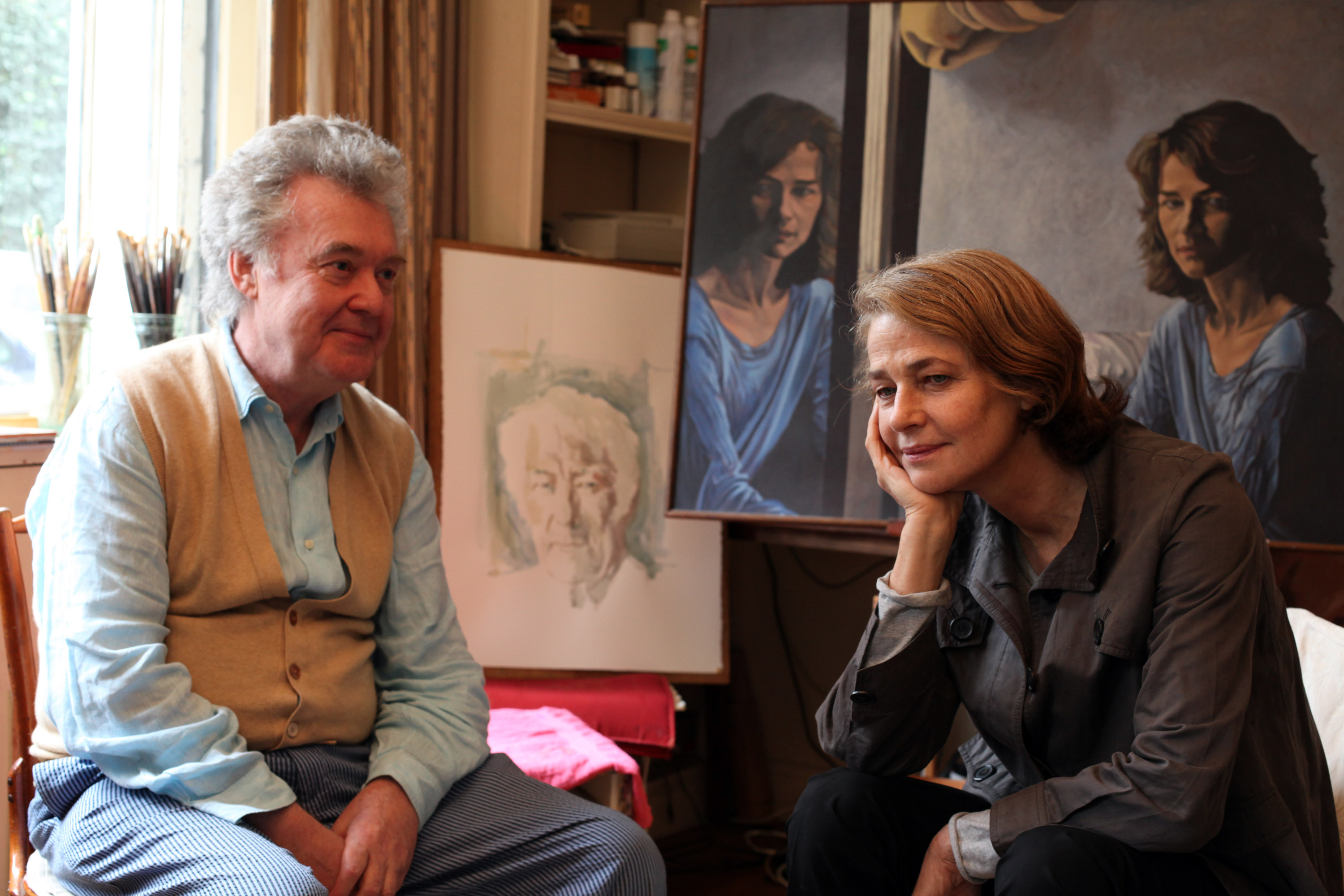 Anthony Palliser and Charlotte Rampling in a scene from Angelina Maccarone's documentary Charlotte Rampling: The Look. Credit: Kino Lorber/Les films d'ici
KL: Your older sister's suicide gave you a sense of mortality at a very young age...
CR: Yes, because you know there's a brutal end. However it will be. Her death was brutal and I had that in the face very young.
It sent me on a very deep search. Not necessarily to be rebellious or provocative. But it so happened, within that journey ... it led me to get to the depth of something - a feeling, a life, or philosophy; to get my teeth into something, which made some sense, and which wasn't just [sighs] beautiful and suddenly finished - and what are we here for, and what on earth is going on in the world and how are we supposed to live... I started to quest, and began my journey into life then.
KL: And you surrounded yourself with challenging men. Dirk Bogarde coined that expression about 'The Look,' you had. Was the film, in a certain sense, an homage to him?
CR: Yes, you're completely right. The meeting of me and Dirk... it is an homage, this film almost could be made because of him. And because of the circumstances in my life then, I started something with him... And he was older. He became my master, my trusted friend, he and Tony [Bogarde's partner]. They were that side of my family that were gone.
KL: Being in a place of vulnerability you had protection from the right people perhaps?
CR: Perhaps...and is it because one has the animal instinct to seek out the people that suits one - you see people that go on life's journeys and get muddled along the way. If you look at their lives they've always gone with the wrong people... can you say it's the wrong people - I don't know...
I was working with these very iconic people, [like Visconti] who were able to inspire me into a way. You can choose many ways can't you? Again, if you are beautiful and talented, and I had made films, and people were looking at me, and so I could choose.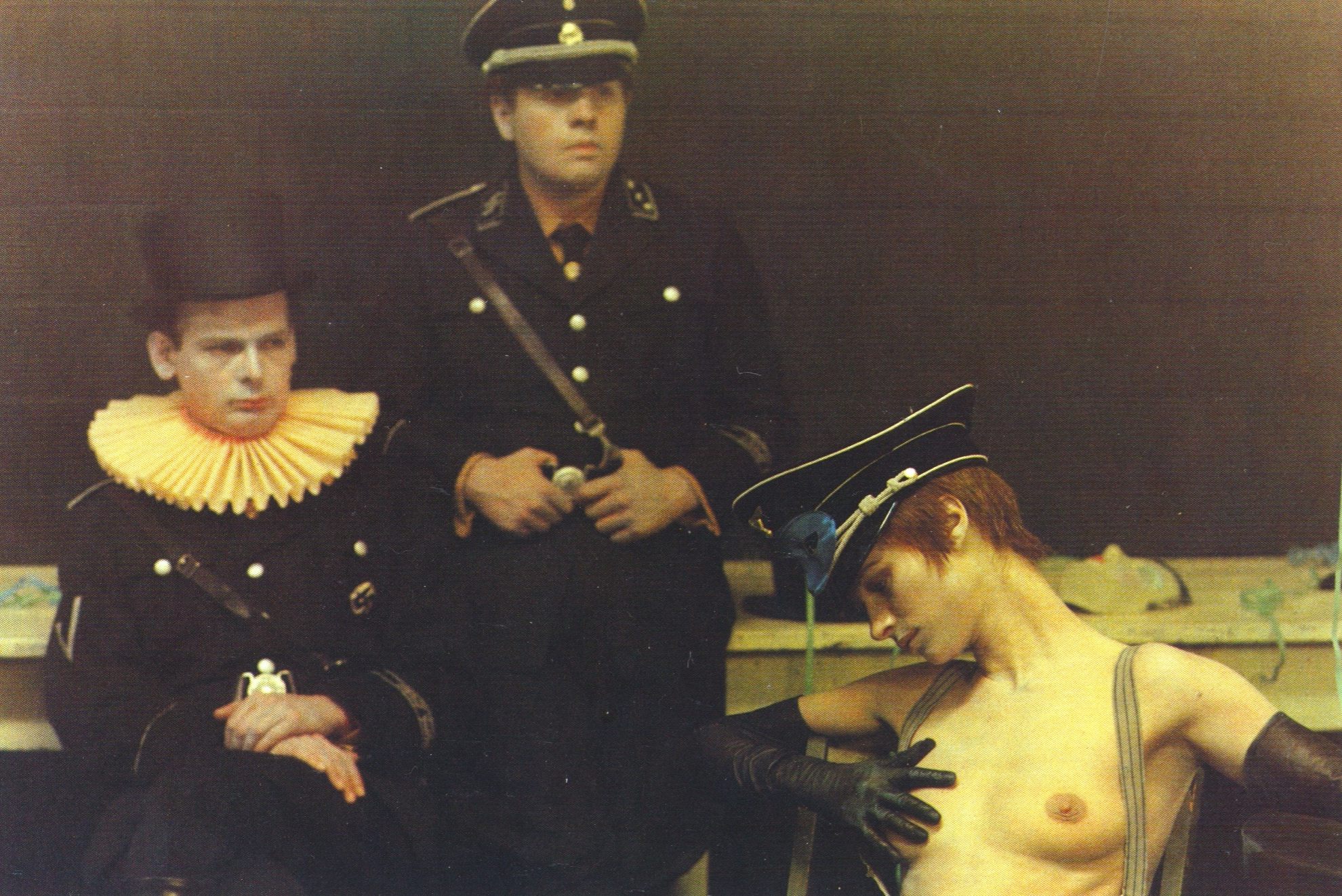 Dirk Bogarde, Charlotte Rampling in 1974 film by Italian director Liliana Cavani, Night Porter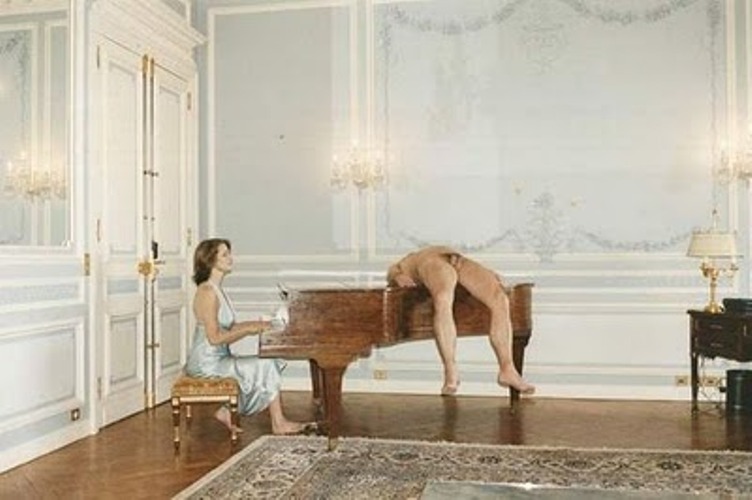 Louis XV by Juergen Teller, Charlotte Rampling
KL: Dirk Bogarde also explored a spectrum of sado-masochistic and gay roles ... the Night Porter, the Servant, the Victim...
CR: He's gone into dangerous areas that at that time had not been exploited--not been seen with homosexuality--with things that were beginning to come into the open.
KL: You are fortunate you share this rich cinematic history with your public and with younger generations; it's now part of collective memory. What about the personal impact of memory - is it a gift or a burden?
CR: I think you can choose...you don't need the painful memories, because either you've resolved them. Denying always makes them want to come back. Denial is a mechanism that doesn't work. But allowing them to come back in little by little, those memories, you can begin to be quite comfortable with them, and it's even nice to have that as part of the map of your life.
CR: But as human beings, we do need to learn to become wise... because we all can, and it's not something only given to wise old men with beards sitting on top of mountains.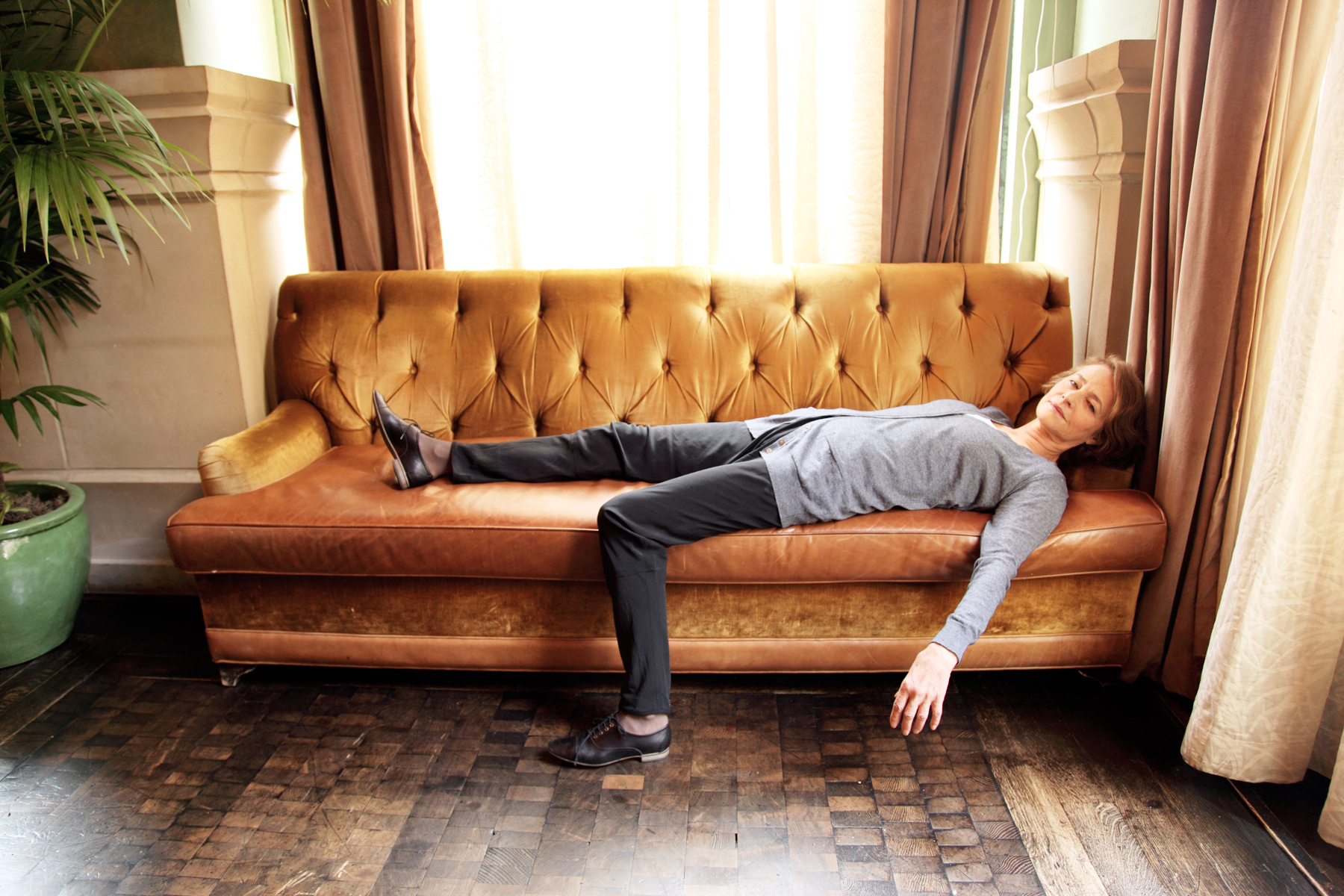 Charlotte Rampling: photographed for SPREAD by Kareem Black, 2011, © Kareem Black
KL: Letting go of the fear of exposure can be liberating - and you were finally public about your father trying to suppress what your mother knew about your sister's death, and having to go along with that for so long.
CR: By trying to control everything we become very neurotic, more and more desperate. It's a huge tragic thing. The reason I talked about that when my mother died - because I wouldn't say anything till she died, and then I realized in some ways, bizarrely, I did want to talk about it ... but then you know, it's always going to be talked about - but that's what I needed to do, and I couldn't not.
Now what happens with a lot of information is that it keeps coming back and back and back...[beating the couch emphatically] and soon as it's out there, it sort of loops back through all the different channels and all the networks.
But what we need to do is go back to each time we do something and remember and respect why we did it.
KL: As long as it was a conscious decision and you weren't drunk...
CR: Yes! And you weren't forced into it.
KL: In the age of the internet, you're not just separated from your public by film critics, people can access your films online, give immediate feedback. Has that affected your relationship with the public?
CR: I find that a bit confusing and I suppose I am not that generation. Even for other things I don't look at it. I get dizzy. Not even about myself, but generally. [laughs] It's dizzying all this information.
KL: Do you think you're more of a rebel in films than in real life?
CR: No, I am the same person.
KL: But perhaps you are straighter in terms of love; a serial monogamist? Are you a believer in true love?
CR: Yeah, I believe--well I say now, because each love evolves very much over the years. I've always been monogamous--[within it] I've been in love with people, but very platonically. For me, monogamous love is about learning how to be able to trust someone completely; so you need to be able to think you can trust them. But that doesn't mean you can't have extraordinary feelings for other people and not feel guilty about them, but not necessarily go and wreck marriages and consummate, and you don't have to do all that.
KL: It can be platonic, perhaps like with the chimpanzee in Max? I like the idea of living in solitude, but together. With desire though, it doesn't necessarily change with age does it?
CR: That's right, exactly. But I am able to somehow work through that differently because sexual desire, it's not a priority...well it's just less complicated, but I can quite understand why for other people it is.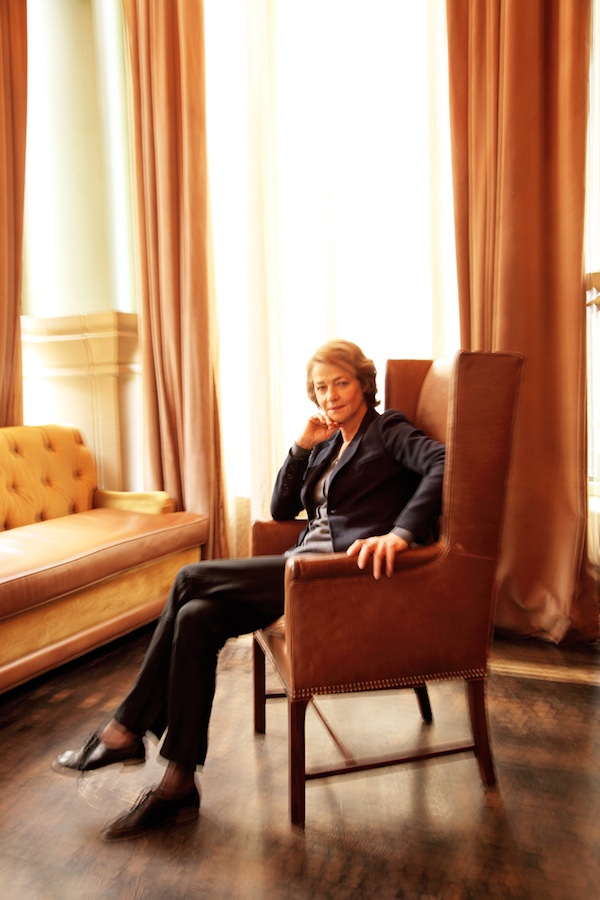 Charlotte Rampling: photograph for SPREAD by Kareem Black, 2011 © Kareem Black
KL: I am curious about your paintings. I often write about art, and it says more about a person's emotions than asking them to be literal about who they are in conversation.
CR: Those are my funny strange creatures I live with. One of my favorite artists is Giacometti. And I didn't even realize that I was doing it, but those sort of Giacometti creatures come out of me...it's the spirit of him, it could be his family. They are not sculptures but I work on materials with wood. I bring these people out of them that are rather like very strange lonely creatures that come out of the darkness. A person will come out... I've been asked to expose them, and I might, but I need to be more diligent and work on them a bit more.
KL: I am wondering about the film's reception in the UK.
CR: I know, in your own country, you always sort of wonder - so it's going to be very interesting.
KL: Hmm... a tough audience there, but perhaps next, a knighthood is in the cards?
CR: Knighthood! [chuckles] I am not qualified to be a Dame. To be Dame you have to represent England in a way that I don't. No, I got the O.B.E because I represent England outside of England more...but thinking of me as an actor, I haven't done all the classical theatre, all the great roles. Think of Helen Mirren and me. Helen, who I adore, is a friend - should be Dame. I am the rebel, the revolutionary on the side.
KL: The edgy icon? Well, daring Dame Rampling, you definitely deserve it...
Well, thank you, that's very sweet. [peals of laughter]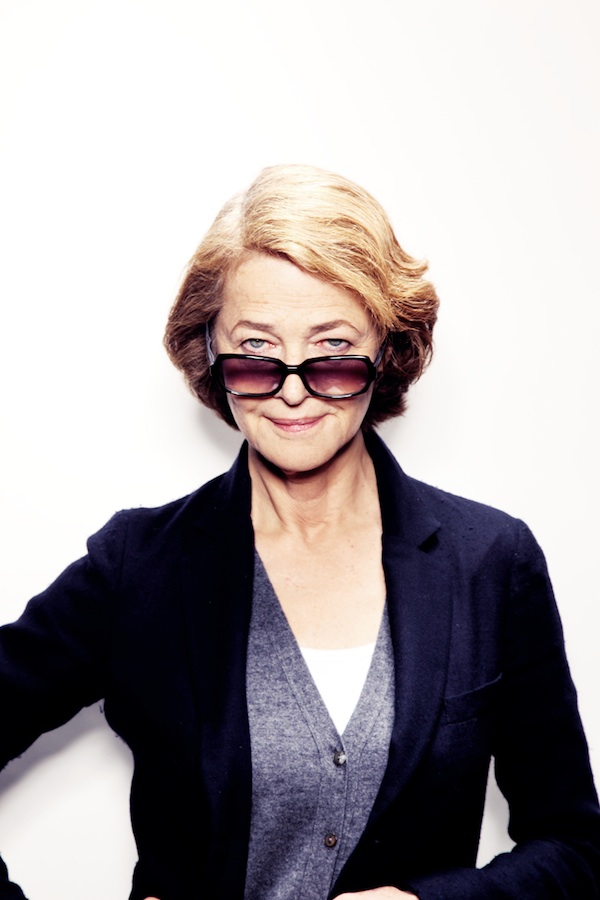 Charlotte Rampling: photograph by Kareem Black, 2011 © Kareem Black
Original article published in Spread ArtCulture Magazine

Spread ArtCulture on Facebook
Popular in the Community