Michael Signer, the Democratic mayor of Charlottesville, Virginia, slammed President Donald Trump's "repeated failure" to condemn white supremacist groups, saying the nation isn't "seeing leadership from the White House" on the issue. 
"Look at the campaign he ran. Look at the intentional courting ... on the one hand, of all of these white supremacists, white nationalist groups," Signer said Sunday on CNN's "State of the Union" as he discussed the deadly violence that afflicted his city on Saturday sparked by a "Unite the Right" rally.
"And then look on the other hand at the repeated failure to step up and condemn, denounce, silence, put to bed, all of those different efforts just like we saw yesterday. This is not hard," he said.
"There are two words that need to be said over and over again ― domestic terrorism and white supremacy," he said.
Speaking on NBC's "Meet the Press," Signer said the views of these "anti-Semites, racists, Aryans, Nazis," and KKK members previously had been kept "in the shadows."
Now, he continued, "they've been given a key and a reason to come into the light."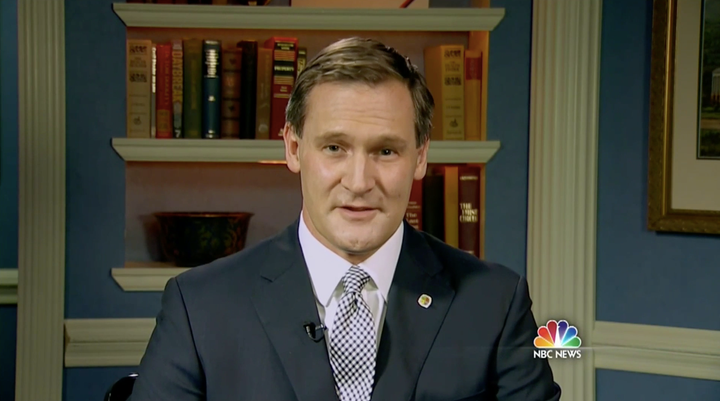 "There's an old saying, when you dance with the devil, the devil changes you," Signer said, referring to the messaging that marked Trump's presidential bid. "I think he made a choice in that campaign, a very regrettable one, to really go to people's prejudices, to go to the gutter."
He added: "People are dying and I do think it is now on the president and on all of us to say, enough is enough. This movement has run its course."
Three people died Saturday in Charlottesville ― a 32-year-old woman was killed when a car plowed into a crowd of counter-protesters, and two Virginia state troopers on duty perished when their helicopter crashed on the city's outskirts.
Vanguard, in a statement posted to Twitter, said Fields is not one of their members and that shields, featuring their emblem, were handed out to anyone attending the rally.
"We are determined to take our country back. We are going to fulfill the promises of Donald Trump. That's what we believed in, that's why we voted for Donald Trump. Because he said he's going to take our country back. That's what we gotta do," he told the Star.
"I would recommend you take a good look in the mirror & remember it was White Americans who put you in the presidency, not radical leftists," he responded.
REAL LIFE. REAL NEWS. REAL VOICES.
Help us tell more of the stories that matter from voices that too often remain unheard.
BEFORE YOU GO
PHOTO GALLERY
Clashes In Charlottesville