Charlottesville Police Chief Alfred Thomas resigned suddenly on Monday, just weeks after his department was lambasted over its handling of a deadly white supremacist rally in August.
The city released a brief statement from Thomas, but didn't say why he made the abrupt announcement. City Manager Maurice Jones called him a "man of integrity who has provided critical leadership for our department."
"Nothing in my career has brought me more pride than serving as the police chief for the city of Charlottesville," Thomas said. "I will be forever grateful for having had the opportunity to protect and serve a community I love so dearly. It truly has been an unparalleled privilege to work alongside such a dedicated and professional team of public servants."
An interim chief of police will be appointed over the next week as the city begins searching for a new candidate to fill the role.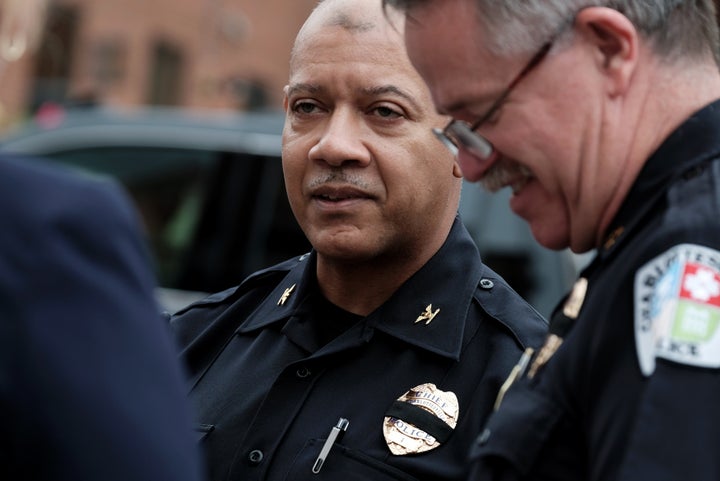 Thomas' resignation comes after a review released Dec. 1 concluded Charlottesville law enforcement was unprepared and improperly trained to handle a white supremacist rally in August promoted by Richard Spencer and members of the Ku Klux Klan. Thousands of armed militia members groups and white supremacists descended on the city to protest the planned removal of a Confederate statue of Robert E. Lee from a park, and fought with counter-protesters for hours. Heather Heyer, 32, was killed and 19 others injured when a white supremacist from Ohio drove his car into a crowd at the rally.
In the 207-page independent report, Former U.S. Attorney Timothy Heaphy said Charlottesville's response led to "disastrous results" that could have been prevented. 
"People were injured in violent confrontations that could have been but were not prevented by police," the report said. "Some of the individuals who committed those violent acts escaped detection due to police inability or unwillingness to pursue them." 
Heaphy's report noted that several officers heard Thomas say in the police command center: "Let them fight for a little. It will make it easier to declare an unlawful assembly."
Despite the criticism, some have slammed the report as inadequate, saying it neglected to report on underlying racism within the community.
"It falls woefully short," Don Gathers, a local activist, said at a public comment period about the report, according to The Washington Post. "You don't address the specific issue that brought the Nazis here in the first place."
Thomas became the first black police chief to hold the position in Charlottesville when he took the job in May 2016. 
In his farewell statement, he wished his former colleagues "and the citizens of Charlottesville the very best."
Calling all HuffPost superfans!
Sign up for membership to become a founding member and help shape HuffPost's next chapter