The typically sedate college town of Charlottesville, Virginia, erupted in chaos on Saturday, as white supremacists clashed with counter-protesters in scenes often resembling all-out street brawls.
Far-right extremists, some outfitted with Nazi SS-style helmets and armed with medieval shields and sticks, openly battled demonstrators, including members of anti-fascist, or Antifa, groups. In a horrific climax, a white supremacist allegedly plowed his vehicle into a group of peaceful demonstrators, killing one and injuring at least 19.
The attack capped a tumultuous day in which law enforcement allowed the violence to unfold largely unchecked, according to reporters and attendees from both factions. Although officials said they followed their plan to dispatch additional officers and first responders to Charlottesville, law enforcement experts not involved in the melee said police failed to conform to widely accepted best practices for dealing with tense protest environments.
This tactical breakdown began early on Saturday, as participants of the planned "Unite the Right" rally ― including members of neo-Nazi and KKK groups ― filed through the streets of downtown Charlottesville on their way to Emancipation Park, in the heart of the city. The park, a one-block town square formerly known as Lee Park, has become a rallying place for white supremacists protesting the planned removal of a statue memorializing Confederate Gen. Robert E. Lee.
Many police officers had already gathered in the square that morning, forming a barricade to break up the groups. That's a standard technique, said Darrel Stephens, executive director of the Major Cities Chiefs Police Association.
"In most protest [or] counter-protest situations, the police separate the groups with barriers and by enough distance so they can see and hear each other but not engage in violence," Stephens told HuffPost in an email.
While many officers focused their efforts inside the park, others ― some fully outfitted in riot gear ― stood guard in full view of the violence mounting in the crowd outside. They stood idle, in apparent earshot of requests for them to "do something," as white nationalists fought their way through throngs of counter-protesters toward the park.
"There was no police presence on the streets themselves," said Brittany Caine-Conley, chief organizer of Congregate Charlottesville, a clergy group dedicated to social justice. "As the alt-right, Nazi groups began to march toward the park, they were often creating pockets of violence."
Officers made little effort to break up the fights, instead remaining in phalanx formation around the barrier, said Caine-Conley.
"I even saw some of the police smiling while they were watching the brawls take place," she added.
Before noon, Virginia Gov. Terry McAuliffe (D) declared a state of emergency, mobilizing additional state troopers and Virginia National Guard troops. Police announced the rally had been deemed an unlawful assembly, and threatened to arrest anyone who did not disperse. Protesters and counter-protesters fanned back out into the streets.
Now, there was nothing to prevent open confrontations between the factions. White nationalists and counter-demonstrators tore through Charlottesville's historic downtown mall, many still carrying makeshift weapons, including large flagpoles and wooden signposts, which Stephens said are typically prohibited at protests.
Mayhem took over an otherwise pleasant sunny afternoon in the popular pedestrian thoroughfare.
"There were people just out enjoying a regular Saturday," said Kevin Cope, a research assistant professor at the University of Virginia School of Law, who was protesting the white nationalist rally. "All of this just came together with the different groups going off in random directions, and at that point, it's hard to imagine how police could have been everywhere."
The inability of law enforcement to contain the situation wasn't due to a lack of manpower, said Cope.
"There was clearly a coordinated effort to get as many police officers out there as possible," he said. "They had armored vehicles driving down the mall. They had probably hundreds of officers, some of whom were in riot gear, some of whom weren't, but they clearly had some sort of coordinated strategy."
Whatever the strategy was, it didn't appear to work. During a volatile protest, it's critical that police work to keep factions separated, especially when violence is "foreseeable," said former Charlottesville police Chief Tim Longo.
"Not only is it a generally accepted policing practice, it's a well-known policing practice ... when you know that you're going to have groups that are divergent or groups that have very opposite views, and there's the potential for violence," Longo told CNN on Monday.
Longo couldn't explain how a car was able to get through the crowded streets and onto the town's mall.
"I'm shocked, in disbelief that there was traffic anywhere near that level of pedestrian activity," Longo said. "That street is typically shut down on weekends for events that occur on the mall. I can only assume that it wasn't in this case, and why, I simply can't answer that question."
City and state officials have been quick to defend law enforcement's handling of the protest.
The governor stressed that "not a shot was fired" and there was "zero property damage."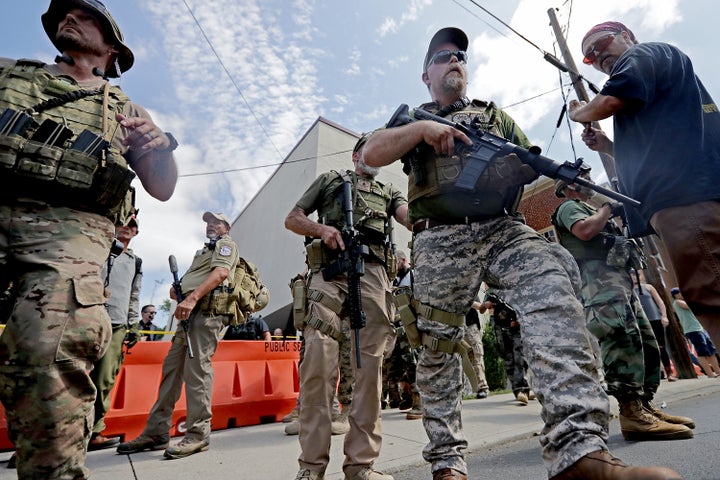 Charlottesville Police Chief Al Thomas has said little in response, promising the department will be "reviewing events of the day over coming weeks and months," according to The Washington Post.
Neither Charlottesville police, nor the local chapter of the Fraternal Order of Police, the union that represents Charlottesville officers, responded to HuffPost's requests for comment.
To some Charlottesville residents, however, the message is already clear.
"The commentary from communities of color in Charlottesville is that the police have never protected them," said Caine-Conley. "While the police force says they're trying to protect the community, it's been very evident to me that the most marginalized and oppressed people have never been safe and have never been protected."
Andy Campbell and Christopher Mathias contributed reporting.