Charly Keunang was killed by Los Angeles Police Department cops on March 1. In a graphic video of the shooting, Keunang appears to throw a punch at police as officers try to contain him. Then, several officers force Keunang to the ground. At least one officer repeatedly shouts "Drop the gun," after which several gunshots ring out.
The LAPD is still investigating the incident, but Police Chief Charlie Beck defended Keunang's killing at a press conference shortly afterward.
"Officers, on the face of it, took reasonable steps to avoid it," Beck said of the shooting. "Had the individual not grabbed the officer's pistol, we would not be having this discussion."
But that's not what body cam videos show, according to reporter Jeff Sharlet, who told The Huffington Post he reviewed the unreleased footage "very carefully." Sharlet detailed his findings in the new GQ story.
What the currently available footage does not show, Sharlet said, is that before Keunang threw a punch, Officer Francisco Martinez tried to hit him with a Taser. Sharlet also said there's no evidence in the body cam footage that suggests Keunang tried to grab any officer's firearm.
"There is no scene of him reaching for the gun," Sharlet said.
The LAPD said the altercation between cops and Keunang began after a robbery call. According to the department, in unreleased audio recordings of post-shooting interviews with the cops involved, Officer Martinez said that the robbery victim, Laru Jay Curls, told cops that Keunang kicked him and threatened him with a mini baseball bat. Sharlet reports that rookie cop Joshua Volasgis, whose name was first released in the GQ article, said during the recorded interviews that Curls was "in fear for his life."
But, Sharlet writes, in the body cam footage, "Laru sits quietly on the curb next to Charly's tent" as the situation unfolds.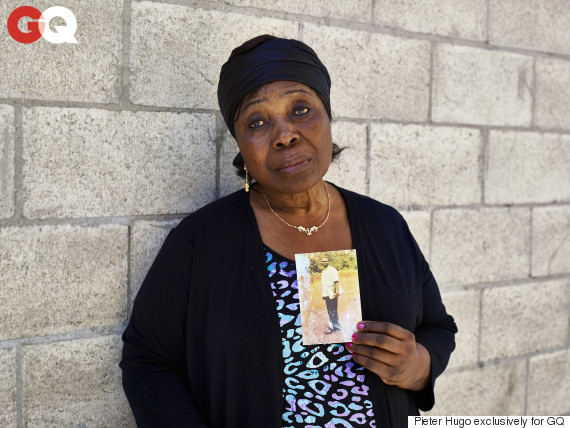 Heleine Tchayou, Charly Keunang's mother, holds a photograph of him as a student in Cameroon. (Pieter Hugo for GQ)
Sharlet also said Curls told him he "doesn't consider himself a victim" and that "he wasn't in fear for his life."
The scuffle between them, Laru will tell me, was over a woman. Charly thought Laru had been harassing her. A conflict was documented by the Union Rescue Mission's security camera: Charly tipped Laru's tent into the street. Kicked it a couple of times. Then he sat down on his milk crate. Crawled into his tent. No bat, big or little.
The conflict between officers and Keunang began when Martinez asked the suspect for his identification.
Volasgis told detectives that Keunang "became very agitated and aggressive" after that, with "clenched fists" and "screaming," Sharlet writes.
According to Sharlet, Martinez told detectives he tried to question Keunang, but Keunang was "just talking, not making any sense."
But what the body cam footage shows, Sharlet writes, is a calm Keunang -- without clinched fists -- asking Martinez to "let me express myself."
"The number one thing is that the police are saying the man was out of control and reached for a gun and they had no choice," Sharlet told HuffPost. "They double down on that in interviews. When you watch the body cams, you see a man who is standing still with his palms open trying to reason with police."
Martinez responded to Keunang's request by threatening to use his Taser on him, Sharlet writes. Eventually, Keunang retreated into his tent. That's when things turned violent:
[Sergeant Chand] Syed tries to talk Charly out. Martinez moves in with the Taser. Volasgis follows, gun aimed side grip. Syed and another sergeant who's arrived peel back the tent. There's Charly. He's on one knee, his arms wrapped around him. "C'mon, brother," says Syed. "Just relax. Step outside." Charly picks something off the tent floor. Something smaller than the palm of his hand. "Put your hands up!" snaps Syed. Charly starts to rise and it looks like he's about to put up his hands, but we will never know, because Martinez shoots his Taser, two darts connected to electrified wire, and Charly turns, and this is where it begins.
Keunang tried to land a punch, and missed. Cops eventually got him on the ground, and then Volasgis shouted "He has my gun! He has my gun!"
Charly does not have the gun, of this there is no question. He may have reached for it. His arm may have convulsed. He may have never come near. Volasgis will tell the detectives he was straddling the suspect, by which he means his right hip—his gun—was close, or close enough to Charly's hand. He will insist that the suspect had "defeated" the two safety measures on his holster. He will say he was holding the suspect's hand down as the suspect attempted to draw his weapon. And yet, on Syed's and Martinez's cam footage, we cannot see Charly reach. Volasgis will say the suspect lets go of his pistol only after the first shot is fired. But this is not true. When Martinez shoots Charly, Volasgis is already on his way to standing. The gun is beyond reach.
The LAPD declined a request for comment from The Huffington Post, citing the ongoing investigation.
Sharlet would not say how he was able view the body cam footage. He also said it's noteworthy that the LAPD still hasn't released it to the public.
"When body cameras exonerate them, that's on the 11:00 news," Sharlet said. "When they don't, they hold on and on and on."
Sharlet also said that many media outlets were quick to accept the official version of what happened without doing any digging.
"They just took what the cops told them," Sharlet said.
Calling all HuffPost superfans!
Sign up for membership to become a founding member and help shape HuffPost's next chapter
BEFORE YOU GO
PHOTO GALLERY
2014 Police Killings