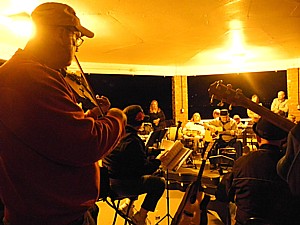 The gazebo at Gilchrist Park in Punta Gorda is where musicians gather every Thursday night "in season" © 2012 Karen Rubin/news-photos-features.com.
The place to be on a Thursday night in Punta Gorda is Gilchrist Park That's when bands of musicians and their adoring fans gather around the gazebo, the pavilion, and along the grassy areas of the riverfront park. Here is old time rock 'n' roll; here is country music; here is blues. If you come two weeks in a row, you begin to recognize the regulars.
It is just one of the charming, endearing aspects of Punta Gorda, a community with long and strong Old Florida heritage, which has become a haven for retirees and snowbirds who migrate here for the season.
On the third Thursday of the month, this musical tradition has competition with the monthly Gallery Walk, when the art galleries and shops stay open late, there is street entertainment (such as from the Charlotte Theater Repertory who this night have their children's chorus doing songs from "Annie"), and an antiques car show.
Then on Sunday, biking along a new trail that follows the Peace River, we come upon a major antique car show that takes up Laishley Park, a marina and riverfront park.
A week before, this was the site of the highly prestigious Worlds championship International Federation of Disabled Sailors, one of the final qualifying events to decide which teams would represent their country in the upcoming London2012 ParaOlympics this summer. there wer teams from some 30 countries. Seeing all the activity -- and the extraordinary talent of these sailors, was so inspiring.
The world-class sailing event is helping cement Punta Gorda and Charlotte Harbor as a major sailing venue.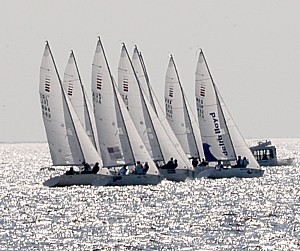 With world class events like the recent IFDS World Championships, Charlotte Harbor has become a leading sailing destination © 2012 Karen Rubin/news-photos-features.com,
"The world has taken notice of Charlotte Harbor," said Brian Gleason, who chairs the annual Charlotte Harbor Regetta and is also the editorial page editor of the Sun newspapers. Sail Magazine in 2004 listed Charlotte Harbor as one of the top 10 greatest places to sail in the US.
We had an added treat while we were out in a boat watching the races: a pod of dolphins decided to surf our wake right beside the boat, giving us an incredible thrill.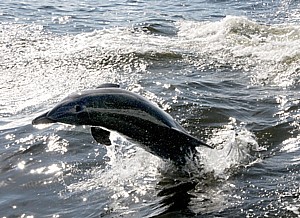 A dolphin leaps out of the water, playing in the wake of our boat on Charlotte Harbor © 2012 Karen Rubin/news-photos-features.com
On a Sunday, too, there is the weekly farmers market that takes place in History Park - a true gathering where it is hard to discern who are the transients, the snowbirds, or the year-round residents, but which foments this sense of community as people shop for fresh fruits and vegetables, meats and cheeses, novel salad dressings and salsa, and honey.
That day, we also come upon the state competition for BMX racing in another park, with a formidable track and training facility.
The best place to "season" is one that affords lots of interesting things to do as well as pleasant people, and enables people to easily have the feeling of belonging to a community, rather than that transitory, unattached feeling of staying at a resort.
In Punta Gorda, it doesn't take long to find the local bike club (actually there are a few); the local Socrates Cafe and Philo groups that meet at the library or a local restaurant, the local sailing club (membership just $100 a year), the local tennis club which holds round-robins under the lights, or to grab your guitar and join that musical enclave that meets Thursday nights.
One of the most delightful aspects of Punta Gorda, which is on Florida's Gulf Coast, is that we are able to take part in just about all of these things by bike -- the town has become truly biking friendly. There are a growing number of dedicated trails -- even across this gorgeous expansive bridge over the river to Port Charlotte.
Our favorite route follows the Peace River about six miles to the Ponce de Leon Park, where there is a small sand beach, picnic areas, fishing pier. I note monuments to the explorer Ponce de Leon, whom I always associated with St. Augustine and the "Fountain of Youth" on Florida's Atlantic Coast; I had not realized that when he made a second trip to Florida, he came to the West Coast, to this area, where he was shot with an arrow from a Calusa Indian, and subsequently died of his wound in Havana, Cuba.
This is the best place in Punta Gorda to be when to watch the sunset.
The park also is home to a marvelous attraction, the Peace River Wildlife Center an animal rescue operation which you can visit and take tours with guides. Each year, the center gets about 2000 rescued animals (mammals, birds, reptiles) which have been injured, orphaned or displaced; most are rehabilitated and released back to the their native habitat.
A focal point for Punta Gorda, besides its charming downtown which connects to the waterfront, is Fisherman's Village, a created entity which has delightful shops, cafes, live-music venues, built on a pier overlooking the water.
It also has something else that is so unusual and distinctive: the Military Heritage Museum, a private collection entirely manned and operated by volunteers.
When I walk in, I am immediately drawn to a display of photos about the Bailey Brothers, seven fellows who were born and raised in Punta Gorda and went to World War II. One of them, Charles Bailey (1918-2001) became one of the Tuskegee Airmen.
Bill Senkel, a Texan originally, who spent a career in the Air Force 1948-76, guides me around and tells me how the Bailey children had to go all the way to Fort Myers to attend school because there weren't any black schools in Punta Gorda. (In my mind, I calculate how many hours a day traveling this would entail).
I learn that there would likely not have been a Tuskegee Airmen, except for Eleanor Roosevelt who pushed for the Black aviators, trained at Tuskegee Institute, to be accepted as a flying force. To prove their capability, she went as a passenger in airplane with one of the Tuskegee pilots. A photo of her in the plane is on display, and makes you feel that this happened only yesterday.
He shows me another display of Dr. Kristie Robson, an emergency doctor currently serving in Afghanistan.
My jaw drops as I gaze with fascination at a yellowed front page Honolulu Advertiser newspaper dated November 30, 1941, with a screaming headline, "Japanese May Strike Over Weekend." Pearl Harbor was attacked on December 7, and the paper seems to contradict the prevailing wisdom that it was a total surprise. The paper is one of only a few copies to have survived; all of them were destroyed.
There is also a uniform in a case, the personal gift of Paula Newman, who served as General Eisenhower's social secretary, who wanted to donate it to the museum before she succumbed to cancer.
The museum is absolutely fascinating, containing artifacts - most of them personal - from every war since the Civil War. Only about one-fifth of the collection is on view at any one time, and they change displays every six months or so (free).
One of the finest qualities of Punta Gorda is that it is a real place, with a long heritage. This becomes clear at the History Park, where the Sunday Farmers Market is held, and which has become a kind of collection area for historic homes, much as Old Bethpage Village.
There is a tiny building, now a charming art gallery featuring local artists, which was the Trabue Land Sales Office, dating from 1886, and turns out to be the oldest standing building in the County. The proprietor, Starr Zochritz, also heads the Peace River Audubon Society, gives monthly classes, and takes the most magnificent photos of birds, including a nest of owls who live in a tree behind the house.
Next door, is the newest acquisition of the Punta Gorda Historical Society, that is still under restoration. The society raised $85,000 in just three months to save the house and move it to this site.
Next to that is the Price House, where we meet Soni Stover, the Punta Gorda Historical Society's volunteer guide, who takes us around the house (free), showing off the lovely workmanship of Price and his father, who were architects who originally came to restore the First Methodist Church that had burned. (They were ahead of themselves: they built closets!). Actually there were two cottages that Price combined into one. Eventually, the house became a bed-and-breakfast.
In the 1800s, this area grew tobacco and made cigars before Ybor City in Tampa. It became the pineapple capital -- pineapples from its plantations were shipped around the United States and to Europe.
This was an area of Indians, then cowboys. Behind the Price house is what is fondly known as "The Caboose," -- the county's first jail, which was more of a mobile cage that was brought to where it was needed when cowboys became rowdy.
During World War II, pilots were trained at the nearby air base, and this area had the only USO in Florida. Germans prisoner of wars were kept here. "They had one they 'hid' for three rotations because he could cook."
Other historical sites include the Railroad Depot; The Freeman House; Punta Gorda city Hall and the Punta Gorda woman's Club.
"We're trying to keep the historical value of our little sleepy town.. We try to keep the downtown historic; but new people want to tear down."
The motto of the Historical Society is "Improving the future by prserving the past."
Hurricane Charlie in the 1990s did the job for those who wanted to rebuild. "It did us in, yet the old structures did better than the new ones."
The town has gone through a renaissance with all the new and restored buildings, parks and renovations along the riverfront. There is a new conference/cultural center, new marina, new hotels, and much of the few-blocks long downtown have been revitalized.
Another sign of a community that cares is the Punta Gorda Historic Mural Society, which has a stall at the Farmers Market to raise money to create another historical mural for the town. There are already 24 of them that dot the community -- so many that they have a walking and biking tour that takes you around to them. They are holding a "Boogie on the Harbor" rock, pop and doo wop dance to raise money.
At the Farmers Market, one of the many interesting people we meet is John Weil, who sells honey and operates Weil Farms. From him I learn that the worldwide decimation of honeybees is wreaking havoc on farming. Farmers now have to pay to bring in beekeepers, who set up hives for the bees to pollinate the plants Without the bees, there would be no fruit or vegetables -- in fact, he says, one out of every three mouthfuls of food depends on honeybees.
For 10 acres of blueberries, depending upon how hilly it is, it takes five to 30 hives for three to six days. "Bees like to stay in an area." The farmers rent the bees for $40-60 per hive. It takes a single bee a lifetime (30-35 days) to produce a quarter teaspoon of honey.
"To grow anything, you have to bring in honey bees - there are hardly any wild ones left." It is not known what is causing the loss of bees. "It's a worldwide problem - bees leave the hive and can't find their way back, we're not sure why. The colony collapses."
He "grows" his own bees -- he has 500 hives. He re-propagates, "re-queens" by taking a strong hive and splitting it. "95% of bees in a hive are sexless females. By feeding a sexless female egg royal jelly, it becomes a queen." Apparently, the strongest of the queens gets to rule the hive.
Weil, who is self taught (he was a science teacher and used to lead teen tours for a Great Neck teen tour company) has been producing honey for 25 years; he has farms in Florida, New York, Rhode Island and Connecticut.
"Florida is one of best areas in world for honey," he says. He sells nine varieties of honey, bee pollen (collected by using a screen which knocks off some of the pollen from the bees' feet as they reenter the hive), and honey stix, "the candy of the future"
We are frankly stunned by the number of creative, artistic people we find who have themselves migrated to Punta Gorda area.
During the monthly Gallery Walk, we meet Tania Begg, an artist who makes jewelry pieces as well as sculptures using intricate beadwork. Most interesting, though, is when we learn from her husband that their family spent years sailing around the Caribbean with their young children on a 30-foot sailboat.
Day-Tripper

One of the nicest aspects of Punta Gorda, besides that it is such a pleasant community to inhabit, is its proximity to other places to explore.
About an hour away is Venice Beach, which has a magnificent beach (Karaoke and many other activities at the pavilion on some evenings); magnificent bike paths, including one that goes along the canal, and a 9-mile long Legacy trail that goes all the way up to Sarasota. We usually wind up our evening enjoying a burger and the live entertainment at TJ Carney's.
Sarasota, just a bit further to the north, has marvelous attractions headlined by the incomparable Ringling Museum -- really a complex of attractions that includes the Gilded Age mansion home of the Ringlings, the phenomenal Circus Museum, and a major art museum).
In between is one of the nicest beaches in the world, Siesta Key.
Just on the other side of the Peace River, but about an hour's drive from Punta Gorda because of the way you have to travel, Boca Grande is an absolutely fabulous island retreat, especially for discovery by bicycle. At the southernmost point, on the beach, is the Lighthouse Museum.
Here in an display, I am fascinated to learn some of the history of the Calusa Indians, that goes back more than 5,000 years. Most interestingly, by 500 AD, the Calusa had developed a civilization with economic and political systems, towns with plazas and traded with other native peoples. Most unusually, they did not farm but rather, "lived off the bounty of water world." The Calusa became powerful enough to demand tribute from other native groups around South Florida. This is considered somewhat unique among native American people, where agriculture was not the keystone to developing a complex society.
In 1500, the Calusa capital was on a key in Estero Bay, south of Charlotte Harbor. In 1521, Juan Ponce de Leon, on his second expedition to Florida, landed in Charlotte Harbor area, possibly on the south tip of Pine Island, with the intention of establishing a colony. He brought two ships, 200 colonists, 50 horses.
There was a fierce attack, and Ponce was wounded with an arrow. the expedition took Ponce to Havana, Cuba where he died.
It is believed that Hernando de Soto visited Charlotte Harbor in 1539.
In 1566, another Spanish group, led by Menendez de Avila, came with the intention of converting the Indians to Christianity. He formed an alliance with the chief, who took the name Carlos after King Carlos; the chief even gave his sister to marry the Spaniard. But the Spanish did not honor the alliance, and there was a battle in which seven Calusa were killed. This must be the battle that is referred to by a marker in Ponce de Leon Park in Punta Gorda that commemorates the first white person to be killed in the New World, without much sympathy for the several Indians who were also killed.
The Spanish were driven out by 1568, and the Calusa were left out of the Spanish Christianization efforts for 100 years. "Their hatred and hostility towards the Spanish became legendary."
But what Spanish didn't accomplish took place over time; many of the Calusa went off to Key West and Cuba, and by the mid-1700s, they vanished.
We set out from here on the paths that are as much for the golf carts (they look like toy cars) which locals use instead of cars, as for bikes. It is a riot to see big dogs riding on these carts.
The village is lovely, with a charming Gasparilla Inn and all around are gorgeous and charming homes.
Further north from Punta Gorda but still do-able for a day-trip or perhaps an overnight excursion are Clearwater (famous for its phenomenal white sand beach), St. Petersburg (unmatched for its cultural offerings including the Salvador Dali Museum), and Tampa (Busch Gardens).
To the South, also about an hour from Punta Gorda is Fort Myers and the Edison-Ford Houses.
Keep going east from Fort Myers, over the bridge to Sanibel Island, a haven as much for birds and wildlife as for people. During the "season" you have to fight the traffic (it can take an hour just to get back over the bridge), but get to the Ding Darling National Wildlife Refuge, preferably with a mountain bike (not a road bike), and enjoy a four-mile trip through the refuge, one of the best, most popular for birders anywhere. Usually there are a myriad of birds including a true "snowbird," the white pelican; coming as we did at midday, recently, there were more of us "snowbirds" than them, it seemed, but the environment is still quite magnificent. You can also arrange for canoeing or kayaking, and there are plenty of bike rentals.
Operated by the US Fish and Wildlife Service, the J.N. "Ding" Darling National Wildlife Refuge is world-famous for its spectacular congregations of migratory birds, such as American white pelicans and wading birds such as roseate spoonbills, anhingas and wood storks.
Nearly 800,000 people visit the refuge each year. Winter months are the busiest, supervisory refuge ranger Toni Westland says, when the refuge offers more than 30 free programs a week, including birding and biking tours. To view program offerings, click on the spoonbill cartoon on the refuge's homepage.
Sanibel Island's national wildlife refuge was established in 1945 to provide feeding, nesting and roosting areas for migratory birds. In 1967 the refuge was renamed in honor of conservationist and Pulitzer Prize winning cartoonist Jay Norwood "Ding" Darling. From 1934 to 1935 Darling served as chief of the US Biological Survey, a forerunner of the Service. Made up of more than 6,400 acres of mangrove forest, submerged seagrass beds, cordgrass marshes, and West Indian hardwood hammocks, the refuge also provides habitat for bobcats, river otters and alligators. Refuge "megafauna" also include one crocodile, says Westland, and a bear.
We organize our visit for the last morning before I have to make my way back to the Ft. Myers International Airport, from which Southwest has convenient service to Long Island's MacArthur Islip Airport. This was a bit of a risk because you can be stuck in hour-long traffic getting back over the Sanibel bridge.
We make it with time to stop off at the Six Mile Cypress Swamp, 2,200-acre site that acts a natural corridor for wildlife by connecting northern Lee County to Estero Bay. It offers an enchanting 1.2 mile boardwalk that zigzags through the swamp. a photo blind, and two observation platforms. You walk through five distinct plant communities, including the cypress swamp. Wildlife you might spot include little blue herons, anhingas, American alligators, raccoons and red-shouldered hawks throughout the year; river otters, bobcats, and white-tailed deer are sometimes seen. During the dry season (October-May), water pools in depressions in the slough, concentrating fish and wading birds feeding on them, such as wood storks, white ibis, great egrets, snowy egrets, and tricolored-colored herons. October and April are good times to search for migrating warblers. Guided tours are offered.
We've only touched the surface of all the attractions in the area, enough to fill an entire season with discovery.
For more information, Charlotte Harbor & the Gulf Islands Visitor & Convention Bureau, 800-652-6090, www.CharlotteHarborTravel.com.
See more at slideshow
____
© 2012 Travel Features Syndicate, a division of Workstyles, Inc. All rights reserved. Visit www.examiner.com/eclectic-travel-in-national/karen-rubin, www.examiner.com/eclectic-traveler-in-long-island/karen-rubin or www.travelwritersmagazine.com/TravelFeaturesSyndicate. Send comments or questions to FamTravLtr@aol.com. Blogging at goingplacesnearandfar.wordpress.com.