As a Washingtonian (of sorts, and occasionally), Baltimore has always held a different place for me. Close, but not that close. Different than D.C., but it is often overlooked as a place for adventure given its proximity. It was a place to root on the O's as a kid, and to visit the Inner Harbor.
But on a few recent excursions to Baltimore from Washington, I discovered some phenomenal places to visit in the nearby neighbor to the north.
For starters, Baltimore is an easy excursion. The MARC train is a brief and inexpensive 45-minute jaunt from Washington's Union Station (I can't say I recommend the Acela, which is hardly worth the price of its journey). It makes for an easy day trip, or a solid three-day weekend. While I did my adventuring in a few parts, it could also be done in a weekend away.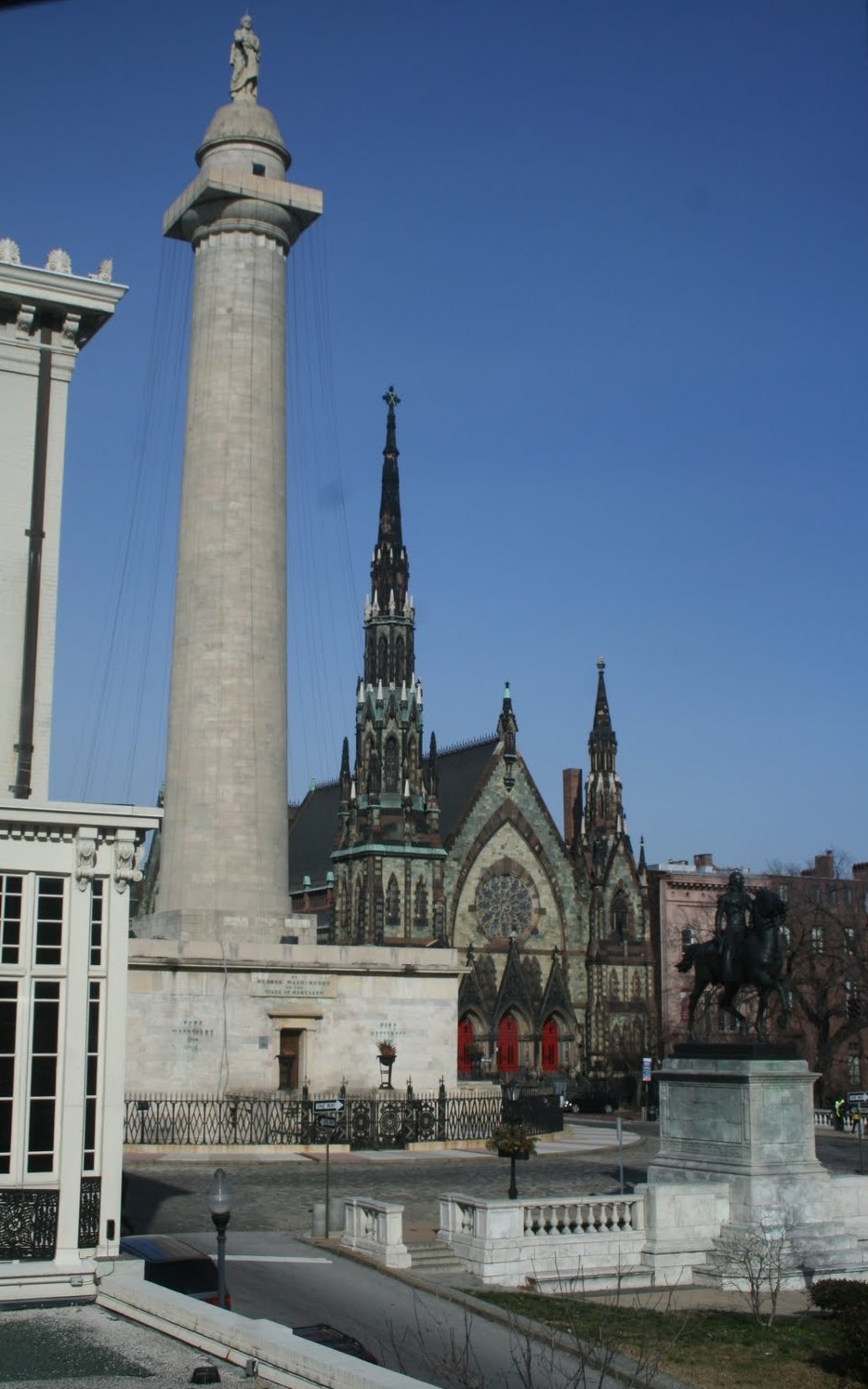 From Baltimore's Penn Station, it is an easy walk to Mount Vernon and the other Washington Monument -- the conical, and phallic-in-a-different-fashion than D.C.'s version, memorial to GW. The monument is surrounded by a lovely landscape of statues and historic old brownstones.
I made my way to Charm City's most charming collection at the sublime Walters Museum ("What will you discover?"). I had read the Walters Museum has one of the best art collections in the U.S., and I am happy to report on the veracity of such statements: the Walters collection is one of the finest I have seen anywhere in America.
Free to the public, the Walters Museum featured an immaculate collection of art and artifacts from Europe and Asia. From intricate pocket watches to stellar porcelain vases to impressionist paintings, the collection was vast and rich.
I wandered my way past gilded clocks showing the gilded glory of the Sun King, with a dour bust of Voltaire peering down. There were wonderful delicate porcelains from a glorious age -- not a far stretch to compare the white porcelain to the interior of the marine snail "porcella" and that is where we get the term. There were cases of vestal vases with gilded trim, and vases with elephant faces with gilded trunks.
A passage that caught my eye from the Collector's Study, a cavernous room of delights:
Two aspects of these objects are celebrated: the artist's God-like creative 'genius' (or its less exalted ingenuity) that generate the idea, and also the 'art' that it took to complete it.
And the Chamber of Wonders bore the words: "To Virtue, Add Knowledge."
This was a collection that ran the whole spectrum of collected artistic wealth and splendor. From Langobard golden crosses of Pannonia to treasures of Byzantium; from Iznik Turkish hanging lamps to rock crystal Mughal daggers. I was stunned by one of the best art collections I have encountered, a notion I don't throw around lightly, but a phrase borne out of experience.
I actually found it hard to come up with enough superlatives for the museum, when each layer of the collection draws you deeper into a magnificent world and leaves you in front of supreme quality. The collection was a tad overwhelming but not overly so. In short, the Walters Museum makes for a grand day of delights.
Meanwhile, on a second journey I discovered just a bit further north the equally impressive Baltimore Museum of Art. Flanked by giant lion statues, the columned museum hosts a wonderful collection of art. Its motto is "Art for all," and such is truly the case as it is also free.
I entered through a world of stunning masks and relics from Africa, the Pacific Islands and the pre-Columbian Americas. There were a host of decorative masks, objects and other charms from the four corners, before finding a marvelous collection of European decoratives such as brilliant blue-and-white china with gilded tips. And exquisite copper skeletons of clocks encased in glass. There was an engrossing and beautiful collection of pocket watches with their rounded bottoms displayed in the mirror. Such lovelies as walnut almond pocketwatches with filigree backs.
There were also some gorgeous glass molds from Lalilique, who made art noveau firefly glass from pressed molds. I especially loved a press-molded glass peacock of haughty glance. It was a joy to wander through the colonial doors and pass yellow-painted walls that hung stellar portraits while admiring silver samovars that one can imagine pouring black tea into the gold-lined china collections.
On to the second floor there were some enormous purple and gold Tiffany Byzantine mosaic columns. Also a great collection of tapestries from Central Asia.
I made my way over to the Cone Collection, which was a collection of impressive Impressionist and post-Impressionist perfection. Such as Sisley and perfections such as Monet's "Charing Cross Bridge, reflections on the Thames." I stared at a dark Klimt work called "Pine Forest II" which was as dark as The Kiss is light.
There was even a very engaging virtual tour of the Cones' apartment, where you got to see the works as they once hung in the sisters' home.
I wandered on through Antioch mosaics, and stumbled upon Rodin's Thinker in full pensive glory. Like a bronze colossus, bathed in the afternoon's refulgent light.
The whole Mount Vernon neighborhood offers much in terms of nightlife. There is the ornate The Brewer's Art, a fantastic bar in an old brownstone. The Brewer's Art serves its own terrific brewed beer, which one can sip in the old living room dining hall over tasty fair; or even better, you can drink pints in the catacombs-like underground bar.
Another favorite Mount Vernon watering hole is The Owl Bar in the Hotel Belvedere. Legend has it that The Owl Bar was an old speakeasy: if the stained glass owl's eyes were blinking, then drinkers were free to sip; if the owl's eyes were lit steady, then the prohibition police were out on the prowl.
While in Baltimore, I happened to stumble upon a fun Mount Vernon event, the First Thursday show--an outdoor concert with liberal open container laws to add to the excitement.
As one who has a predilection for hostels, I happen to rather like the centrally-located Baltimore Hostel on Mulberry Street, just across from the Baltimore Basilica. Hostels are always a fun gathering spot for travelers from the world over, and this Baltimore establishment is no different. With high ceilings in the salon, it makes for a social place to meet your fellow wayfarers. The hostel's pancake breakfast is a welcome treat
There are ample other treats to be had in the eclectic Baltimore cityscape like Fells Point and its exceptional French bakery Bonaparte's. With its sugar-dusted almond croissants filled with marzipan, Bonaparte's is one of the best French bakeries I have found in America (and I write that from Paris). Perfect to enjoy the almond croissant with a rich cappuccino out on the café's patio.
In short, Baltimore makes for an easy adventure for those in the mid-Atlantic region, Philly or even as far afield as New York. There is much to be explored and enjoyed in Baltimore, and it is easy to find yourself charmed by this veritable Charm City.
Related