When people with widely disparate cultural beliefs meet up in real life, several outcomes are possible.
In some cases, a refusal to respect one another's core belief systems may lead to rudeness, defensiveness, and hostile behavior.
In others, polar opposites might attract each other due to a fascination with the exotic elements of a foreign culture or a sense of wonder at the precepts of such a radically different lifestyle.
One of the best examples of this phenomenon was depicted in Pacific Overtures (the 1976 Broadway musical created by John Weidman, Stephen Sondheim, and Harold Prince which focused on the historical moment in which Japan opened its isolated island society to Western culture). In the following two clips, Frank Rich interviews Weidman and Sondheim as the songwriter explains the challenges of writing a musical number about "nothing" while trying to make an historically Japanese moment accessible to Western audiences.
The three men are then joined by cast members Gedde Watanabe (The Boy), James Dybas (The Old Man), Mako Iwamatsu (The Reciter), and Mark Hsu Syers (Samurai), who sing "Someone In A Tree" as they stand around Sondheim's piano.
Whether one wishes to talk about gaps or clashes between cultures, on rare occasions such comparisons can generate unusual amounts of charm. No matter how carefully an author tries to create such an atmosphere in words, sometimes one has to wait until he can see a scene acted out before the elements of charm have a chance to exert themselves on an audience. Whether that peculiar sense of charm derives from a character's quirks, nervousness, commitment to a challenging concept, or bodily tics, the effect is often ephemeral.
Two revivals of works by two of Great Britain's greatest playwrights were recently on display in San Francisco. One play (written in six days shortly after the Blitz destroyed much of London), focuses on a particular element of British society while contrasting the behavior of those who either fervently do or cynically do not believe in the possibility of communicating with the dead. The other (written 20 years ago), jumps back and forth between events in Jummapur and London, as two families -- and an American academic -- struggle to understand the relationship between a young English poet and the Indian artist she met during her travels many years ago.
In each play, characters are fascinated by their experiences with members of another culture. In each work, the ability of one particular actor to thoroughly inhabit a character brings a great deal of charm to the proceedings.
Throughout her 70-year career on stage and screen, Angela Lansbury has earned a formidable reputation as a character actress. In his New York Times review of 1969's ill-fated Jerry Herman musical (based on Jean Giradoux's 1943 play, The Madwoman of Chaillot), Clive Barnes wrote:
"But for one minor miracle, I suspect that Dear World would never have seen the light of day. The minor miracle is Miss Lansbury and whether or not the musical itself is worth seeing -- for it is extraordinarily tenuous -- no connoisseur of musical comedy can afford to miss Miss Lansbury's performance. It is lovely. She comes on looking like a Bette Davis in silks. Her eyes are black caverns, her face all white and pink, her expression that of a yesteryear. She could be a Beardsley Salomé 40 years on, there is a wild poetry in every mincingly genteel gesture. Her dancing is exquisite, she moves like a camp version of Bernhardt, and her acting and singing perfectly express a character seen in precise musical comedy terms."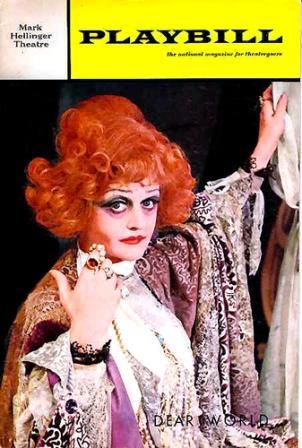 A 1969 Playbill for Dear World starring
Angela Lansbury as the Countess Aurelia
Those who were lucky enough to see Lansbury's portrayal of the Countess Aurelia in Dear World (or of Salome Otterbourne in 1978's Death on the Nile) are well aware of her skill at bringing batty old women and curious eccentrics to life. Shortly after returning to Broadway in February 2009 in a revival of Noel Coward's beloved comedy, Blithe Spirit (1941), Lansbury sat down for an extended interview about her performance as Coward's bicycling spiritualist, Madame Arcati, and explained how an actor's muscle memory comes into play during the course of a long career.
Following her Broadway run in Blithe Spirit, Lansbury portrayed Madame Armfeldt in a 2009 revival of A Little Night Music, Mrs. Sue-Ellen Gamadge in a 2012 revival of The Best Man, and toured Australia with James Earl Jones in Driving Miss Daisy. In 2014 at the age of 89, she brought her portrayal of Madame Arcati to London's West End before embarking on a North American tour to Los Angeles, San Francisco, Toronto, and Washington D.C.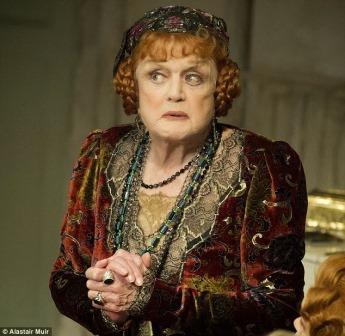 Angela Lansbury as Madame Arcati in Blithe Spirit
(Photo by Alastair Muir)
On opening night in San Francisco, it wasn't just Lansbury's comic turns that impressed the audience. Michael Blakemore's immaculate direction, combined with Coward's witty script proved that a play written more than seven decades ago can easily hold its own against most contemporary comedies. Simon Higlett's set and costumes, coupled with Ben and Max Ringham's sound design, framed the evening's fun to spectacular effect (especially in the final scene).
Honed to perfection during years of live performances (and dressed in costumes designed by the late, great Martin Pakledinaz), Lansbury's solid technique included exaggerated eye rolls and perfectly timed putdowns in a dark, husky voice that proved to be as irresistible as ever. Whether expressing her deeply felt appreciation for an extra-dry martini, quivering with near-orgasmic delight at the mere thought of encountering a real life ectoplasm, or dryly putting a skeptic in his place, the veteran actress had no trouble holding the audience in the palm of her hand.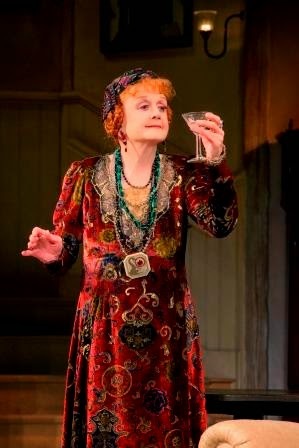 Angela Lansbury as Madame Arcati in
Noel Coward's Blithe Spirit (Photo by: Joan Marcus)
That's not to suggest by any means that the production was entirely Lansbury's show. As Charles Condomine, Charles Edwards gave a deliciously stylish performance, matched in physical comedy terms by Susan Louise O'Connor's frenetic portrayal of Edith, the Condomines' maid who has a psychic secret of her own.
Jemima Rooper was a deliciously troublesome Elvira, but I was far more impressed with Charlotte Parry's characterization of Ruth (Charles's second wife). Simon Jones and Sandra Shipley offered sturdy support as Dr. and Mrs. Bradman. Here's some footage from the production.
With Dame Edna (played by 80-year-old Barry Humphries) and Dame Angela (who will turn 90 on October 16) making their farewell stage tours and, following the success of Disney's screen adaptation of Into The Woods talk of Meryl Streep starring in a film version of Follies, one can only hope that Lansbury remains with us long enough to be cast as Hattie Walker in a film version of Sondheim's 1971 musical. She is the epitome of (and definitely deserves to be seen belting out) a "Broadway Baby." (Note: If you start at the 2:54 mark in the following clip, you can watch Ethel Shutta, who introduced the song in the original Broadway production).
Closer to Union Square, the American Conservatory Theatre presented a revival of 1995's Indian Ink staged by Carey Perloff (who directed the play's American premiere in 1999 and has had a long and close professional relationship with playwright Tom Stoppard). As Perloff explains:
"On the occasion of this production, we worked closely together to reexamine the text and had the opportunity (among other things) to reconceive the ending of the play. We wanted to focus more on the relationship between the poet (Flora Crewe) and the painter (Nirad Das) than on the overall political situation of the British Raj. The new ending opened the door to beautiful new stage pictures and enables the entire company to come together at the end of the evening. I think the ending makes an enormous difference in actually finishing the relationship between Flora and Das, which is so complicated. I also think time has caught up with this play in a good way. Today, the notion of cross-cultural love affairs (and the complexity with which colonized peoples inevitably end up taking on the characteristics of their colonizers) are things we actually know about. In the 15 years since it was done, the relationship between Flora and Das has become much more interesting and complex, because these ideas are more in the world than they were then."
Using the unit set designed by Neil Patel for the recent production of Indian Ink (also directed by Perloff) at the Roundabout Theatre Company in New York, this new staging benefitted immensely from Dan Moses Schreier's sound design, Robert Wierzel's lighting, and Candice Donnelly's costumes.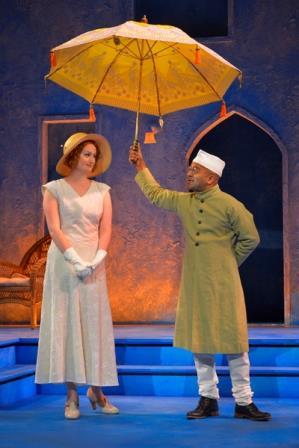 English poet Flora Crewe (Brenda Meanuy) is greeted
in Jummapur by Coomaraswami (Ajay Naidu)
(Photo by: Kevin Berne)
Although the protagonist, Flora Crewe (Brenda Meaney), is a politically rebellious and sexually adventurous young woman who once modeled for Amedeo Modigliani, she is primarily known for her poetry and supports herself with speaking engagements. Stoppard's play does not lose itself in the wordiness of his other works. If anything, the cultural differences between India and England in 1930 (as well as the differences in sophistication and style in the 1980s) make this a drama in which the pressures of social class (and caste) are always felt but tentatively, and sometimes dangerously, ignored.
Do the socioeconomic classes inhabited by local politician Coomaraswami (Ajay Naidu), the Rajah (Rajeev Varma), the servant Nazrul (Vandit Bhatt) in 1930 and Dilip (Kenneth De Abrew), a 1980s Indian helping American tourist Eldon Pike (Anthony Fusco) research Flora's time in Jammapur keep them from achieving their goals?
Does the oppressive heat in Jammapur serve to stifle any need for long-winded Stoppardian monologues or does Flora's diagnosis of tuberculosis force her to choose her battles more carefully?
Does the awe in which Indian artist Nirad Das (Firdous Bamji) holds Flora inhibit the obvious attraction between the two or is Nirad's shyness as much a function of his color and caste when confronted with a nude white woman?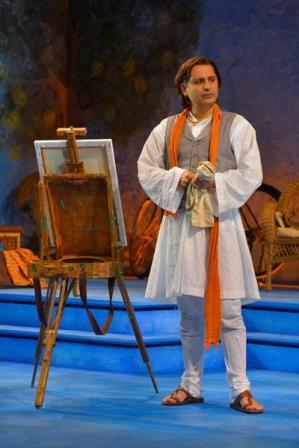 Firdous Bamji as the Indian artist, Nirad Das, in
Tom Stoppard's Indian Ink (Photo by: Kevin Berne)
Stoppard (who lived in Darjeeling as a child) has used a certain kind of literary time travel in other works. He obviously enjoys taking his audience on a time traveling adventure as he ties together the strands that link Nirad Das and Flora Crewe in a moment in history that was unwritten and only hinted at. In London in the 1980s the artist's grown son, Anish Das (Pej Vahdat), calls on the deceased Flora's sister, Eleanor Swan (Roberta Maxwell), to show her a painting he inherited from his father which may well be the missing link that can explain what transpired during Crewe's visit to Jummapur in 1930.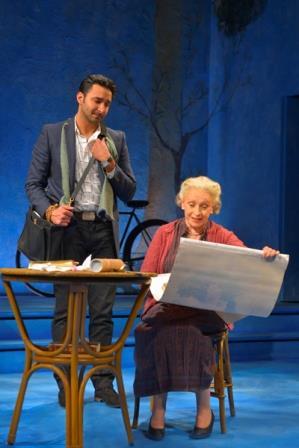 Anish Das (Pej Vahdat) visits Flora Crewe's younger sister,
Eleanor Swan (Roberta Maxwell) in a scene from Indian Ink
(Photo by: Kevin Berne)
The play's new ending (coupled with the playwright's flexibility) has had a deep impact on Perloff.
"The Indian Ink experience has made me reflect more deeply on the nature of theatrical collaboration. Stoppard is one of those rare writers who views a script as an evolving document amenable to change. He is aware of the whole context of a production, how changes in world view might affect an audience's perception of a play, and how the benefit of time can reveal better ways to tell a story. No matter how excellent or finished a script seems to be, it is ultimately a blueprint. It doesn't fully exist until it is filtered through the imaginations of other theater artists (directors, designers, choreographers, composers, actors). Thus, writing for the theater is wholly different from writing prose or poetry: it necessitates an imagination that leaves room for specifically theatrical solutions. When I think about my work with Stoppard, I recognize that he is so in command of his craft that he doesn't have to control every production or rehearsal; he knows exactly when to step back and watch, and when to rewrite or reimagine. Therefore, his work remains supple and surprising decades after its inception. That is a rare gift, and one worth learning from."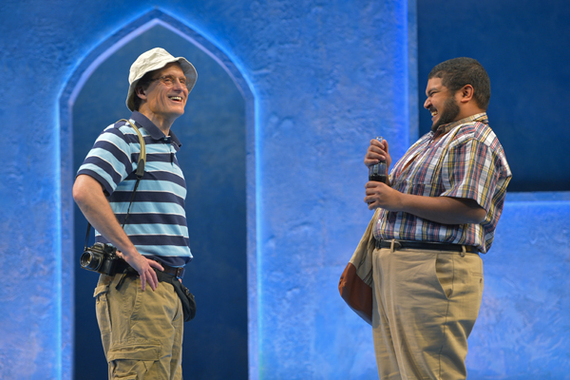 Eldon Pike (Anthony Fusco) and Dilip (Kenneth De Abrew)
research the history of English poet Flora Crewe in Indian Ink
(Photo by: Kevin Berne)
Although Danielle Frimer as Nell (the young Eleanor), Philip Mills as British officer David Durrance, and Dan Hiatt (as an Englishman living in India during the Raj) made strong contributions in supporting roles, I found myself mesmerized by the beautifully multi-layered performance by Firdous Bamji as Nirad Das. Mr. Bamji (who played Anish Daj in ACT's 1999 production of Indian Ink) is a gifted actor who can paint his character with a rare combination of charm, nervous self-consciousness, and grace under pressure. His work was beautifully balanced by the stalwart performance of Roberta Maxwell (who, in the strangest way, reminded me of Regina Resnik). This was a most fulfilling evening of intelligent and heartwarming theater.
REAL LIFE. REAL NEWS. REAL VOICES.
Help us tell more of the stories that matter from voices that too often remain unheard.