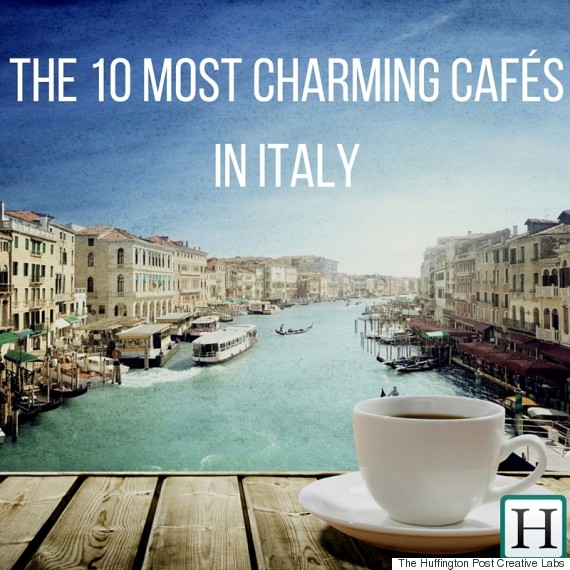 Craving a change of scenery, or even just a caffeine pick-me-up to shake up your day? Adventure and quality coffee await you -- the trick is, you have to find your way to Italy to claim them.
While most of us don't have deep enough pockets to plan an impromptu trans-Atlantic trip (oh, don't we wish we did), we can at least daydream our way over to Italy in the meantime. There, in the land of unparalleled espresso and scrumptious biscotti, we imagine spending afternoons soaking up the local charm -- and drinking a lot of coffee, of course. In the spirit of living a delicious, joyful life and savoring the flavors along the way, we've partnered with Sanpellegrino® Sparkling Fruit Beverages to share the charming Italian cafés that are sending us into a wanderlust frenzy.
1. Gran Caffè Quadri -- Venice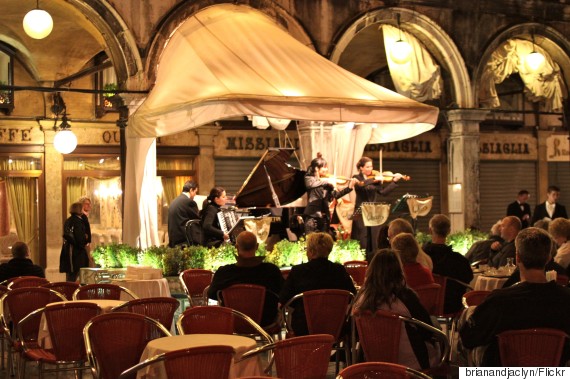 Image: Brian and Jacyln/Flickr
Among the most iconic cafés in Italy, this historical gem has graced St. Mark's Square in Venice since 1775. Fun fact: It was the café that introduced Turkish coffee to Venice, and it has also hosted countless great minds and celebrities over time -- Marcel Proust, Alexandre Dumas and, more recently, Robert DeNiro and Angelina Jolie, to name a few. Now attached to the Michelin-starred Ristorante Quadri, the café has maintained the Old World feel that we wanderlusters are craving, and you can bet it has our American counterparts beat when it comes to pulling espresso.
2. Caffè Florian -- Venice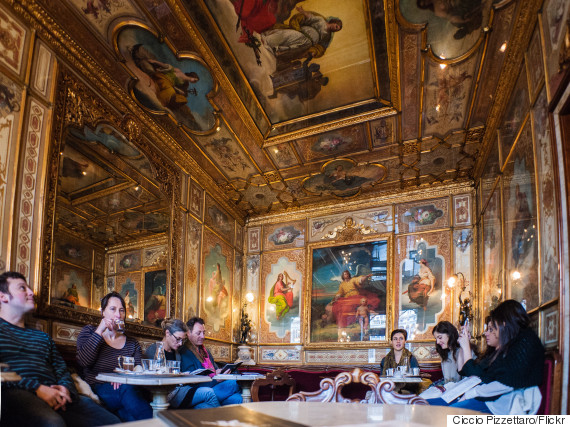 Image: Ciccio Pizzettaro/Flickr
Say arrivederci to the boring old décor of your local coffee shop; it has nothing on the ornate, gilded walls of the world-famous Caffè Florian. The café came into being in 1720, and it's widely considered the oldest café in Italy. It's also rumored to have been frequented by Casanova; the famed lothario purportedly spent his time there picking up women. We can see why -- in a café as romantic as this one, it's hard not to imagine a torrid affair or two being sparked. If you're looking for sweep-you-off-your-feet romance, forget Tinder -- get yourself to Caffè Florian, stat.
3. Caffè al Bicerin -- Torino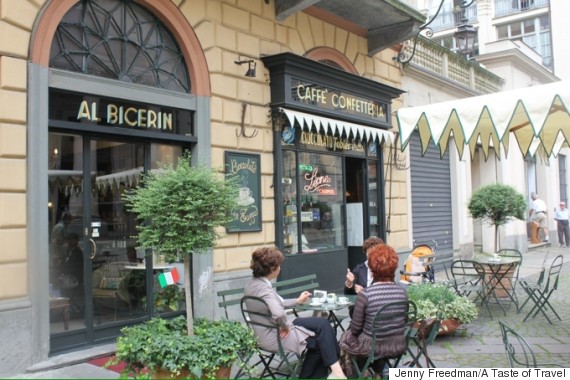 Image: Jenny Freedman/A Taste of Travel
Love mochaccinos and other coffee-based concoctions? Caffè al Bicerin is a must-visit, not least because its history dates back to 1763. It's believed to be the birthplace of the famous bicerin, a drink based on the 18th-century bavareisa, which contains espresso, drinking chocolate and milk. Stop by, sit back and sip on the sugary goodness -- and while you do, take some time to admire the gorgeous wooden panelling, old-fashioned candy jars and the quaint patio where you can enjoy the fresh air.
4. Baratti & Milano -- Torino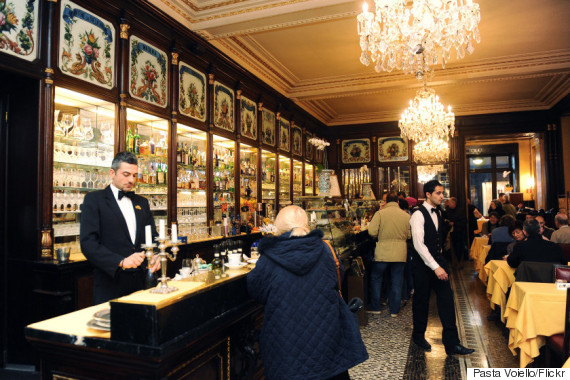 Image: Pasta Voiello/Flickr
Speaking of gorgeous wooden panelling, it's a staple in the historical cafés of Torino. Enter Baratti & Milano, which opened in 1858. With dapper waiters in tuxes, sparkling chandeliers and intricate friezes, Baratti & Milano has the grandeur of a place out of time -- and it has everything a tourist needs to feel transported. Plus, it serves a famed Piedmontese chocolate called Gianduiotto that you just have to get your hands on.
5. Antico Caffè della Pace -- Rome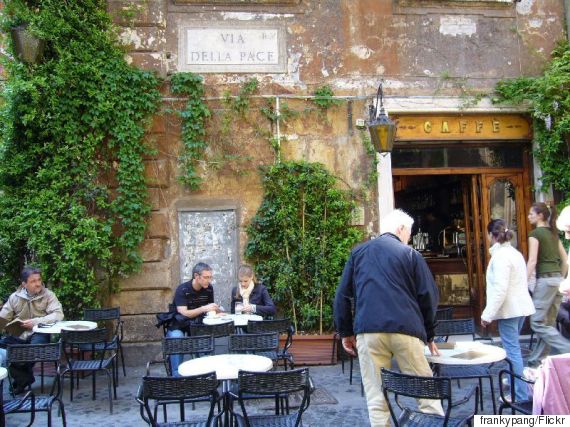 Image: Franky Pang/Flickr
Feast your eyes on Antico Caffè della Pace -- does it look familiar? It should, if you've ever seen "Eat Pray Love" or "To Rome With Love," as both films feature scenes at the picturesque, ivy-covered café. Nestled on a corner of Via della Pace, it's a spot to see and be seen (yes, people-watchers, this place is your heaven). It's also equally beautiful inside and out, filled as it is with unforgettable Art Deco details -- most notably the stunning cash register that sits on the bar. Trust us, you have to see it to believe it.
6. Antico Caffè Greco -- Rome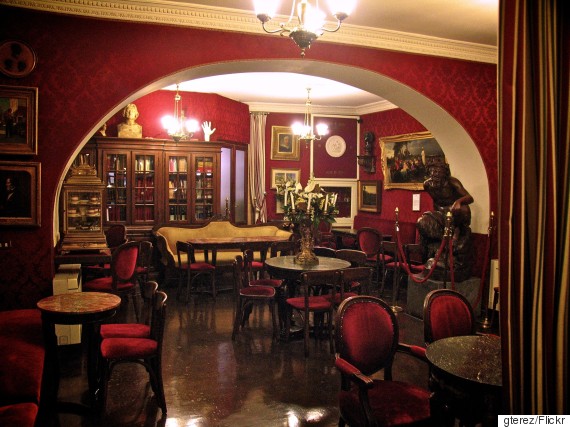 Image: G Terez/Flickr
Yet another marvel of the Eternal City, Antico Caffè Greco is situated right by the Spanish steps, and it has all the Belle Epoque charm you'd expect of a classic Roman café. Its walls are lined with paintings and portraits, making it possible for patrons to sip on cappuccinos while enjoying a veritable art gallery. Plus, pastries. All. The. Pastries.
7. Caffè Torino -- Torino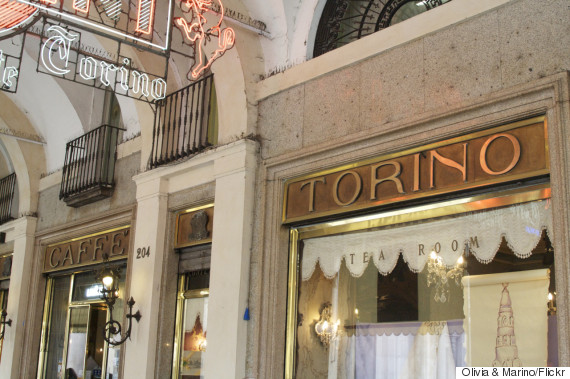 Image: Olivia & Marino/Flickr
There's no shortage of Belle Epoque beauty in Italy. Like Antico Caffè Greco, Caffè Torino (located in its namesake city, of course) is a bastion of gilded, turn-of-the-century style. Warm up by the wooden fireplaces in winter or soak up some sunlight on the patio in summer; whenever you visit, you'll wonder why you ever wanted to go back home. Seriously, why?
8. Caffetteria Biancomangiare -- Ragusa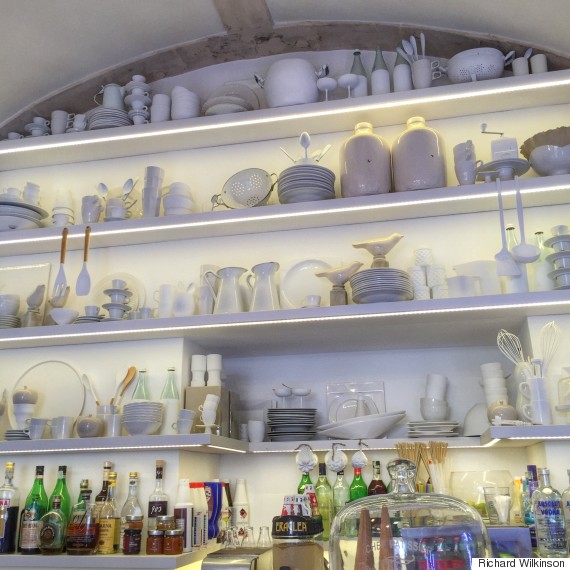 Image: Richard Wilkinson
Looking for something a bit more modern and tropical? Look no further than Caffè Biancomangiare -- part café, part restaurant, 100 percent worth the trip. The trendy interior is nearly all whitewashed, while the palm tree–lined exterior patio overlooks the hustle and bustle of Piazza Duomo in Ragusa, Sicily. Light, airy and filled with the chatter of locals and tourists alike -- it's our modern-day Italian daydream come to life.
9. Caffè Fiaschetteria Italiana 1888 -- Montalcino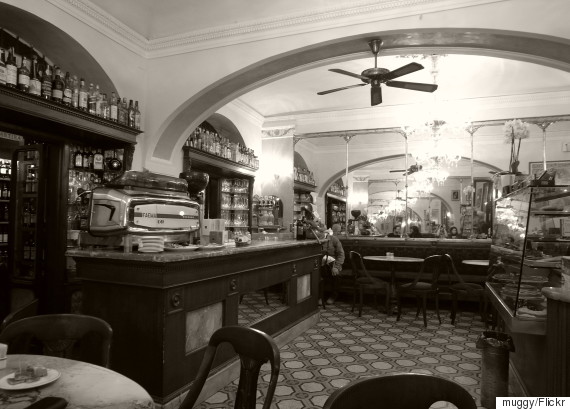 Image: Muggy/Flickr
Caffè Fiaschetteria Italiana 1888 was founded in -- you guessed it -- 1888 by the man credited with inventing Brunello di Montalcino, one of the most celebrated wines of Italy. It serves as both a café and wine bar, so it's the perfect place to frequent both in the morning and the afternoon (after all, when in Rome … or Montalcino, in this case). Its Art Deco feel will transport you back to an earlier time, and the picture-perfect exterior will add just the right dash of rustic authenticity to your Italian adventure albums.
10. Gran Caffè Gambrinus -- Naples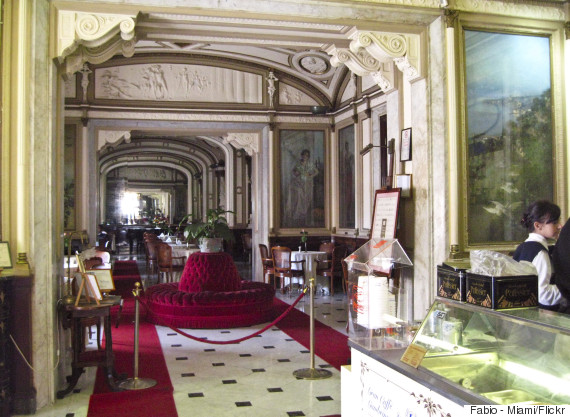 Image: Fabio - Miami/Flickr
The next time you find yourself in Naples (whether in dreams or in reality), make sure to stop by Gran Caffè Gambrinus for your daily dose of Italian charm. Founded in 1860, the café has undergone major renovations and redecorations over the years. Today, it shines in its Art Nouveau splendor, but the décor pales in comparison to the out-of-this-world pastries and chocolates served alongside its coffee. It's long been a literary café -- no surprise, since the café itself is based on the power of wordplay: the name "Gambrinus" comes from the legend of Gambrinus, who stands for drinking and joviality in European lore. Drink up and soak it in!
Whether you're adventuring abroad or daydreaming at home, don't forget to savor the flavors around you and enjoy every one of life's sweet moments. With delicious citrus flavors like Limonata, Clementina and Aranciata Rossa, Sanpellegrino® Sparkling Fruit Beverages capture the joy, freshness and zest of life. Life is deliziosa -- so take a sip and enjoy.