To research and report on the history of hip-hop -- from its modest New York beginnings in the 1970s at parties in uptown Bronx recreation centers and parks, to its impact on mainstream marketing, advertising and global culture -- is a huge undertaking. In Dan Charnas' exhaustively researched The Big Payback: The History of the Business of Hip-Hop (New American Library/Penguin), he does exactly that.
Over the course of 600-plus pages, Charnas, a veteran of the hip-hop music business (talent scout, record promoter, journalist), traces the evolution of rap music, which emerged from the ashes of the late 1970s disco scene. The Big Payback, which Spin magazine called "Pulitzer-level reporting," not only chronicles the fascinating stories of early trailblazing hip-hop recording artists (Run-DMC, the Fat Boys, Grandmaster Flash and the Furious Five, among them), but all the way through to some of today's biggest hitmakers/dealmakers (Jay-Z, Eminem, 50 Cent). The book also tracks the colorful, often shady, constellation of managers, promoters, label executives, attorneys, journalists, publicists and others that grew up around this urban American success story.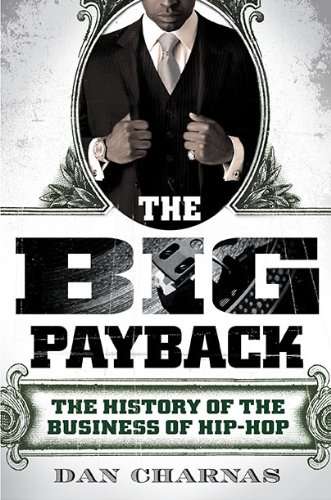 So many moments woven throughout the book's narrative are both historical and exciting. Among them: descriptions of early uptown park "jams," where good music kept kids engaged and off the streets; the revelation that the first American label to take a chance on a British R&B group called the Beatles was African-American-owned Vee-Jay Records; how hip-hop grew in prominence in early 1980s New York City, merging with art, fashion and downtown cool-hunter culture to create the most potent arts scene of that era; how 1985's Fresh Fest became the first corporate-sponsored stadium rap tour, drawing mainstream media attention; and the creation of The Source magazine, started as a newsletter by Harvard students, that went on to become one of the most successful media outlets to reflect hip-hop culture and politics, only to crash and burn spectacularly due to greed and staff infighting.
Full disclosure: I worked in the music industry for over a decade (from the early 1990s to the mid-aughts), first as a freelance journalist and then as a PR agent, both independently and in-house at record labels. Having known, met or worked with several of the people profiled in The Big Payback, reading it now gives me flashbacks of good and bad memories, working in a creative art form started by kids who fused beats and rhymes to give the disenfranchised a voice, that became a worldwide phenomenon that everybody wanted a piece of (and a check from).
I appreciate Charnas' level of detail, gleaned from over 300 interviews over a seven-year period. The book's eight main chapters, or "albums," cut a wide swath through the personalities, rivalries, thrilling successes and sad failures, that were all part of a music genre that literally pulled itself up by its own bootstraps to become a culture emulated around the globe.

REAL LIFE. REAL NEWS. REAL VOICES.
Help us tell more of the stories that matter from voices that too often remain unheard.