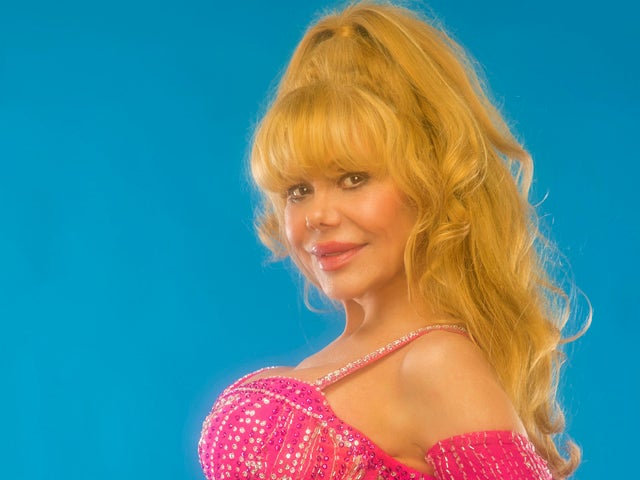 When asked for her full name, Charo is known to laugh in her cheerful manner and ask, "Do you have time?"
The Spanish-American actress, comedian, and flamenco guitarist was born in Murcia, Spain, and her full given name is María del Rosario Mercedes Pilar Martínez Molina Baeza. Perhaps best known in the U.S. as the "Cuchi cuchi girl," for her trademark expression she often says while wiggling her hips, her stage name "Charo" is a shortened form of her middle name Rosario.
The exuberant entertainer became an American sensation in the 1970's – appearing in countless television shows, including several episodes of "The Tonight Show with Johnny Carson," "The Carol Burnett Show," "The Love Boat" and in the films, "Moon Over Parador" and "The Concord: Airport '79."  Although she is now 66, Charo's energy and charisma have not simmered down. Earlier this year, she was on the 24th season of  ABC's "Dancing with the Stars," she will be performing in the Hollywood Bowl on August 27, and her next flamenco guitar album, "Guitar on Fire," also drops later this month.
"I am very excited, because it was one of my dreams to go to the Hollywood Bowl," says Charo. "When I was a little girl, I saw a movie about a little mouse dancing at the Hollywood Bowl, and it was one of the best things I ever saw. I told myself if I ever go to America, I will play at the Hollywood Bowl."
She calls the show a challenge, because the audience will be international and comprised of different age groups, "but I know I can do it," she says. "The guitar is my security blanket, and the music I selected is international."
Charo is used to performing anywhere. She moved to the Hawaiian island of Kauaii for approximately 15 years to raise her only son, Shel Rasten, away from the Hollywood life. Although, she still kept busy performing locally and even opened a restaurant called Charo's. Since 2000, however, she's been living in her Beverly Hills mansion with her husband and extended family.
Ideally, Charo would start her day without an alarm clock.
"Every day for me sucks, because I don't like to wake up," she says, although it's hard to imagine her not radiating a constant joie de vivre. "I'm a night person, because I'm used to performing. Waking up is torture. I wake up at 8am, not because I want to. I play the guitar a little bit, then I run two miles, take a shower, then spend three hours minimum on the phone and making decisions."
Although she works a lot now, she says she would never want to go back to when she was 20.
"It was work, work, work," says Charo in a more serious tone. "My father was involved in politics, and we lost everything. There was no time to play. I grew up playing in casinos. I started performing professionally when I was 12."
World-renowned classical guitar master Andres Segovia taught her to play the guitar at a young age. She landed a role on the show "Villa Alegre" – Spain's version of "Sesame Street" where she would sing "La Bamba." When she was almost 15, the Spanish-American bandleader, Xavier Cugat, came to see the show and discovered her. Soon after, she joined his orchestra as a singer and dancer, and despite a 40-year age difference, they got married.
"He talked to my mom and father," says Charo of Cugat, her first husband. "I was very prepared when I came to this country. I practiced the guitar three hours a night. When I'm playing the guitar, I'm in another world, not in my "cuchi cuchi" persona."
In addition to playing the guitar, another topic close to her heart is taking a stand against one of her native Spain's cultural past-times, bullfighting. She even adopted a bull she named Manolo.
"I hate to watch the news, because I love people around the world," she says. "I was born in Spain, but I consider myself a citizen of the planet Earth. I write my own comedy to cheer me up."
Regarding the recent terrorist attack in Barcelona, she says she is heartbroken.
"I began praying for the victims right away," says Charo. "I am sad for Spain, a beautiful country, full of joy, music and passion. I know Barcelona and Las Ramblas very well. It is like the United Nations there. You hear all the different languages and many people, including tourists, go there for fun…It saddens me to learn of the catastrophe they have suffered. I pray it never happens again. I believe the way to achieve world peace is for us to pray. Pray for each other. Pray for the planet. Pray for peace."
Calling all HuffPost superfans!
Sign up for membership to become a founding member and help shape HuffPost's next chapter
This post was published on the now-closed HuffPost Contributor platform. Contributors control their own work and posted freely to our site. If you need to flag this entry as abusive,
send us an email
.