A new close-up photo of Charon, one of Pluto's moons, revealed a mysterious feature that has scientists puzzled.
The image taken by the New Horizons spacecraft shows what appears to be a massive depression or pit with a mountain rising from its center.
"The most intriguing feature is a large mountain sitting in a moat," Jeff Moore of NASA's Ames Research Center, who leads New Horizons' Geology, Geophysics and Imaging team, said in a news release. "This is a feature that has geologists stunned and stumped."
On a surface that turned out to be a lot smoother than scientists expected, the feature stands out.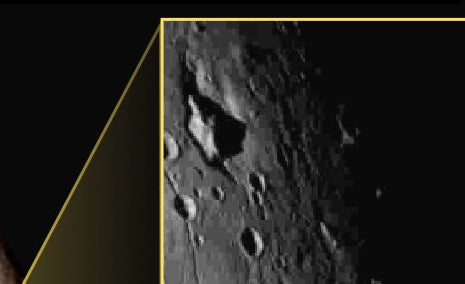 The mountain-in-the-moat isn't the only surprise on Charon, the largest of Pluto's five moons.
"We originally thought Charon would be an ancient terrain covered in craters," New Horizons team member Cathy Olkin told the Los Angeles Times. "So when we saw the pictures this morning, it just blew our socks off."
Fewer craters on both Pluto and Charon suggest that the dwarf planet and its moon have younger surfaces than scientists expected.
The new image was taken on Tuesday from a distance of about 49,000 miles, shortly before the spacecraft made its closest approach to Pluto. NASA said it expects to see a sharper version of the image when data from the New Horizons' Long Range Reconnaissance Imager arrives.
It's expected to take about 16 months for all the data to reach Earth.
Popular in the Community