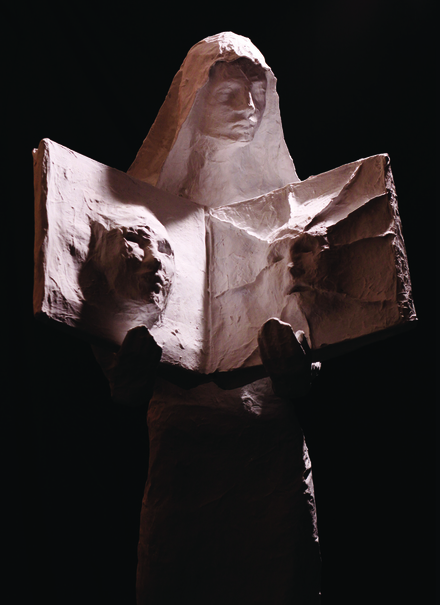 Saturday, February 26 marks the last performance/discussion with Dyal and Logan highlighting the controversial exhibit Charon's Pantheon at la Luz de Jesus before the exhibition moves to Grand Central Art Center as part of a rotating museum tour. The show closes at La Luz on Sunday. You can view videos of the art below:
The installation consists of Myron Conan Dyal's drawing and thirteen statues of goddesses, each lit for several minutes and accompanied by transcendental electro-acoustic compositions associated with the particular figure, composed by Jennifer Logan. The haunting sculptures are a specific pantheon manifested to Dyal as part of his rebirth, as he terms it, from a three-month-long coma at age four and the ongoing ravages of temporal lobe epilepsy.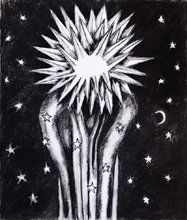 Dyal's illness produces spiritual visions, including contact with a force/entity he calls Charon, who he views as his spiritual father, mother guide and friend, a being/energy which helps heal him and restrain the dark forces, allowing the artist to heal and create. Over the decades Dyal -- who is self-taught -- has created over 6,000 pieces in a variety of media.

It was not until I was 48 years old that I was finally diagnosed with epilepsy and began treating my illness. I kept my prolific production of art secret for many years -- only showing it to family and a few close friends until recently. The years of pain and conflict that ensued from decades of hiding has taken its toll and the art that I have produced is finally allowing me to heal.
The truly transcendent nature of Charon's Pantheon, enhanced by Logan's compositions, takes us into a profound realm of the otherworld, making us question the nature and source of art, creativity and the divine.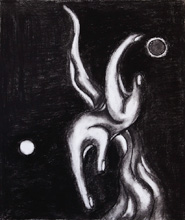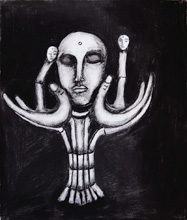 La Luz de Jesus is located at the Soap Plant / Wacko building, in Los Feliz at 4633 Hollywood Blvd, Los Angeles, CA 90027. 323/666-7667

REAL LIFE. REAL NEWS. REAL VOICES.
Help us tell more of the stories that matter from voices that too often remain unheard.