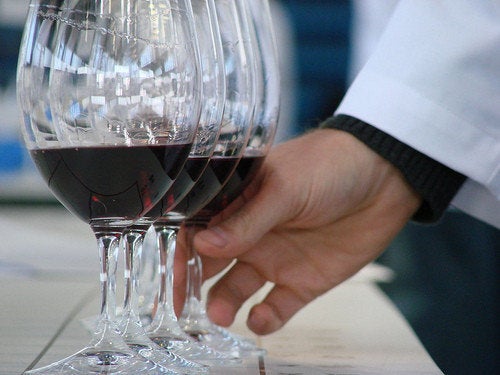 The wine world includes a lot of small, family-owned producers. Many produce good wines, and a multitude don't. Occasionally, however, the results are outstanding -- truly among the ranks of the region's very best.
That's the case with Charter Oak -- a tiny, Napa Valley based producer that operates out of a family's backyard and basement cellar.
I first encountered Charter Oak wines at a trade tasting in 2008. I tasted two more of their wines at the ZAP Zinfandel Festival this year, where the wines stood out as not only complex and rich but also more elegant and balanced than virtually anything else I tasted that day.
Proprietor/winemaker Rob Fanucci and his business partner Jim White joined me for dinner in Napa the following month. There I tasted more of the wines, including three vintages of Petite Sirah that were both profound and delicious.
I was so intrigued by what I'd tasted, and by Rob's story of having learned winemaking from his grandfather and continuing the operation out of what had been his grandfather's cellar, that I knew I had to see this family operation myself. I was hoping to figure out just what made the results of this tiny production effort so darned good.
So this month I visited Jim, Rob and Rob's wife Layla at the Fanucci home in St. Helena. That's where they have a one acre vineyard, and where Rob and his family produce on average 700 cases a year.
What I discovered was a family -- Rob and Layla Fanucci, lately joined in winemaking by their son David -- whose lives are quietly dedicated to the pursuit of excellence in their respective fields.
Layla is a very successful painter. She has painted full time since 1999 and sold about 200 paintings -- vibrant city scapes in a unique style that she came to with advice from a major art world consultant. Rob is a tax attorney by day, but also a serious and talented winemaker who has built on what he learned from his Italian grandfather, continuing to make great wine using his grandfather's press, in what was his grandfather's old cellar.
Their home is half studio/art gallery and half winery. There's a creative vibe throughout the place. Layla has created artwork for special labels for the wine, and artful arrangements of mementos and tools that belonged to Rob's grandfather can be found throughout the winemaking cellar. A striking portrait of a woman even adorns the family's chicken coop, home to a dozen or so beautiful and exotic looking egg producers, including a peacock hen.
Rob's maternal grandfather, Guido Ragghianti, came to the U.S. from Luca, in Tuscany, in the 1920s. He settled first in San Francisco, where he worked for years as a carpenter. In 1950 he moved to St. Helena, purchasing a house built in the 1890s that had an acre of land and a basement big enough to make wine in.
Guido drank wine, only his own wine, with every meal. Rob told me he once got in trouble with Guido for bringing him a 1982 Pine Ridge Cabernet he had purchased at Safeway for $20. His grandfather angrily called it "shitto." Guido also called Petite Sirah "Pity Serah," and blended white grapes into his Zin.
Guido planted the backyard with a lot of white varieties for making grappa. (The Fanuccis replanted to Zin and a little Petite Sirah in 1992.) He also picked "second crop" grapes from local vineyards for free. Second crop refers to clusters that form on secondary shoots and that often mature several weeks after the main crop. It is time consuming to pick this second crop, and the yield is very small, but the little berries -- which in the case of Zinfandel are often black -- tend to have intense flavors.
In 1986, Rob faced a career turning point. The firm he was with, Dean Witter, decided to move from San Francisco to New York. Rob wasn't willing to move to New York so he left the firm and he and Layla moved up to St. Helena to share the house with his grandfather. Guido was then 98.
Rob went to pick grapes that year with Guido. They brought the grapes back and crushed them in 60 gallon open vats and punched them down with old redwood bats Guido had brought with him from Italy.
After he taught Rob the whole winemaking process, Guido passed away at the end of December 1986.
Rob has continued to make wine ever since, following much of his grandfather's recipe. He's also kept the press room and barrel room much as Guido left them. Rob's love for his grandfather is palpable throughout the place, and in the way Rob talks about him. It's clear that winemaking at Charter Oak is an ongoing tribute to a much beloved ancestor.
After 11 vintages on his own, Rob went commercial in 1998, having gotten the home winery bonded that year.
He produces three Zins, including a Monte Rosso Vineyard designate (from one of California's most esteemed old vine Zin vineyards), one from fruit from the one-acre "estate" vineyard, and a bottling called "The Zinfandel Mind" that's based on second crop fruit they pick from one of the same vineyards Guido used to source from. He's also made an eponymous cuvée, the Roberto Fanucci, in the last couple years. He produces a Petite Sirah, with fruit from the David Fulton vineyard in Napa that was originally planted in 1860. There's also a Cabernet Sauvignon, made in the last few years from fruit sourced from Mt. Veeder. And in the last couple years, Rob has also made a special blend named after his grandfather that's largely based on Cabernet, but that reminds me of one of Châteauneuf-du-Pape's luxury cuvées.
So one of the secrets to Charter Oak's amazing wines is top fruit sources -- great vineyards with very old vines. But there's more to the winning formula than that.
The winemaking process, based on what Rob learned from Guido, is a traditional and very gentle one.
The fermentation takes place in open vats relying solely on indigenous yeasts. After three to four weeks in the fermentation tank, the skins are separated from the juice using an ancient basket press Guido brought over from Italy. It extracts less juice from the skins than they'd get if they used modern equipment, but it does so in a slow and gentle fashion. The juice is then taken by buckets to the barrels in the cellar.
Rob has taken wine chemistry classes at U.C. Davis. He constantly checks to see whether something's going wrong, but otherwise lets the wine do its thing.
Rob ages the wine mainly in used barrels -- he hasn't purchased any new barrels since 2007.
I tasted some of the 2010 and 2011 wines out of barrel and it was exquisite juice -- the best Zin and Petite Sirah I've ever tasted out of barrel. There is, however, one more secret yet to Charter Oak's brilliant wines, and it's one I virtually had to pry out of Rob as he's not the type of guy to brag about his own efforts.
Rob, an excellent cook according to Layla and partner Jim, is also a gifted blender.
The Zins often have as much as 15 percent Petite Sirah in them, and the Petite Sirahs also tend to have a healthy helping of Zin. Rob never blends all at once. In a difficult vintage, like 2008, he can go through 40 to 50 trials to get to the final blend. That year he got down to two or three choices that he then tasted with partner Jim and Chris Phelps, winemaker at Swanson Vineyards. Sometimes he'll freshen up a vintage with a little of another vintage.
So what sets Charter Oak apart from your average family winemaking operation is top notch fruit sources; traditional and low intervention winemaking on a small and manageable scale; and final touches by a naturally talented blender. No wonder Charter Oak wines can be found at some of the country's finest restaurants, like Per Se, French Laundry, Gary Danko, and now Gordon Ramsay at the London in New York.
For my complete tasting notes on these amazing wines, and photos of some of Layla's artwork, see the complete report on my blog here.
Related
Popular in the Community