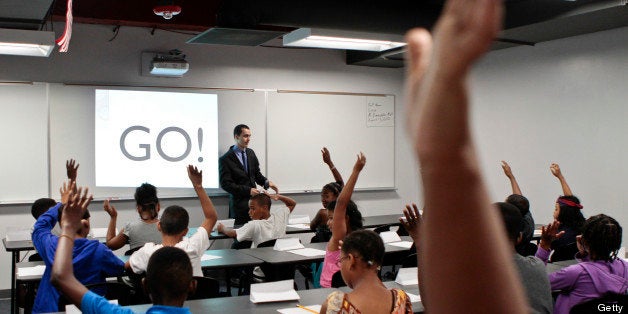 Charter school students on average slightly outpace comparable public school kids in reading and tie them in math, according to a large study of academic performance that shows slow but steady charter school improvement in some states since 2009.
Charter students on the whole end the school year with reading skills eight instructional days ahead of public school kids, and perform at about the same rate as public school students in math, according to the study released Tuesday by Stanford University's Center for Research on Education Outcomes, or CREDO. In math, the study found that 29 percent of charter schools showed "significantly stronger learning gains" than their public school peers, with 40 percent performing similarly and 31 percent "significantly weaker." In reading, 25 percent of charters showed "significantly stronger learning gains" than public schools, 56 percent showed no difference and 19 percent showed "significantly weaker gains."
CREDO looked at 2.3 million charter students in 25 states and two cities -- New York and Washington. It is likely the biggest study of charter schools to date -- bigger than the Stanford group's 2009 study of charter schools in 16 states that has been cited hundreds of times by scholars, lawmakers and advocates. The 2009 study showed charter students were losing seven days in reading and 22 days in math to public school students. It found that 17 percent of charter schools outperformed public school peers and 37 percent were actually doing worse.
"Charter schools now advance the learning gains of their students' more than traditional public schools in reading," the authors of the new study write. "However, charter school quality is uneven across the states and across schools."
CREDO research manager Devora Davis said the new study showed "slow and steady progress" by charter schools. "We've seen some progress since 2009," she said, partly because some poorly performing charter schools have closed. The study found improvement across the 16 states that were studied in 2009, where 8 percent of charter schools have closed because of low performance.
The study reaches the same broad conclusions as the study four years ago: performance of charter school students is extremely varied, but on average, students learn at roughly the same rates as their public school peers. Now, however, the charter students average a slight reading advantage.
"I don't think eight days is a whole lot," said Davis of the charter school students' reading edge. "There's a lot of variation across the states. It's a national average."
The study also compared the performance of charter school students with their pervious academic performance in public schools. In math, the lowest performing charter school students saw no growth on average after leaving public schools, the study says. In reading, the lowest-performing charter school group saw the biggest boost.
CREDO found more pronounced gains for some minorities. Hispanic English-language learners in charter schools were 50 days of reading instruction ahead of the average of their public school school peers, and 43 days ahead in math. Charter school black students in poverty were 29 instructional days ahead of public peers in reading, and 36 days ahead in math.
Charter schools are publicly funded, but may be privately run. They have been controversial in school districts across the country, competing for resources with public schools. Nationally, charter schools have bipartisan support, with backers that include the White House, House Republicans and House Democrats. The idea behind charters is that the schools, stripped of government regulations and union rules, can be free to innovate and tweak class times, school year length and teacher evaluations.
The CREDO study is likely to be spun to fit advocates' narratives. "It serves to reaffirm the primary conclusion of the research on charter schools' test-based effects relative to comparable regular public schools, which is less that they are no better or worse than the fact that their measured performance varies widely within and between states and districts," said Matthew Di Carlo, a senior fellow at the Albert Shanker Institute, a D.C.-based think tank affiliated with the American Federation of Teachers union. "Such inconsistency may not be particularly satisfying to supporters and opponents of charter schools, but it is actually a great opportunity, as it permits the examination of specific policies and practices that are associated with performance, which can help improve schools in both sectors."
Davis agreed. "What we have always said many many times is there's a lot of variation in the sector," she said. "We've continued to find a lot of variation, so while the progress has been steady and we see a growing fraction of charter schools outperforming their markets, we still see a large proportion of schools performing no differently and some performing worse."
Andy Smarick, a charter advocate and former U.S. Education Department official who now works as a partner at Bellwether Education Partners, a non-profit that focuses on children from low-income families, said the study shows that charters' self-policing accountability works. "Eight percent of charters have been closed for performance, new schools are starting, good ones are growing," he said. "Those systemic elements are helping the sector improve and they're getting better. The philosophical arguments we've been making about the concept of chartering appear to be born out in the study."
The Eli and Edythe Broad Foundation, one of the largest education philanthropy groups, has given $122 million to charter school management organizations since 1999. Rebecca DiBiase, the foundation's managing director of programs, told HuffPost that the 2009 report "was a real shock to the system." She said she's heartened by the new report's finding of progress. "It underlines something that the sector has known but been afraid to talk about: there's huge variability among charter schools," DiBiase said. "The best schools need to grow and serve more students. … There's a subset of charter schools that are not operating better options and need to be closed."
Charter critics, such as Western Michigan University's Gary Miron, who has evaluated charters for various states, take issue with CREDO's glowing press release. "I was surprised by the headline that charter schools are making progress. It could have read just the opposite," he said. "For the majority of students there's no significant difference. … These differences are so incredibly small and they're only statistically significant because they have hundreds of thousands of records in their sample size."
Still, Miron said the study is "one more piece of the puzzle."
Before You Go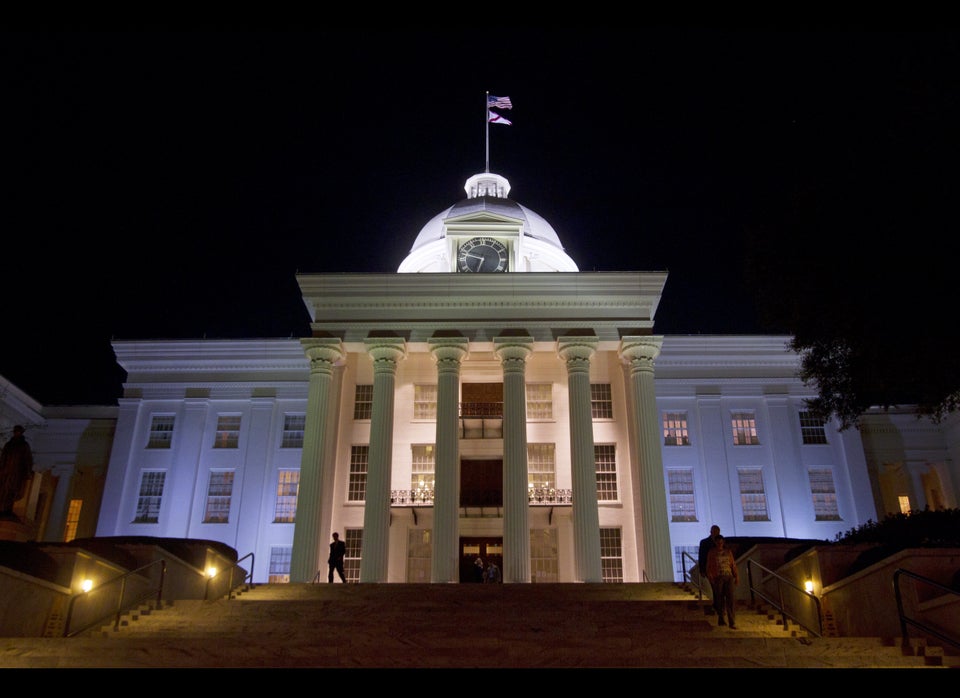 U.S. State Capitol Buildings
Popular in the Community