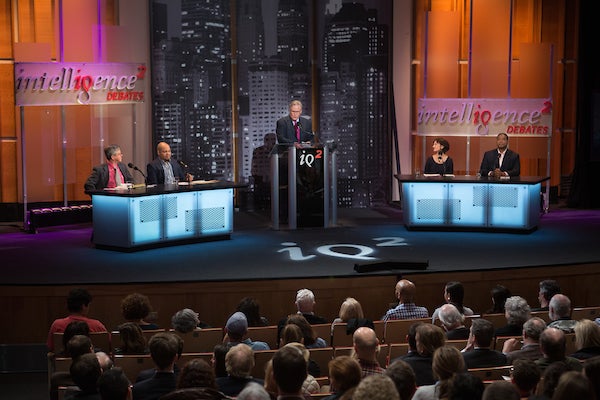 In 1988, Al Shanker, then president of the American Federation of Teachers, gave a speech that had been inspired by a visit to Germany where he visited a school run by teachers, who were free to experiment with new ideas and stayed with their classes for six years. Shanker talked about his vision of "charter" schools, which used public money to experiment with fresh ideas that could be transferred to public schools and improve education for all. What an opportunity! To establish innovative schools from scratch with enough money to get the job done! After six years, the charter school movement had been taken over by specialized nonprofit and for-profit corporations, which ran the schools, and Shanker became disenchanted with the movement.
It is now 25 years since the first charter school opened in Minnesota. On March 1, I went to an Intelligence Squared debate in Manhattan, hosted by journalist John Donvan, who framed the proposition: "Charter Schools Are Overrated" for two debate teams. The academics, Gary Miron, of Western Michigan University and Julian Vasquez Heilig, of Sacramento State and a founder of the Network for Public Education, who agreed with the premise, squared off against a team of charter school advocates, Jeanne Allen, founder and CEO of The Center for Education Reform and Gerard Robinson, of the American Enterprise Institute and former Florida Commissioner of education. Donvan insisted that this formal debate was also an exercise in civil discussion and the attendees in the packed auditorium each had little keypads at their seats to vote for the team they felt was most effective in defending its position.
My "lane" is quality education for every child. So, I am interested in the problems and processes that go into starting a school from scratch. Republicans and education "reformers" frame this as "choice" and believe that choice is essential to the republic. But, if you're a parent that can be misleading. Even if your child is in a local public school, you have choices—you can send your child to another public school, or a magnet school, or get involved in contributing time and ideas to your own local school. For people of color in poor neighborhoods, charters represent a seductive alternative to the local school, which may have been labeled "failing." Some charters have been awarded to people of these communities who have excellent intent and good will. I served on the board of a such a charter school with the mission to focus on science and technology. After a year and a half, I left the board because I felt I was not being used effectively for my knowledge of science education. In spite of the lure of being able to be more experimental and flexible in their approach, this school's students still had to perform well on the assessment tests and its leadership did not have the knowledge of best practices to achieve this goal.
As Julian Vasquez Heilig argued for the motion: "Charter schools, if they don't have public accountability, direct public accountability, are antidemocratic. So, saying that publicly elected school boards and districts and unions, which are also democratic organizations are an old idea -- I don't think democracy is an old idea. In fact, I think we need excessive democracy when it comes to our thinking about education reform. We need to avoid education reform that is top down and concentrates power in the hands of just a few people."
To which, Jeanne Allen, arguing against the motion, replied, "I agree with you." So, yes, the discourse was meeting the civility standards of John Donvan, who ran a tight ship in that department.
The academics were there to give us data. There are some successful charters, but for the most part the results are disappointing—charters don't necessarily do better or worse than most public schools. (Let's not forget that there are a lot of successful public schools and, according to the esteemed public education historian Diane Ravitch, public education is NOT failing.) But there is one statistic that jumps out—teacher attrition. Many charter school teachers come from Teach For America and are young and inexperienced. They burn out quickly as the workload can be 12-14 hours a day.
In his argument for the proposition Gary Miron said. "…..in terms of teacher attrition, we know that some of the states are tracking that. In Delaware, they saw that many…of the teachers were actually moving in to traditional public schools. But also, they tracked the number of teachers leaving the profession. ….the attrition rates were between 20 and 30 percent annually in charter schools across the six-state study that we did. But for new teachers, it was 40 percent."
To which Jeanne Allen replied, "If it's of interest, even if we had that data, ...that data really is not valid. If teachers are leaving schools rapidly, if they're leaving every other day and students are there and they're learning, and there are adults who are validating that learning and publicly accountable, why are we talking about whether or not a teacher's coming and going, even if it were the case?"
This last remark bothered me because if there's one thing we know for certain it's that children need a predictable environment in a culture of learning to thrive. How can a culture of learning be established in a school where the faculty is churning? We know what makes good education; they're called "best practices." Children are born to learn—just watch the first couple of years of development. Brain research says that making meaning is innate in children. Jeanne Allen cited experiential learning as an example of progress at one charter school—I went to a private progressive elementary school where all we did was experiential learning and I hate to tell you how long ago that was.
Coincidentally I have just read John McPhee's book The Headmaster. It's a portrait of Frank Boyden who took over the reins of the Deerfield Academy in 1902 when it was a public school of fourteen boys and girls in the rural farmland of Massachusetts. He was 22 and the only teacher. He stayed on the job for the next sixty-four years. Single handedly he created a culture of learning where teachers stayed on for decades. Why? Because they had autonomy over their classrooms and courses. Boyden trusted them. Deerfield gained a reputation for creating scholars and athletes out of other schools' expulsions and failures. What was Boyden's secret sauce? His work ethic, his own ability to learn and set an example, and most of all his own humanity and his trust in the humanity of his staff. That kind of excellence does not come from a start-up school with inexperienced leadership and staff. It does not come from a public school with low morale, limited resources, and a failing label.
By the way, the team for the proposition "Charter Schools Are Overrated," won the debate.