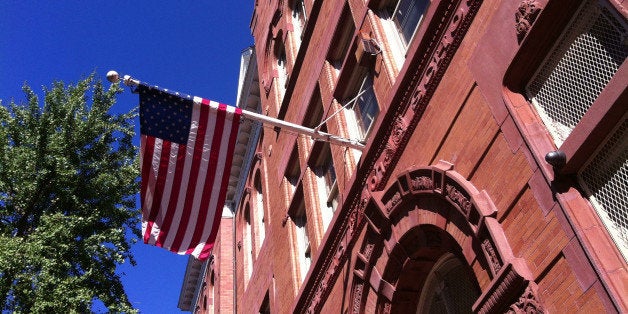 Charters schools, when first proposed in the late 1980s, were envisioned as a way for public school systems to experiment with educational options. Some still play this role. However over the last two decades charter schools have largely evolved into a way to make money from public dollars, either through for-profit charter school corporations or for well-paid CEOs of supposedly not-for profit charter school networks.
Thanks to big pushes by the Bill and Melinda Gates, Walton Family, and Broad foundations, California now has over 1,200 charters schools enrolling about seven percent of the state's students. That includes about sixteen percent of the students in Los Angles and twenty-five percent in Oakland. The number keeps growing even though there is no proof that charters perform better than regular public schools. Three recent stories about Charter Schools and the school deform movement should make readers ask, "Is this what they mean by school reform?"
Alliance College-Ready Public Schools (Alliance), the largest charter school chain operating in Los Angles, California faces an investigation for using public funds to while trying to defeat a teacher-led union drive at its schools. A special committee of the California Legislature ordered the state auditor to investigate Alliance and the California Charter Schools Association (CCSA). The charter chain, which serves 11,000 students in 27 taxpayer-funded but privately operated schools, has received hundreds of millions of dollars in public funds. The committee wants to know how much public money was diverted into the fight against teachers who wanted to unionize and how CCSA acquired contact information for students and their families that they used in the anti-union campaign. The anti-union campaign reportedly included illegal surveillance of union activists, interference with meetings, phone calls to parents attacking teachers involved in the campaign, blocking teacher emails, and retaliation against organizers. State Senator Tony Mendoza (D), who initiated the move against Alliance charged, "The purpose of those funds is to educate children inside the classroom -- not to intimidate teachers and parents."
Teachers organizing the union drive at Alliance filed legal complaints with the California Public Employment Relations Board (PERB). Following a review of the charges, PERB attorneys filed four unfair labor practice complaints against Alliance and Los Angeles County Judge James Chalfont issued two restraining orders against the anti-union activities.
Groups associated with the California Charter Schools Association (CCSA) are pouring money into legislative campaigns trying to elect a pro-charter majority in California.
According to California's Secretary of State pro-charter forces spent more than $3 million on contested races. More than $1 million is being used to influence voters in just one state senatorial district. According to Colin Miller, acting Senior Vice President for Government Affairs at the CCSA, the group's top legislative priority is to make it easier to open new charter schools and expand existing schools.
The National Alliance for Public Charter Schools and the Broad Foundation recently announced finalists for the 2016 Broad Prize for Public Charter Schools. Two of the charters are based in Texas, IDEA Public Schools and YES Prep. IDEA, which was founded by Teach for America graduates, operates 44 schools in south and central Texas with more than 24,000 students. YES Prep operates fifteen middle and high schools with approximately 10,000 students, all in the Houston area. YES Prep previously received the Board Prize in 2012. The third nominee is Eva Moskowitz's Success Academy Charter Schools network based in New York City. The award winner will be announced June 27 and will receive $250,000.
The IDEA network's motto is "No Excuses" and it claims that it has a 100% graduation rate for the last fifteen years and that since 2007 100% of its graduates are accepted into college. Amazing!
These results sound almost too good to be true, until you look a little deeper. IDEA pre-sorts its applicants to weed out potentially difficult students. According to the network's student handbook, students with a history of disciplinary problems that include a criminal offense, a juvenile court adjudication, or other disciplinary problems can be excluded from enrollment. Once a student is accepted, IDEA uses other methods to convince weaker students to leave. All IDEA enrollees must pass fifth and eighth grade state test to be promoted. One report found that IDEA's key to its miraculous success was to enroll "lower percentages of economically disadvantaged students, special education students, bilingual education students, [and] students requiring modifications or accommodations on the Texas Assessment of Knowledge and Skills (TAKS), and students scoring below average on the TAKS mathematics or TAKS readings tests." The report also concluded "If we consider the number of students starting in the 9th grade as the cohort of students of interest, then the percentage of IDEA students entering post-secondary institutions of higher education is, at best, around 65% for the cohort of 9th grader students in 2009." By my calculation, 65% only equals 100% in the charter school alternative universe.
The motto for YES Prep is "Whatever It Takes." "Whatever It Takes" apparently has multiple meanings. In June 2014, Houston police arrested the 28-year old principal of one of the YES Prep schools for cocaine possession. Network officials declared that YES Prep maintains the "highest standards of integrity and personal responsibility for all of our employees" and announced, "We have suspended the employee in question and are cooperating with local authorities on this issue." The network had to take action against staff and cooperate with local authorities again in April 2015 when two of its young male teachers were accused of inappropriate sexual relationships with students. This time YES Prep agreed to review its "policies and procedures" and to work with the Texas Education Agency and State Board of Education in an effort to stay proactive. YES Prep has a history of recruiting un-prepared teachers through a partnership with Teach for America.
But my favorite nominee for the Broad Award is Eva Moskowitz's Success Academy Charter Schools. Moskowitz's greatest "Success" this year has probably been weathering a series of scandals. Success is New York City's largest charter school network. About 11,000 children attend its thirty-six schools. The network receives federal and state funding and free space from New York City for all of its schools. Among other things it is accused of discriminating against students with disabilities in a legal complaint filed by parents and New York City Public Advocate Letitia James. The network is also accused of protecting staff members who act inappropriately toward children and families. A video, filmed in fall 2014, showed a first grade teacher ripping up the paper of a young African-American girl and sending her to the "calm-down chair" when she gets a math problem wrong. After the incident surfaced, the teacher was suspended temporarily, but was returned to the classroom and her role as a Success Academy mentor in less than two weeks. In another document incident, In the principal of a Success Academy school was forced to take a leave of absence after it became public that the school had a "got to go" list of difficult children officials wanted to transfer out of their program. Two weeks later the former principal was working as a teacher in a different Success Academy school.
Meanwhile, a Success Academy in-house promotion has apparently backfired. CEO Eva Moskowitz hired an "ethnographer" to study her charter school network. When the researcher suggested "It seems possible if not likely that some teacher cheating is occurring at Success on both internal assessments and state exams," the project was dropped, the researcher was fired, and he was banned from visiting network schools. Stefan Friedman, a Success spokesperson, responded to the charges, "we conducted a thorough investigation and found no evidence to substantiate his speculation."
From July 8-10, educators, parents, and activists will rally in Washington, DC for three days of action in defense of public education. Featured speakers include author Jonathan Kozol, Chicago Teachers Union President Karen Lewis, and Diane Ravitch. On July 8 there will be a People's March for Public Education and Social Justice. Save Our Schools is organizing a conference for July 9 to be followed by a July 10 Coalition Summit and organizing session. The program for the rally and meetings includes full, equitable funding for all public schools; safe, racially just schools and communities; community leadership in public school policies; professional, diverse educators for all students; child-centered, culturally appropriate curriculum, and no high-stakes standardized testing.
Support HuffPost
The Stakes Have Never Been Higher
Related
Popular in the Community