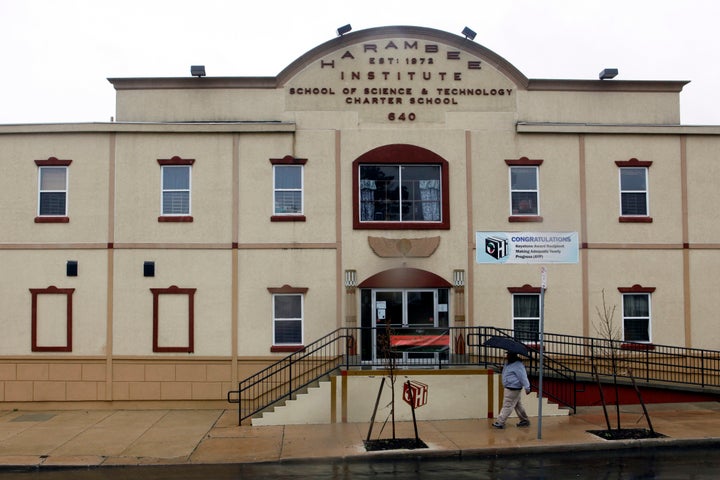 In nearly two decades, only 3 percent of charter schools have ever been closed for underperforming, according to a new report released Tuesday.
The Center for Education Reform, a pro-charter advocacy group, traced charter-school closures since 1992 in what it called the "first-ever national analysis" of its kind. It found that 15 percent of 6,700 charter schools have been shuttered, and 18 percent of those closures were attributed to academic underperformance. Other prevalent reasons charter schools were closed include financial deficiencies (41.7 percent), mismanagement (24 percent), district-related issues and facilities problems.
The data is key to deciphering whether charter schools -- which are publicly funded but can be independently run -- are holding up their end of the bargain of increased flexibility in exchange for increased accountability. The question is key given that charter-school proponents are often data-driven education reformers who advocate using test-score data to rank traditional public schools and the teachers who work there.
As the Center for Education Reform's president Jeanne Allen wrote in the report, "performance-based accountability is the hallmark of the charter school concept."
The report comes as charter-school advocates are zeroing in on quality, at least rhetorically. As the amount of students attending charter schools reaches a critical mass, some proponents worry that the schools' overall quality is not outstanding enough to politically justify their growth.
Advocates of charter schools, a favorite education-reform strategy of the Obama administration, are finding themselves on the defensive.
"Until charter schools start showing there are innovative, well-managed schools, they're still going to be on the hot seat," said Harrison Blackmond, who heads the Michigan arm of the pro-charter group Democrats for Education Reform. "It's hard to defend charter schools if they're not outperforming traditional public schools."
A stream of recent research has shown that on average, charter schools don't outperform traditional public schools, though they may be more effective in some areas than others.
"The vast majority of charter schools get no better and no worse test-based results than comparable regular public schools," Matthew Di Carlo, a senior fellow at the Albert Shanker Institute, wrote in a recent policy brief that examined a large body of charter-school research. Yet, Di Carlo noted that charters do perform slightly better in urban areas. He concluded that they are best utilized as "educational laboratories."
Yet Allen said the report was designed to clear up misconceptions about charter schools.
"It's become very popular to sound like you really are concerned about quality but at the same time that you're saying it, you should know exactly what you're talking about," Allen said.
She added that the study shows that increased accountability would also benefit traditional public schools. "If the threat of closure were felt in public schools, we'd see a different picture in terms of quality," she said.
But while the report made the case for accountability in the charter school movement, saying that "bad charters do close," a closer look at the data shows that despite the report's finding of a cumulative closure rate above 15 percent, no more than 100 charter schools have closed in any given year since 1992.
And as charter-school attendance rates exploded over the last decade, the annual rate for charter-school closure has actually declined from 3.7 percent in 2001 to 1.8 percent in 2010.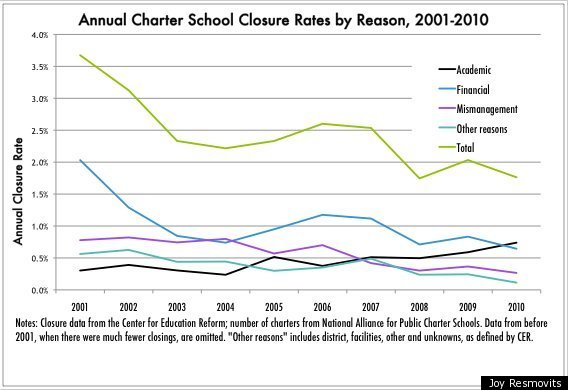 Allen explained this trend by saying that as charters have learned more over time, the need for closure has declined. "The care of the charter school world has gotten better as lessons have been learned," she told HuffPost.
(Though the report contains little data for this school year, a fact sheet from the National Alliance for Public Charter Schools reported that 157 charter schools that enrolled students last year did not exist this fall.)
The data also show that very few charters are ever closed for academic reasons. Florida, Ohio, Arizona and Texas had the five highest overall number of such closures. (In fact, overall, charter-school closures have been extremely concentrated, with 75 percent occurring in eight states.) Charters closed for academic underperformance were open for an average of 6.2 years.
The report attributed the low rate of academically-caused closures to inadequate data collection, and made the point that schools that close for managerial reasons would have likely faced academic woes later on.
"Many assert that charter laws are only working when schools are closed for failing to educate their kids," the report stated. "But the reality is that operational and financial deficiencies are apparent far before any academic assessments can be meaningful."
"What's fascinating about charter schools is we've had it for two decades now," said Gary Miron, a Western Michigan University professor who has evaluated charter schools in several states. "I remember ten years ago, people were saying, 'now we're going to get serious, we're going to start closing bad-performing schools.' We're seeing the same thing. I thought that was a given: these poor performing schools aren't supposed to be able to continue."
As Alexander Russo, an education blogger and former Democratic hill staffer put it, "This seems too little, too late."

Related
Popular in the Community