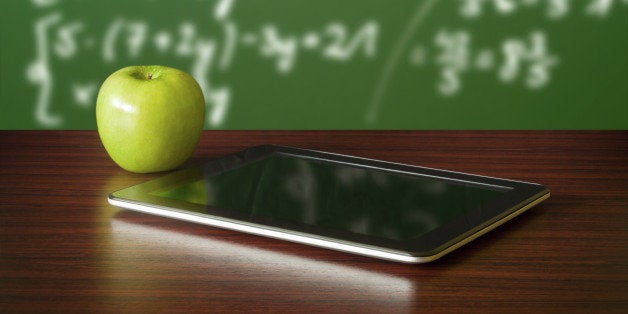 The following story was reported by Capital and Main and published here in collaboration with The Huffington Post. Sign up here for email updates from Capital & Main.
The latest sign that the nation's 14-year romance with the for-profit cyber charter industry might be cooling came this summer when the Board of Trustees for Pennsylvania's scandal-plagued Agora Cyber Charter School discussed completely severing its relationship with K12 Inc., the nation's largest for-profit cyber charter management and curriculum supplier.
The action came nearly three weeks after an August 5 vote by Agora's board to not renew its management contract with the online learning giant beginning with the 2015-16 school year.
Agora had been the jewel of K12's 29-state network of virtual charters, accounting for 14 percent of the company's annual revenues of $848.2 million. So when news of the August 5 decision came to light during an August 14 K12 Fourth Quarter investor conference call, it sent K12's high-performing stock into a nearly 13-point tailspin. The call-in's moment of revelation can be heard here.
Investors had already been skittish following an avalanche of recent setbacks for the company, including:
Math teacher Michael McNulty is a five-year Agora cyber high school veteran who logged onto both of the charter's virtual August board meetings. His understanding of the board's rationale, he told Capital & Main, was for it to take on self-management and consider another online curriculum vendor — Agora's continued affiliation with K12 had become a political liability in getting Agora's five-year charter renewed by Pennsylvania this year.
"That application is going out soon," McNulty noted. "Mary Steffey, the [Agora] board president, [told Agora's staff] that, 'Becoming self-managed puts us in a better position to be re-chartered by the state.' And she had said that [in] the current conversations that are happening between the Pennsylvania Department of Education and the Agora board . . . without K12, our application looks better."
In a statement released to Capital & Main, Steffey confirmed that the Agora board hadn't made a final decision regarding its curriculum services contract with K12 but otherwise refused to publically comment on the political considerations behind the board's thinking.
"Agora's Board of Trustees cannot speculate about how the Pennsylvania Department of Education will perceive the Board's actions when Agora seeks renewal of its charter," said Steffey's statement. Nevertheless, she added that "the Board hopes that PDE will appreciate the Board's efforts to make informed and reasoned decisions and the Board's commitment to the success of the School and its students."
Another consideration behind the Agora board votes may have been this year's Pennsylvania gubernatorial election. McNulty points out that with Republican governor Tom Corbett, who supports cyber charters, trailing "epically bad" in opinion polls, being tied to a failing for-profit education company would certainly not help the school.
"The board had a report from the K12 lobbyist about what was happening in Harrisburg," McNulty said, referring to the state's capitol. "They did talk about what would happen if Corbett was not reelected."
Neither K12, the company started in 2000 by former banker Ronald J. Packer and convicted junk bond king Michael Milken, nor Agora Cyber Charter, founded in 2005 by Dorothy June Brown, is a stranger to controversy.
Brown is currently facing retrial on 54 counts of an original 62-count, $6.7 million fraud indictment in federal court that stems in part from her financial dealings while at Agora. And a 2011 investigation by the New York Times that was highly critical of both Agora and K12 noted that nearly 60 percent of Agora students were behind grade level in math, nearly 50 percent trailed in reading and a third failed to graduate on time. That report was seconded by the findings of a 2012 study of K12 by the University of Colorado's National Education Policy Center.
Those and other negative accounts of K12 student outcomes led to the filing of at least one investor lawsuit against the company claiming that K12 intentionally misled investors about its academic quality when then-CEO Packard claimed, during an investor call, that test results at Agora were "significantly higher than a typical school on state administered tests for growth." In fact, the most recent data on Agora students at that time showed them testing unfavorably compared to students statewide.
It's a pattern of evasion that appeared to be at work once more during the K12 August 14 conference call. Nine days after the Agora board decision to self-manage, neither current K12 chairman Nate Davis, president Timothy Murray or chief financial officer James Rhyu mentioned the Agora management contract vote until 24 minutes into the call — and only then in response to a direct question from Corey Greendale of the Chicago investment firm First Analysis.
For his part, McNulty, who has been a vocal critic of the stiff cut K12 takes out of the average daily attendance tuition money paid to Agora by the state — around 60 percent, he estimates — applauds Agora's board decision to oust K12 and take a hands-on role in school management. He hopes that the freed-up money can be used for better instructor pay, teacher recruitment and, ultimately, smaller class sizes.
"I think it brings the school closer to what the spirit of the charter should be," McNulty said. "Association with K12 is like having Walmart come in. … It's just antithetical to what I think parents and boards want and need out of a charter."
He is not alone. How the Agora decision to self-manage plays out is being closely watched by the 750 teachers of California Virtual Academy (CAVA), the state's largest cyber charter, who share many of McNulty's concerns about working under K12.
"We have a smaller pot to pull from if we're sending a lot of money to K12," says nine-year CAVA high school teacher Cara Bryant. "It's a very difficult and frustrating thing when a student's computer isn't working or a teacher's computer isn't working. It simply handicaps you. I started with CAVA in '06 and I had the same computer for six years. And it got so slow that I started having to use my personal computer for work, because I literally was unable to run some of the programs I needed to run to do my work."
Sarah Vigrass, an eight-year CAVA K-8 teacher, points to the frustration over the lack of parent and teacher policy input and the outflow of state tuition money to K12 as two of the reasons behind teachers' recent efforts to organize a union at CAVA. (Disclosure: The union, California Teachers Association, is a financial supporter of Capital & Main.)
"I don't know that that's best serving our students," she told Capital & Main. "For example, a couple of years ago, [K12] got rid of science textbooks and the parents complained about it. And instead of bringing back a physical science textbook, K12 took away our math textbook. With nothing against online publications, parents that are teaching their kids like to have a physical textbook so they can flip back and review easily, or if they're travelling, they can have that with them."
"That's why," Vigrass adds, "I'm a teacher — to be able to give the best and most time to my students. And I feel like I'm not able to do that. And, again, that goes back to so much money being funneled out of state that CAVA doesn't have enough resources."
Jeff Kwitowski, a spokesman for K12, told HuffPost: "K12 continues to provide Agora with curriculum and school services, as we do with over 2,000 schools and school districts across the country. It is not uncommon to restructure services agreements with existing school partners, and, in some cases, we do so to expand the level of services we provide. Furthermore, as [Agora's] statement clearly says, Agora's President made it very clear that the Board's issuance of the RFPs was 'not an indication of K12's performance under the current contract.'" Kwitowski also wrote that the lawsuit mentioned against K12 was later dismissed.

In response to Kwitowski's statement, Capital & Main author Bill Raden writes:
"It was the understanding of teacher Michael McNulty, who was logged onto both meetings, that the board's clear intention was to not renew with K12 for curriculum, though that decision apparently won't become final until they sign a contract with a new vendor. Together, the two board meetings can be fairly characterized as Agora discussing the complete severance of its relationship with K12."
Popular in the Community