As one year wanes and the next year beckons over the horizon, we as business owners are anxiously completing financials, projecting plans and charting our course for the new year. It was during this hectic time that I decided I needed a short getaway, not knowing that this particular respite was going to invigorate me more than almost any end-of-year-prepare-for-next-year retreat ever has.
My getaway? A 47 foot catamaran in the British Virgin Islands for ten days with five of my closest friends. Besides navigating the Caribbean and perfecting my knot tying skills, I was surprised that a number of things I learned were actually good business practices.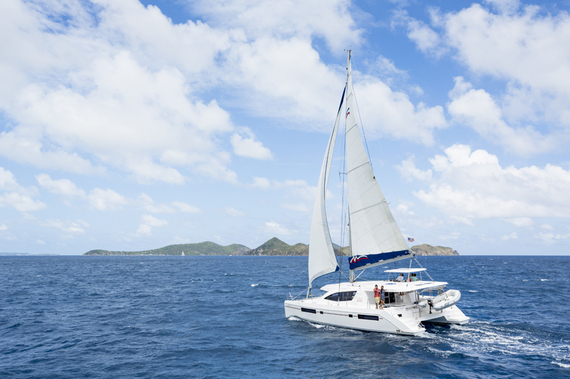 Chart your course. If you don't know where you are going, any road (or in this case waterway) will take you there. And in boating, just like in business, if you do not set your waypoints carefully, you just may run aground or totally miss your destination (i.e. your business goals).
Keep a tight watch. In layman's terms, be prepared. Keep your eyes focused on your business environment and continually reassess the situation as it relates to your company's "ship shape-ness."
Learn when to tack. When circumstances require action, be bold and adjust to maximize your return. Whether it is hiring or firing, getting a much needed piece of equipment or providing professional development, it's important to "come about" in a timely manner. Study the situation carefully, then make a decision with confidence and without hesitating; otherwise, you could lose the wind in your sails for the long haul.
Recognize the bow from the stern, starboard from port. What are your assets? Your liabilities? Can you identify your strengths, weaknesses, opportunities and threats? And most importantly, what do you do with this information? Make your mark through well founded strategies and tactics; if not, you may have a rough voyage ahead.
Know your knots. Use the tools of your trade adeptly. From the nuances of your copying machine to downloading versatile apps, let technology make your life easier and more efficient. Just as half hitches and bowlines each have their specific uses aboard, learning to make the most of the latest business related hardware and software can greatly increase your office productivity.
Watch out for storms. Whether your storms are from the economy, employees, competition or dissatisfied clients/customers, be prepared to reef early. Don't let problems capsize your business; deal with them in a timely fashion so you remain in control, safe and secure.
Be a good shipmate. With an open, "newsroom" environment, our office at Gambel Communications abides by a code of culture which gives a nod to simple courtesies. Pick up after yourself, keep work areas tidy, remember birthdays and special occasions, offer to help your fellow employees and treat others the way you would like to be treated.
One hand for you, one hand for the boat. While we at Gambel Communications work as a team, we recognize that when individual teams members are strengthened, the entire team grows stronger. Take advantage of professional development opportunities that hone and enhance personal skills, then share these with your co-workers. Developing areas of expertise position you as a business expert and a resource for media. Speaking opportunities and providing content for social media platforms are added benefits. It's a win-win for you and your company.
So while my ten days of sailing were primarily for relaxation, this lull was a reminder that "The effect of sailing is produced by a judicious arrangement of the sails to the direction of the wind." --William Falconer
Similarly, our goal in business is to maintain the forward motion of the ship using the most efficient techniques and skillful tactics to make our mark. Happy sailing!
This blogger graduated from Goldman Sachs' 10,000 Small Businesses program. Goldman Sachs is a partner of the What Is Working: Small Businesses section.
REAL LIFE. REAL NEWS. REAL VOICES.
Help us tell more of the stories that matter from voices that too often remain unheard.