A controversial play may have cost the New York Mets its shot at making it to the World Series this year, but it could also bring changes for the game moving forward.
During game two of the National League Division Series on Saturday, Los Angeles Dodgers infielder Chase Utley slid into Mets shortstop Ruben Tejada on his way to second base. They rammed into each other so forcefully that Tejada broke his right leg. Infielder Matt Reynolds will replace Tejada for the remainder of the playoffs.
Umpires let Utley move to second base -- a decision that put the Dodgers' win probability for the game in their favor -- but Major League Baseball officials later ruled the slide illegal. Utley was suspended for games three and four of the National League Division Series.
Utley is appealing the suspension. The MLB planned to rule on it before Monday night's game in New York, but that's looking "highly unlikely" according to the Los Angeles Times' Bill Shaikin. Utley is allowed to play until the appeal, which the Dodgers are fully supporting, is heard.
"A two game suspension for a legal baseball play is outrageous and completely unacceptable," Utley's agent Joel Wolfe said in a statement. "Chase did what all players are taught to do in this situation -- break up the double play."
Was the play really illegal?
Whether the play did, in fact, break MLB rules has been up for debate.
"It was a hard, aggressive, legal slide to me," Dodgers manager Don Mattingly told the Los Angeles Times.
Intentional collisions are against MLB rules. According to Rule 5.09(a)(13), player is out if he "intentionally interfere[s] with a fielder who is attempting to catch a thrown ball."
"The objective of this rule is to penalize the offensive team for deliberate, unwarranted, unsportsmanlike action by the runner in leaving the baseline for the obvious purpose of crashing the pivot man on a double play, rather than trying to reach the base," the 2015 MLB rulebook states.
The MLB recently amended its rules on home plate collisions, stating that "a runner attempting to score may not deviate from his direct pathway to the plate in order to initiate contact with the catcher (or other player covering home plate), or otherwise initiate an avoidable collision."
The umpires ultimately decide whether the play was legal. "Determining where to draw the line between an illegal slide and a legitimate hard play is an extremely difficult call for our Umpires," MLB chief baseball officer Joe Torre said in a statement. "However, after thoroughly reviewing the play from all conceivable angles, I have concluded that Mr. Utley's action warrants discipline."
The incident sheds light on the MLB's questionable record of enforcing collision rules. Torre is now under fire for suspending Utley, when similar slides have gone unpunished in the past. Torre, however, could use this incident to finally set a precedent in order to better enforce the rules.
"I can't worry about what's happened in the past," Torre told Fox Sports' Ken Rosenthal. "I just based it on what I saw. And we're trying to have rules that are going to keep these players on the field."
This has prompted a discussion about a re-evaluation of the rulebook. "We have been in discussions with the Players Association throughout the year regarding potential rule changes to better protect middle infielders, and we intend to continue those discussions this offseason," added Torre.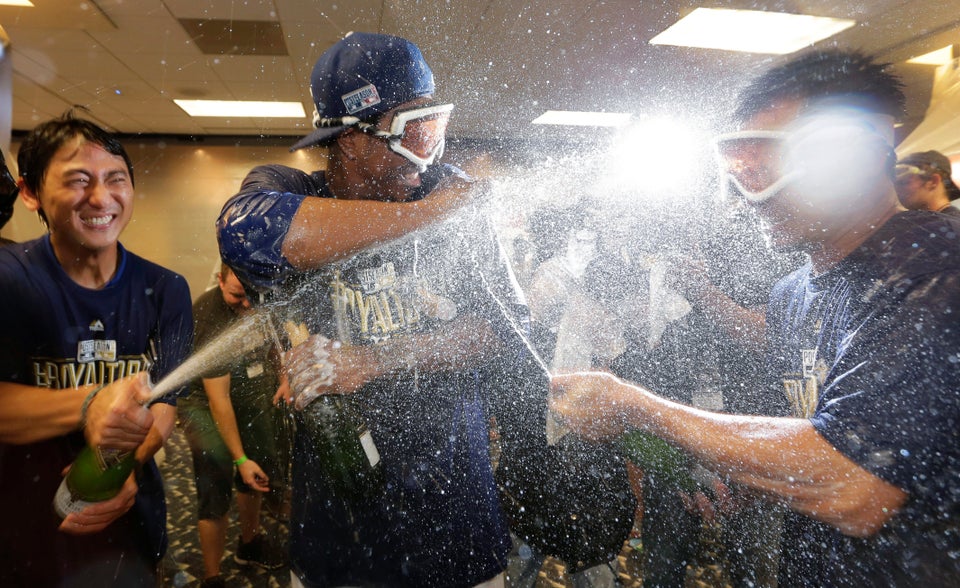 PHOTOS: Wild MLB Celebrations
Popular in the Community