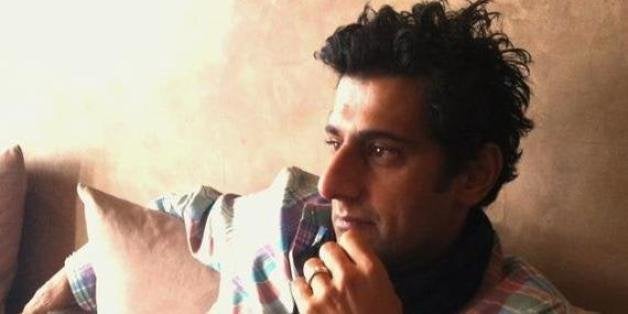 By Kiran Ramchandaran, a contributor to the Seleni Institute, a nonprofit mental health and wellness center for women and mothers in New York City.
In my 20s and 30s, fatherhood was not something I thought much about. But whenever someone asked, I'd reflexively respond with pride that, of course, I wanted to be a father... someday.
There's the rub. As many young men do, I took fatherhood as a given. Now I know it's not. Now I know fatherhood is a gift. And you prepare by building the architecture of a love that can support it -- and the possibility that the journey to it will be fiercely hard.
My first marriage ended in my mid-30s in a fire sale of my belief systems. When I came out the other side, I discovered an entirely new ability to hear myself.
And so I listened when I met MeiMei on a beach in Costa Rica. An effortless beauty with legs forever, she also shares the hard-won knowledge and openness of someone who started over in midlife. She is savage and fragile. Playful and profound. A beautiful mess of contradictions that match mine. Her presence inspires me to want to be more.
We married quickly and instantly leapt into the pursuit of family. It's the obvious next step, and we are on the older side of fertility. I am 40, and she is 38. We know biology is not on our side. Still, I feel confident we will succeed.
But through the bathroom door, I hear her cursing ugly frustration as she pees on another stick that refuses to show us the result we want. Weeks turn into months, and MeiMei tells me we need to follow a schedule that requires temperature taking, ovulation calendars and brutish demands for sex. We have to do it... NOW! I'm a stud horse. I can handle the pressure. But that's not what this is. This is a high stakes science project.
Home for the holidays, her family actually excuses us from the dinner table so we can go do it. Seriously? Yes, we have reached that point. It's become normal to talk about our sex life with our parents, which freaks us both out.
Six months later, we are officially given the label "infertile." Intrauterine insemination (IUI) is next. We are thrown into a mess of tests. I have the humiliating experience of masturbating into a cup. The first time I attempt it, I miss completely. Yes, that happens. I only have two hands.
But when I stick the landing, the IUI works. We are pregnant! And then, just like that, the joy is stolen from us. MeiMei miscarries. The disappointment knocks us to the ground, but we refuse to be beaten. My ever-prepared wife has an ace in the hole.
When she was 37, two years before she met me, MeiMei had her eggs frozen. We decide it's time to cash in on her amazing forethought.
We make the arrangements and have those younger eggs shipped from San Francisco. But on the day of their arrival in LA, we get a phone call I never could have imagined. The lab tells us that all 18 eggs have been destroyed.
MeiMei detonates with devastation. Her heart breaks all over the world. I'm too concerned with picking up the pieces to examine my own condition. I want to throw up just seeing her in such misery.
I curse God. Everything turns the color of anger.
I remind myself that my job is to protect our love. I must steady her drop into hopelessness. I hold her as she sobs, saving the pep talk for another day. I tell her that we can remain in the ache of this disaster for however long it takes.
I tell her, over and over, that I love her. Eventually, she falls asleep in my arms. I peel myself out from under her, my shirt soaked with her snot and tears. I walk outside. Then I let myself cry.
Our doctor suggests that we try IVF with her older (but still intact) eggs -- a process that will incur even more expense and intensity. More procedures. More drugs. I have to inject MeiMei daily. She has to go into the clinic almost every other day. The credit card keeps getting swiped. But I don't care. I want this just as much as she does.
All her results are amazing, especially considering her age. We feel optimistic. But the implanted healthy embryos don't take. The disappointment doesn't feel as severe as I had anticipated. We're getting numb to the pain. I realize this even more when IVF fails for the second time.
We start talking about a life that's just the two of us. It will always have a deep pocket of sadness, an empty crawl space in our hearts. But we'll be OK. And we still have options. We talk about adoption. We discuss one last round of IVF.
We go for it. Ten days later, MeiMei is off to the clinic for a blood test. Like the two unsuccessful times before, they will call us in the afternoon to confirm or deny this mad dream we are chasing.
As I await this news, soothing the sawtooth edge of my nerves, and once again summoning my strength, conviction and faith, I realize: This is the cornerstone of fatherhood.
It's the love I have built with this woman, a love I cherish with all the holiness imaginable. We have carefully grown it together. And we keep growing it -- larger, stronger, more powerful and more beautiful every day. It's the love we will hope to grow even bigger, big enough to include another human soul someday.
This article was originally published on the Seleni Institute website. Seleni is a nonprofit mental health and wellness center providing clinical services, research funding, and online information and support for women and mothers. You can follow Kiran on Twitter @KIRANcreates.
Popular in the Community