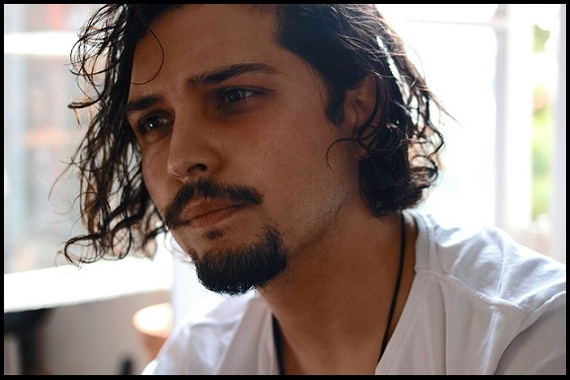 Wasting no time post Chasing Life, Augusto heads straight into character-driven roles partnered with revered directors ... years before his 30th birthday.
Augusto Aguilera's Twitter , Instagram
Photo by Byron Ashley Bryson.
Those of you who read my stuff know that I love alliteration, so I was immediately smitten with Augusto Aguilera. I forgot to ask him why his parents named him Augusto, so hey, Augusto - if you're reading this, how about answering that question on Twitter while you RT this interview's link?
Oh, Augusto! I'm looking at your picture right now, so if there are typos in this article, that's why!
You're starring in Hulu's Citizen by Me and Earl and the Dying Girl director Alfonso Gomez-Rejon. How was the audition process?
Acting, in general, is already such a strange thing to do. Then on top of that someone invites you into a small, unfurnished room with a camera aimed at you and says, "Go! Get naked. Be vulnerable."
That said, I really enjoy auditions. It's like doing a bit of theatre for the people in the room. 
Citizen's casting directors were really helpful and passionate. Cast is amazing- Alex Gonzalez (X-Men), Forrest Goodluck, (The Revenant) Johnny Ortiz (American Crime).
Alfonso [Gomez-Rejon] (director) was there for callbacks. We talked for 30 minutes about the character and played with different ideas. He was so open to collaboration and that made me feel safe. I was in 100%. His work is incredible, varied. I respect the chances he takes.
A well-written super-hero origin story, raw and real, believable yet fantastical and entertaining, stylistically ground-breaking, intelligent and interesting? He'll change the genre. He's a man I'd follow into battle; trust in the trenches.
You've worked with an array of well-respected directors: Oscar-nominated Wim Wenders, John Singleton (Boyz N The Hood), Game of Throne's Jason Momoa. What's the one thing a director said to you that didn't make any sense?
I once worked with a director (none above) who was nasty and constantly yelling inappropriate things at people. Just angry. He fired two people one day. Everyone on set was afraid of him. Wasn't something specific he said, but being around that didn't make any sense. The trust was gone. 
After that, I decided only to work with directors I could trust. I've been really lucky so far. That's not lost on me but, if time is currency, I don't want to spend what little I have on directors without vision, zeal, flexibility, openness to collaboration and wonder. It's a relationship, a marriage of sorts. Communication and trust are key.
You're best known as Kieran from Chasing Life. The show spoke about cancer, death and sexuality. How was working on a set with such heavy issues? Did they hold weight on your decision to take the project?
Absolutely. Chasing Life was important because of those issues - because ABC Family spoke to young people as intelligent humans. The topics drove us.
In 2015, there were approximately 1.5 million new cancer diagnoses in the U.S. alone. We were all aware of the responsibility and enormity. We were driven with purpose to give voice to people who rarely have platforms to express that emotionally.
April Carver (Italia Ricci) became a comrade for those fighting cancer in what often feels like a lonely war.
Family, friends, and strangers express the connection the show provided, during treatment / recovery / struggle. That's not lost on me. Very proud of Chasing Life.
Creators Susanna Fogel and Joni Lefkowitz are warrior-women who also unabashedly stood up for gay rights on an international stage every week, allowing a young girl to question and define her sexuality. Haley (Ramm) played that part so beautifully and honestly. Loved watching her work.
We all cried at every single table read we had. Kleenex stock definitely peaked during table reads.
Who do you currently live with? 
Myself. Haven't found anyone willing to put up with how weird I can get - currently accepting applications though.
You're also in FX's upcoming series Snowfall. Tell us about your character.
He's different from anyone I've played. Snowfall tells the story of the LA crack-cocaine epidemic in the 1980s. Learned a lot in research. Got to try some crazy stuff with the character. Filming made me feel like I was back doing theatre.
Eric Amadio and John Singleton's script is so good. It should honestly be published as a book.
What's the difference working in theater vs. film/TV?
I've heard that theatre is an actor's medium, film a director's, TV a writer's. Initially, I believed collaboration only came in film and theatre. Now I know it's on the director. Citizen is a great example.
With theatre there are no safety nets.  It's an emotional marathon.
You're not worried about framing or stopping mid-scene to fix a stray hair. You just go. You find so many things in that momentum you can bring to film. One of them being trusting your co-stars implicitly.
Cringing recounting this... Years ago, I broke a friend's arms on stage.
The scene called for me to shake her wrists angrily. When I released, the force pushed her. She fell backwards and landed on her hands.
There's a saying in theatre, "the play must go on", ...not that night. I rushed her to the hospital. Talk about having to regain trust. Spent the next three months gladly caring for her through recovery.
We laugh about it now, but, secretly, it still devastates me to the point of nausea.
We hear you're buying a boat to live on, you'll travel the seas for a few months? Who will you take? How will you pay your bills? Internet?
After Citizen, I'll sail down to Galapagos with my dog. Half of the beauty of a trip like that is the lack of Internet and bills.
What's your favorite childhood memory?
It's more of a feeling... The feeling of lightness, play and possibility.
I think that childhood itself is my favorite memory, and in one way or another I'm trying to recapture that.
What happened on the worst day of your life?
Can't pinpoint one. I've had some really low points in my life... But the certainty that that day is still ahead of me scares me.
Anything else you'd like to say?
I'd like to say hi to my mom and dad.
REAL LIFE. REAL NEWS. REAL VOICES.
Help us tell more of the stories that matter from voices that too often remain unheard.