Jonny Weston may be a Hollywood newcomer but the young hotshot actor-surfer/adventure seeker may be riding a quick wave toward fame.
Weston stars alongside A-lister Gerard Butler in Chasing Mavericks -- originally dubbed The Men of Mavericks -- which chronicles the captivating tale of the unique bond/mentorship between Santa Cruz legends Richard "Frosty" Hesson and Mavericks titan/the late Jay Moriarity, who died in 2001 at the age of 22 in an accident in the Indian Ocean.
Chasing Mavericks, directed by Curtis Hanson and Michael Apted, finds Butler stepping into Frosty's shoes and Weston morphing into Moriarity. The 20th Century Fox release began filming in Santa Cruz, California, and its surrounding areas -- most prominently the notorious Mavericks locale up the coast in Half Moon Bay -- back in October of 2011. Beyond featuring hundreds of local extras, it promises to bring a compelling story to life and to give the rest of the country a glimpse at Santa Cruz's picturesque liquid bounty and the locals who thrive in and around it.
But more importantly, it captures Moriarity's unique way of living -- that "Live Like Jay" motto and all of its significance. I caught up with the 24-year-old Weston, a native of South Carolina who first learned how to surf on the East Coast, to find out more about the film, Moriarity's spirit and the importance of living in the "now." (And peruse the slideshow -- scroll down.)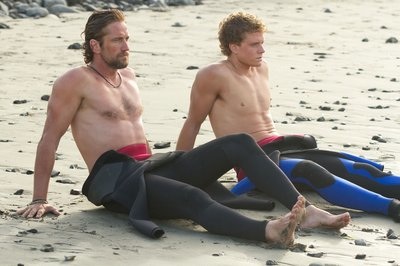 You didn't know that much about Moriarity before the shoot but once you learned about him, what stood out for you?
Right off the bat, I thought the script did justice to him. I cried the first time I read the script. It was incredibly powerful. The craziest thing I learned about Jay was how wonderful he was and the great things he had done. But I was shocked to find out about his personal life; the dark side that he had and where all of his greatness came from.
When you think of the term "Live Like Jay" what comes to mind?
That ... if you find something that you love, just to go for it -- as hard as you can, completely go into it full on, but don't forget to live in the moment along the way.
You surfed before shooting this film ...
Certainly, I wasn't as good [as those surfing Mavericks]. I had never surfed a wave over 10 feet. So I had gotten trained by Brock Little, the Hawaiian surfer. Bob Pearson [of Pearson Arrow Surf Shop] took me out. It was my choice to surf it [the big waves]. As far as the filmmakers were concerned, they would have been fine getting a stunt double to surf, but I wanted to do everything. I jumped right off the rock and surfed the biggest waves I've ever seen. So ... I got better pretty quickly -- out of necessity.
I would imagine that was a bit daunting?
It was. I followed Bob Pearson out. He took me to Cowells and Mids and I just paddled right behind him and dove right in. It was scary, but I am an adrenaline junkie anyway. I can hold my breath for pretty long. I used to do sponsorship skateboarding. Cement is harder than water so I was always not that afraid in the end.
So how did Hollywood find you?
I went to college at University of South Carolina and dropped out of chemistry, and to fill a class, the only spot they had left was a theater class. It was so annoying but I took it and then I thought it was the greatest thing; the most socially creative. I dropped out of school immediately and moved to New York to start acting. I was 19.
And what do you love most about acting now?
Man ... it's an adrenaline rush and an extreme version of life. I live for that kind of thing. I'm easily bored. I'm living, like Jay did, to live in the moment. And it took him a lot of time but I think he finally understood that when he was in his twenties. He wasn't always aggressive trying to improve himself; he was living in the moment. I'm still not at that point but acting is one of those things that forces your mind into the "now." And I love people -- exploring them. It's the best thing in life. And I don't think there's a faster path to that than that.
Tell me about some of your earlier influences.
I have two older brothers and they were a huge part of life; we were very close. We used to run around and get into trouble. That's what I came from -- that exploring nature. But one of my biggest influences of all time would probably be one of my soccer coaches, Coach Darlington, from high school. He was always trying to get me to push myself really hard. No excuses. I always hated him but it paid off. I think that's what life is all about ... when you push through the hard stuff and it pays off.
And how are you handling all of the attention lately?
This film is a lot bigger than me. It has a lot more to do with a lot of other people than just me. It's part of a bigger message. It isn't a movie about me at all. The attention is a bit misguided, coming at me directly, and I feel that a lot of actors take it very personally, but I am supporting this film and what it means; the message it sends. So the attention I get, I don't take it personally.
What's some of the best advice you've been given about life?
From Brock Little. I had had other surfing lessons with other people but I went out with Brock thinking he would be the most particular, hardcore guy of all time. He saw how I had been trained, and he was like, "Dude, if you're not having fun, you are not going to get better. I can give you all the technical advice in the world but you're not enjoying yourself! You are going to suck forever." So, that's the best advice I've ever heard.
And Frosty. You met him during the shoot. Thoughts?
I think he's incredible. I think he has a lot of advice and wisdom to impart. And to not listen to him ... you'd have to be a fool.
PHOTO GALLERY
Chasing Mavericks
REAL LIFE. REAL NEWS. REAL VOICES.
Help us tell more of the stories that matter from voices that too often remain unheard.