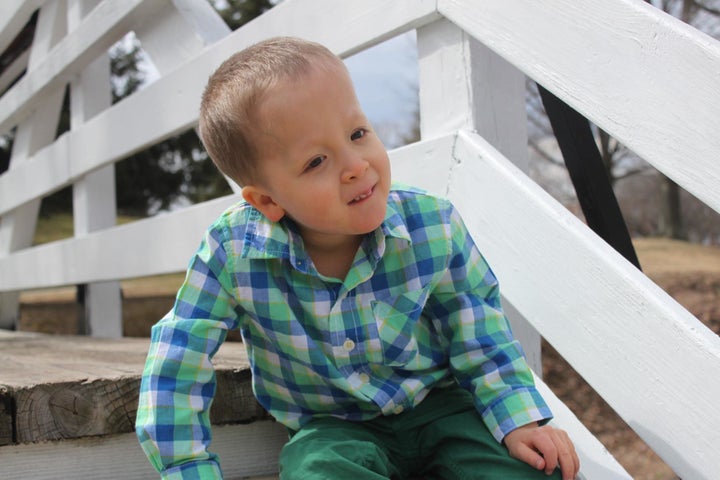 Kate Leong's virtual circle is mourning with her today, as she prepares to bury her 5-year-old son. Leong has documented Gavin's life and battle with cerebral palsy on her blog Chasing Rainbows since his birth, making strangers feel like family as they've followed along online. So when she shared the news of his death on Facebook Sunday night, her heartbreak became theirs.
Kate and her husband Ed fought hard to become parents -- Kate suffered through 13 miscarriages and one stillbirth over the years. Gavin was the older of their two sons. Although he was always medically fragile, the crisis that would kill him came out of the blue: Gavin woke up one morning with a stuffed nose and by nightfall was hospitalized with a raging fever, suffering seizures and heart attacks.
As it became clear that the situation was dire, Kate put a request on her Facebook page yesterday, an answer to the flood of readers who'd been reaching out to say "what can we do." It was her birthday, she wrote, and this was her wish:
I'm asking you to help someone... document it with words and or a photo... and place it on the Chasing Rainbows Facebook Page. Then be sure to check the page often to get inspired by the outpouring of love. Here are some great ideas for you... Find a special needs classroom in your community. These are usually low funded and always looking for donations. Perhaps you have toys your kids don't play with anymore that could be used in the classroom or during therapy. Random crayons that are laying around. I know we always needed rug gripper to place under Gavin's behind when he sat - that's a good need. Do you know a special needs Mom in your neighborhood? Church? School? Tell her you'd like to make dinner for her family. What night would work? Then tell her the only requirement is they have to give a "cheers toast" to Gavin during dinner. Help someone struggling to unload groceries into their car in the rain. Donate clothes to a women's shelter. Check with your local children's hospital for volunteer opportunities - even if it's just for two hours of your life. Save all of your magazines and bring a big stash to your local hospital. You have no idea how helpful that is to parents who spend days, weeks or months (as I did when Gavin was a baby) sitting in their child's hospital room. These are just some ideas... be creative! And think of Gavin when you do it. Share his story with the person you are blessing. Tell them that Gavin Leong changed the world with little acts of courage, determination and a sweet smile... without ever saying a word. And then ask them to pay it forward to honor his legacy. This would be the best birthday gift you could give me. There is no time frame - you could post something today or a year from now or five years from now. Thank you for helping me to honor my amazing little boy. And feel free to share this anywhere you want!

All day readers answered with their plans to honor that wish. Kate and Ed, who had decided to take Gavin off life-support and donate his organs, responded with photos of them holding their son for the last time. Late in the evening, Kate shared that Gavin was gone.
On Monday, Kate posted that Gavin's liver would go to a 3-year-old boy in Texas. "We can just picture his parents' excitement!" she wrote.
We at HuffPost Parents send our deepest condolences to the Leong family.