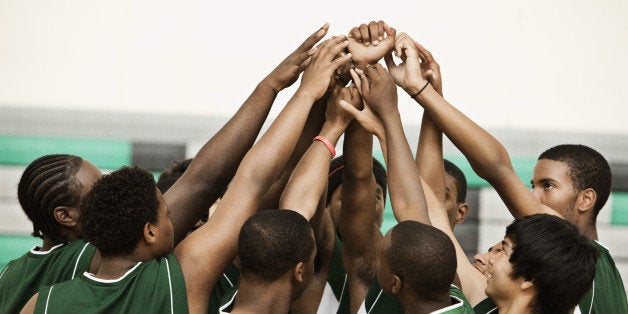 The history of the Rainbow, and its deep affiliation with the University of Hawaii's sports teams, is unassumingly detailed on the athletic department's website. If this is unfamiliar to you, the story goes something like this:
Before 1923, UH teams were nicknamed the "Deans." Then in the final game of the 1923 season, UH head coach Otto Klum's squad upset Oregon State, 7-0, at Mo'ili'ili Field. During the game, a rainbow appeared over the field. Reporters started calling UH teams the Rainbows, and the tradition began that Hawai'i would not lose a game if a rainbow appeared.
This "tradition" ended, ironically enough, in the year 2000, two years after the football team went 0-12 and when not even 365 straight days of rainbows could cobble together a win for the indelible Fred von Appen. Hawaii Athletics has largely been on the losing end of its chase towards mediocrity, and the impossible dream of fiscal solvency, ever since.
If you've been following its men's basketball program at all over the last few decades, you're probably very well aware by now that they are in the midst of a cataclysmic NCAA tournament drought. In fact, the last time they qualified for the tournament, they were still in the WAC, and David (not Derek) Carr was playing at Fresno State. Star Wars Episode II was still two months away from its release (we're currently on Episode VII), North was just a direction and Blue was either the warmest color, or somewhere between violet and green on the visible light spectrum (and decidedly NOT, Ivy.) I was also still in high school.
Having spent the majority of my formative years developing a taste for the postseason (4 NIT and 2 NCAA berths between 1996 and 2006), the past decade has felt like a particularly cruel kind of starvation. And, if you're raising your hand and volunteering the CIT, for which UH "qualified" in 2011 and 2013, playing in that tournament (to the extent we are even willing to concede that it can be considered as such) is akin to trying to convince people that the Kardashian's are "classy" (not "klassy").
That's why this year, and more importantly this team, is so meaningful Forget sanctions, scholarship losses, and the general taint that follows a program hit by the apocryphal discipline of the NCAA. Hawaii is currently 15-2, and is returning to the islands fresh off a 2-0 conference road trip. They have a team that has proven itself largely capable of chameleonizing its identity between Golden State's small-ball "death lineup" (four guards and one big who can shoot) and San Antonio's twin towers, with relative ease. They are also extremely exciting to watch. Still, these facts (and yes, they are facts), are ultimately inconsequential within the broad spectrum of college basketball. They are, after all, inherent features of just about every successful college team, every year. So what makes this team different?
When you're a child you learn, through the seminal brilliance of Mary Eleanor Wilkins Freeman, that there is a "pot of gold" at the end of every rainbow. You follow Flax Flower along her joyous journey of innocent naivete, as she schemes to find this pot in spite of her father's warning, convinced it will secure a better life for her family. You hold your breath as she races through the forest towards the tree where the rainbow ends, and you laugh triumphantly as she reaches her goal. Then, you look with her inside and see that the pot contains not gold, but the smiling faces of the ones that you love the most.
When I briefly covered the team during the 2013 - 14 season, Aaron Valdes and Mike Thomas were just a couple of skinny freshman with the "raw" label firmly affixed to their foreheads and games alike. That team also had talent (Keith Shamburger, Quincy Smith, Isaac Fotu, Brandon Spearman and Christian Standhardinger all saw time together on the floor), but were ultimately undone by a lame-duck coach and the looming threat of NCAA sanctions (both Gib Arnold and Fotu were gone before the beginning of 2015).
Flash forward two years later and a stable of talented players has come and gone, either through bad luck (Sammis Reyes), the desire to turn skill into a paycheck (Negus Webster-Chan), general unhappiness (Shamburger), and ineligibility (Fotu). In spite of all this, the program has emerged from the fray with what appears to be the preeminent team (emphasis added) of my generation. There isn't an Anthony Carter or a Carl English. There isn't even a Savo. The best part is, none of those things matter. We have an Aaron and a Mike and a Quincy and two Stefans, and an Isaac and a Roderick and a bench that reacts to big plays like Kevin Costner discovering Dryland in Waterworld. I think we might have finally found our pot of gold.
Calling all HuffPost superfans!
Sign up for membership to become a founding member and help shape HuffPost's next chapter