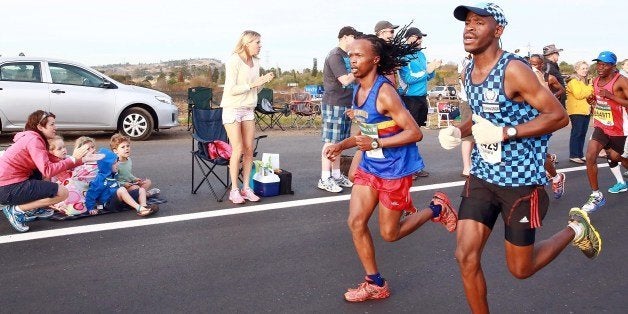 "Hey! You need to run with us!"
"Yes! What's your number?"
I gave him my phone number as he yelled at me out of the window of his pickup truck during my daily morning run. He was a middle-aged Basotho man and I never expected to hear from him again. I was, however, mildly curious who he was, and who exactly I needed to be running with. This all took place on a chilly early spring morning in Maseru, Lesotho. I was fairly conspicuous as a white, blonde-haired American man sharing the sidewalk with shop clerks, nurses, garment factory workers and others walking to their day-jobs in the capital of this small, landlocked African country -- where an HIV prevalence of 23.6 percent is contributing to a life expectancy of less than 49 years.
To my surprise, later that afternoon I received a call from the guy in the pickup truck. He turned out to be a local veterinarian named Mohlalefi Moteane. He was, at that time, a 10-time finisher of the infamous Comrades Marathon (a 56-mile race in South Africa), but more importantly for me, a member of an elite running group that trained every evening in Maseru.
I showed up, and why not? I was living a rather solitary life in a small one-bedroom apartment while conducting research for an African History PhD, and also training for the Comrades Marathon myself later that year. The group met in the parking lot of the most luxurious hotel in the country, and my opening session consisted of running hill repeats -- running hard up a hill and jogging back down continuously for 45 minutes -- a grueling workout even by my standards as a well-established marathon runner.
Everyone struggles to run in Lesotho. Maseru itself is located at 5200 feet above sea level and the rest of the country is even more mountainous. Even more so than their ability to run at ease in this lung-busting altitude, however, the younger runners in the group impressed me with their drive to succeed. Coming from a stable, middle-class American background where taking up running in high school was a reasonable, if not exactly the most popular proposition, the sacrifices some of these runners were making was eye-opening. For a lot of the group running wasn't just a way of life, but a way to survive, not only for themselves, but also to literally support their families.
Lesotho is a poor country on the whole, but of course not everyone is poor. Some of the runners in this group grew up in middle-class homes, but most did not. On the run, background was not apparent as the haze of fatigue won over all else as we all struggled to push ourselves up the hills for the better part of an hour. By the end we were all sucking wind and not talking very much. The ultimate aim of most of the group was to be selected by the Head Coach to join him on trips to Johannesburg, Cape Town, Bloemfontein or any other race in South Africa to run against professionals from around the region for the chance to win, in some cases, crucial life-sustaining prize money.
To see the differences in background you had to watch carefully what happened before and after the run. A few of the older runners had cars. All of the younger group arrived and departed on foot. Those with some means came in track suits and their training shoes. Those from poorer households were careful to change into their running shoes only on arrival at training to protect the tools of their trade. Many of them had walked a couple of miles to get there, and would walk a couple more to get home and running shoes were too precious of a commodity to use for everyday walking. Furthermore, despite being in their early 20s some members of the group would show up in their high school uniform as they came straight from school -- plenty Basotho students have 'gap years' where their family cannot afford to keep them in school, so high school students in their late teens and early 20s are not uncommon. There is a 72 percent dropout rate from primary to secondary education in Lesotho (at age 13) because of the introduction of universal school fees.
Running with this group every Tuesday really improved my own fitness and strength for the Comrades Marathon. About 15 members of the group also ran the race, and having a community of other runners was great during and after the race. What really fired up the group, however, was one of the 19-year old runners going to Cape Town, and in his first crack at a half-marathon, bringing home 1000 rand (around $100) for winning the junior-age division. For the younger runners in the club, it was a little slice of what they dreamed the future held. Chasing the dream at 5200 feet...
This post is part of a series produced by The Huffington Post and Kick4Life, which is a non-profit that uses soccer as a vehicle to address social disadvantage and transform the lives of youth in the nation of Lesotho. To see all the posts in the series, read here. To learn more about Kick4Life and their World Cup Challenge on Crowdrise, read here.
Popular in the Community