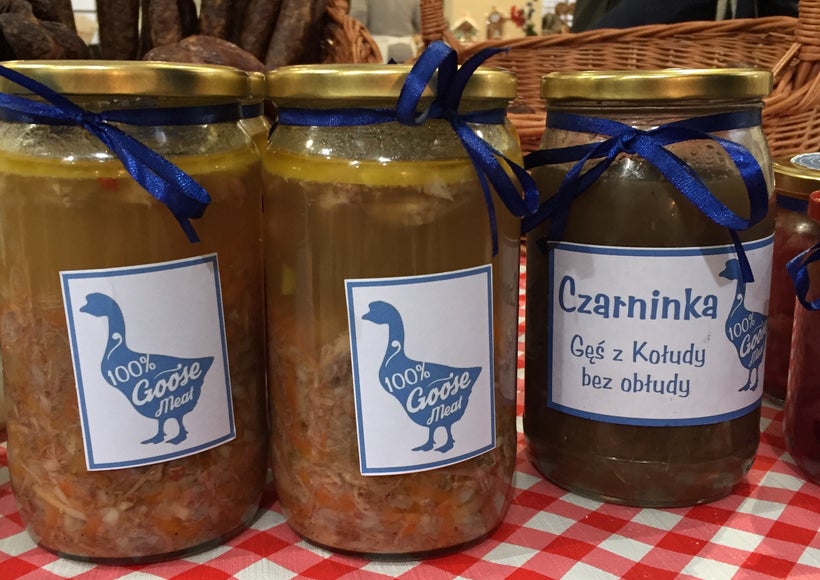 Poland does not cease to surprise. Just before Christmas I had the opportunity to visit the Kujawsko-Pomorskie province, south of Gdansk, to give a few lectures at the Nicolaus Copernicus University in Toruń and at the Lower Vistula Society, which supports and promotes various local initiatives such as the restoration of the eighteenth century Mennonite wood house where I delivered my speech. Besides being stunned by the beauty of Toruń and nearby Chełmno, I was introduced to intriguing local food traditions, such as gingerbread and the goose.
The gingerbread from Torún has been famous all over central and Eastern Europe dating back to the medieval times when the town became an important commercial center on the Vistula River, where spices from all over the world were sold and bought. The renown of the product is such that two museums have been dedicated in its honor, in one of which it is possible to see the tools of the trade such as molds and machines, and even to make your own gingerbread (a fun activity indeed). Geese from the region, which used to belong to Prussia during periods of Polish history, are appreciated not only nationally but also in foreign markets, especially Germany. The bird, which plays a central role in the festivities for St. Martin, in November, is featured in numerous local dishes: roasted, smoked, its innards and fat turned into tasty okrasa spread, it frequently appears in stores and restaurants all over the region.
The Kujawsko-Pomorskie province was traditionally an agricultural area within the German Empire until World War I. Under the communist regime, since there had been few large landowners in the area, collective farms were uncommon and most of the land belongs to smallholders. To this day, the average surface of rural plots is 16 hectares. While 80% of the production comes from few large farms, high quality products originate in smaller farms, particularly in the organic sector.
Local efforts to support and promote food production, not only in cultural terms but also as an economic multiplier, are worth examining as a case study as they are the result of private and public actions that sometimes align and in others, miss good chances to have an impact. As increasing number of consumers show growing interest towards eating local ingredients as a way to express their identity and their agency, many regions in Europe and elsewhere are trying to make their specialties visible and appreciated as niche, value-added products.
In Toruń, a major role is played by chefs who – each with their own perspective - are putting local ingredients at the forefront, filling their menus with revisited and updated traditional dishes, and at times collaborating with food historians. Among these are the young and talented Michał Żulewski at Bistro Klonowica, Krzysztof Bielawski at the refined Szeroka No. 9, and Artur Moroz at Pikado, which proposes a Mediterranean twist on local mainstays. Moroz is very active in promoting Polish gastronomy nationally and abroad, traveling from the US to the Gulf Emirates as a culinary ambassador - a role that more and more chefs find themselves playing.
Local authorities, in particular the Agriculture Department for the province, are also deeply involved in supporting local food manufacturers. They have launched The Pantry of Kuyawy i Pomorze, a cooperative of traditional and artisanal producers that focuses on promotion of local products for domestic and international purposes, access to funds, and education. The Department also manages the provincial section of the Polish List of Traditional Products, created by the national Agriculture Department to highlight the best of what Polish gastronomy can offer. Furthermore, the Department helps producers join the Culinary Heritage Network, an organization that enjoys success around the Baltic and in Northern Europe and that many consider more effective than the European Unions marks such as Protected Designation of Origin and Protected Geographical Indication. Overall, the provincial department believes that shared promotion and participation in food fairs, such as the one in Berlin, is cheaper both for the public institutions and for individual participants.
Another approach to support local food systems is offered by the Vistula and Chełmno Landscape Park, which includes rural and semirural areas in the region. The goal of the Polish landscape parks is not to maintain untouched wilderness, but rather to manage inhabited landscapes where the interaction between humans and environment expresses itself through architecture, agriculture and other productive activities. Every August for the past fifteen years the park, directed by the ever-energetic Jarosław Pająkowski, organizes the Festival Smaku (Taste Festival) in Gruczno, attended by over 30,000 visitors in two days. Developed from the idea of merging honey, cheese, and nalewka liquor small fairs, the initiative started before food took center stage in Polish media and popular culture.
The Kujawsko-Pomorskie province shows how different approaches to local food systems can interact, foment, and take advantage of the growing interest for traditional and artisanal foods that is becoming a global phenomenon. Greater coordination can only make the efforts more effective, but different interests and priorities at times get in the way. Looking at existing cases can help stakeholders better understand the dynamics of which they are often unknowingly complicit.
Calling all HuffPost superfans!
Sign up for membership to become a founding member and help shape HuffPost's next chapter
This post was published on the now-closed HuffPost Contributor platform. Contributors control their own work and posted freely to our site. If you need to flag this entry as abusive,
send us an email
.