Slicing between the Canadian provinces of New Brunswick and Nova Scotia, the 170-mile-long Bay of Fundy is home to the world's highest tides, with a differential of over 53 feet at its highest. Here 160 billion tonnes of seawater slosh in and out twice every 25 hours -- more than the combined flow of all Mother Earth's freshwater rivers.
Now the indigenous Mi'kmaq say this is because Beaver helped his friend Glooscap, Creator of Man, to make a bath by building a huge dam across the mouth of a river, but Whale, furious at being deprived of the outflow, destroyed the dam with such a mighty swish of his tail that the water has been sloshing back and forth ever since.
Fun-killing scientists, however, have a more prosaic explanation: the funnel shape of the bay combined with the shallowing seabed causes the phenomenal build-up. Because they're fun-killing and due to the funnel shape, the bay is called Fundy. OK, just kidding there. The name may have come from early Portuguese fishermen who called it Rio Fundo, or deep river.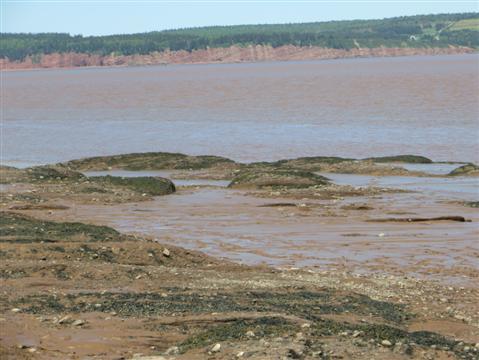 Top of Bay of Fundy at low tide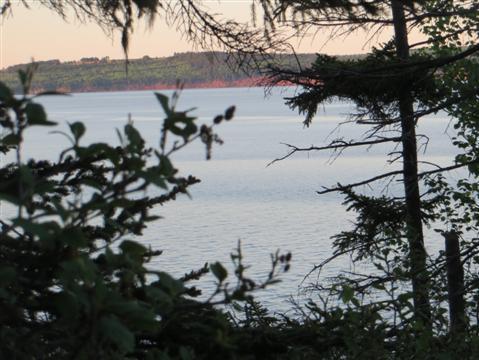 Top of Bay of Fundy as tide rises
Mi'kmaq or fun-killing, Saint John, New Brunswick's largest town -- always spelled out in full to distinguish it from St. John's, Newfoundland's capital -- is as good a gateway as any to the phenomenon.
One of the points of this six-week Canadian odyssey is to travel as much as possible overland by mass public transport. But the last bus from St. Stephen by the U.S. border to Saint John left many moons ago, victim of reduced public services and increased private car ownership.
Thus do I arrive by private taxi, a 1993 rickety Buick Roadmaster with 618,766 kilometres on the clock -- that's 384,483 miles -- for the sum of $60 for the 66-mile trip to enjoy, in the words of the town's booster brochure, 'the experiences you'll thank yourself for catching -- and kick for yourself for missing.'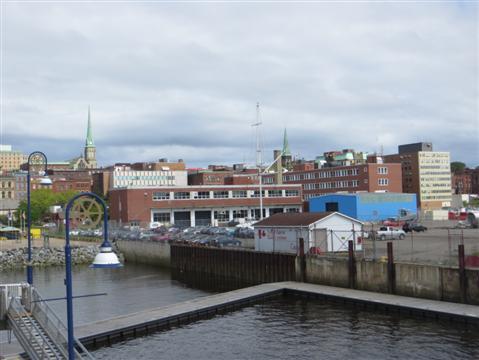 Saint John from waterfront
Somehow I'm missing out on the enthusiasm. It's a dump with ugly red block buildings on its waterfront. Much of it burned down in a fire in 1877 and was rebuilt in grim Victorian style at its worst and grottiest, including the Royal Heritage Preservation Area dominated by two ugly churches with green spires -- they would not feel out of place in a down-at-the-heels coal mining town in the English midlands.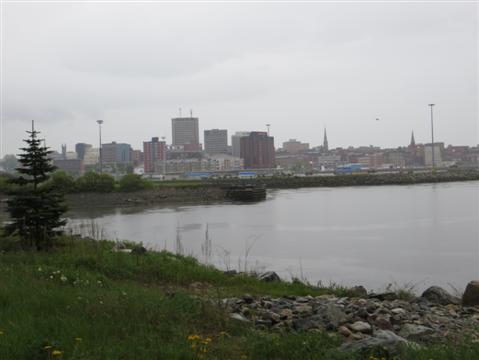 Another waterfront view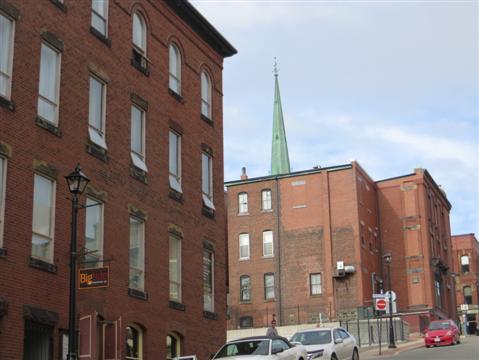 Another Saint John view
Anyway, the point of being here is the world's highest tides, and in Saint John their effect is most noticeable at Reversible Falls. This, together with much of the area, is part of UNESCO's Stonehammer Geopark, encompassing a billion years of continental collisions and named for a group of amateur geologists who formed the Steinhammer club in 1857.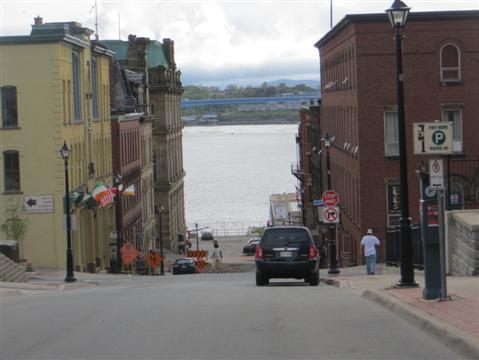 A Saint John street
At Reversible Falls the collision of two ancient continents is clearly visible, the light grey of the Brookhaven terrain from where South America now is cheek by jowl with the dark grey of the Avalon terrain from where Africa now is. It took more than 120 million years hundreds of millions of years ago for them to end up side by side here.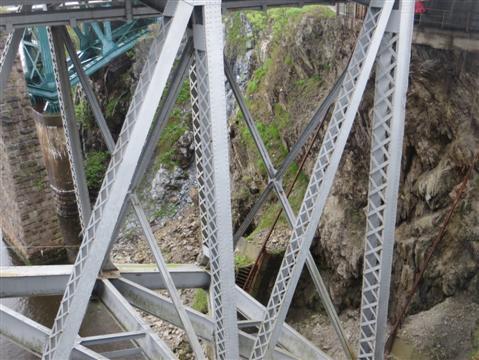 Continental collision, light grey on dark, beneath bridge at Reversible Falls
The falls are not really falls at all but a series of rapids at the mouth of the St. John River. As the tide rises, here with a 28-foot differential, it reverses the river's flow. At the moment the waters are surging inland, and only one rock is visible, barely above the white foam.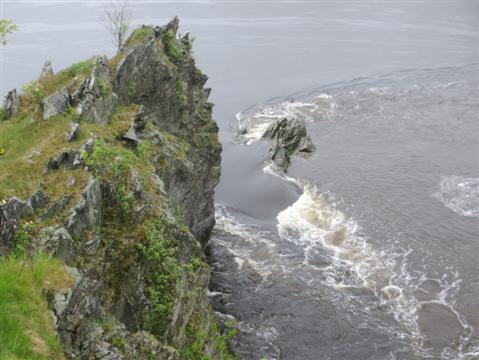 St. John River flowing up rapids at high tide
But the site is marred by man. A huge paper and pulp mill has elected a pope, belching vast plumes of white smoke less than 50 yards away, you have to navigate the most hideous conglomeration of spaghetti junctions just to get here, whether on foot or by vehicle, and you have to pass the most ghastly conglomeration of industrial plants just down the road.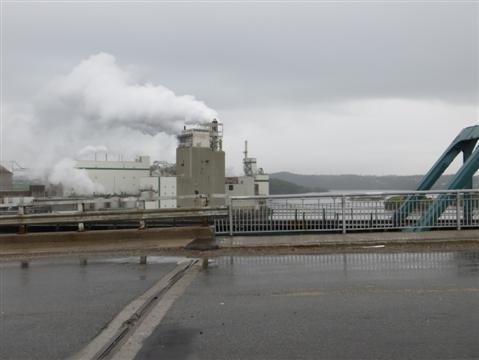 Human pollution a stone's throw away
Of course there's no public bus for the 35 miles or so to the 10-mile-long Fundy Trail on the bay's precipitous cliffs, and it costs $50 an hour by taxi for what will be at least a three-hour trip. I could rent a car much more cheaply - but also more suicidal as I become engrossed in the scenery and take the most direct route to the world's highest tides.
Now one thing you have to know about Fundy is the weather. It's very often cloudy and foggy, and very local -- sunny in one little bay, total whiteout in the other. On this glorious day on which Yours Truly is splurging over $170 the Fundy Trail is, wouldn't you just know it, in whiteout mode. Belvederes and lookouts? What belvederes and lookouts?
Even so, the swirling mists give the forests of firs and other trees in a myriad shades of green an aura of enchantment that clarity would surely dispel. At Flower Pot lookout I can just about make out the eponymous monolithic rock rising from the low-tide-exposed sea floor. The mists make it mystic -- it looks even better than a sunshine photo of it with green cliffs and a sandy beach as background.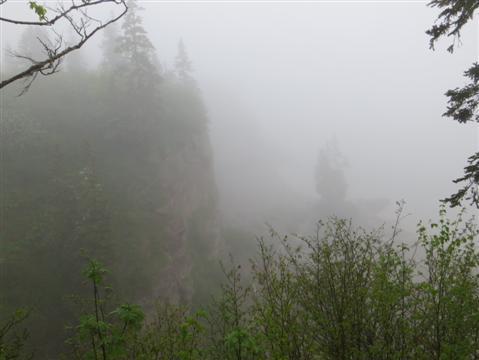 Flowerpot rock, on right, through the mists
Further on, down 57 rickety wooden steps at Fullers Waterfall, the silvery flood is clearly visibly against the steep fir-clad walls of a ravine.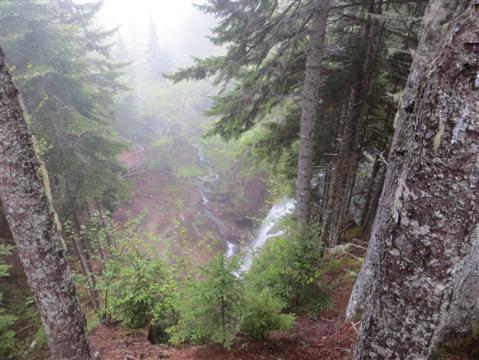 Fullers Waterfall
At Great Salmon River, the mists lift enough to reveal a vision of wild nature looming out of diaphanous white curtains -- a dark green gorge covered in pink, blue and grey boulders with a stream trickling seawards before the great tide pushes it back and totally covers its bed.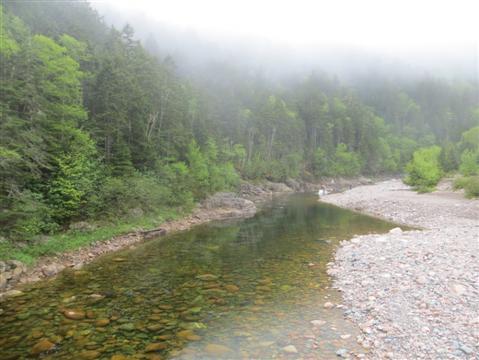 Great Salmon River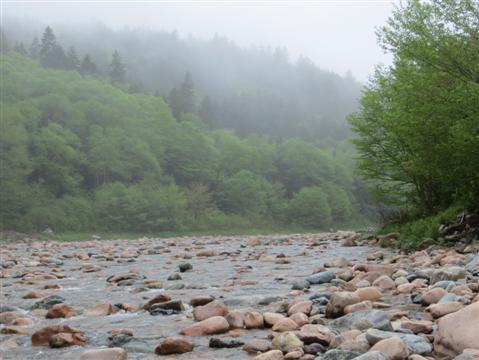 Great Salmon River -- awaiting the tide
At the village of St. Martin, near the trail's start, the clouds have lifted to display a deep red sea cave, high and dry at low tide and accessible over a bed of mauve, carmine and greenish pebbles until the tide roars back in, obliterating the stony rainbow and allowing access only by canoe.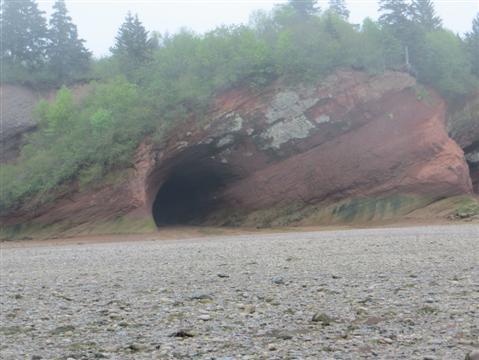 St. Martin sea cave - access by canoe only at high tide
One of the best places to see the tidal differential is further north near the head of the bay at Hopewell Rocks, 22 miles from Moncton -- which I can indeed reach courtesy of Maritime Bus. The company, after the demise of several others, operates services in the three Maritime Provinces and allows me to take a side trip to Fredericton, New Brunswick's rustic capital.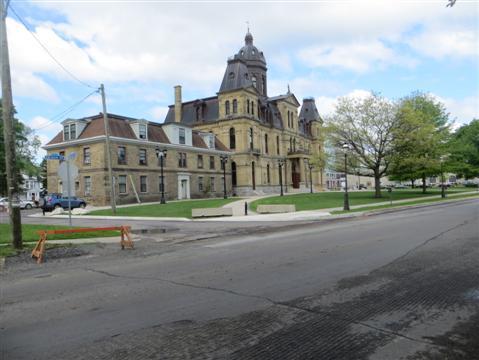 New Brunswick provincial assembly in Fredericton
And now for a word on the human fauna. There are some enormously obese people here in Canada, every bit as bad as, or even worse than in the U.S. of A. A humongous lady across the aisle with a belly like Mt. Everest is struggling mightily to push down the armrest so that she can get out and buy more food. She can't budge and calls on Yours Truly for help.
Well, short of amputating her belly, I try. But the armrest just won't budge. She finally manages to squish her hanging gardens of Babylon over and past the recalcitrant furniture.
The natural scenery, though, is fine -- an undulating landscape of dense low forests of firs and lighter green trees with scattered white farmsteads, and plenty of placid rivers, some narrow with evocative or indigenous names like Moosehorn and Kennebecasis, others very broad like the St. John. There are even wineries. You'd think it would be far too north here for grapes, sour or not, but there are you are.


St. John River at Fredericton
Oh dear, great Lady Fats across the aisle has just extended her non-stop munching into stuffing her great maw from a foam container of greasy meat as she guzzles down sugary sodas by the gallon. She'll never get past the recalcitrant armrest now.
Everything seems to be named Beaverbrook in Fredericton after its most famous son, the nasty little British press baron of the last century. But the huge frog in the town museum is not His Lordship's death mask. This is Canada's Kermit, the Coleman Frog, about the size of a middling dog, weighing 42 pounds, and now, stuffed by a taxidermist, holding pride of place in a glass case.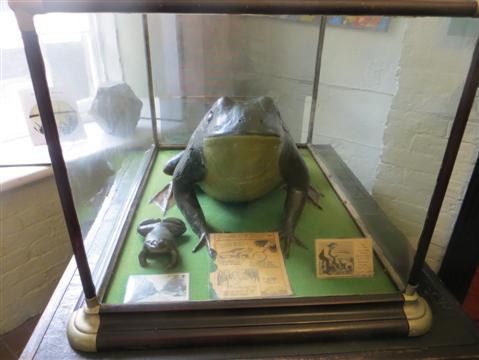 The Coleman Frog
According to the story, local hotelier Fred Coleman found it in a lake in the 1880s. It grew to its enormous size as it would answer his calls like a dog and he fed it hearty meals of whey and whisky. After it died, he had it stuffed and displayed in his hotel. But drunken revelers kept on using it to put out their cigarettes, burning holes in its skin, so it was covered in thin papier mache and painted green.
Or so the story goes. It looks pretty varnished and some claim it's not a real froggie at all, but a mock-up used 150 years ago to advertise cough medicine - you know, to get the frog out of your throat sort of thing. Why don't they just test the bloody thing for DNA and settle the argument?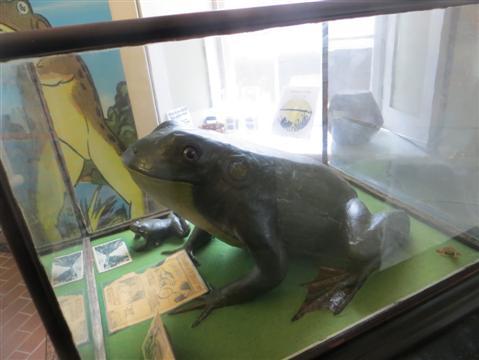 Side view of Froggie
Anyway, back to the world's highest tides. Once in Moncton, there is of course no public buses to the Hopewell Rocks and the organized tours are booked up for several days, so once more it's a private taxi.
That's $175 for two separate trips: first to see the eroded rocks, called flowerpots because of the bushes flourishing on top -- a nearby balder rock is called Mother-in-Law -- soaring up from the bare red mud ocean floor at low tide; then to see them drowning as little islands when the waters flood back in to an average height of 35 feet, rising six to eight feet every hour.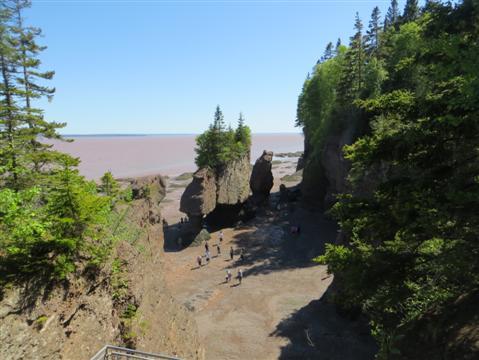 Hopewell flowerpots at low tide
It took millions of years to form the flowerpots, starting 300 million years ago when sand and gravel were first deposited by streams in the area and then compacted. Erosion has since had its way but they are expected to last another 100,000 years.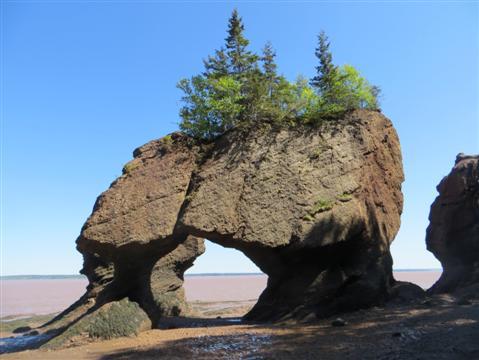 Another view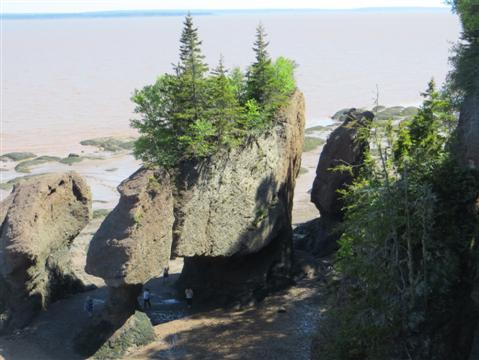 And another
I wish erosion would have its immediate way with the array of low-tide tourist now milling around the bases, getting photographed, or even worse - taking inanely grinning selfies. But then tourists will be tourists.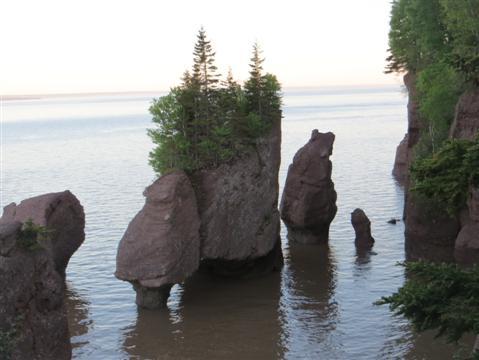 Hopewell flowerpots near high tide
In the six hour gap between the visits, there's time to see the Tidal Bore within Moncton itself. This is a wave that rolls up the Petitcodiac River as the high tide builds up on itself; it can reach anything between a few inches and three feet. Today it's in the inches brigade and Yours Truly's 'that's it?!?' goes down like a led balloon with the other onlookers. They think I'm the bore.
______________
By the same author: Bussing The Amazon: On The Road With The Accidental Journalist, available on Kindle, with free excerpts at and in print version on Amazon.