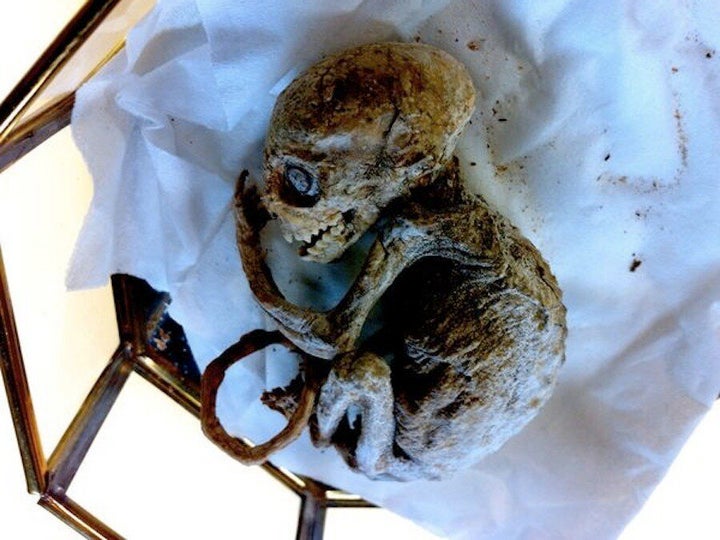 It's been said there's no such thing as bad publicity, but when the stars of your own show give it a thumbs-down, that might be the exception.
On the heels of less-than-positive reviews and viewer comments, two of the show's stars -- James Fox and Ben McGee -- revealed their own dissatisfaction with "Chasing UFOs," complaining that the show had placed more emphasis on entertainment value than a serious look at the UFO subject.
Fox: "I know how disappointed all of you are. I am too. It's not the show that was sold to both myself and scientist Ben. Two months into it, we were off to a great start; good locations, solid witnesses and some opportunities for Ben to apply his field research as a geologist at some crash sites. Very exciting stuff. Unfortunately, when we actually got out in the field, we began to realize that they were more interested in poking around at night than allocating the time necessary during the day as, apparently (so we were told), Americans love watching others sneak around at night from the comfort of their couches. For the most part, it was gratuitous nighttime baloney. ... I promise I'll either quit or change my position within the show because at least I can make it all make some sense. The show does get a bit better further down the road, but not a lot. ... My credibility and reputation has, deservedly, taken a serious hit."
McGee: "When we were brought onboard, the project certainly had a much harder inclination than its final realization, and as a career scientist, I was excited that NatGeo was at the helm (unaware of their desire for a major shift in programming flavor). Our intentions were very sincere. ... James and I both had expectations and (for our own reasons) hopes of an ultimately serious product. We both saw the project heading in a different direction as time went on and were powerless to influence it. Injecting science into mainstream media is also problematic, and I am suffering heat in my own circles for the lack thereof on the show."
Fox and McGee wrote their comments on the Facebook page of New York Times best-selling author Leslie Kean.
NatGeo put up a brave face and tried to spin the criticism, suggesting what the two stars said could be taken out of context.
"I think, naturally, they're going to get more comfortable with their roles and they're all figuring out what their roles are in the series and how best to be authentic and represent their point of view in a way that viewers can relate to," said Michael Cascio, NatGeo Channel's executive vice president of programming.
Cascio told The Huffington Post exclusively that NatGeo is aware of the show's strengths and weaknesses, as well as the negative reactions from critics and viewers.
"It's actually very helpful to hear that and we're always interested in viewer reaction, and hearing that is instructive to us," Cascio said. "Obviously, we weren't anticipating that kind of feedback, but it's extremely helpful. We're certainly aware of the comments that some people don't like it, so we're always monitoring the viewer feedback -- it's important to us.
"We're happy to look at it and evolve, if necessary, into something that meets the viewer needs. Right now, it's doing fairly well in our ratings, but like all shows, you want to know where it's going and what's next."
The 'Chasing UFOs' team meets with astronaut Edgar Mitchell.
What motivated Fox to initially vent his feelings about the show, biting the hand that feeds him?
"Anytime one responds in the the heat of the moment, things get said that, inevitably, one regrets, and I was responding to a chain of criticism," Fox told HuffPost.
"What I should've done is taken the time to process the information, cool down a little bit and then, perhaps, responded. What people don't realize, myself included, is that anytime you're in the public eye, you become a target, whether that's good or bad. And I'm doing my best -- as I know many others on this production are doing theirs -- to produce a great show, something that's going to appeal to the masses.
"Have mistakes been made? Yes, they have. Can the show be better? You bet," said Fox, director of the UFO documentaries, "Out of the Blue" and "I Know What I Saw."
Fox added that NatGeo didn't scold him for his criticisms of "Chasing UFOs."
"Not a word, nobody said anything," Fox said. "Anytime you shoot yourself in the foot, it's never a good idea."
The "Chasing UFOs" team consists of documentary filmmaker Fox, geologist/field explorer McGee and thrill-seeking researcher Erin Ryder, who represent the factions of believer, skeptic and undecided, respectively, in the series. (Left to right, McGee, Ryder and Fox are pictured below.)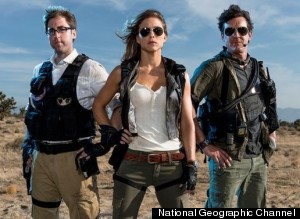 Almost immediately after the June 29 series premiere, reviews of the show were less than encouraging:
"The problem with 'Chasing UFOs' isn't so much the bad science as it is the lack of entertainment value. Our guests from outer space have never before been quite this boring." -- The Wall Street Journal
"As with most shows following this formula, 'Chasing UFOs' is not so much about aliens or UFOs. It's all about the colorful cast. This team is promoted as 'real-life Scullys and Mulders' of 'The X-FIles' fame, but the mix is almost all Mulder with precious little Scully." -- The Los Angeles Times
"I don't know whether I'll be reviewing future episodes of 'Chasing UFOs.' There is a lot of 'data gathering' (more precisely, getting observers to tell their stories), but no serious effort to follow up, investigate and come to a definite conclusion. It's all Wow, Gee Whiz, What an Amazing Story! But don't actually look for answers -- that isn't fun! Plus, the 'investigations' we are shown are obviously staged for dramatic purposes, and are not actual efforts to gather information and solve mysteries." -- Robert Sheaffer, author and columnist for The Skeptical Inquirer.
"I don't represent the people who are disappointed. I just urge them to keep watching," said Cascio. "The series was really directed to all different perspectives, as embodied in the hosts -- a skeptic, a believer and someone who's undecided. If you look closely at the show, it tries to represent those three viewpoints. While we're obviously concerned about viewer expectations, our expectation, in serving the viewers, was to make sure that we touched on all of those areas."
According to National Geographic, "Chasing UFOs" has been the highest-rated Friday night series on the channel since 2009. Also, the episode titled "Alien Cowboys," which aired July 6, was the highest-rated Friday night NGC telecast since October 2011. Through the first three weeks of July 2012, NGC averaged its highest ratings ever for Fridays from 10 p.m. to 11 p.m. (the "Chasing UFOs" time slot) for the month of July.
The 'Chasing UFOs' team capture a vanishing UFO on film.
Related
Popular in the Community