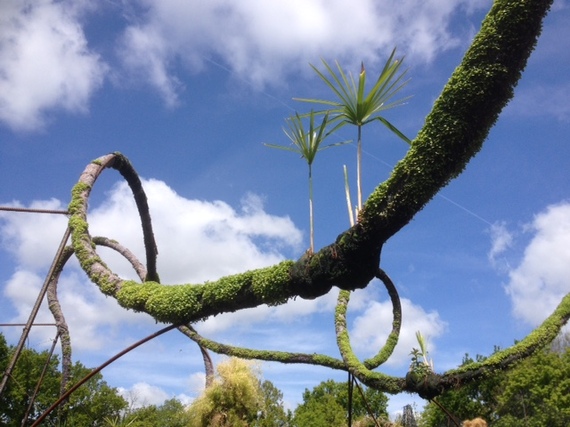 Among the top five tourist clichés in France are the grand ice cream cone royal chateaux of the Loire Valley, surely among the elegant vacation homes and sculpted gardens ever created. Among them none excels Chateau Chaumont hardly a half hour upstream from Tours. Yet unlike most of these moribund touch-me-not palaces, Chaumont has for some 25 years set itself apart as both a center for contemporary art and for its annual competitive garden festival unique garden and landscape design. This year 20 teams of landscape architects and gardeners garden addressed the theme, Gardens of the Century To Come. It stands apart from other festivals of recent years. For many reasons.
At least a third of the garden designers are not French. They come from England, California, China, Italy, Switzerland, Holland and Russia--a diversity rarely seen in any contemporary garden design center. At the same time more than half are younger than 40, many even in their Twenties, and women are as present as men in the designs and realizations that make creative use recycled materials, local flora and fauna, and water-saving drip irrigation--even in twenty-foot high serpentine arches fabricated from coconut fiber.
The challenge these designer-gardener-architects faced was both grim and hopeful: unlike half the U.S. population, they took seriously the clear scientific evidence that most of the world is growing hotter and drier, and where it's not baking, it's facing the fate of Miami, a third of which is likely be go under water midway through the next half century. What, a serious pessimist might well ask, has a roasting planet got to do with luxury chateau gardening?


A Floating Garden of Dreams by Jean-Philippe Poirée-Ville
Everything, these gardeners answer. As urban sprawl continues to gobble up arable land along our waterways, and as more and more eco-conscious herbivores demand organic local food, gardens are emerging not just as weekend amusements but as reliable sources of fruit and vegetables.


One of the most startling plots uses one of our nastiest resources coal not for heating but as a ground cover whose sharp edges make it unpleasant terrains for snails, slugs and other slimy, sugar-sucking pests. The strawberries planted there, on the shiny black chips seem to be thriving on this totally organic turf.
Another young gardener from northern France and of diverse ancestry, Theofile Fofana and his collaborators also address rising water levels and the complexities of climate change set against the ancient African fable of the wily hare who turns trouble into opportunity.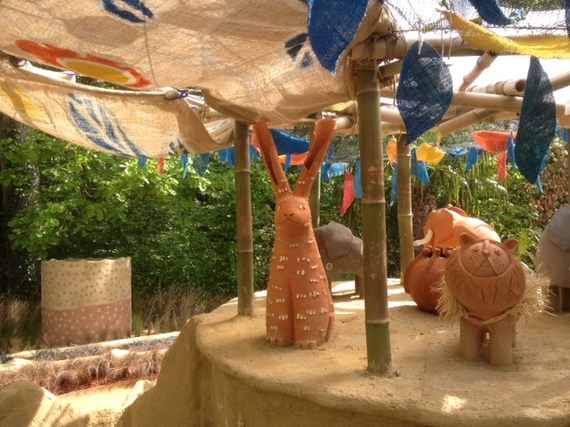 Entitled The Hare and the Talking Tree, the garden surrounds a clever wild rabbit in repose beneath a spreading shade tree where he finds new plants that thrive both on drought and flooding.
Possibly the most architectural as well as archaeological installation comes from a middle-aged former Swiss financial analyst, Pierre Lavaud and his collaborator David Simonson. Lavaud gave up the world of hedge fund margins for the satisfaction of filling his fingernails with mud and sand and risking lumbago in his arrangement of several tons of slate slabs that certain varieties of charming weeds and vines find comfort and sustenance. The message: plants, given time, can conquer all terrains.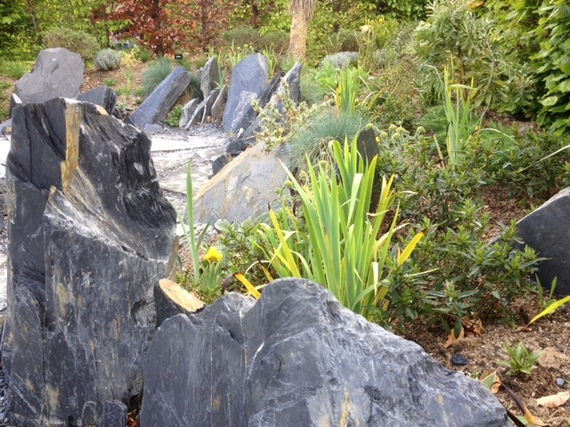 Addressing the likely fate of Dade County, the Jersey Meadowlands and most of Holland another water garden is marked by posts signaling scientifically projected sea levels in 20, 50 or 150 years with possible vegetal solutions to that swampy future. Yet another water-crop garden, called Rooftop Power Plant by the Dutch team Aleid Westenberg and Lucia Latenstein, presents a set of tables bearing wet plants resembling miniature rice fields.
Electric sensors monitor the miniscule electrical charges generated by the processes of photosynthesis in fresh and sea water, where two acres of plant life are sufficient to provide all the high-efficiency electrical needs of a modern house.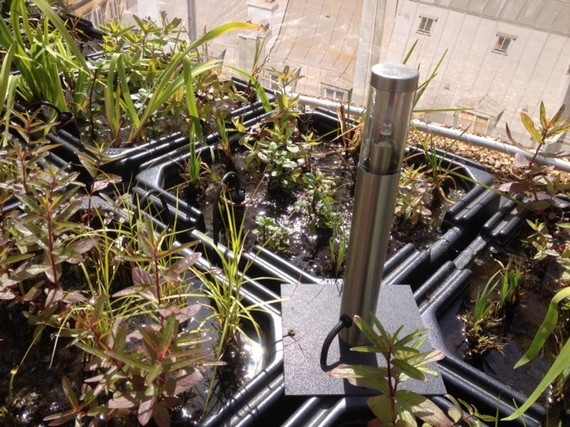 Surely one of the most fanciful gardens proposes that in the hot world of our grandchildren's future, more and more of us will actually inhabit, 24-7, our gardens, growing much of our food, sleeping under and among vines, and to ward off the flies and mosquitos selecting secondary plants that the crawly, stinging, buzzing creatures find unpleasant.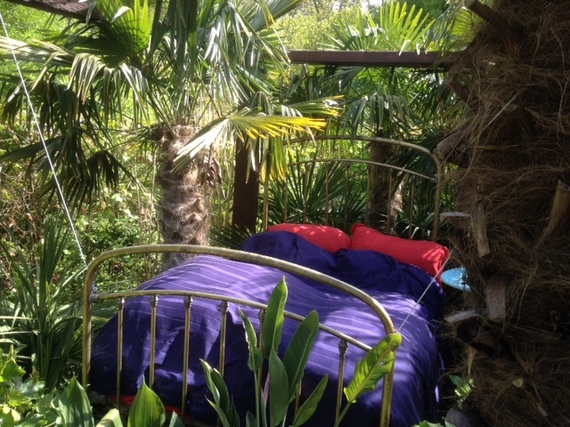 Fanciful as designers Emilie Garnier and Barthélémy Afres vision may be, it does ask us to reflect on how the natural world develops its own interactive defenses and resources.
Not to be forgotten either are the inventive building trades where shredded hemp stalks are transformed into bricks used to build single or even double story houses, pipelines, or, well garden walls.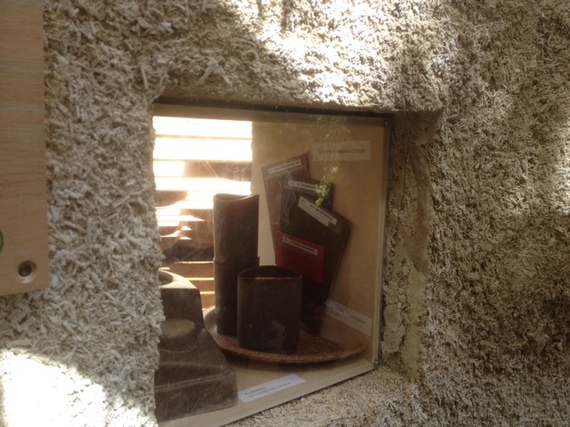 Hemp, as the pioneering Graves family of central Kentucky (once the nation's leading hemp producer) are demonstrating, is one of the most vigorous and pest-resistant plants Mother Nature has provided us. (NB: you could smoke 20 tons of hemp and all you'd get is a burnt out throat with no accompanying high.)
Lastly, one of the most provocative gardens addresses the plastic problem: the wonder product of the 1950s that threatens to smother us all in deadly chemical gas--except for those water-based bacteria that preliminary biological experiments suggest thrive on consuming plastics, excreting perfectly normal organic chemicals that render the earth a cleaner, happier place.
All on display until November 2 at Chateau Chaumont, an hour and a half southwest of Paris by train and a short connector bus.
Coming to bookstores in one month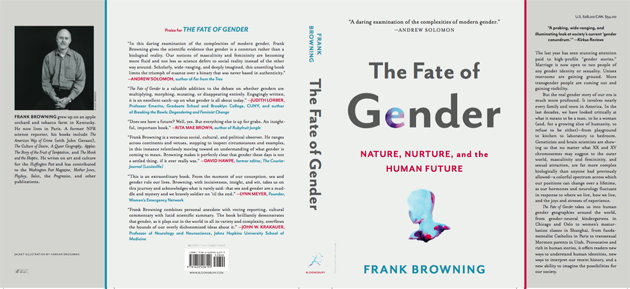 REAL LIFE. REAL NEWS. REAL VOICES.
Help us tell more of the stories that matter from voices that too often remain unheard.