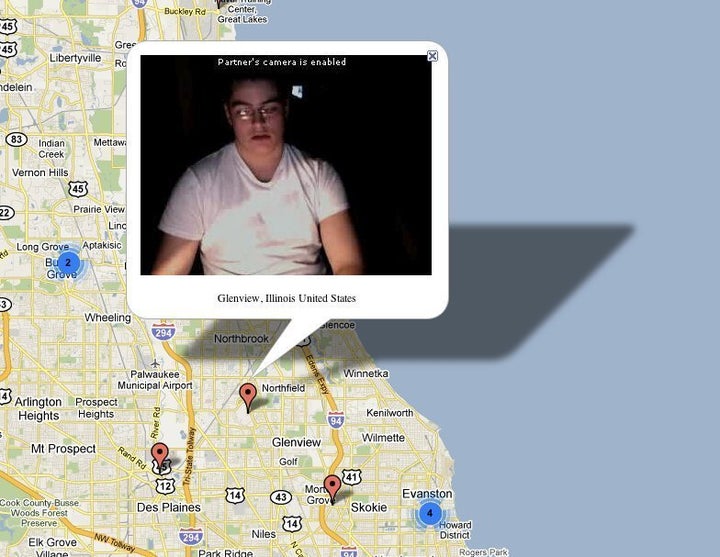 Chatroulette just got a little less anonymous. But actually, it never was.
Chatroulette Map is a new web site that uses the IP addresses of Chatroulette users to plot their locations to a map.
A quick visit to the site shows what appears to be an accurate cross-section of the video chat service's users at any given time. There are people goofing off, starring into space, and liberal amounts of male genitalia--all plotted on a world map, down to the city block.
But don't believe everything you see.
Because some Chatroulette users mask their IP addresses, thus concealing their exact locations, it's possible that some of the photos on Chatroulette Map are not geotagged to the locations where they originated.
In the age of social networking, Chatroulette stood out for its lack of user profiles and it's single-minded approach to randomly connecting users across the globe. But Chatroulette Map proves that just because there's no profile, that doesn't mean users are anonymous.
A person responding to the site's email address told The Huffington Post that Chatroulette Map's main goal is to "dissuade" people of the notion that Chatroulette offers total anonymity and security.
Asked whether they were worried about publishing identifying details of naked or masturbating users, they responded "No one should be masturbating on the site anyway," and explained that Chatroulette says as much every time a user visits the web site.
For people who want their photo removed from the site, the FAQ page says that administrators will remove a picture as long as those complaining can offer some verification that they are the person in the image.
Eventually, the site hopes to give users the ability to rate the photos and search for images by location.
According to Chatroulette Map, Andrey Ternovskiy, the 17-year-old Russian creator of Chatroulette, has contacted the site saying he finds the mashup "enjoyable."
REAL LIFE. REAL NEWS. REAL VOICES.
Help us tell more of the stories that matter from voices that too often remain unheard.