Two Mellow Mushroom pizzerias along with a Texas Roadhouse location -- all franchise restaurants in the area -- set aside empty seats in their establishments as a way to honor the deceased.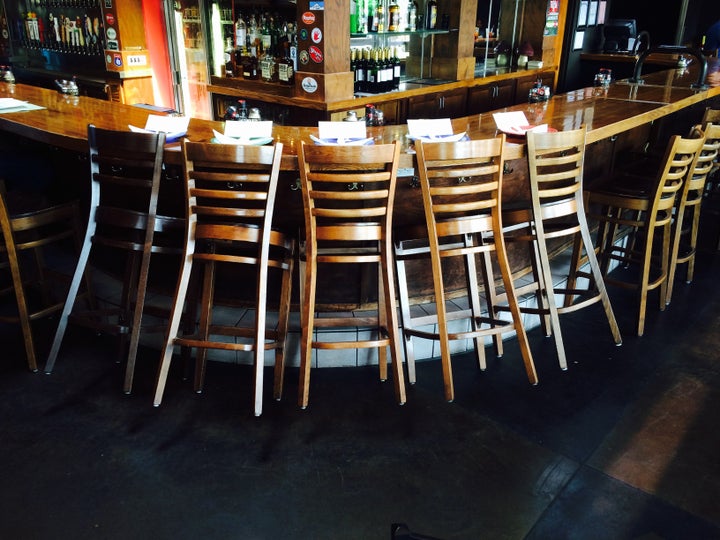 Pictures of the moving tributes were posted to Facebook and quickly went viral: a photo taken in Mellow Mushroom's downtown location garnered more than 102,000 shares and over 272,000 likes, while a snapshot of Texas Roadhouse's tribute generated more than 25,000 shares and over 32,000 likes. 
"Every one of those men was a hero," Patrick Todaro, Texas Roadhouse marketer, told WBIR of the restaurant's gesture. "That's how they should all be remembered. This is the simplest thing that could be done to show respect because that's what they deserve." 
Samantha Jones, owner and operator of both Mellow Mushroom locations in Chattanooga, told The Huffington Post that Brooks Northern, the bartender at the downtown restaurant, came up with the idea for the tribute. Four bar stools were initially set with a shot in the front of each. After news broke on Saturday that Navy Petty Officer 2nd Class Randall Smith succumbed to injuries sustained at the shooting, a fifth stool was set aside at the bar for him. The seats stayed reserved for the victims throughout the entire weekend.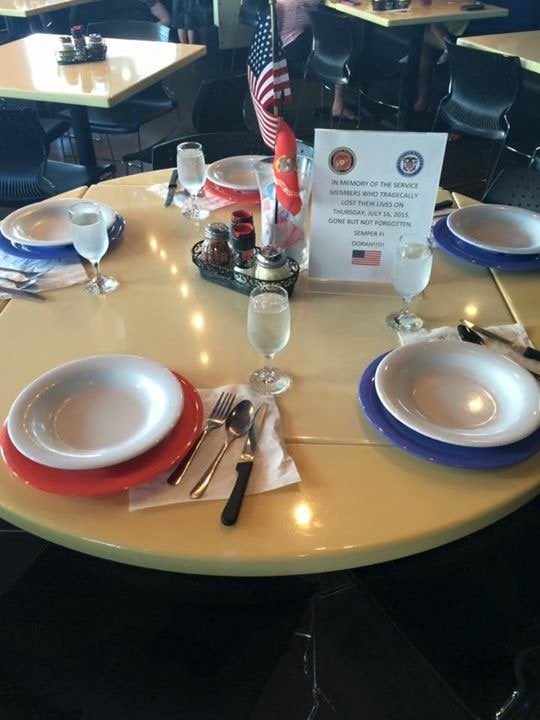 Staff at the other Mellow Mushroom location, in Hamilton Place, decided to participate in a similar tribute. They reserved a table for five and adorned it with flags, along with a memorial message, Jones told HuffPost. 
At Texas Roadhouse, staff initially set a table for four, but later added another seat for Smith. Service Manager Doug Flack, a former Marine himself, said that a few other symbolic items were put on the table to remember the fallen. 
"We had an inverted mug since they weren't here to partake with us," he told WBIR. "We have salt and lemon on the table to express bitterness and loss. We have a red ribbon for the blood that was shed."
According to the outlet, Texas Roadhouse's tribute will be kept up until all five service members are buried. 
Moved by the gestures, many people expressed their appreciation on social media as well as in person. 
"People from all over the country ... have called the store thanking us," Jones said. "It's been a very heartfelt, very gracious reception from the country. ... I'm thrilled and very thankful that I work with people who have such amazing and generous hearts." 
PHOTO GALLERY
Chattanooga Shooting Victims
Calling all HuffPost superfans!
Sign up for membership to become a founding member and help shape HuffPost's next chapter