A Conversation with American Idol Winner, Scotty McCreery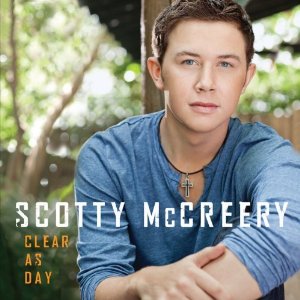 Mike Ragogna: Scotty, hi.
Scotty McCreery: Hey there, Michael, how are you doing?
MR: I'm doing pretty well, thanks. Your new album Clear As Day just hit #1 in Billboard, and it features some very personal songs that seem to fit you perfectly. How did you choose the batch?
SM: Well, we had a lot of songwriters in Nashville that were writing songs for us. We actually had a big meeting there when I went for Fan Fest, and we were telling them what we were looking for, and the types of songs we wanted. After that, we had a couple of writers that were writing specifically for me, and they sent some songs our way and they were perfect. They were written just for me; it was beautiful.
MR: You're pretty young but with that deep voice, you sound like an old soul.
SM: That kind of happened with the music I grew up listening to. Elvis (Presley) was a big influence on me, and then I listened to old country like Conway Twitty, Merle Haggard, and Johnny (Cash) and all of those guys. So, it was in my blood as a small child.
MR: Hey, you just became legal.
SM: I turned 18 on Sunday.
MR: Congratulations. Happy Birthday.
MR: Okay, lyrically, these are pretty rich songs. Did you find yourself especially immersed in these songs?
SM: For me, it's a lot about the song and about what you're saying. You have to look at the song and think, "Is this me? Is this who I am? Is this something I want to sing about?" A lot of the songs on the album are about my life, and life before and after Idol. Those lyrics really meant a lot to me, and as I sang them, I could feel it.
MR: We know you're sensitive guy, but on some of the more fun songs, you dabble with the silly too.
SM: Definitely, I'm a silly guy, so I have to have some fun with the songs.
MR: The title track, "Clear As Day," is my personal favorite, it being about a relationship beginning with an incredible night that you'll always remember, well, "clear as day." But then tragedy happens. How did that affect you when you heard that song for the first time?
SM: Well, they played it for us without telling us there is that twist at the end, so, of course, we were really into it with the relationship thing, and then it took that turn for the worst at the end and ripped my heart out. For me, the county next to mine there is a really high fatality rate for teenagers in car accidents, so I knew a lot of those kids and I knew a lot of friends of those kids. That was a personal thing that I could really relate to, it was definitely one of those songs.
MR: The album is comprised of many story songs, some about young relationships. And there are songs like "Water Tower Town," which is a take on small towns. It seems like it's from personal experience.
SM: That's the way I grew up and the towns around me. The water tower in my town was right across the train tracks from the baseball field I grew up playing at. Of course, when I'm singing that, I'm seeing those things in my head, and it really speaks to me.
MR: Speaking of baseball, you have a little announcement relative to major league baseball.
SM: Yeah, I'm singing the national anthem at Game 1 of The World Series. That will be quite an experience for me as a huge baseball fan, I'm pretty pumped about it.
MR: Are you a huge baseball fan?
SM: Oh yeah, I'm definitely a huge baseball fan, I grew up playing ball, and my dad played in college and throughout his life, so he passed that on to me. I have two loves growing up--singing and baseball, so it's cool to do this.
MR: How early did you start singing?
SM: I don't remember not singing. My mom says I was humming when I was one; I would hum to the doctor. I've just been singing my whole life and it's always been a part of me and who I am.
MR: Churches? Band? School?
SM: Yeah, I did churches. I did a contest in 2009 called Clayton Idol, and that was the town next to mine. That opened the door to sing at places, and different small venues and I could go out and play. That got me the opportunity to sing outside of church and get some more stage presence and get more comfortable on stage.
MR: "The Trouble With Girls" is going to be the new single?
SM: Yes sir, we put that out a few weeks ago and it's been cool to see how it's been going. It's a really cool song, it's a really sweet song and I'm glad we got to put it out.
MR: My favorite line? "They steal you with 'hello,' and they kill you with 'goodbye.'"
SM: Yeah, those two lines really speak to what a lot of guys have felt. It's one of those songs that really make you think, and one of those songs a lot of people have been through and a lot of people have thought those thoughts. That's why I think it's relatable to me and a lot of the people listening.
MR: And there's your album opener, "Out Of Summertime," about having a great time and realizing you've run literally out of summer, although it's also a nice metaphor.
SM: It was towards the end of summer, it was initially going to be the first single but we switched it around later on. It's another one of those fun songs that we enjoy doing.
MR: When you're listening to the lyrics to some of these songs, are you not only searching for ways to integrate them, but are you changing some of the songs to make them that much more personal?
SM: There were a couple of times we would be singing and recording in the studio. I remember looking up at the producer and saying, "Why don't we try some different things?" or "Do 'this' instead of 'that.'" We did it, and it made the album; that was one of those things where it came from feeling it. It was cool for me to be able to do that, and it was cool for us to be able to do it to the songs, and the songs were really cool already.
MR: Who produced the album?
SM: Mark Bright, he was the producer of Carrie Underwood's records and he did some stuff with Rascal Flatts.
MR: What's the dynamic between you guys in the studio?
SM: It was fun, we had a good time. He's a genius and he knows what he's talking about, he's been around for so long. So, it was nice for me to learn from him, while we're having fun and having a good time recording these songs.
MR: Another great song on Clear As Day is "Dirty Dishes." I want to read the chorus prayer from the person who's your mother in this song. "I want to thank you Lord for noisy children and slamming doors, clothes scattered all over the floor. A husband working all the time, dragging in dead tired at night, never ending messy kitchen and dirty dishes." It's a beautiful thing, to appreciate what you've got.
SM: Definitely, that's what it's all about. Looking at those things that you're annoyed by and take for granted, but they all mean something good about the family. At the end, it says, "Noisy kids are happy kids, and slamming doors means we're in a loving home." It's a cool way to look at life.
MR: Is that song a snapshot of your own life?
SM: Oh, definitely, that song spoke a lot to us. Especially with this Idol thing, we really haven't sat down as a family around the dinner table like we normally got to do a lot. So, that really struck a chord with us as a family, because we've lived it.
MR: It's almost like the "Part 2" to "Dirty Dishes" is "Back On The Ground"--getting caught up with your mom, getting your feet back on the ground, family being an important thing to you.
SM: Definitely, that song really speaks to my life after Idol. I've been so busy and doing so many different things at once. It's nice to every now and then go home and be normal. That song speaks to me and getting back and putting my feet back on the ground.
MR: There's pre-Idol, Idol, and there's post-Idol Scotty. You've been in contests and trying to have a career in music from such a young age. Did that make you more ambitious?
SM: We were always doing those competitions and we were out in the community singing. It definitely made me want to do this music thing a whole lot more, and being able to get up there and sing, that's what it's all about. It's about the music. That, right there, was just a cool thing for us. It was something I wanted to pursue, and luckily, American Idol made that happen.
MR: During the American Idol process, as much fun as that might be, I can imagine it can be incredibly stressful too. How did you hold up during the process?
SM: Yeah, well the talent this year was incredible, so there was definitely some stiff competition. It was definitely a pressure cooker, that's something the general public doesn't know. But we're working 7 days a week, all hours of the day making sure we had songs right, doing different video things for the show, or different interviews. It was a fun way to break into the business, because it gave us a boot camp of what this business is really all about. It was tough, but it got all of us ready.
MR: When you won, what was that moment like?
SM: It was incredible, I can't pinpoint one emotion I was feeling, but it was one of the things I will never forgot.
MR: Since you just turned 18 the other day and you already have this brand new album. How's it all feeling?
SM: It's been pretty amazing getting off of Idol and getting to do some of the other stuff I get to do, and singing at the Grand Ole Opry. I've gotten to do a lot of amazing things. It's just amazing--words can't describe how grateful I am, and how thankful I am that this is my life now.
MR: Scotty, what advice do you have for new artists?
SM: Just stay true to yourself, don't let the music business or people that are trying to influence you make you change who you are and what you want to sing about. Stick to your guns and be you.
Tracks:
1. Out Of Summertime
2. I Love You This Big
3. Clear As Day
4. The Trouble With Girls
5. Water Tower Town
6. Walk In The Country
7. Better Than That
8. Write My Number On Your Hand
9. Dirty Dishes
10. You Make That Look Good
11. Back On The Ground
12. That Old King James
Transcribed by Theo Shier
A Conversation with Baaba Maal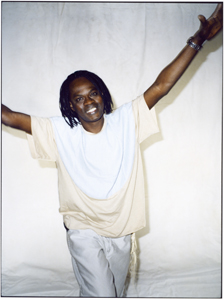 photo by Tyrone LeBon
Mike Ragogna: We're talking with Baaba Maal who is currently on tour in the United States on a series of speaking engagements based on issues facing Africa. Baaba, how are you?
Baaba Maal: I'm doing very well, Mike. Thank you.
MR: That's great. Can you tell us a little bit about what you're doing on your Tales From The Sahel tour?
BM: The tour is about a concept that is very new to a lot of people, even for the younger generations in Africa, but it's something that I did in the past and I think it's a great approach for my music, especially when you hear the kind of music and don't understand the language but want to know more about the background of the music. We talk about life, we talk about the past, the future...we talk about culture. We also talk about the world and our perspective when it comes to the things that are going on in Africa right now. But it all goes with music. I play music in the middle of all of this to bring pigment to what we're talking about. At the end of the conversation, we give people a way to ask questions if they want to know more about what we've talked about. It's a new concept for music, it's more storytelling. It's not just talking about history or the past, but it's about life in general.
MR: Nice. You've donated tracks to various causes, participated on the tribute album to Fela Kuti, and performed in the South African portion of Live Earth. Have you found that people are actually becoming more educated about the causes you've been associated with?
BM: Yeah, I think so. It also helps people realize what kind of musician I am. I am, fortunately, from Africa. and in Africa, being a musician is not someone who is just gonna write a few songs, record them, and put them on records. It had to represent something, and when you represent something, you have to make yourself a part of different projects and causes. I think it was very useful for me to participate in all of this just because it helped to clear up people's points of view about Africa and what happens in Africa and in the hearts and minds of those in Africa. On some level, we speak universally for those Africans who can't speak for themselves. Participating in projects like those can help people realize that Africa does have a voice. The thing that is missing sometimes is taking these projects and getting younger generations of Africans to take control. I will be touring, of course, to get this message out, but the next step is to bring these elements and ideas back home to Africa as well.
MR: How is this tour going to be set up with Chris Salewicz?
BM: Chris is someone who came to visit and participate in whatever I contrived when I first started putting all of this together. When I was working on my first album, he came to Senegal to focus on what's behind Baaba Maal--who are the people in my community, what is my culture like, and why I wanted to be a musician, because when you're first starting out, it's just a dream that makes you want to be a musician, you don't think about the business. He was able to see how my dream started. I did several interviews with people--Kwame and Biff Flanningan and John Snow from the BBC--and the purpose was to find people who could help me get out the messages that I wanted to send and not just through my music. But it had to start with someone who knows me, my culture, and my music, and that's Chris. I think he's the right person for that.
MR: As I understand it, you're also the Youth Emissary for the United Nations Development Program, and you've shared some pretty amazing views on HIV and AIDS in Africa and the growing role of women on the continent. So, this is a life-long mission for you, isn't it?
BM: Yeah, it's something that I have been doing for a long time, before I started working even with the UN Development Program. When you come from some part of Africa and begin playing music that doesn't just come from you, you learn it from your culture and it feeds you like a cultural food, it shapes who you are. And when you get to travel all over the world, when you return to your community, you want to teach them about the world, their responsibility to each other, and your point of view about life and the problems that need to be addressed. When I first started touring, every time I came back from a concert in the West, I was doing a lot of concerts with different organizations and people started learning more about the organizations and getting more information. We would raise money and create opportunities for people. First they'd get the information that we wanted to share, then we'd raise money that we used to participate in school programs, reaching out to young men and women to avoid having to ask the government. We were just trying to bring music and development together.
MR: Do you feel that your trying to raise consciousness about the troubles in Africa stems from the same place that feeds your musical creativity?
BM: Yeah, I think so. When I was starting to write my songs, we knew we had a talent for writing and singing and playing, but at the same time we knew we could use that as an opportunity to participate in a way that can change the picture of a musician. We didn't want to be the type to just play music for people, but to help build a better life and a better world. It started in our hometown and expanded from there. I think now we are more universal and the focus isn't just Africa, it's everything and everyone. It also gives me the opportunity to meet some people who are also trying to do the same thing, like when I met Bono in London and got to speak with him about poverty in Africa and the world. That, I think, was a great opportunity for me.
MR: That's beautiful, Baaba. So, what advice would you give to new artists?
BM: I would say to new artist that you need to be aware about new technology and use that and your music as a tool to bring people together. That was something that was missing when I first started. I would also suggest that they remember that the beginning of this is music, and the end of this all will be music. All of that business stuff comes after. I worked on a project in the UK called Africa Express where musicians and people in the industry come together for projects and share music and information, but you can't do all of that without being together with modern technology. I can share things from Africa with someone in India easily through new technology and that can be really useful. That's something that I think new artists need to learn to take advantage of. Another thing that Africa has shown me is that there are a lot of young musicians who are really open-minded and open-hearted and want to be connected with some great organizations around the world doing really exceptional work. I believe that musicians these days have both the talent and the means to make a big difference. A good education and access to technology will really help people all over the world to start really good conversations and making a difference.
MR: That's great. And I believe you're right, now is a better time than any to take advantage of these advances to make a difference. Baaba, it was really great of you to take time out to talk, and I think the difference that you are making is amazing.
BM: Thank you so much, Mike. Goodbye.
Tales From The Sahel Dates:
Oct 13 - Denver, CO @ L2 Arts & Cultural Center
Oct 15 - Minneapolis, MN @ Cedar Cultural Center
Oct 16 - Chicago, IL @ Old Town School of Folk Music
Oct 17 - Ann Arbor, MI @ The Ark
Oct 18 - Nelsonville, OH @ Smart's Opera House
Oct 19 - Alexandria, VA @ Birchmere
Oct 21 - New York, NY @ Michael Schimmel Center for the Arts at PACE
Oct 22 - Blue Bell, PA @ Science Center Theatre
Oct 23 - Boston, MA @ ICA Theatre
Transcribed by Evan Martin
A Conversation with The Box Story's Noah Chenfeld & Dylan Chenfeld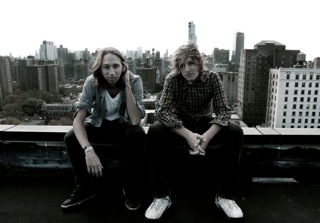 photo courtesy of The Box Story
Mike Ragogna: We're talking with The Box Story who has grown an internet following based on a series of music videos focused on their original music. The group is brothers 15-year-old Noah and 17-year-old Dylan Chenfeld. I really hate calling artists out on their age, but in this case, it's a good thing because they've already achieved so much. Okay, enough of that, hi guys.
Both: Hey, Mike.

MR: Elephant in the room. How do you get taken seriously at your age when you're not making Justin Bieber-type music?
Noah Chenfeld: I think that so many kids these days are into so many different things, you kind of have to make music that you like. The first step is making music that I like. I'm writing this song because I love it, and it's for me. Then you have to think how is whoever's going to listen to this take it, then maybe there's a chord change here and there. Then you say, "I could change this chord and it could appeal to this kind of group and make it this sort of vibe." Ultimately, the songs are pretty much for you. If you work a few things out, you could appeal to many people, so you can write mature songs that won't be C, G, F with some simple lyrics. Dylan, do you want to add on to that?
Dylan Chenfeld: I think the whole Bieber thing...I think your age has nothing to do with whether you're taken seriously. There are people in their mid '30s or wherever they are in their career, making generic pop music or whatever radio is doing right now, and they're not taken seriously. I take seriously 15-year-old friends of mine who make good music, but I don't take seriously 50-year-old people who just keep doing the same stuff over again.

NC: I think people also really like when people are being themselves and playing music that really comes out of them and not trying to sugar coat it at all. I think if you're doing that, no matter what it is, people are going to take it seriously. If you're cheesing it up a little bit or doing something that's really not you and people detect that. I think that's when the joking and the not seriousness comes into play.
MR: You guys cover a lot territory--you do rap, alternative, and also piano-based pop songs. You're not approaching it in the context of what formula is going to make you "break." So, what's your creative process?
NC: Dylan and I love all kinds of music. You probably can't name many artists or genres that we're not going to like, I think you can really hear that. In terms of the creative process...
DC: ...I would say it's not even a "process," it's song by song, it's song by song. A lot of the songs, Noah just writes and I play them. That's always a simple kind of formula.
NC: I've been freestyling and rapping for four or five years now, and love to do that. Then recently, I thought we should make some rap songs, we have the tools, we have the resources, and I think it would be fun. What I'm kind of amazed about is how different the songs come out, how many different genres can come out, and Dylan writes some cool songs. We're just not afraid to go out of the box and not stick to one thing. So, I think that's what makes us unique is that we're trying to give you a rap song, give you a rock song, and blah blah blah.
MR: When you're creating your songs, when do you get to the point where you say, "Let's go in and record it and make the video"?
NC: That point can take many sleepless nights. What happens for me is that I write this song, I will have structure, all of the parts in it, and I will have maybe a verse. Then I will sit on it for a while, then a couple weeks later, I will go back. Going back for me is the hardest part; usually, it kind of all shoots out. It can shoot out in twenty and thirty minutes, then coming back and finishing so you can go to record it, that's the hardest thing for me. I'm not in the moment anymore, and writing lyrics is tough because you have this big jolt of creativity and now you're struggling to finish it. I think I started writing "Above The Noise" a year before it was put up on YouTube. Usually, I don't write the whole song and have it done and ready on the first try; usually it takes a lot of time and a lot of rigorous writing before we say we'll record this and this is done. We could say, "This is not done forever."
DC: You're never done writing an essay--you just have to hand it in. Eventually, you have to say, "Let's put the nail in the coffin."
MR: Who are some of your musical influences?
DC: I think I can speak for the two of us when I say The Beatles, Bruce Springsteen, and The Strokes are the three things that we love more than most things in the world.
NC: I would agree, Bruce and The Beatles...you've got it there.
DC: You're not a Strokes person?
NC: Oh, I'm a huge Strokes person. I think Dylan and I have many similarities, and many differences. I'm a big Simon & Garfunkel guy. We are both big rock guys--Bruce, A Day To Remember, Foo Fighters, Ben Folds, Panic! At The Disco, Red Hot Chili Peppers...
DC: I love the Wu Tang Clan too.
NC: Then rap--Mac Miller, Big L, Eminem...
DC: ...I like a lot of metal like Emmure, Horizon, ...Prada, and Metallica. Stuff like that.
NC: Dylan likes a lot of the heavier stuff, I don't really like a lot of the heavier stuff. Dylan definitely likes that.
MR: The merging of both of your tastes is how you're exploring different genres in the band, right?
MR: Noah, when did you start rapping? Did it just blurt out of you one day?
NC: My parents made a mistake of showing me who Eminem was at age four.
NC: They basically said, "Here's the real Slim Shady, listen to the lyrics, they are really insightful and could teach you a lot." You can probably find a home video of me at age four rapping to Eminem, I know there's some video footage of that. Right off the bat, when I was really young, kid rap was become really big. It was already big, but it was only getting bigger. When you're that young, you can't actually rap because you're not capable of it. I think around nine or ten at tennis camp, one of the tennis instructors was a freestyler and he freestyled and I thought it was the coolest thing in the world. On a regular basis, we started to do it and I started to get a little better, and now I pump a freestyle every day and have fun with it. It started at a young age, I also have older brothers. Dylan is obviously my older brother, and then I have another older brother who is really into it. He was always playing it, so I kind of had to like what he liked. I was really just forced to be around it at a young age.
MR: Uh, Noah, you've done today's freestyle?
NC: I actually have, we just came back from band practice where there was a lot of freestyling.
MR: Do you care to share some?
MR: Wow, amazing. And thank you for the shout out man, I'm honored!
NC: If you ever want to impress someone in a freestyle, just figure out one thing that rhymes with their name and that's it.
MR: (laughs) Now, you just came back from band practice...you play live gigs. What are they like and where do you play? Mainly, in New York City, I imagine, because you're from there.
DC: We play a couple of fun places. We've done The Bitter End, Webster Hall...we played P&G when it was open.
NC: We just did our first out of town gig in the Hamptons.
DC: We actually went to play a show at Columbia University, which was awesome.
DC: We played it in the room where Vampire Weekend started. We try to kind of pick some faster, rocking, up beat songs that work well in a live setting. We sell our set with those, but then we periodically place some piano placed ballads. I think, sometimes, you watch a band, and a band comes out there and plays some songs and you say, "THAT was a show." We're trying to make a concert, we're trying to make something where you go through it and it's not just a band that plays five songs that sound identical. We have some songs that sound similar, but we try to space them out so that we have a well-rounded experience. Wow, I'm talking like a college applicant.
MR: (laughs) Dylan, you were a roadie on the Warped Tour for two weeks. What was that like?
DC: That was awesome, that was probably the most fun two weeks of my life. That was in July of 2010 with a band called The Downtown Fiction, I was their guitar tech. I had never been to half of the States we went to, and I had a great time.
MR: Are you looking for more opportunities to do stuff like that in the future?
DC: I'm not looking for it, but I would absolutely do it. I've been trying to make a point to do a little bit of Warped Tour every year for a while now. I did a couple of dates on this Summer's tour, and I went out there and hung out with some friends in the band called Patent Pending. They took me out on their bus and we hung out for a couple of days...it was an experience. I think everyone should do it. I'm trying to tour as much as possible, filling in, helping, whatever.
MR: Dylan, another little known fact here is that you sir are one of the A&R guys at Razor & Tie. You're responsible for the label's Artery Records deal. How did that happen?
DC: Originally, it was supposed to be a publishing deal. I had just got into the heavier music--this is back when they had bands like The Devil Wears Prada and A Day To Remember. I realized that I would listen to these bands like Chelsea Grin and The Crimson Armada and go on their Myspace or whatever their website was and saw the management was the "The Artery Foundation." I noticed that these bands had songs that were really good to me, but they needed a publishing deal. So, I brought it to the company and said, "You should do a publishing deal with this management company," and then I started to talk to Eric and I brought him in. Then, we just decided to do a full-blown label deal.
MR: Eric being one of the owners of Artery.

DC: Yes, Eric Rushing. He owns The Artery Foundation. So, we have about nine artists now, and I think we've done about 20 releases and going strong.
MR: You must have some pride about that.
DC: Absoluetly. It's a lot of fun and I'm very happy to be doing it.
MR: Okay, on to Noah. Dude, you visited Madison Square Garden via the keyboard. What were the games you played at and what was it like?
NC: Those were two Rangers games, and that was incredible. It took me up to the top of the Garden--basically, the ceiling. One guy controls all of the sounds you hear; if you ever go to a Knick or Ranger game and you hear the sounds, it's basically a guy with a bunch of pads just hitting them, and he's got the organ. The view up there is amazing, my heart was pounding. I played "Don't Stop Believing" the first time. Then, I played "Born To Run" the second time--your average Ranger fan is going to be a fan of those songs. I think those went well and I think it's something I will never forget.
MR: And you guys are not sports fans at all, right?
NC: I'm a big sports fan.
MR: How big are sports in your lives?
NC: Probably bigger earlier in our childhood, because there was just more time. I'm still in a rec basketball in the winter--Safe Haven Basketball League, shout out Safe Haven. (laughs) And we played a lot of tennis over the summer.
DC: We play a lot of basketball and tennis. I bike a lot. Also, my older brother is a college basketball player.
NC: Sports have always been a huge thing in my house--it's been sports and music. It's definitely been a big part of our lives. I'm a big NBA fan, a big tennis fan, and Dylan is the same.
MR: Enough sports. So, who's your audience?
NC: When you start off and have this high school band, you have one advantage over a band in their twenties--you're in high school seeing hundreds of kids every day. It's easy to ask a lot of kids to come to your show, that's an advantage that being in high school has compared to someone who's out of high school who's not in contact with so many people day to day. We have a lot of friends there at this point in our musical career, and we're starting to get some people we don't know. We definitely saw some people that we don't know at the last couple of shows coming out. Our audience completely ranges from young to old, from black to white. I think anything goes at a Box Story show. What do you think Dylan?
DC: I think it's a broad demographic for sure. There are a lot of bands that play to markets and they play one kind of genre of music, and those fans of one genre of music come out and that's the band and that's the show. We're so multifaceted that we have a very multifaceted audience. We have kids that come out that are dressed like rap fans, and you have the kids in the flannel shirts that are the indie kids that want to come out to hear some rock songs.
NC: And, of course, our grandma. We love her.

DC: It's a broad array of people.
MR: If you're young in New York and you want to play and jump up on stage somewhere, you're sort of restricted by age, aren't you?
NC: One thing about New York City venues over the past five, ten, fifteen years is that a lot of them are locking down on "21 and older."
DC: There's been such a rise in underage drinking in bars, so they really have to be careful like that. So, they're not inclined to let in a band where the majority of the members are underage. They know that we're not bringing in a majority of older kids, the average of someone at our show is 17.
Also, because of the economy, venues really need to make money on drinks. A lot of venues are going to definitely be a little restrictive letting in a band who's going to bring in all 16-year-olds. We definitely have had some disadvantages of finding gigs in the city, but we still have found some great spots.
MR: What advice do you have for new artists? I mean, considering you're new artists and all...
NC: I've seen a lot of interviews of bands, and it's hard not to say something cliché here. I would say be yourself. If you're really trying to start a fan base or trying to do this, being yourself is the first thing you need to do. You need to write music that you like, you also can't be lazy. That's one thing that I'm definitely learning. You need to make sacrifices. You may not go out one night, not go out to the party; you may finish this song you've been working on. Don't be lazy, and if you really want to do it, treat it like anything else. A lot of people will say that music is different than something like sports, and, of course, it is. But a lot of people will say that it's different in the way that you run it and there's no rules and that's what's great about it. There's no coach telling you what to do, there's no discipline, and at the same time, that's great. You need to be disciplined, and you need to know that music is this amazing thing where you could screw around one night playing music. But you need to finish the song or practice the guitar if you really want to stand out.
DC: I think you covered most of the ground there. But in life, if you want to accomplish anything, there isn't anything that doesn't require a great deal of focus and music isn't any different. It requires more focus because of the amount of people that are doing it and think it's so easy. If you're not going to focus on it, then I don't know what to tell you because that is really huge. You would be surprised how long it takes you to get to where you want to be.
MR: Dylan, as an A&R guy, you must get pitched constantly, but I imagine there's also some researching on your end. How do you A&R?
DC: I have a couple things that I do. You know The Agency Group? I love that agency. Whoever their booking clients are, they leave their clients out online. I have search parameters set so that whenever there is a change on their site, I get informed of it via email. So, a lot of it is kind of snooping around and seeing what other people are listening to. There's so much stuff to listen to; if you wanted to listen to everything, you would never leave your home. A lot of it is friends. I'm blessed to have friends that listen to a lot of different music, so I kind of look to what they're listening to. Of course, I follow a couple of blogs, and I'm actively searching for something cool only because there's never enough good music to listen to and if I like it, then maybe someone else will like it and we can talk about it.
MR: You're definitely taking your own advice on not being lazy.
DC: You can't be lazy and do it, you have to pick one.
MR: And of course, you're going to school.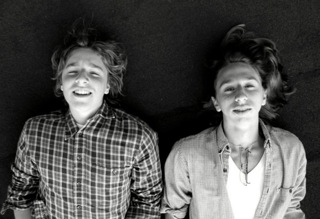 photo courtesy of The Box Story
MR: And making music...cue the music. You just released "Funky Elegant," but what's your favorite song of all you've recorded so far?
NC: Probably one that you haven't heard. (laughs) I'm writing some new songs that I think are my best songs, I'm sure Dylan is writing songs that he thinks are the best ones. But if you really want an answer of the ones that are out there...
DC: ...you're going to do something obscure, you're going to have to do some digging on this one. There's a song called, "I Don't Know."
NC: No, he's saying one that is out there.
DC: Well, it's on the internet somewhere.
NC: Well, one that he knows, come on.
DC: Probably "Above The Noise." There's also "Four Days A Week."
NC: I love that song. But I'm sure our favorite songs of ours are ones that haven't been recorded yet.
MR: What is one where you sat down and looked at the video, heard the song, and thought it was really cool?
NC: "Above The Noise," for sure. "See You Later" was a fun video to make. That song was cool, and out of the songs we released, that song came together quicker than the rest of them. The time between when that song was written and when we recorded and shot the video for it was a really short period of time. We're sitting in the living room where we record the "Four Days A Week" video, and that was really fun.
MR: I watched all of your videos and the one that keeps popping to mind is "Drift Away."
NC: I forgot about that song. (laughs)
MR: Okay, no more softball. It's time for a political question.
NC: What would this interview be without a political question.
MR: (laughs) That's right. Did you guys check out the Occupy Wall Street protests yet?
NC: I did, I don't think Dylan did. I checked it out a couple of days ago and I thought it was awesome. I was looking at the '60s. It was half and half--I felt half of the people had strong messages, knew what they wanted, and could speak. I thought the other half were there to hit on some girls, smoke some good weed, and overall, have a good time camping out in lower Manhattan. That sounds great, but I think it's awesome and it gave me a flashback to the '60s even though I've never been to the '60s, and I hope something positive comes out of it.
DC: I didn't check out the actual protests, but I plan to fairly soon. I've been reading about it online, and it's amazing that all of the other cities and countries are involved, stepping up and saying what's truly on their mind. I think it's always awesome when everyone is thinking it, but there's one group who's actually saying it and trailblazing for a bunch of other people to come through and show what's on their minds, I think that's great.
MR: It grew from 2,000 to 20,000, and there were the Brooklyn Bridge arrests.
NC: Our cousins were arrested. I don't know if you watched SNL the other night and Weekend Update. "So 700 protesters were arrested on the Brooklyn Bridge, because there's nothing less that these protesters want to do then go to Brooklyn." (laughs)
MR: (laughs) When you see stuff like this happening, do you get the urge to get involved? Or is it something you would like to learn more about and then articulate it better later?
NC: Of course. The fact that it's happening in our city, and the fact that it's such a real thing that's happening--it's people coming together and standing for something. If anything happens like that today, then I'm into it. If you look at the Middle East and protesters, you should be informed about it and you should have your opinions and believe something. You don't need to be in the protest or maybe you should feel that it's your duty and I have to do this for me and many other people. I hope it will only lead to positive things, and it seems pretty peaceful right now, so I think that's okay. It's also hard to know what they want. When I went there--I think it was Saturday--there was one person there with a sign that said, "Fed Pup!" Another person was promoting the environment, another person was handing out bibles saying you need Jesus. I think a lot of people are now using this as, "There is a bunch of people, let me take my cause and see what happens."
DC: What we're saying is we're booking a show down there at eight o'clock and we hope you will be there. (laughs)
MR: (laughs) Oh my God, that's hilarious.
DC: I also think the difference between this and the '60s is that in the '60s it was simple. Are you for the war? Are you not for the war? In terms of civil rights, are you going to discriminate or not? I think here it's a lot more complicated; there are a lot of different issues. People are fed up about more and that's the one problem with this protest. It's kind of hard to tell what these people actually want.
MR: Because there are so many things to protest.
MR: It becomes the venue to express being fed up, you the Tea Party is there too.
DC: I'm glad there's finally something on the left that's not like the Tea Party in the smartness factor, but like the Tea Party in that it's saying let's get attention and let's do something. I think there has been a problem in America the past couple of years, which is that liberals are talking about it, saying it, but not actually doing it. I consider myself a liberal person even though I can't vote. I think we're now watching people in New York not only saying it, but doing it. I hope only good comes from it, but I'm glad that's it's happening.
MR: Watch out for falling televisions.
MR: Noah and Dylan, this has been a lot of fun. I have one last question for you. This must be THE question that you get asked frequently. The Box Story...The Box Story?
NC: I would say from about 1999 to 2004, Dylan and I shared a room. Almost every night, our dad would tell us these stories where he would be like, "So the boy was in the kitchen and he went into the room and went into the box and the box twirled around." This kid in the story, basically, was us, and would go in this box in his room and twirl around to another time and place. He could end up anywhere--in the '30s in New York or on another planet. He would have this amazing experience, and to get back, he would jump into a hole, and when he came back, he would be going crazy. He would say, "Mom, dad, you would never believe what happened!" Sometimes, he would take his parents and they would have this amazing time, and when they came back, they would never remember it. So, it was basically this boy and his brothers, and he would call them "box stories." We would be like, "Dad, tell me a box story." The process of choosing a band name was so stressful. I don't know who suggested it.
NC: So, in the end, it was just like, screw it, let's do it.
MR: One last question. Do you feel like your current adventures in The Box Story are similar to those stories told by your imaginative dad?
DC: I bet for Noah it is, but for me, all my box stories were going to Pokeland and hanging out with all of the Pokemons.

MR: (laughs)

NC: I say no, but the one thing I'm never going to be able to do--I shouldn't say that--is go back in time. If I could do anything, that's what I would do, and I did go back in time a lot in these box stories. I'm going to give it a sad, but hopeful, "No."
The Box Story "Above The Noise" - Above All Else Remix
The Box Story "See You Later"
The Box Story will be performing at The Bitter End October 29th at 8pm.
Transcribed by Theo Shier
A Conversation with Sam Nelson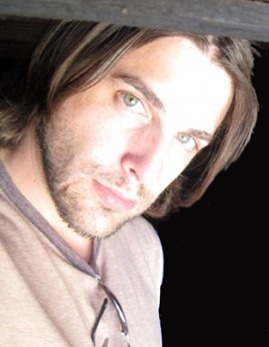 photo courtesy of Sam Nelson
Mike Ragogna: Sam Nelson of the group H Is Orange--how be you?
Sam Nelson: I'm good Mike, it's nice to talk to you.
MR: Same here. It seems like only yesterday.
MR: Anything happen since yesterday? Like, what's going on with H Is Orange, leave out no detail, go.
SN: Lots is going on, actually. H Is Orange is a rock project that I've been with for close to 10 years, but we've been recording quite a bit. We just put out a new album, it's an independent release, but we just got a song locked in with Guitar Hero. It's been on heavy rotation and it's been getting some good boosts. Hopefully, some touring possibly later, and intermittently, I'm dealing with a solo project, which is a lot more acoustic-based and organic. It's not as full throttle as H Is Orange is. I'm back East right now, but I'm going to be headed back West to the rest of the guys and we're talking about putting together a little tour. So, as soon as that happens, I will get the word out. Come check us out live!
MR: I guess this is that time when we catch everybody up on your relatives. We could start with that metal duo, Matthew and Gunner Nelson, from that group...what's their name again?
MR: Yes, that's it. Also, there's your actor sister, Tracy Nelson, who was kind enough to be my friend on Facebook. I feel like an honorary member of the family.
SN: Well, you are a part of the family, so that's a given.
MR: (laughs) And there's another famous duo you're related to, Ozzie and Harriet Nelson, your iconic grandparents. Can you take us back with their story and how they became part of American pop culture?
SN: Absolutely. My grandparents started off in the start of radio when it was a mechanism to get information out there. Initially, my grandfather Ozzie started as a band leader; he actually had one of the biggest big bands in the country. He had a few number one hits, and during that period, he met my grandmother, Harriet. They then started a banter thing back and forth, so it became somewhat of a comedy show and, at the same time, a musical endeavor that you would go and experience. It was a full service show at the time and it became extremely popular throughout the country. This was when radio was pretty much your only ability to get aware of projects or new bands. They got picked up, and from there, they went into television.
They initially started a radio show that was to become The Adventures Of Ozzie & Harriet. Initially, it was a sitcom on radio where they would go back and forth, and it was a family-based sitcom; there wasn't really much to change. They initially had two young actors playing their sons for the first four years on radio. They did several episodes and because of its popularity and because of the timing of things, it was a stroke of luck my grandfather had the ability to transition into this new, unbelievable, scary medium called "television," that nobody had ever taken part in. They transitioned the show from radio to television and it became a huge hit. It was one of the only shows to watch on television, it was during a period of time when there were four channels on, and because of their national broadcast, the entire country got to watch their show.
From there, my father Rick and my Uncle David filled in for these child actors because on a whim, my grandfather brought in both of them to see how they could do in terms of reading lines and how the audience responded and they loved them. My father was the wise-cracking, punk kid. So, they soon transitioned my real dad and my real uncle into a show about my real family. It was kind of reality television before there was a reality television. My grandfather was incredibly prolific; he was a lawyer, but he wrote, directed, edited, performed all of the music, and did all of the queues by himself. Basically, it was a one man show that way. Obviously, he had help with writers that worked with him, but he was the guy. He was the guy that dealt with contracts and he dealt with the nuts and bolts of everything before anybody. He was the first to come up with incredible contracts to lock them in for extraordinary amounts of time on the air with the incredible sponsors that they had for the show. It was just a fantastic time.
MR: Was this the first show of its kind?
SN: It's the first family situation comedy, yes. There was The Goldbergs, which was technically the first sitcom. But Ozzie and Harriet was the first most popularly received, I should say. Ozzie and Harriet was in there as one of the first.
MR: And after Ozzie & Harriet came shows like Father Knows Best and The Donna Reed Show.
SN: Exactly, and I Love Lucy followed-up. It was the torchbearer for all other situation comedies in the history of television.
MR: Of course, Ricky Nelson's wisecracking and timing was a really major element of the success of the show, right?
SN: Absolutely. After a certain period of time, little punk kid Ricky started getting cuter and cuter to young ladies in the audience. My grandfather was an innovator and a genius, but the premise for a lot of the episodes is what happened in the family. As the story goes, he walked by my dad's room one afternoon and heard a record playing. He asked, "What is that?" It was apparently at the time you could go down to Hollywood and Vine at the corner there and they would have a record store where you could walk in and sing a song and it would burn to vinyl and you could take it home. My dad sang, "I'm Walkin,'" with a bunch of friends one afternoon.
So then my grandfather walked by my dad's room and said, "That's amazing, I want to write a show about that," and he did. I think at 17 years old, my dad sang "I'm Walkin'" on the air at the end of one of the episodes, and as smart as he was, my grandfather made sure there was a record in stores for the following Monday because that show aired on Sunday. "I'm Walkin'" sold a million copies in a week; he went from a punk little kid to one of the biggest musical stars in the world. From there, his own star just took off. From then on, my grandfather saw that as an opportunity and made sure my dad's performances were very limited for the whole period of the show. He made sure he didn't play extraneously or he didn't do other shows ever. He only did the Ozzie and Harriet show, which forced the fans to watch the show. His performances at the end of the show would be the gem that people would wait for.
MR: That format paved the way for shows like The Monkees and The Partridge Family.
SN: Sure, absolutely. The thing that's great on top of that was the length of the show, it lasted for 14 years in national syndication. It is still the longest running, live action sitcom on television. It's absolutely due to people's communion with the family, the fact that they loved the chance to grow up with them, which is really what they did. They grew up with my dad and my uncle being little boys to being older men. You have an entire generation that grew up with the family. In addition to that, there was my dad's performances and breaking out and doing his own thing. It was this incredible experience for people to take an artist and grow with him. It was very new and very innovative, the concept was innovative and it worked.
MR: You're now cleaning up and getting the old episodes ready for release with a bunch that are already done. What's the cleanup process like...and you're using the Kickstarter paradigm, right?
SN: That's exactly right. To back up a little bit, I'm co-trustee of the Ozzie and Harriet trust. I was with my Uncle David who just passed away and after he passed, I was given access to family vaults, and was able to go in and look at the vast generations of Nelson family material. It spanned radio, film, and television--an unbelievable amount of material. In that, I found the original episodes for the entire seasons--435 episodes and the finest quality, never before seen footage, behind the scenes footage, and interviews, all of that stuff that was just sitting there for years. Digging deeper, I noticed the materials were starting to deteriorate, so I tried to put my head together and figure out a way to start restoring and reviving. I did some research and talked to some friends, and they recommended a website called Kickstarter. Kickstarter is basically defined as the number one indie funding platform in the world for independent projects mainly based in arts and entertainment. Usually, they will take a new artist and newer project and try to acquire funding for it. There's a period, if you have a number in mind and you can get to that number or surpass it, you get to keep it at the end of the period. If you don't, you don't get anything, it's an all or nothing funding process...it's pretty incredible. (Note: Ozzie & Harriet Kickstarter Page)
I was concerned about how the project would be received, so I tried to be creative and create a project that took Kickstarter even further and instead of taking something new, I could take this asset that is a legacy asset and put it through Kickstarter and breathe new life into it and approach it from a new place to help in the process of revitalizing these episodes. The thing that was really important to me was that I really wanted people to participate with us in this process, and that's exactly how Kickstarter is based. People come in and they participate with you to help fund your project; in exchange for funding, you offer awards. They could be anything. Our rewards are little more creative because of these elements that we found in storage. For example, we have drawings and sketches that my grandfather Ozzie did when he was in college, so one of these awards are one of his drawings. So, it gives an intimate personal feel and it's something nobody has seen. It's not out there for the mass market. Of course, we have Ozzie & Harriet T-shirts which are cool and have never been done before--there has never been any merchandise for Ozzie & Harriet, so there's that avenue.
The biggest thing is you can actually sponsor an episode, and there are 435 episodes total--14 years of national syndication--and you can basically take your favorite episode and be its sponsor. Along with credit as the official sponsor, you go down in history as the person who did it and made it happen. So, Kickstarter, I see as this unbelievable tool. This is a time we live in that has been an incredible perfect opportunity. It does exactly what I want it to do, in terms of helping the process of getting the shows out there again. The goal is, from there, to broadcast, and that's another revitalization. I'm also doing a documentary on the side about doing the revitalizations. I've interviewed people involved with the show, plus editors, writers, and actors who were closely involved and are still around and have that document footage. I want to get "the people side," the fans who grew up with the show. The Kickstarter project has been launched and I'm already getting these stories from people that grew up with my family. I want to document those and put that footage together about the revitalization of the show. So, it's kind of like a two-fold process.
MR: Didn't you do something similar for funding an H Is Orange project?
SN: Actually, way back when, there was no such thing as Kickstarter, but during our first tour, we were in need, so I actually put something together called "The eBay Song." This was in the beginning days of eBay, and we offered our fans the opportunity that we would write a song for you if you helped fund our tour, which was the gist of it, and we got funding for our tour. The idea was that there were two fans that came in and helped us and we just got a checklist of who they were as people, and the band got together and wrote it for them, and it's actually up on YouTube right now. It's called, "Where You Belong." It's the premise of people participating in their own experience. Nowadays, instead of having that "this side, that side" wall between entertainment and art, I love the idea that people can be a part of your experience. Really, that's what Kickstarter does and encourages, and it's a perfect place for the Ozzie & Harriet reviving project to be launched from.
SN: It's tricky. Our preliminary goal is ten thousand dollars, that will help get our foot in the door to get our process going. 435 episodes is an unbelievable amount of material to go through...the real ultimate goal would be about fifty to sixty-thousand dollars. The ten thousand dollar mark will put us in a fantastic place to help snowball the rest of the donors.
I really want to be the first here with you with this interview to state this is an incredible tool. I really encourage anybody with a project that historically speaking is important and needs to be recognized, I would use this as the tool. When Kickstarter is over, when the term is over, the official Ozzie and Harriet site will go up. There's a preliminary page right now; it needs a little tweaking, but that will also have a follow up that will be Kickstarter-like, where you can continue to donate. When the first batch is done, we can go back in and say, "Here's the listing of the episodes, come on in and sponsor one." In addition to the Kickstarter project, we have something really fantastic happening--a potential Ozzie & Harriet induction to the Smithsonian museum. I'm trying to tie this into the Smithsonian--be it a first batch, or be it all 435 episodes--to be released at the induction of the ceremony for the Smithsonian.
MR: Now, UCLA has come into the mix in the past when old movies, recordings, etc., have needed restoration and storage. Have they been involved with this project at all?
SN: Yes, they're amazing. They aren't necessarily involved particularly in the restoration because of the amount of materials, but with regard to housing and preserving, they have been seminal and incredible. We're also dealing with The Library Of Congress in Washington D.C. to deal with the other portion of the materials. The issue too is that my grandfather was incredibly meticulous, and at the time, had multiple copies of the episodes. So, he would have three different copies of 35 millimeter fine grains just to have them. He would have three copies of 16 millimeter of the same episode, and he would have formats that don't even exist anymore like 35-32s. It was daunting to go into storage and figure out where to even start with it. Everybody has been incredibly helpful--UCLA, The Library Of Congress, and other resources in terms of housing and preserving and cleaning up. It's definitely been a full team effort. This Kickstarter thing is great because you can give the rest of the team--which is the people, the fans and the friends who love the show and haven't been able to help in any way--give them the opportunity to dive in and be a part of the process.
MR: Now, with all of these being cleaned up, and because it's been out of circulation for so long, can Ozzie & Harriet be reintroduced to places like TV Land or even PBS stations because of the historic nature of that show?
SN: Absolutely. To have this as a family asset is incredible. From a branding/marketing point of view, most companies spend their lives taking something that they built from nothing and try to have people recognize the name. With Ozzie & Harriet, you can go up to anybody in the street and ask, "Hey, do you know Ozzie & Harriet," and they go, "Yeah, I've heard of it." You ask, "Do you know what it is," and they have no idea, and you look at that and think that's incredible because it has such a weight to it. It's such a part of the American lexicon, it's such a part of Americana. It deserves the building of that foundation, and that's what my goal is...to build that foundation. People are aware of Ozzie & Harriet, and now it's about why it's important and let them be a part of that process.
MR: The show not only has cred based on its historical importance, but also from its introducing music through your dad who was America's first teen idol, right?
SN: I think the term was actually coined for him in Life Magazine. The music carried the show; when people talk about Ozzie & Harriet, my dad was kind of a satellite within the show. He was definitely the thing that people were drawn to and the music was something that people were drawn to. But, you know, my grandfather Ozzie was a hit maker himself in his own day. He recognized how important, structurally, music was to the premise. I think he, in many ways, deserves as much credit as my dad does. My dad was an incredible talent all to himself, but my grandfather Ozzie recognized that.
MR: Where I was going with that was it also was a show launched your dad as well as young sounds of the era such as rockabilly.
SN: Absolutely. It's funny, there was Elvis and there was my dad. Then there was a slew of teen idols fabricated after the fact. Elvis was the renegade, he went up there and he scared parents. I think there was a biography done on my family, and it was addressed that my dad was accepted by everybody because of the show. Parents enjoyed and appreciated it, and said it was a wholesome enough show that they didn't really see the danger in it. Then, like a Trojan horse, my dad came in with rockabilly, this California sound, and then brought rock 'n' roll into mainstream America. He smuggled it in through their televisions, unbeknownst to everybody rocking out to Ricky Nelson. But it was okay because it was a part of the
Popular in the Community