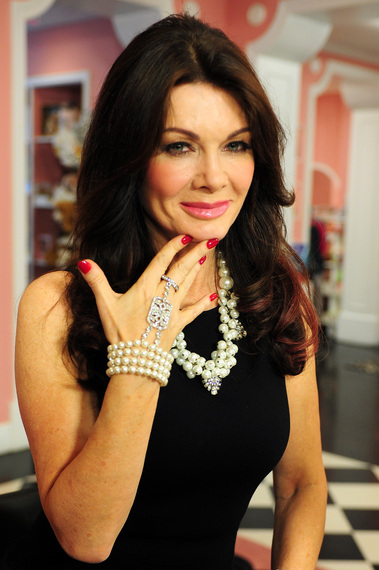 photo cred: Getty

Lisa Vanderpump is the fabulous aunt you've always wanted and the doyenne of personal style. It was a frigid cold Friday the 13th when I headed over to the uber fancy Plaza Hotel's Todd English Food Court to chat with Lisa on her new namesake jewelry line that's being sold exclusively on EVINE Live, a digital TV shopping company. Lisa is arguably the most dynamic woman in business and it's safe to say that she's well-liked on and off camera.
The EVINE Live hosted a Valentine's weekend special featuring many new and exclusive launches, plus some customer-favorited brands. New proprietary brands scheduled to debut during that weekend included Lisa Vanderpump Estate Jewelry,The Countess Collection Fashions (by the Countess LuAnn), as well as a special unveiling of The Plaza Waterford Collection, which explains why all the cocktails and champagne were served up in luxury. Aside from Giggy and Todd hanging out with matching outfits, I also met Paula Deen's husband while nibbling on a piece of chocolate and sipping rosè at the bar. Paula Deen provided some of the delicious food for the launch event that night.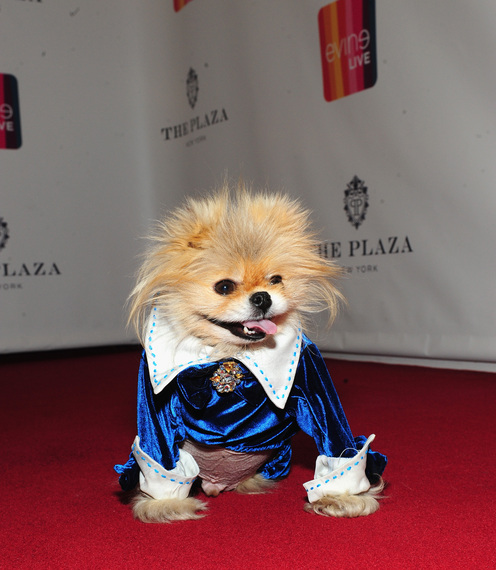 photo cred: Getty

Just minutes before Lisa went on EVINE's Live broadcast, she gracefully plops down next to me on a suede love seat and casually pulls out a compact mirror to touch up her lip gloss. In that moment, I excitingly comment on how much jewelry she was wearing, which was apart of her new collection. "Doesn't this all look so real!" She says, remarking on the pearl and glass-bejeweled statement necklace and ring-bracelet combo that she grabbed straight from her purse! (Apparently, it was sold out already.) Lisa took the words right out of my mouth, because yes, I thought everything she was wearing that night was the real deal, and not glass replicas! Here's what I learned from Lisa Vanderpump in about fifteen minutes.
On Owning Decades Worth Of Jewelry
"Have you seen my closet?!" Lisa asked me. Just a quick google search will render numerous of videos of what seemingly looks like a deluxe-size apartment but it is in fact Lisa Vanderpump's magnificent closet. Lisa Vanderpump has been collecting jewels for years, so the process of creating Lisa Vanderpump Estate Jewelry Collection was a dream. The collection incorporates designs from her personal favorite necklaces and earrings, as well as chic bracelet sets made out of glass stone that can be worn to a black tie affair or in the office.
On How To Accessorize Your Outfit From Day To Night: For the modern day busy lady, taking your accessories from day to night is tricky. Lisa does not recommend carrying around expensive jewelry in your purse for obvious reasons, so ankle cuffs are the perfect fit for a quick transition to glam. Ankle cuffs are super trendy these days because they will dress up a basic heel! Lisa was actually modeling the ankle cuffs from her collection that night and took them off to show how easy and weightless they are to put on! Not to mention, they are super affordable, under $50 for a set.
On Her Most Memorable First Piece Of Jewelry:
It is Teri Hatcher 's diamond-scoop James Bond Necklace. It was a gift from her husband, Ken Todd.
On Advice For Love And Dating In The Spirit Valentine's Day:
"How do I get this?" I asked, touching Lisa's huge engagement ring. "You have to kiss a hundred frogs before you marry a frog." She responds.