GOODNIGHT MOONSHINE'S "DARK SIDE OF THE RAINBOW" MASHES PINK FLOYD WITH THE WIZARD OF OZ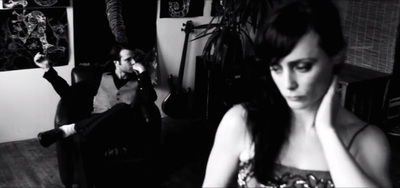 photo courtesy of Seth Cohen PR

The video of the song "Dark Side of the Rainbow" is a mashup of Pink Floyd's "Time" from Dark Side of the Moon, and "Over The Rainbow" from The Wizard of Oz. Their aim is to pull back the curtain not only on the urban legend of the Pink Floyd album but also to reveal the tension that often exists within a new marriage.
According to Eben Pariser...
"The whole thing emerged from the 90s phenomenon of syncing The Wizard of Oz movie to the Dark Side of the Moon album, and all the speculation that the coincidences were way too precise for Pink Floyd to not be in on it, especially since they were making movie soundtracks at the time. When I was 16 (after allegedly indulging in the stoner-sport of syncing the film to the album,) I spontaneously realized that 'Time' was in fact a perfect reharmonization of 'Over The Rainbow'--but it took me 16 more years to find the right vehicle to record and perform the mashup, in my lovely wife Molly and our collaboration, Goodnight Moonshine.'"
According to Molly Venter...
"We set out wanting to convince people that Pink Floyd intentionally synched the album to The Wizard of Oz. During the filming, we realized how closely the 2 sets of lyrics paralleled the different sides of a longstanding philosophical argument we'd been having; Venter believing that much in life is out of one's control and that we must remain hopeful and optimistic, Pariser believing more in the power of individual will and action, and that missed opportunities are one's own fault. Through the taping we recognized we were each trying to convince the other of our own life perspective. The video captures how painful that endeavor is. We're a newlywed couple, letting you in on our life together through our music. All the good stuff, but also the dark stuff, challenging stuff--the stuff that often goes unsaid. No kitsch. And largely positive and healing through the revelation that we are at the core, just normal folks trying to make a marriage work. A positive loving relationship, and a deeply artistic and somewhat daring one."
For more on : http://www.goodnightmoonshine.com
******************************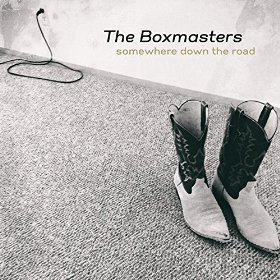 A Conversation with Billy Bob Thornton
Mike Ragogna: Billy, your group The Boxmasters has been working on its double CD Somewhere Down The Road for a while now. How does The Boxmasters hit you these days as opposed to when you were just starting out with the group?
Billy Bob Thornton: In the beginning, we didn't really know how long it would last. It was kind of like a side project for my solo stuff. We thought we'd make that record and maybe another one and that would be it. It began as a sort of stylized thing. We were experimenting with a combination of British Invasion and hillbilly music and putting them together and wearing the suits in tribute to the sixties, which is the era we love. The first two or three records were almost like art projects. Like I said, they were very stylized. If you remember the first Boxmasters record, it had transitional music, so it never stopped. We put an extra CD of covers in each record as a bonus, songs we loved and that inspired and influenced us.
After those records were done and we parted ways with Vanguard Records, we thought we'd gone as far as we could. Then all of a sudden, we just started writing songs and playing the way we naturally sound as opposed to trying for a specific thing. On the first record, we were doing Mott The Hoople, The Beatles, The Byrds and singing it like David Allan Coe. Then JD and Brad and I started writing these songs and we just played them the way we naturally sound. As it turns out, the reason we made this new record a double is because we sound like two things. We have that moody sort of dark, atmospheric sound, and then we have this very late sixties LA country rock sound in the vein of The Byrds, Buffalo Springfield, Burrito Brothers, with some influence of Petty and people like that. We discovered that that's who we really are. We've written probably two or three hundred songs that aren't even on records; we've got five or six songs that have already been mastered that aren't out. We're just going to sell those records on the website because we've got so many. That sound on Somewhere Down The Road--on the first side especially--is kind of what those other songs sound like. We've kind of finally settled into that.
MR: Do you feel like you guys reached this point creatively because of what's going on in your personal lives? Maybe you've "matured" in some ways, if that's the right word?
BBT: I think that's a good word for it. We have matured as songwriters, musicians, singers, everything. I think you can't help doing something for so long that you're just going to get better. We've gotten better over the years. I think we have more confidence. We know we can write songs and we know we can write songs that people can respond to as opposed to whatever weird stuff is in our head that we experiment with. I think we have definitely matured. I think recording is probably my favorite thing to do in music. We love playing live, that's a great thing, but being in the recording studio is such a part of our souls and so natural to us. I love acting, I love doing movies and I love music, I love them all equally, but I think I only like the process of actually doing the stuff. I love the process of recording, I love the process of doing movies as an actor, I just don't like all the other junk that's involved with it. So maybe in the recording studio, you just feel exempt from everything when you're in there. It's like you're hidden in a cave somewhere alone doing what you're feeling in the moment. I guess that's why we recorded so many songs; we just keep going. Even ones that aren't intended to come out maybe. We get an idea for a song that probably isn't commercially viable but we record it anyway because we want to.
MR: The process is more important than an end result. How is your creative expression different or the same in the fields of acting and music?
BBT: They both really do feed my soul. Not only are they both very cathartic--I know that word is probably very overused but they truly are--but I just love the artistry of both. The thing is you get to experience what's in your mind in different ways. It feels the same inside, it's just as good both ways, but you get to experience your art in a different way. But to me, they're really the same thing, just expressed in different ways. I never expected to become and actor of any stature. It just kind of happened. Because of that I always approach things this way: I'd rather have a hundred or two hundred really hardcore fans than millions of fans who just treat it like anything else and you get slagged off half the time and some of them are sort of interested or some hate it and some like it. It's that end result thing you were talking about. I don't do anything with that in mind. I never expect that we're going to have a hit and I don't particularly care if we do. It would be wonderful, but that's not why we do it. That's not why I do anything in movies either.
MR: You talked about fans who would really "get" what you put out. Can you identify what that kind of fan is, what your core fans love about The Boxmasters?
BBT: Generally, our fans are people who like an eclectic mix of things. They're people who aren't diehard rock 'n' roll fans or die-hard country fans, it's kind of hard to identify our music and I think it's kind of hard to identify our fans. We tend to have fans that are either forties and fifties and up or twenty year-olds. It's sort of that middle range in there, people from thirty to forty, I don't think we have as many of them for some reason. That could be because of whatever time they grew up in. I think maybe people in that age range were sort of spoon fed a particular fashion statement and things were put in boxes more when those people were growing up, whereas when I was growing up everything was very eclectic. I listened to Hank Williams and The Mothers Of Invention in the same day, and the radio would play James Taylor and Black Sabbath on the same station.
I think maybe the reason we have some younger fans is because that's sort of starting to come back around. A lot of people are really down on music right now, but I see that even sometimes people of my generation are the ones trying to fit into a mold more and more. You see guys who were singing Vietnam protest songs and now they're on the cover of a magazine doing a duet with a pop star so they can remain current. I'm finding that some of the guys in the younger bands are real fans of The Boxmasters because they themselves are looking for their thing like we were in the sixties. So when they hear something slightly off the beaten path they really dig it. I actually have hope for music right now. I really do. I didn't before. Everybody knows the eighties was kind of a bizarre generation. The nineties had a little resurgence but then it kind of went away for a decade or so, but I think it's really coming back. People are looking for different things. People are listening to certain metal bands as well as Mumford and Sons or the Old Crow Medicine Show, people like that. I think it's on an upswing. Also young kids, say teenagers up until young twenties, are discovering The Beatles and Buffalo Springfield and Aerosmith and whoever it was along the way. There are plenty of twenty year olds who listen to Deep Purple and Zeppelin and The Who and everything like that.
MR: Since you're a pretty solid music expert, doesn't understanding what went into making classic, high-quality albums make the process a bit intimidating for you? Like how do you balance striving for that caliber while just expressing yourself and letting creativity flow?
BBT: I think it's two things. One is never forgetting history. Never forget that history of all the great classic albums over the years, letting them influence you and not being ashamed to say, "Yeah, absolutely, we were trying to be The Beatles" or The Stones or The Animals or whatever, that's our desire. The bar was set very high for people of my generation. We all wanted to be The Beatles and we knew we were never going to be, that it was going to be impossible. You're always reaching for an impossible goal, so you never get lazy about it. You're always striving and you're always desperate for acceptance and approval and everything. When the bar has been set that high you just never stop trying. At the same time, a good part of that is you have such great music and songwriting to draw from, you let it wash over you and influence you.
The second part is that you have to remain open to new things. We're not trying to just copy old stuff that we love. We're knot like that. We're truly not the old guys chasing the kids out of the yard. We really do respect the evolution of music. I think you have to be open, respect the evolution of music and at the same time hold on to your history. You put those two things together and it's very satisfying to you. Whether anybody is going to respond to it or not, that's up to them. We have no control over it, but for us, if we accomplish those things, always striving to get better, always striving to be open to new possibilities and yet never letting our history die in our minds, the best of you comes out and you know at the end of the day that you're not leaving any stone unturned. It's very satisfying.
MR: These two CDs represent a fraction of the songs that you've recorded. So what was the assembly process like that led to this particular album?
BBT: We were writing new songs to make an album, but when you're writing songs, one day you may not feel a song that's in that vein, so you write something else. It's like, "Well, that doesn't belong here. I love the song but it just doesn't belong in this particular group of songs that we started." So we took the maybe twenty or so songs that we had that were new and said, "Wow, we've only got five of these jangly, Byrds-like LA rock songs and we've got seven of these moody things. That doesn't make one album." So we went back into some of the songs we'd written before. I think the earliest ones on this record are from 2010. There were two or three of those that exactly fit what we were doing now. We had started writing this whole record of very sixties-like songs using a Farfisa Vox Continental Organ, and we said, "You know what? If that organ was a B3 instead those songs would totally fit this record." So we had Teddy Andreadis, our keyboard player, just come over and replace the Farfisa with a B3 and suddenly they belonged on the album. Once we got those songs together, the label people, Mark and Tammy Collie who signed us to 101 Ranch Records, had certain favorites that were in the moodier side. We side, "Gosh, we don't want to put out just a moody record right now because we want people to hear these pop rock songs. Let's ask them if we can do a double album." They were all for it. I guess, as they say, it was no skin off their nose. We ended up saying, "Well look, these are the songs we love; let's just make two records."
So we wrote new songs and collected ones from other recording sessions that just fit and ended up with the two records we really wanted. The other five or six records that we had finished we didn't want to break up because they fit together too. There are songs from all of those records that could've gone on this, and as a matter of fact some songs where we were like, "I wish we could put this on here, it really fits," but we didn't want to break those records up. As a result, we ended up saying, "We'll sell those on the website at a later time." We do have a real nice cult following, people who really love us. There aren't a lot of them, but they're great. We thought, "What we'll do is we'll even maybe put out five song or six song EPs of songs we don't have enough of that style to make a whole record." Some of them are even in demo form. We thought it might be interesting every now and then to put on the website a five song EP of songs that aren't even finished, so people can hear what it's like before, say, the lead guitar's on there, or there's no background vocals or something like that. Then later on, we'll finish those and put them up finished.
MR: To me, the title track, "Somewhere Down The Road," is the centerpiece of the album. For you, are there a couple of other tracks that are really important for the project?
BBT: There's a song on the first side called "This Game Is Over" which is a particular favorite of ours. On the moody side there's a song called "What Did You Do Today?" which I think is what they're putting out on Americana radio mainly and a song called "Somewhere" that we're really in love with. It's a very different-sounding song. It's got a very different chord progression and I sing it slightly differently. But you love all your songs and you hope other people will, but sometimes you might have a favorite song that nobody else responds to and then you have another song where you say, "Eh, that's kind of a standard song," and everybody's crazy about it. You never know. But "This Game Is Over," a song called "Getting Past The Lullaby," which I think is a beautiful song. Anybody who loves their mother is going to love that song.
MR: What do you feel about The Boxmasters' legacy? When you look at this body of your work as well as the unreleased albums, what are your observations?
BBT: I truly believe that if we had been twenty-five or thirty years old in 1968 or 1973, we would have been a huge band. I think we probably make music the way we do and with the passion that we do for thirty or forty years from now and not for today. I feel that someday, we will be an appreciated band, so I kind of look at it that way. We do it for ourselves and we do it the way we feel. We don't craft anything tailor-made to be a hit, but I do believe that someday when people hear the thousand songs that we have I think some music geek is going to say, "Hey, you know what? I think these guys are worth their salt."
MR: Billy, what advice do you have for new artists?
BBT: I would say first and foremost learn the history. It's like for you, as a journalist and as a writer, someone who is a fan but also makes a living at it, if you didn't know who Walter Cronkite was, or Edward R. Murrow or Mark Twain or Jim Morrison or Chuck Berry was, if you weren't real familiar with them, then you don't have the education that it takes to truly be an artist. I would tell them, "Don't just look at what's shiny and bright in front of you right now. Always learn your history." Also, if you're a singer or a guitar player or whatever it is, even if your intention is to become famous doing whatever's popular, if you're content to let someone else write the songs and you just be the artist, I would say still write anyway. Even if you don't intend to put it out there, even if you don't feel it's good, I think writing is an exercise that just makes you better whether it's ever going to be seen or heard by the public or not. And write it from your heart and do it the way you feel it. Don't try to copy anybody. Even if your life is going to be about copying and becoming popular and doing the current thing, I think it's still important to create what you naturally create. I think it makes you better as a human being and as an artist.
MR: Excellent. Now what's your advice to yourself?
BBT: I think probably the number one best piece of advice for myself, and it's so hard to do, is to ignore the comments of the now millions and millions of critics. Now with social networks everyone has an opinion and if you rub them the wrong way there's not anything you can do about what they're going to say. There's seriously nothing you can do. So in other words, if they've got a bee up their ass about you, let's say you say something stupid in public and it gets on the news, what an ass you are, if you apologize publicly, which has become a popular thing--"I'll apologize to everyone"--they'll say, "Oh, he only did that to help his career." If you don't apologize, then you're an asshole for not apologizing. In other words, I'm trying to learn that there's not a thing I can do about the people who hate me on the Internet. Nothing.
As an artist, you're sensitive by nature, and probably a little unbalanced, so it gets to you more. I'm trying to learn how to not let my oversensitive nature overtake me and make me stick my head back in the cave and not want to put myself out there. You have to do it. There are a lot of people out there who suffer from this. A lot of people have made comments like this throughout history but I think Jonathan Swift said something like, "...if what a certain writer observes be true, that when a great genius appears in the world, the dunces are all in confederacy against him." I think you just have to get used to the fact that you're doing what you love and what you feel and you are at least doing it, so anybody who's willing to stick their neck out--and I don't care if it's the silliest part on the silliest sitcom out there or the deepest Marlon Brando performance out there--both of those people have something in common. Both of them were willing to try.
In that sense, you can't separate anybody in the entertainment business, no matter if they're a lightweight or real heavy. If you make a silly, syrupy pop record or you make some masterpiece like Dark Side Of The Moon, the one thing those two have in common is that they both put their necks out of the cave. They're both willing to do something, so you end up being talked about by people who are not doing anything. We have to pay attention to the people who do, not the people who talk about the people who do. That's the biggest lesson for me.
MR: Wow. So are you looking forward to the tour as a way to get your head fully back into music for a while?
BBT: Yeah, I really am looking forward to it, especially since I'm going out with Brad and Teddy and J.D.. They're my friends. I don't have a lot of close friends, I have a lot of acquaintances, but I'm going to be out there on a bus with guys who are my friends and who I spend time with anyway. There's a certain family camaraderie there. The only bad thing about touring is it's not a good place for the kids, on the bus and everything. My daughter Bella is now ten. She's going to be eleven in September and I'm going to miss her a lot. It's thirty-five days, but thirty-five days when they're ten is a big deal. That's the hardest part of touring. On a movie, it's different, we just got back from New Mexico and the family went with me because you're in one spot. On this you just can't do it. And we're not spring chickens, either. It's not like when we were younger. I used to rodeo and I could sleep in the front of a truck while some guy's driving. It's not like that anymore. We all try to take all of our vitamins and get ready to go.
Transcribed by Galen Hawthorne
A Conversation with The Boxmasters' J.D. Andrew

Mike Ragogna: J.D.! You good?
JD Andrew: I'm good! I'm trying to shake the nerves of getting ready to go on tour. I haven't had a tour where I left my kids for longer than four or five days, so that's a little nerve-wracking right now. Last time I didn't have any kids when we went so I didn't have to worry about it.
MR: What's it like juggling your music duty and being a new dad?
J.D.: Most of the time it's not too bad. Billy sold his house a couple of years ago, so we don't have the studio in the house anymore, so we don't work six days a week fifteen hours a day anymore. If I had the kids and we were still doing that schedule I would probably shoot myself. It's a lot easier time now, we just go and record when we have some songs or have some time. It's a lot more relaxing, especially when the kids don't sleep at night.
MR: So this new album is a double CD, which is pretty ambitious. How did you approach this one? You recorded it progressively over the last few years, right?
J.D.: Mostly. This one was done mostly at Henson studios, some of it was done over at Billy's house previously, but it started in about 2013 sometime. Brad and Billy wrote "This Game Is Over" and "Sometimes There's A Reason." I would call those two songs the touchstones for at least the first CD. They're all original, both CDs. The first one is kind of more rock 'n' roll and jangly sixties country rock stuff and the second one is more of the moody singer-songwriter stuff, more like Billy's Beautiful Door record, using his Warren Zevon influences and doing that sort of thing. I would say three-quarters of this stuff was all done in the past two or three years. Some of it is from five years ago. When we initially met with 101 Ranch they were like, "Give us a record! We want to put it out." We had so much back catalog material and records finished we initially started just picking songs from everything but we said, "We really want to keep these other records together and release those as they are at some point," so we said, "Why don't we just do a double record?" and the label went, "Sure, why not?" That was in some ways easier for us, to concentrate on two different sounds, the two different things that we do rather than figure out how to mix the two together.
MR: How has the band evolved sonically?
J.D.: The other projects were more hyper-stylized. We were really going for the combination of the early sixties/hillbilly/British invasion stuff. We made very definite guidelines on what were going to do, what we weren't going to do, what equipment we would use, things like that. As we've evolved we've evolved into playing how we play naturally. It's still got all of those sixties influences, it's just a little more--I don't even want to say "modern," it's just a little more relaxed in its stringency to those kinds of rules that we set before. It's kind of jangly rock 'n' roll.
MR: So it's like Boxmasters 2.0.?
J.D.: Yeah. Brad Davis is playing lead guitar on this stuff, we had another guy on those first couple of records. Not that they do a lot of things differently, it just is a version two. Brad Davis and Teddy Andreadis are now official Boxmaster members. We're a four-piece as far as documentation goes. We've got six guys on the road. It's just become more of a straight rock 'n' roll band at times with crazy moody psychedelic stuff in it.

MR: How are you going to perform this project on the road? And what have you learned from being on the road that you're now applying to Boxmasters' music?

J.D.: We've always kind of been a straight-ahead rock 'n' roll band on the road. We sound big, we play loud. Right now it's two electric guitars, an organ, a bass player, a drummer, and Billy's out front and we just try to fill it up, but this time we are doing some shows at smaller venues where we're going to do a slightly more stripped-down version of ourselves where there's some acoustic guitars and some stools, which we've never really done before. We're going to play some of these songs where we get more moody and slow.
MR: J.D., what have you found Billy's favorite environment for a Boxmasters show to be?
J.D.: Billy wants a big show. He wants a place where we can have a good light show. Basically the thing he doesn't want to do in any place, no matter how big or small, is he doesn't want to look like a bar band. We work really hard on putting these shows together and we want that to come across. There's lighting and projections and fun stuff going on, we want a sound system that will actually play above the band so it sounds big. When he does these really moody songs, he sings in his low register and he's got a very resonant voice, so sometimes you need a system to get it to come out. When you're kind of whispering it's hard to get it out to the people.
MR: How about you? What are your favorite kinds of venues?
J.D.: My favorite places that we've played have been punk clubs. I like to sound like The Replacements live. Basically, "Let's have a train wreck and have a lot of fun doing it!" At the same time, we want the songs to have starts and endings that actually start and end together and not just devolve into chaos. But I like them to all be faster than they probably should be, and louder and trashier. That's just my personal preference. We're a tight band, we've got really good players, it's a lot of fun to play with the guys.
MR: Do you prefer recording or performing more?
J.D.: I have so much freedom in the recording process as far as how we sound. That's what I do. That's my initial hat that I think of. Playing live is fun, but then I have to worry about how fat I am and getting up in front of people and looking like a complete loser. That's the part I worry about.
MR: When you're recording are you considering having to play these songs live?
J.D.: No, we don't tend to think about that at all. When we recorded most of these songs, it wasn't until August or September of last year that we were really thinking of putting these together as a record. Anything we've recorded was just because we felt like recording it. Billy's like, "As long as I can get in the studio every few weeks or once a month I'm fine. Otherwise, I lose my mind." Everything is just recorded as we feel at the time. There's no other outside influences like playing live or anything. The tempos are whatever is right for him to sing to and the rest of the instrumentation is mostly whatever our strengths are. I play the jangly stuff, Brad plays the fancy lead guitar stuff, Teddy does the keyboards and Billy's the drummer, that's it. Whatever fits whatever song is being done at that time is what we do.
MR: Do you have a couple of favorites on the project?
J.D.: I think every one of us would agree that "This Game Is Over" is one of our favorite songs, sonically, lyrically, vocally. It's just really a great song. Another one of my favorites is "Somewhere Down The Road," the last song and the title song of the record. That's a song that was initially on another project we were kind of working out, kind of a concept record that we haven't finished yet, so it just made sense that that song would go in this new batch. It's one of the few songs that I actually remember writing. We wrote so many songs that I don't remember the actual genesis of, but for some reason I remember when we wrote "Somewhere Down The Road" and how we did it. I'm trying to go down the list in my head. "Young Man's Game" is my favorite one on the second side.
MR: I love that the concept of "sides" of a record has expanded into meaning two CDs.
MR: Which side would you listen to casually?
J.D.: I would probably drive to the first one and put the second one on at my house to do work. They're just two different moods. The first one is much more of an exciting record for doing upbeat things and the other one's a little more for doing introspective things.
MR: How has the writing experience evolved for you guys?
J.D.: We've done eight or ten songs since that record has been finished and we're actually working more as a quartet on writing some of these songs. Most of the time, Billy will either have a chord or two that he's plinked out on the guitar and maybe he has a lyric idea, he might have a whole lyric written. Some of the time, I have a whole track started or completely finished, other times I'll just have some sort of riff idea. Really it comes from anything that gives us inspiration. It doesn't take a lot, really, it's just a couple of chords that make us perk up and go, "Hey, that's something!" Then we'll turn it into a song. Teddy brings all of his piano chords into the mix, so we're trying to incorporate more of that along into what we do because it just gives it a little bit more different stuff. All that equals inspiration.

MR: Do you feel like the permanent addition of keyboard has shifted the focus of your approach?
J.D.: It's not going to end up being a big sonic shift, it's just anything that gives us an inspiration. Teddy can add a couple of different weird chords into things. That's what we're always going for, just evolving into more weird chords.
MR: Does Billy's schedule as an actor ever conflict with the band's schedule?
J.D.: He says, "Let's tour in April" and that's when we go. Any time we have something band-related that's going on that's important he just tells his film manager that this is what we're going to do. It's not a lucrative position for him, but a lot of times they can reschedule. We haven't had to deal with that before, because he wasn't making a lot of movie projects for quite a while, which gave us years of constant recording. This is the first time he might actually have a bunch of projects going on. We've all got stuff going on, Brad's got his own studio in Texas, he's got to take time to close the place down and postpone projects, and Teddy's always on the road playing with someone. I hang out with my kids most of the time when I'm not working with Billy. It's good.
MR: So this has evolved in a good way for you all, time-wise.
J.D.: Yeah, everybody has other things they do. It's just a matter of, "Hey, are you available this time?" "Yeah, I am," "Great, let's get together and do something." It's not the other three of us sitting around and going, "Man, I can't wait until we can tour again." It's whenever it's good for all of us. We're excited to make it all happen.
MR: J.D., what advice do you have for new artists?
JD: My advice is to not chase whatever trend is going on and try to sound like everyone else. Take the people you are inspired by and start digging into who inspired them, and then find out who inspired them. Get back to the root of the music that you love. It might surprise you as to what was the genesis for somebody else's inspiration. I'm sure Billy will say this too--learn your history. There's so much of it that's being lost, we have to hold on to it and learn it and teach it to others. Use that history and use it to inspire you to make music that is personal to yourself and not just whatever the next hot thing is that's going to get you on American Idol.

MR: Nice. Do you think that's what people are taking away when they listen to a Boxmasters project?
J.D.: I hope so. They should know that it's heavily influenced by the past. We're trying to bring it to new audiences, especially with the older cover stuff. Bring it to new audiences who might say, "I really like that song by Webb Pierce, I want to go listen to more of that," and then they go and find Del Reeves or Merle Haggard or The Boxtops or anybody like that. Find things that are inspiring and might lead them to new creative heights.
MR: Musically, is there anything out there that surprises you anymore?
J.D.: I constantly feel like an idiot because there's so much stuff that I haven't heard. I hang out with Brad and Billy and Teddy and they are insane in their knowledge. It makes me feel like I don't know anything. It makes me feel like I have to be constantly learning and looking into doing other things so I don't feel like a complete idiot. These guys know so much history, it's inspiring. Everyone really is influenced at their core level by other things. Brad grew up as a bluegrasser, Teddy grew up more of a rock 'n' roll, R&B kind of guy, Detroit via New Jersey. I'm also a little bit younger than those guys, I started learning a little bit later than them. Even though I was years behind my time I haven't caught up. I've still got a lot to learn.
MR: What kind of a legacy do you want The Boxmasters to have?
J.D.: Basically I want people to listen to the music and read the lyrics and see that there's a whole lot going on. Some of it's poppy, bouncy, good time-sounding stuff but there's really deep thoughts and stories and things going on that are a lot deeper than they might think. I want people to know, "Hey, that's Billy singing," he really is a great vocalist, a great storyteller, and all those crazy girl harmonies that you're hearing in there, that's him, too. I think I'm the boring underneath stuff that's not the stuff you listen to and go, "Wow, that's fantastic," but he does all the high stuff that I can't even reach anyway. There's a lot going on in these records even if it just sounds like some guys bashing away. And it's all played, there's not machines going on. This is all how they used to make records in the old days. That's what we do. We don't use tracks live, we just play songs. That's why we crash and burn at times.
Transcribed by Galen Hawthorne

******************************
LINES WEST'S "PERFECT PAIR" EXCLUSIVE
According to Brian Larney...
"Lately, John and I have been talking a lot about some of the great songs of the late 60s and 70s a la Badfinger or Paul McCartney. The sound of those records and the song craft on them is just mind-blowing. In every song there's a killer hook! I had the idea of "Perfect Pair" kicking around for a while and it seemed to just beg for an arrangement that reflected our enthusiasm for that sound."
Lyrically, it's really about a pedestal and a plea. I can remember a few times finding myself in one of those -the quintessential unrequited situations yet I remain an optimist. The song ends with 'I can take you anywhere. We're two of a perfect pair'...I guess I'm just hopeless."
Two of a Perfect Pair will be available May 19th on Nunya Records.
******************************
DOUG BURR'S "NEVER GONNA BE YOUNG AGAIN" EXCLUSIVE
According to Doug Burr...
"We wanted this one to be jangly, Buddy Holly sounding. The music is kind of at odds with the story on this one--which is nothing new in the folk music world of course, the idea of a soldier living through war. Musically it stands out a bit on the record, but the subject matter was spot-on, and that song had received such strong audience response when playing it live. I'd been including that one in some live shows, since about 2012. So it felt like it needed to be a part of this record."
Popular in the Community