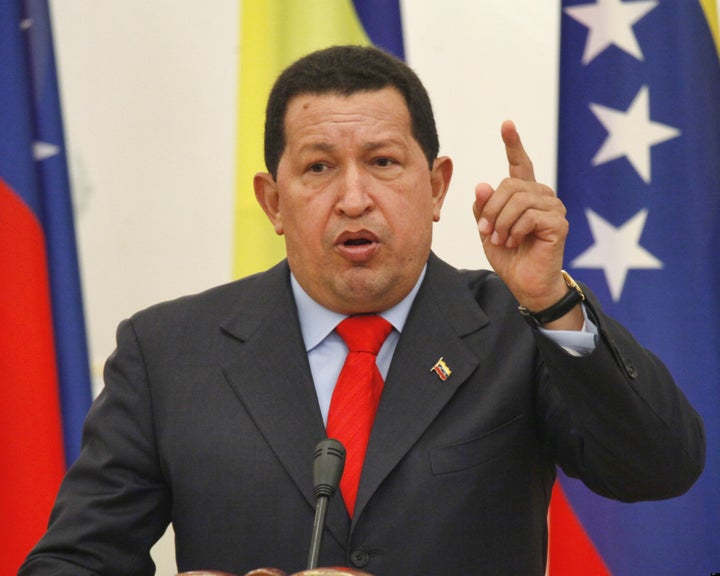 President Hugo Chavez is at it again, using his now-familiar barnyard vocabulary to attack and vilify his favorite nemesis -- Dr. Guillermo Zuloaga. Dr. Zuloaga is the owner of Globovision, the only independent television news station left in Venezuela. "He appeared over there, saying, spitting, vomiting against the democratic government of Venezuela (...) here he has his television station intact. I am sure that the Venezuelan state that I direct will not continue permitting it," were Chavez's words, referring to a panel presentation by political exile Zuloaga. Zuloaga was forced to flee Venezuela due to political charges brought against him by the Chavez regime in an effort to close Globovision. Chavez has been threatening Globovision for years, anxious to establish the communicational hegemony necessary to consolidate his political project.
The vitriol this time is in response to an event, sponsored by Senator LeMieux (R-Florida), which took place last Wednesday November 17th in the Capitol Hill Visitor's Center in Washington D.C. The event was titled, "Danger in the Andes: Threats to Democracy, Human Rights and Inter-American Security." It featured notable speakers such as Congressman Connie Mack, and statements by Congresswoman Ileana Ros-Lehtinen and Congressman Eliot Engel. Other speakers included Javier El-Hage from the Human Rights Foundation in New York; Dr. Alejandro Aguirre, president of the Inter-American Press Association; Ambassador Otto Reich, former Assistant Secretary of State for Western Hemisphere Affairs; former Ecuadorian President Lucio Gutierrez; Victor Hugo Velazco, a Bolivian Indigenous leader; Dr. Guillermo Zuloaga of Globovision; myself, and many other respected leaders in their field.
Response by the delicate presidents of the ALBA nations and their reactionary propaganda machines was immediate and histrionic. In styles more reminiscent of soap operas than official statements, they lashed out at conference participants. "I would say that congressman (Mack) is a confessed murderer, or a confessed conspirer against our brother president of Venezuela, Hugo Chavez. If something happens to the life of Hugo Chavez, the only one responsible is that congressman," said president Evo Morales of Bolivia. These declarations were made during the inauguration of the ninth congress on the defense of the Americas, during which Morales railed for more than an hour against the United States while US Secretary of Defense Robert Gates sat patiently in the audience.
Morales was not alone in his harangue. The Bolivian government newspaper Cambio accused human rights defender Javier El-Hage of attempting to assassinate President Morales in 2009. It also called the other Bolivian participants separatists and terrorists. The government of Ecuador through vice-minister Kintto Lucas has also responded, albeit much more cautiously, stating that "Ecuador does not need democratic recipes." For its part, the Government of Venezuela has maintained a steady stream of diatribe via their almost 100% control of the media in that country against Dr. Zuloaga and conference participants. From National Assembly deputies, to the government controlled media and pseudo academics the steady barrage of hatred has escalated, ever-increasing in both tone and emotion.
The final response by the bombastic Bolivarians was an "Act of State" at the National Assembly in Caracas the night of November 23rd; presided over by President Hugo Chavez. During this event, and using his bar-room discourse, President Chavez called Congresswoman Ros-Lehtinen a "fugitive and a fascist," stating he could ask for her extradition for "conspiring against Venezuela."
The overblown reaction by the ALBA nations to what was one of literally thousands of conferences in Washington every year has been curious. Human Rights Foundation has put it best, responding to the outlandish accusations by the ALBA governments:
"These patently false accusations fit an obvious pattern of behavior that has gone as far as to expel from Venezuela, at gunpoint, the head of Human Rights Watch's Americas Division, Jose Miguel Vivanco, and referring to groups like Freedom House and Human Rights Watch as 'CIA stooges, right-wing partisans, and mercenaries of the empire.' Such risible attempts at dismissing empirical evidence of democracy erosion and human rights violations in these countries should be viewed as what they are -- attempts to deflect attention from the grave concerns regarding the establishment of competitive authoritarian regimes in the region. Sadly, these accusations aren't just the product of the Cuban regime's media organs but they are replicated, almost verbatim, by the Bolivian, Ecuadorian, and Venezuelan state-owned media."
It should be noted that the Bolivian government has chosen this moment to over-react; coming as it does during a time when Assistant Secretary of State for Western Hemisphere Affairs Arturo Valenzuela is seeking to re-establish the US relationship with Bolivia. Two years ago the Morales government expelled US Ambassador to Bolivia Philip Goldberg, prompting the expulsion of US Ambassador Patrick Duddy from Venezuela in "solidarity". Both countries remain today without high level diplomatic representation from the United States.
The Obama administration should review its "open hand" strategy vis-a-vis the ALBA nations. This strategy is clearly not working. While the administration seems to focus its policy on the principle of "it takes two to tangle," they would be wise to remember that it also "takes two to tango". The ALBA countries have made it clear that, whatever US policy in the region may be, at least as it relates to the ALBA, the United States will be tangoing alone.
Calling all HuffPost superfans!
Sign up for membership to become a founding member and help shape HuffPost's next chapter