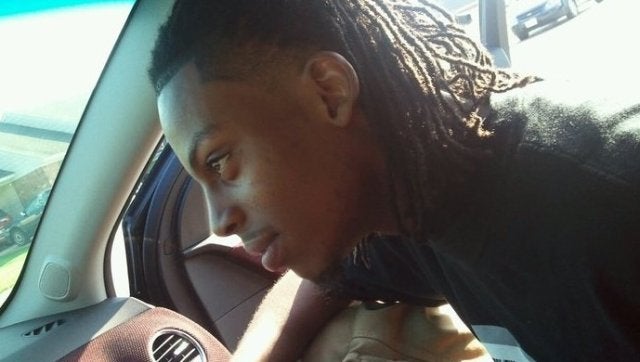 Charles Douglas, the father of 21-year-old Chavis Carter, who was fatally shot in the head while handcuffed in the back of a police car last month, said none of what the police have told him about his son's death makes sense.
"They could have told me anything, that he died in a car wreck or anything else. I can go for that," Douglas said. "But suicide? I don't believe it for one second."
"My son was just beginning his life," Douglas, 49, told The Huffington Post from his home in Tunica, Miss., where Carter spent most of his youth. "He just turned 21. He was hopeful. He wasn't suicidal."
The police in Jonesboro, Ark., where Douglas said his son had been staying with a girlfriend, said Carter took his own life shortly after a traffic stop and a subsequent search yielded a small amount of marijuana.
Police said that after officers on the scene that night ran a background check on Carter and discovered an open warrant for a prior marijuana charge in Mississippi, they searched him a second time, handcuffed him, and placed him in the back of a squad car.
Officers somehow overlooked a .380 caliber handgun they said Carter had concealed, police said. Carter, still handcuffed behind his back, shot himself with the weapon, according to police.
As police maintained their suicide finding, the FBI is conducting a separate investigation into Carter's death. Carter's family, friends and a growing legion of supporters are continuing to pressure local authorities for answers.
"It doesn't make sense, period," Douglas, 49, said. "I'm not going to feel satisfaction until justice has been met. I don't believe he committed suicide. Until we get justice, we're not going to get peace. He's not resting in peace, this won't be over until he is."
Gerald Rose, founder of New Order, called Carter's death a "national tragedy."
"We're not going to rest. We're going to keep this in the spotlight," Rose said. "I have that old-school mentality where I don't mind going to jail for something that I believe in. We're not going to be radical or to riot, but I'm here to say that we're not leaving until we get answers."
Earlier this week, U.S. Department of Justice representatives held a town hall meeting at the Greater Dimensions Ministries church in Jonesboro, where residents voiced concerns. About 200 people attended, according to reports.
Much of the mystery surrounding Carter's death has revolved around what many believe to be the unlikelihood that someone could shoot themselves in the head while their hands are cuffed behind their back, and that two police searches could have missed a handgun. Carter was left-handed, but was shot in the right temple, his family members said.
Police Chief Michael Yates has said that Carter could have hid the gun in the patrol car after officers patted him down the first time. He said that Carter, for a time, was in the backseat unhandcuffed.
"It's obvious they did miss the weapon on the first search. It is likely, since he was placed into the car unhandcuffed the first time, that he had an opportunity to stash the weapon in the car," Yates told the Associated Press. "The second search, which was more thorough and inclusive, did not disclose the weapon either."
The purpose of the video, a message at the beginning states, is to investigate "the possibility that an individual, hand-cuffed behind his back, may or may not have the ability to use a concealed firearm in a manner that would give rise to his or her death."
An officer about Carter's size, with his face blurred, is shown wriggling his handcuffed hands from behind his back and then raising what appears to be a gun the size of the one found with Carter, to his head.
"We just wanted to get a good perspective on how it could be done and the ease with which it could be done," Yates said.
Russel Marlin, a Memphis-based attorney working on behalf of Carter's family, called the video "odd."
"I'm not at a point where I can draw any conclusions either way," Marlin told HuffPost on Thursday. "I do see several problems with the video that they released. It's odd that they would release that video instead of just releasing evidence if they have any."
Marlin said he has sent investigators to Jonesboro, not far from the Arkansas-Tennessee border, to interview possible witnesses and to gather other evidence. He said that he expects autopsy results and other forensic evidence to be forthcoming from authorities. Before he can access medical records and the like, he must open a probate estate that will have the legal right to access such records.
Benjamin A. Irwin, a managing partner at Marlin's law firm, The Cochran Firm, said that in the name of the firm's founder, the defense lawyer Johnnie Cochran, who died in 2005, Cochran lawyers would "leave no stone unturned in our search for what happened that fateful night."

"Young Chavis's mother and this entire region deserve and will get no less. We will not only examine the facts, but the training or lack thereof of officers involved," Irwin said Thursday. Irwin questioned how a trained officer could search a suspect "not just once, but twice" and not detect a gun.

"They are either completely incompetent or they are not being completely truthful about what truly happened," Irwin said. "We will also be examining the moral fiber of these officers. What is the true reason that two white police officers stop a vehicle with two white boys and one African American, search the vehicle and under the seat of the truck owned by one of the white companions find what is easily discerned to be drug paraphernalia, but only arrest Chavis and let the white boys go free."
Irwin said that "under the crucible of cross-examination, we will get to the truth and expose it for what it is."
Chief Yates has said that witness statements and dashcam video from the scene the night Carter was killed corroborate what the two officers have told investigators. According to police reports, Carter and two other people, one a minor, were pulled over in a truck on July 29 around 9:50 p.m. on a residential side street.
Someone had called 911 to report that a truck was driving suspiciously with its lights off. Officers stopped the vehicle, frisked the three, and found a small amount of marijuana and empty baggies on Carter, who they said had initially given a false name. A bag of what the police believed to be sugar and an electronic scale was also found under a seat.
The two other passengers were released.
According to police reports, Timothy Andrew Teal, 19, was one of the passengers in the car with Carter that night.
On Aug. 8, someone named Timmy Teal, posted on Facebook that he'd been having "nightmares since it happened," and that "… I'm just happy they let us go that night." In other posts, he wrote that "I wish justice for chavis carter he was a good friend but the justice system is so corrupt that its not gonna happen i wonder what they would do to a real criminal."
Teal wrote in a post on July 31: "why is it when we are a suspect they lock us up for 24 hours but when a cop is one they go on leave they aint really questioned good n nobody points the finger at them."
A day after the shooting, he posted: "Cops are crooked, tell me how a man shoots himself in the temple handcuffed in the back of the cop car they can try to blackmail me to not testify but i know whats right it don't matter who or what u are nobody deserves to die."
Teal couldn't be reached for comment.
The two officers on the scene the night of the shooting, Keith Baggett and Ron Marsh, have been placed on paid leave pending the outcome of the investigation.
Carter's father said he'd talked with his son in recent months about surrendering to Mississippi police to settle the bench warrant for his arrest. In March, according to court records, Carter failed to meet the provisions of a guilty plea on drug charges a year earlier. Douglas said Carter told him he planned to surrender, but first wanted to save money for legal costs.
"We talked about him turning himself, and I told him to go ahead and do it, that whatever we have to do we'll do," Douglas, who'd long ago separated from Carter's mother, recalled.
It was the last conversation Douglas had with his son.
In the meantime, Douglas said Carter left Southaven, Miss., where he'd been living with his maternal grandmother for several years, and took up with a girlfriend in Jonesboro.
A relative broke the news to Douglas that his son was dead a day after he'd been killed. The woman had tears in her eyes when she told him.
In that moment, Douglas said, all the memories of his boy growing up came flooding back. Douglas said Carter had always been a jokester. "He was a funny guy," he said, "a really fun guy." He remembered the fishing trips with Carter and his older brother.
"We loved fishing," he said. "All my boys took after me with that. We just joked and played around about who caught the biggest fish."
"We had that. It was our thing," Douglas said. "I can't do that no more with him."
Calling all HuffPost superfans!
Sign up for membership to become a founding member and help shape HuffPost's next chapter
BEFORE YOU GO
PHOTO GALLERY
The Curious Death of Chavis Carter