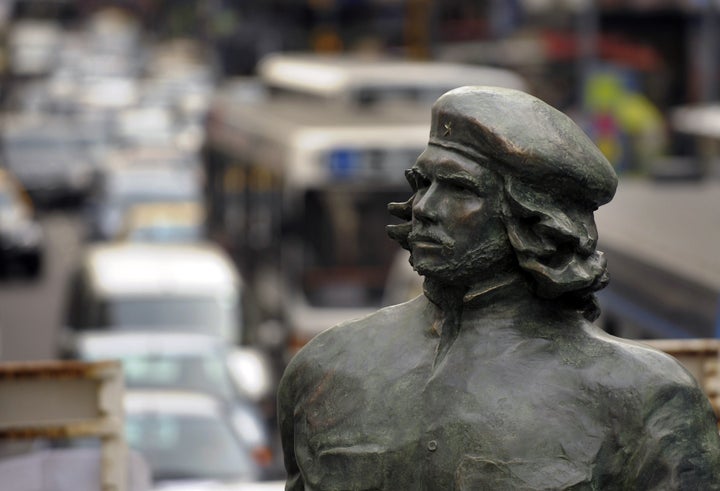 Two of Florida's U.S. representatives are at war with Ireland –- at least with the city of Galway -- over its council's plans to erect a statue honoring revolutionary Che Guevara.
Rep. Ileana Ros-Lehtinen, who was born in Cuba and chairs the House Foreign Affairs Committee, fired off a statement Wednesday saying, "Instead of honoring a killer, the City Council of Galway should honor the victims of Che and the Castro dictatorship by rejecting this proposal."
Too late, one of the coastal city's council members said, according to the Irish news website The Journal.ie:

Responding to Ros-Lehtinen's comments this evening, Galway City Councillor Billy Cameron said that Ros-Lehtinen and everybody else who has spoken out on this issue "is within their rights" to voice their objections, but that the project was given the full and unanimous support of the council. "I honestly think this has been blown out of all proportion," he said of criticism of the project which commemorates Guevara's Irish ancestry. "The Galway connection was established some years ago. He's related to two of the Galway tribes, the Lynches and the Blakes. We want to celebrate somebody from our historic past."
The council of Galway, a placid community on Ireland's west coast with fewer than 100,000 residents, voted on the statue about 10 days ago.
In a statement, sent Wednesday afternoon to The Huffington Post, Ros-Lehtinen called the proposal "an outrage." "Despite the image makeover which some try to give him," the statement said, "the real Che Guevara was a mass murderer and human rights abuser. To honor him with a monument would be an outrage, and would be a futile attempt to hide the brutal acts which he committed.
"The romanticizing image that this monument would portray would serve to diminish the brutality that was committed by Che and the painful suffering endured by many Cuban-American families and his other victims far and wide. Che Guevara was a ruthless killer who should not be idealized."
Che Guevara -- the Argentinean revolutionary who played a major role in the Cuban Revolution in the 1950s -- is an incendiary figure in South Florida's Cuban exile community, reviled for his role in helping Fidel Castro take power on the island.
Ros-Lehtinen's fellow South Floridian, Rep. Mario Diaz-Balart, similarly blasted the council's proposal Wednesday afternoon in a press release sent to the Huffington Post.
"Galway is a city where people have the right to vote, the right to worship freely, the right to speak freely, and access a free press– all of which "Che" Guevara and his murderous associate, dictator Fidel Castro, ruthlessly suppressed," the statement said. "Having a memorial to this cruel assassin is a shameful affront to the thousands of Cubans he murdered and utterly ignores the truth of who "Che" Guevara actually was."
Guevara, he continued, a "vagrant sociopath, murderer, fantasist and narcissist, remains in a class of his own … In victory in Cuba, he was a cold-blooded murderer, but then could not settle to life in an adult society."
"He sought and he finally found grubby death, alone and friendless on a Bolivian mountainside. Yet a single earlier photograph of him transformed his murderous insanity into a truly perverse secular sainthood."
In his statement, entitled, "Shameful memorial to a ruthless mass murderer," Diaz-Balart was no less vitriolic:
"A memorial to this despicable individual is a shameful slap in the face to the victims, whose lives he so ruthlessly extinguished, their families, and the millions of Cubans who still suffer under the effects of his deplorable acts. I am confident that if the people of Galway know the well-documented horrors inflicted by "Che" Guevara, they will be disgusted by the prospect of erecting a monument to that monster."
"Che" Guevara Monuments Around The World:
Calling all HuffPost superfans!
Sign up for membership to become a founding member and help shape HuffPost's next chapter
BEFORE YOU GO
PHOTO GALLERY
Che Guevara Statues